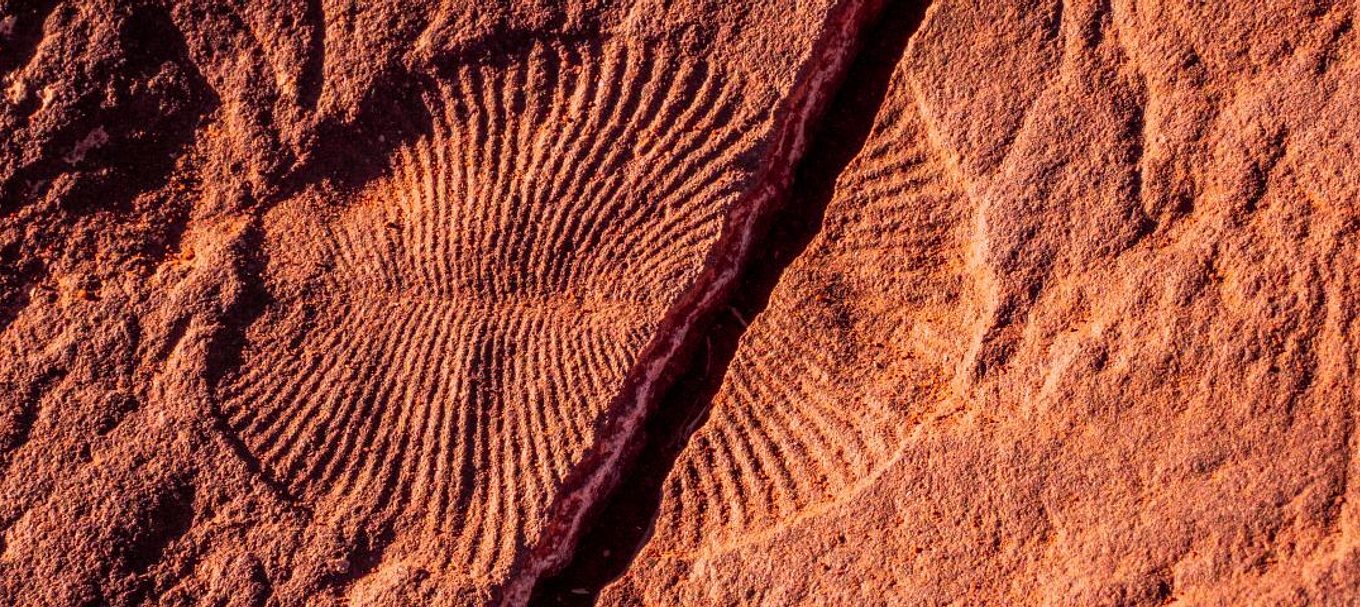 Why visiting Nilpena Ediacara National Park should be on your 2023 bucket list
South Australia's newest national park is a game-changer for the Flinders. Learn why it'll be so special to visit.
If you haven't heard of Nilpena Ediacara National Park and have been dreaming of South Australia's Flinders Ranges, our newest national park is the reason to start planning a visit there in 2023.
Members of the public will be able to visit 'Nilpena', as it is commonly referred to via guided tours.
This national park is unlike any other in South Australia, possibly even the world, and will profile the state's outback region in a whole new light.
Here's why it needs to be added to your bucketlist for your 2023 adventures:
1. It has international historical significance
On the western fringes of the Flinders Ranges, about 500 km north of Adelaide, roughly 60,000 hectares of land has been set aside to become a national park.
And it's also to celebrate a discovery that has already been attracting international attention. In fact, Nilpena is at the centre of a nomination currently being prepared to submit a bid for World Heritage listing for the Flinders Ranges in 2024.
Ediacaran fossil site - Nilpena Station, South Australia
National parks are protected areas for their significance relating to wildlife, natural features, landscapes and especially for our Aboriginal and cultural heritage.
Nilpena Ediacara National Park has all of this and more. Something that makes the park extra special is the resounding fact that Nilpena Ediacara National Park has been identified as the place where evidence of the emergence of Earth's earliest complex animal life has been discovered.
We're talking pre-dinosaurs or even pre-land plants. The likes of NASA have been backing the research at Nilpena for some time now, through the University of California, Riverside, to understand how animal life evolves on a planet.
2. It's an active research site
A 3-year research project is currently underway at Nilpena that will validate computer algorithms that examine fossil evidence and match what has been discovered in Nilpena's ancient seafloor.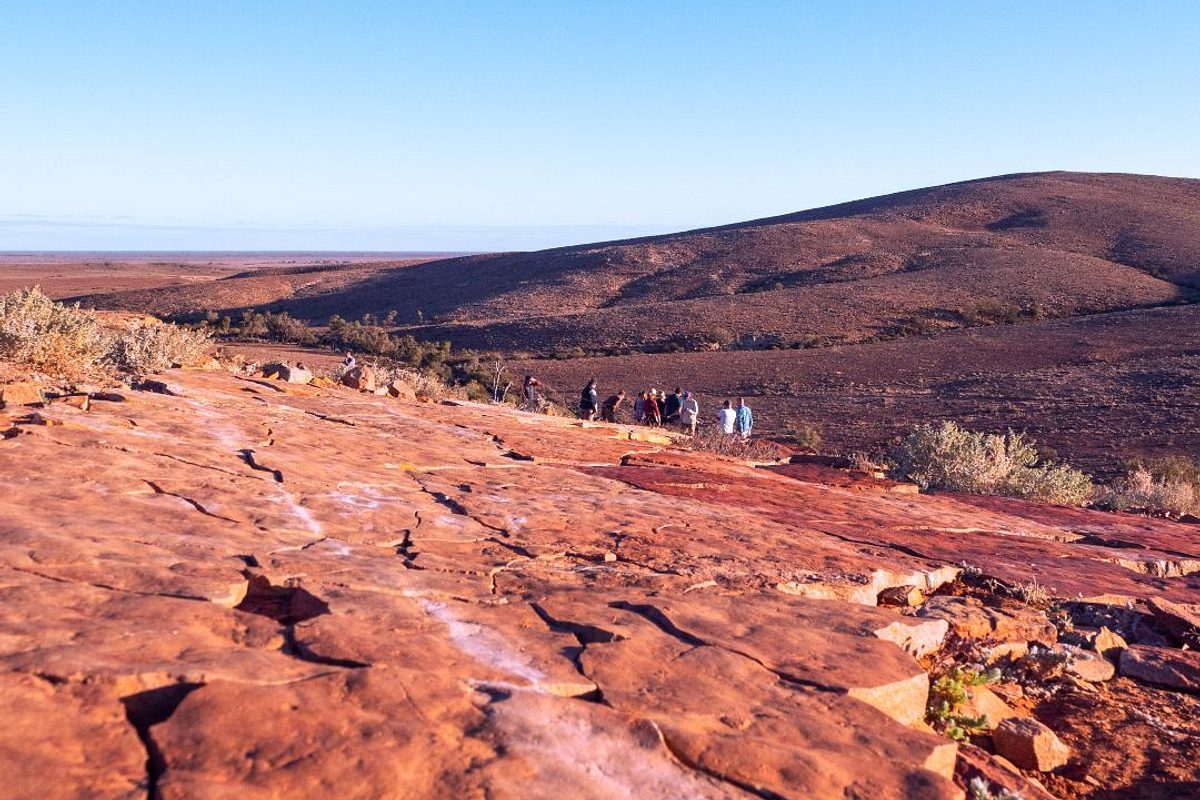 One of several fossil beds that have been unearthed in the hills of Nilpena Ediacara National Park.
Nilpena is an active research site and being able to observe and understand what is happening is all part of the national park's new fossil experience.
During a visit to the park, it's very likely that you'll be witnessing ground-breaking research happening that will be of benefit to the world as we know it.
3. It's home to the crème de la crème of fossil beds
In the late 1960s, American folk singer Arlo Guthrie wrote a song titled 'Alice's Restaurant' about being able to get anything you could ever want there to eat.
Fast forward to 2016, his song title was aptly used by leading palaeontologist Dr Mary Droser and her team from the University of California, Riverside to describe a significant fossil bed unearthed in the hills of the former Nilpena Pastoral Station – now the national park.
Mary describes this fossil bed from a palaeontologist's point of view to have everything you could ever want in a specimen.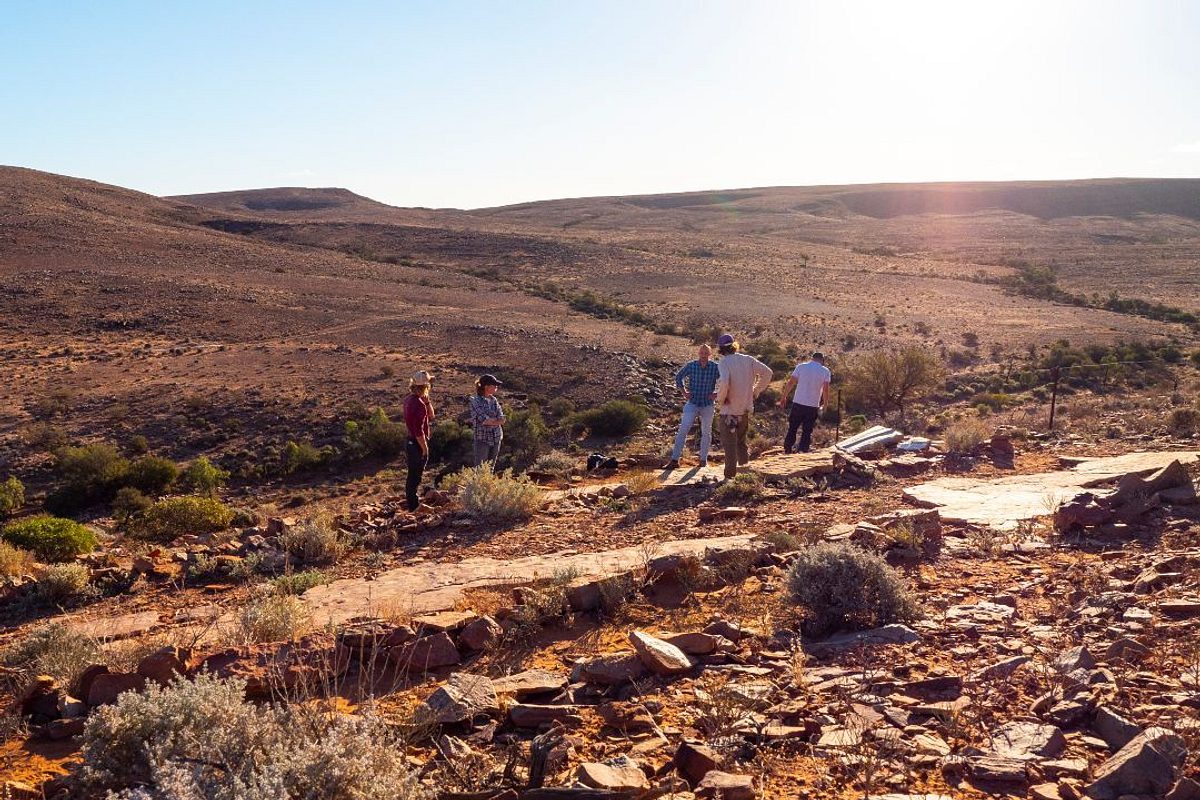 In Nilpena's unassuming hills, Dr Mary Droser and her research team work where visitors will be guided to see the fossil fields.
Now known as 'Alice's Restaurant Bed' the fossil bed is the focal point of the new fossil experience and will showcase first-hand and etched-in-time evidence of multicellular animal life that lived on earth 560 million to 542 million years ago.
More than 40 species have been recorded at Nilpena, with others first discovered in the nearby Ediacaran Hills, which is also in the national park, back in the 1940s by local geologist Reg Sprigg.
His discovery was so significant that a fossil was named in his honour (Spriggina) and has become the South Australian fossil emblem. The Ediacaran geological period of time was named after the location of this discovery.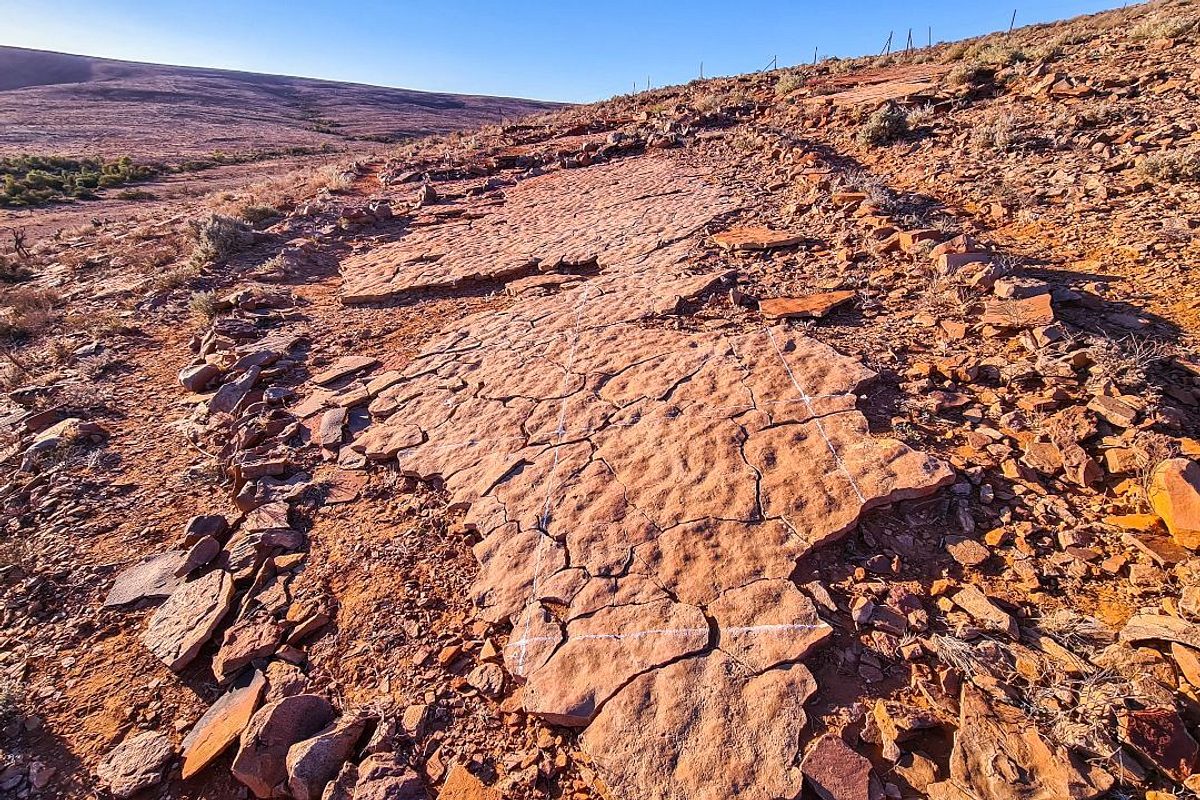 Unearthed in 2016, Alice's Restaurant Bed is Nilpena's most significant fossil specimen and will be the focal point of a new experience at the national park.
4. It has several unique – and famously named – specimens
When the national park opens in 2023, you'll not only be able to see Spriggina specimens, but other unique ones as well.
There's the Attenborities janeae, named after Sir David Attenborough, who has been to Nilpena and documented about first life at Nilpena a few years ago, and Obamus coronatus, named after President Barack Obama for his commitment to science research.
5. It has film-worthy landscapes
Nilpena Ediacara National Park is a new destination in the Flinders Ranges and one that is very much untouched.
The leaseholders of the former pastoral station took careful consideration to protect the surrounding landscape that now forms the national park.
Evidence of the Adnyamathanha people, the Traditional Owners of the land, exists in the form of ash and charcoal middens around Nilpena's permanent springs.
In what seems dry and rugged outback, seeing water flowing is quite captivating.
The park's unique landscape is probably why film-makers continue to use Nilpena as a film set – but we'll discuss the landscape in more detail shortly.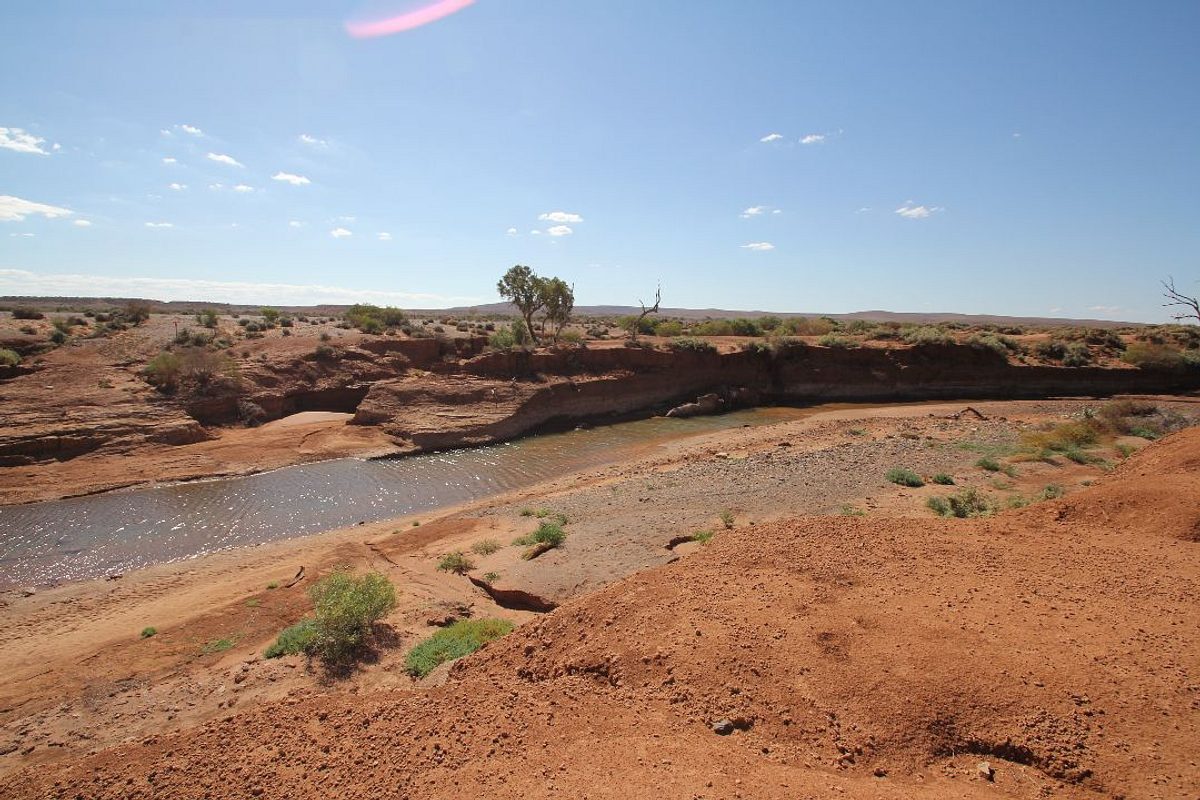 The permanent springs that flow through the national park were where ash and charcoal middens of the Adnyamathanha people are still evident.
When can I visit, and how?
The park officially opened on 27 April 2023. A stone gateway welcomes visitors to the park and can be seen from the Outback Highway, 30 minutes north of Parachilna.
The gateway is the welcome point for all visitors to enter the park and has ample parking. It's also a shared access point for the residents of the Nilpena homestead that lies adjacent to the national park.
Gaining access to the park feels like a privilege but in fact, once you understand the importance of the site and what it contains, you quickly realise it's a necessary measure.
This is a site of huge international significance and to ensure it's protected, you'll only be able to visit by booking a guided tour.
There will be no overnight facilities or areas to freely undertake recreation. From the gateway, a 14 km journey as part of the guided tour will lead you to the new visitor precinct.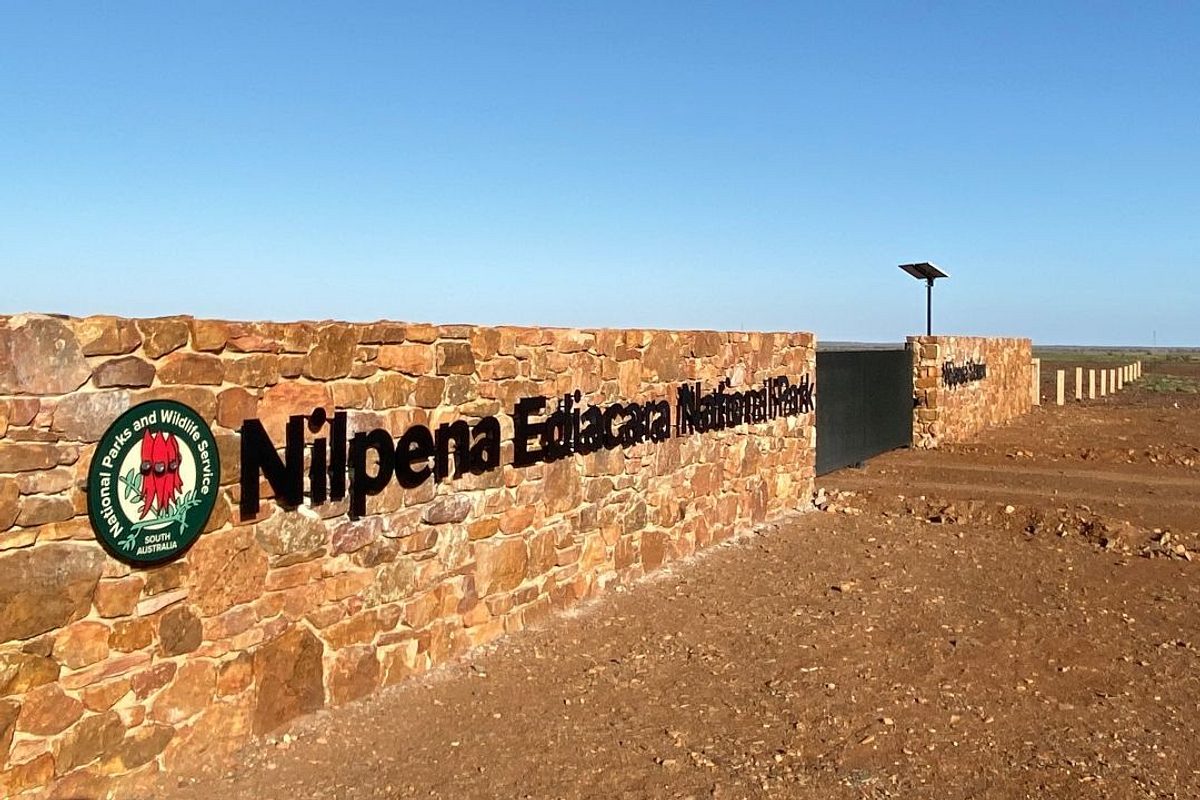 The Nilpena Gateway where visitors will meet a guide for the journey to the visitor precinct and fossil field site.
Tours run twice a week (Wednesday and Saturday) and will allow you to explore the ancient world of the Ediacaran period through an immersive audio-visual display where the Ediacara animals come back to life. Here you will get a hands-on experience of an actual fossil bed from the park, which has been moved into the restored Blacksmith's Shop for this truly unique experience.
The surrounding landscape is quite spectacular and provides a different perspective of the Flinders Ranges.
Rolling hills frame the distant landscape and at dusk, you'll be able to capture panoramic photos of the ranges in all their purple hue glory.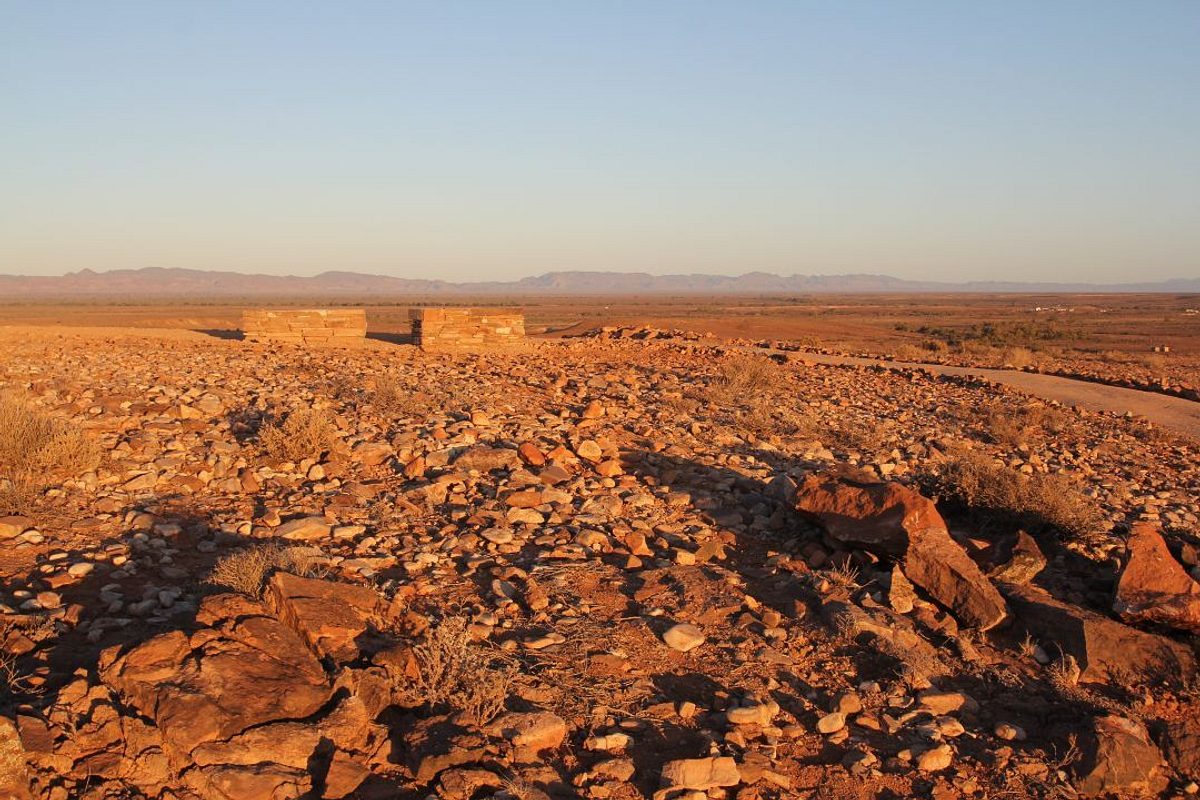 The entry point of the fossil field site with views to the northern Flinders Ranges.
What exactly is in the new visitor precinct?
The new visitor precinct itself is made up of three heritage buildings of the former pastoral station.
The old Blacksmith's Shop has now been repurposed as a state-of-the-art interpretation centre.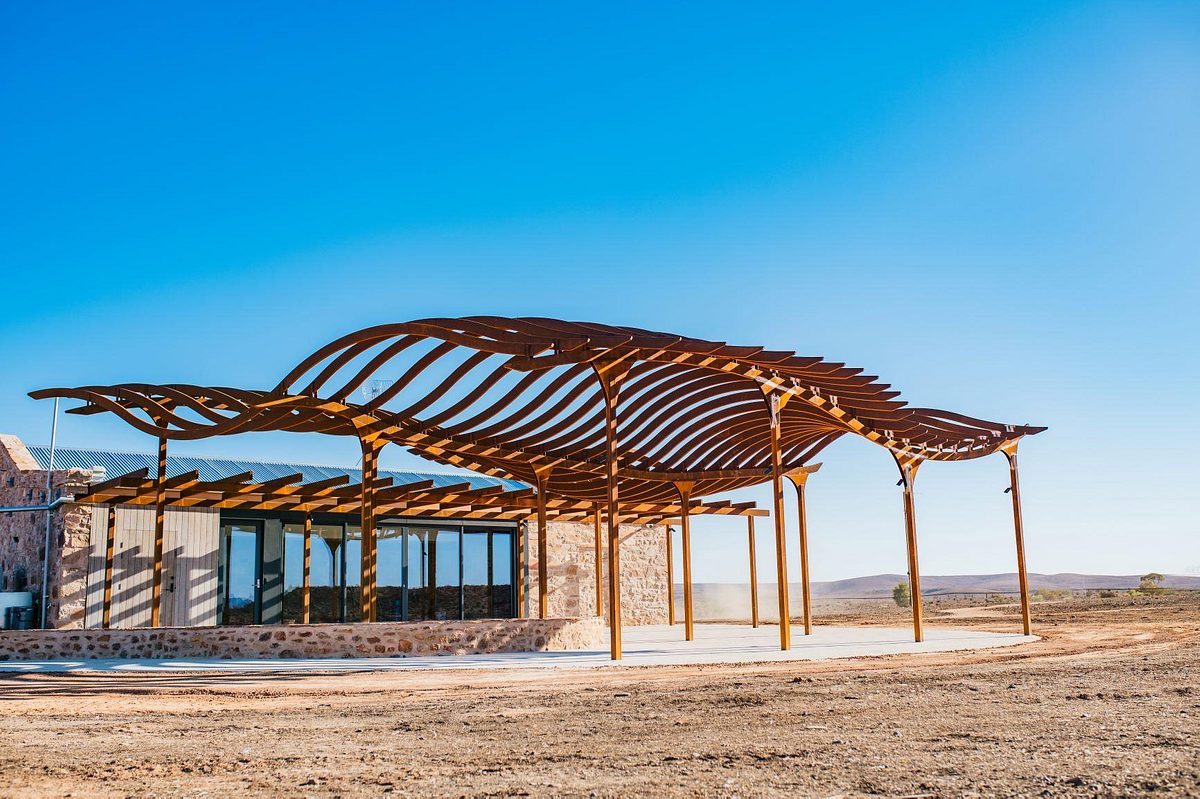 The repurposed Blacksmith's Shop at the national park's visitor precinct. It's here visitors will see evidence of earliest life on earth supported by an audio-visual experience.
The centre has been created by a specialist project team: including everyone from stonemasons to audio-visual technicians to furniture craftsman and finally palaeontologists.

Together they have created a one-of-kind fossil experience centred around Alice's Restaurant Bed, which required the careful installation of its 200 or so pieces.
Curated lighting provides the best possible viewing conditions to see an array of fossils and a specially designed plinth supports the specimen.
Different thicknesses of the excavated fossil pieces were levelled before being grouted back into one solid artefact.
It is an all-accessible, visitor experience allowing everyone of all mobility types to view fossils up-close.
The adjacent shearer's quarters currently provides accommodation for researchers that work on site. Plans for the former woolshed, opposite the Blacksmith's Shop, presents a unique opportunity for an event and function space in the future.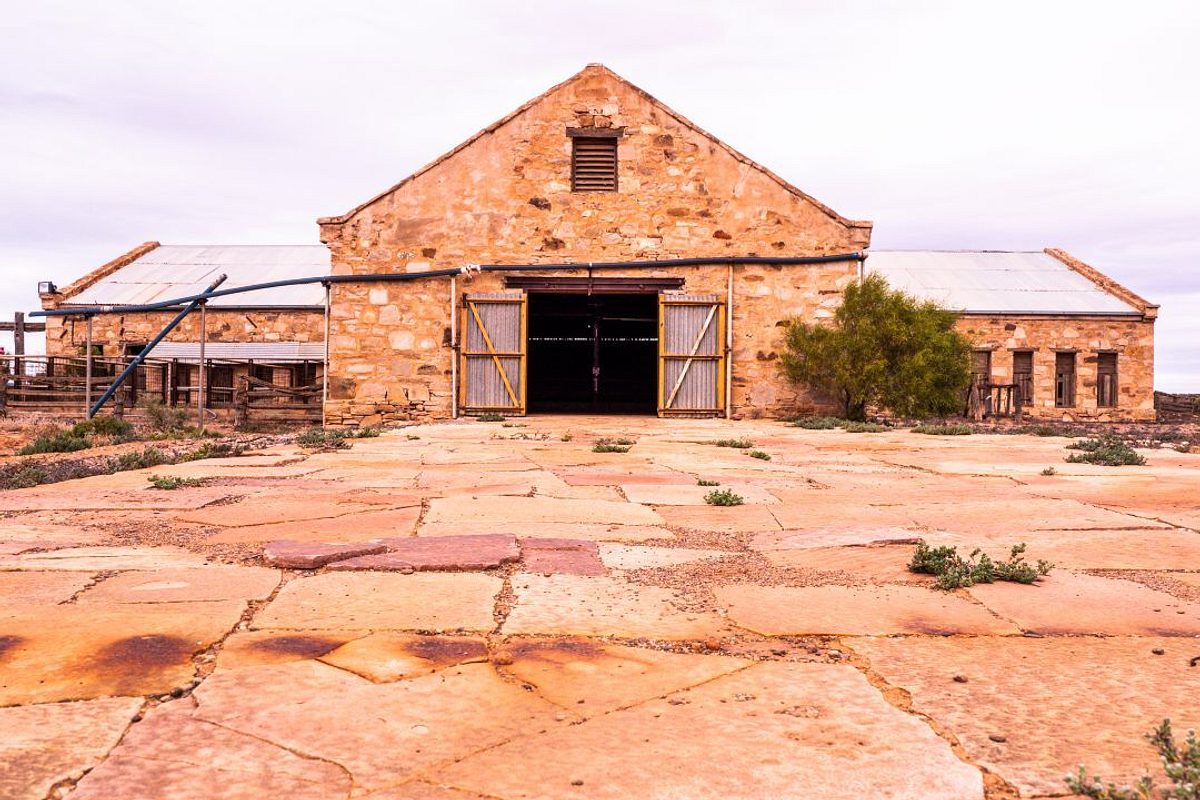 Nilpena's historic woolshed where the story of the most significant discovery began.
To know more, you'll need to visit to get the lowdown. But in the meantime, visit the website to uncover more about Nilpena.
This story was originally posted in October 2021.