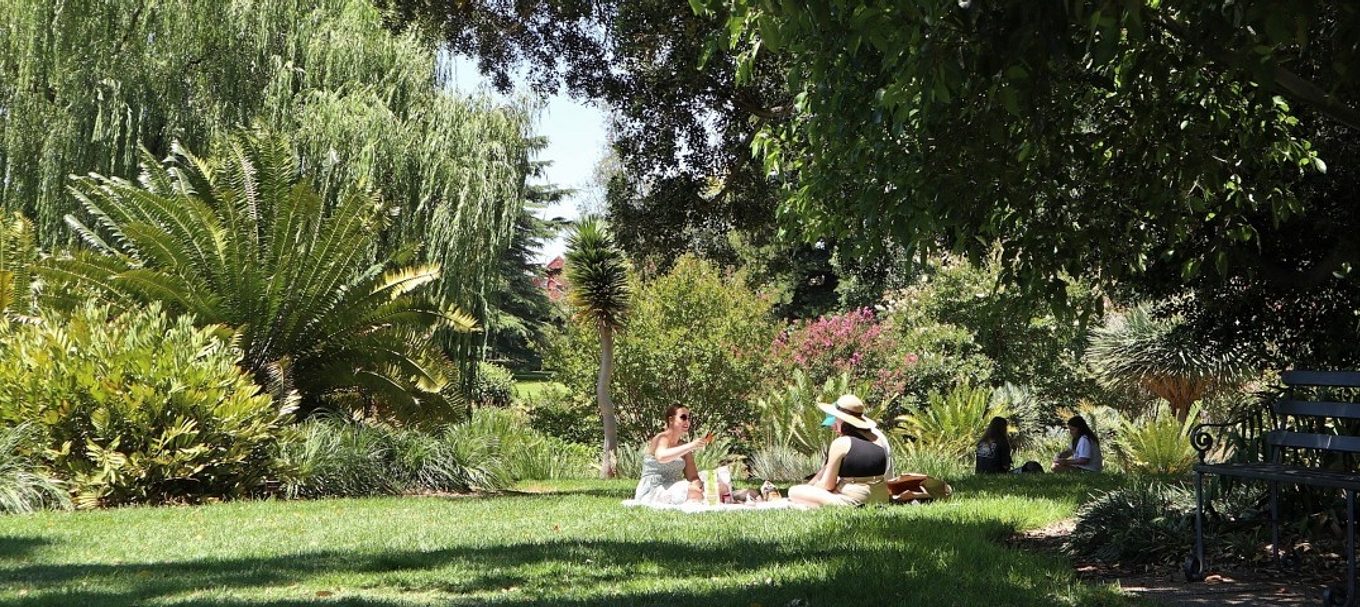 3 fun evening activities to enjoy at Adelaide Botanic Garden this summer
Longer opening hours means more time to enjoy balmy evenings at Adelaide Botanic Garden. Try these fun ideas.
Make the most of Adelaide's warm summer nights and lock in a visit to Adelaide Botanic Garden in the city, which is now open for longer hours.
Whether you're by yourself or with the family, there's always something fun to do at the botanic gardens. Here are four ideas to help you make the most of the extended opening hours:
1. Escape and unwind over dinner after a hard day at work
Working in the CBD? Sneak a visit to Adelaide Botanic Garden after a hard day's work and let the garden's enchanting surrounds help you unwind and melt the stress of the day away.
You can pack a picnic or get some takeaway from one of the many amazing restaurants at Adelaide's lively east end to enjoy in the garden.
Want to take your dining experience up a notch? Try the award-winning Restaurant Botanic – nestled in the heart of the garden – for a fine-dining experience to remember.
Don't be afraid to eat too much as you can burn off the excess calories right away by enjoying a sunset walk while you're there.

Adelaide Botanic Garden is open until 7 pm from Monday to Wednesday, and 9 pm from Thursday to Sunday.
2. Make a night of it with an Adelaide Fringe event
A visit to Adelaide Botanic Garden can be a first stop for a special Fringe night out, with the Celestial Gardens: The Secret Sounds of Plants interactive installation.
In a unique experience, you can hear plants in the rainforest conservatory sing.
The installation uses technology to translate biodata into music and the chorus of 12 plants responds to movement and touch, helping you communicate with flora in an enchanting symphony of nature.
Suitable for families, friends and couples alike, it is on from 18 – 27 February. Book your tickets early so you don't miss out.
3. Keep an eye out for our nocturnal friends

Dusk is the best time to see nocturnal animals at Adelaide Botanic Garden.
As sunset approaches, you can catch the majestic grey headed flying foxes heading off from the neighbouring Botanic Park for their breakfast and flying overhead through the garden.
With a wingspan of nearly 1 m, grey headed flying foxes are among the world's largest bats, but despite their size they are strictly vegetarian and feed predominantly on nectar and fruit.
If you're lucky, you can even spot the resident possums at Adelaide Botanic Garden. They are a bit shy but they generally like to come out at night.
When to visit
Over the summer months, Adelaide Botanic Garden will remain open from 7:15 am to 7 pm from Monday to Wednesday, and 7:15 am to 9 pm from Thursday to Sunday.

There is plenty to do at the botanic gardens this summer. Read our blog on5 fun activities to do at Adelaide's botanic gardens this summer.
This story was originally posted in January 2021 and has been updated with new information.