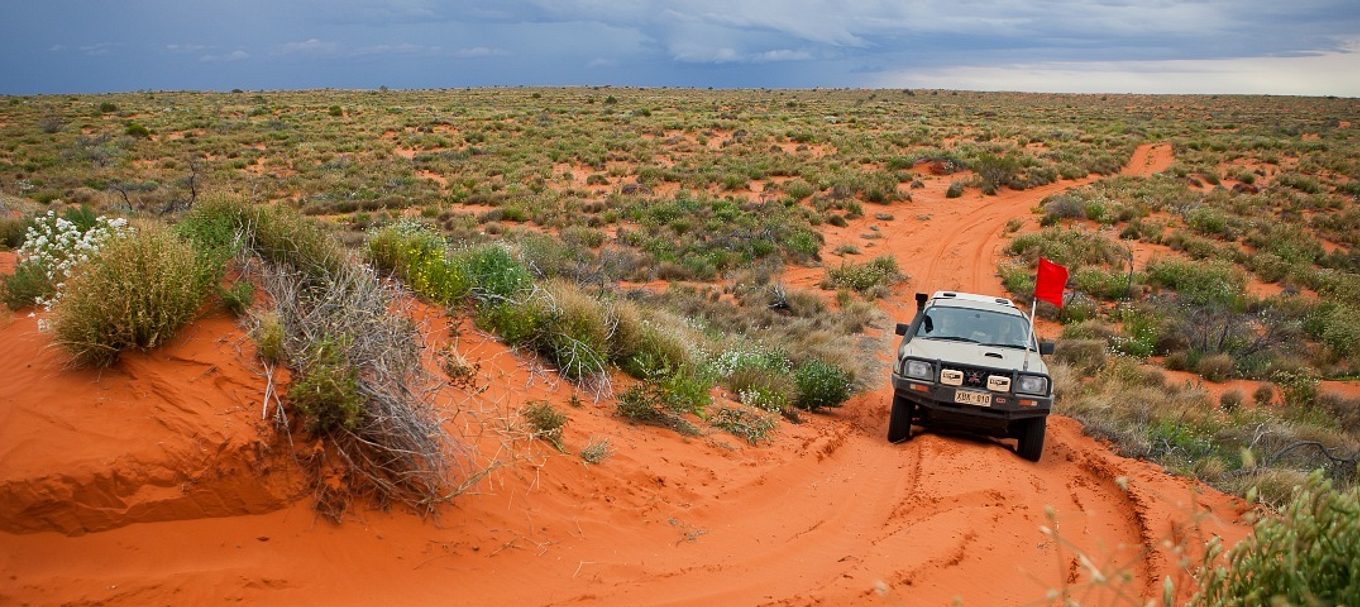 6 national parks for four-wheel driving in South Australia
Four-wheel driving can get you places you can't reach in an ordinary car – like these national park tracks.
We're so lucky in South Australia to have some incredible spots for four-wheel driving.
Many of our national parks have sections that are only accessible by four-wheel drive (4WD), which means you'll have lots of fun getting there as you bump over rough or sandy tracks.
There are some amazing off-road spots to get and out explore. These parks are all popular with 4WD enthusiasts, and have clearly marked tracks to prevent damage to the environment:
1. Coffin Bay National Park
Much of the Eyre Peninsula's Coffin Bay National Park can only be accessed by 4WD.
Experienced 4WD enthusiasts will enjoy a wide range of conditions from sand dunes to narrow winding tracks, and soft sandy beaches.
Driving in Coffin Bay National Park can't be hurried as it takes concentration, but there is always an interesting view to make it worth your while.
The tracks in this park are narrow so be on the alert for oncoming traffic.
2. Ngarkat Conservation Park
Ngarkat Conservation Park, 34 km south of Pinnaroo and sitting alongside the Victorian border, boasts more than 270,000ha of vegetated sand dunes and mallee bushland.
You can drive the legendary Border Track one-way, from north to south, along the South Australian and Victorian border.
At the junction of the Border Track and the Centre Track (approximately 29 km along the Border Track), the track reverts to a two-way system.
The one-way system has been implemented to protect the sand dunes, track surface and vegetation.
There are many other 4WD routes you can take in this park, from short day-trips around the park to extended trips for those who are really adventurous.
3. Gawler Ranges National Park
Although the best way to explore the Gawler Ranges National Park is in a 4WD, in good weather you can visit much of the park in a high clearance 2WD.
The park is located 6 hours northwest of Adelaide. You'll see lots of wildlife on the tracks so look out for emus and kangaroos, especially at dusk and dawn.
Take the drive out to Conical Hill – the views out over the ancient sand dunes are magnificent.
4. Lincoln National Park
The Sleaford-Wanna track in Lincoln National Park offers some of the best sand dune driving experiences on the Eyre Peninsula.
Follow the red marker posts and be rewarded with scenery of massive wind-sculpted sand dunes, pounding surf and rugged limestone cliffs along the Southern Ocean.
The park rangers recommend stopping for a picnic lunch along the way to admire the vast expanses of sand and the turbulent sea.
5. Vulkathunha-Gammon Ranges National Park
Much of Vulkathunha-Gammon Ranges National Park, located 660 km north of Adelaide, is accessible by 4WD only.
To explore the park's rich Aboriginal and European heritage, take on the Wortupa Loop Track, which is an 80 km return journey from Balcanoona that'll take about 5 hours.
Along the way you could see animals such as red kangaroos, emus and wedge-tailed eagles.
Views of Mount McKinlay, The Wall, Mount John Roberts, and the chasms of Blue Range are a highlight along the one-way section of track between Gammon Yards and Lochness Well.
There is also a 4WD track out to Lake Frome.
6. Munga-Thirri-Simpson Desert National Park
Are desert parks more your style? Then you'll have to cross the Simpson Desert and explore the parallel red sand ridges of Munga-Thirri-Simpson Desert National Park, which extend across an area of up to 500 km.
The ideal time to cross the Simpson is from mid-March to mid-August when the temperature is mild. Munga-Thirri – Simp­son Desert Nation­al Park is closed from 1 Decem­ber to 15 March each year.
Make sure you visit the lone gum – the thriving Coolabah that stands alone alongside Rig Road.
The solitary tree, far from the nearest watercourse, generally grows in heavy clay soils. There is no other tree of its kind in the region – how it comes to be here still remains a mystery.
If you're a keen photographer then check out the Approdinna Attora Knolls. The rare gypsum outcrops were once the highest dune crests in the area.
Top tip: Be sure to check the National Parks and Wildlife Service website to see if any of these parks are closed when you're planning a visit and to find other parks where you can go four-wheel driving.
Like the idea of visiting some of SA's desert parks? Read our story:Your guide to visiting mound springs in SA's desert parks.