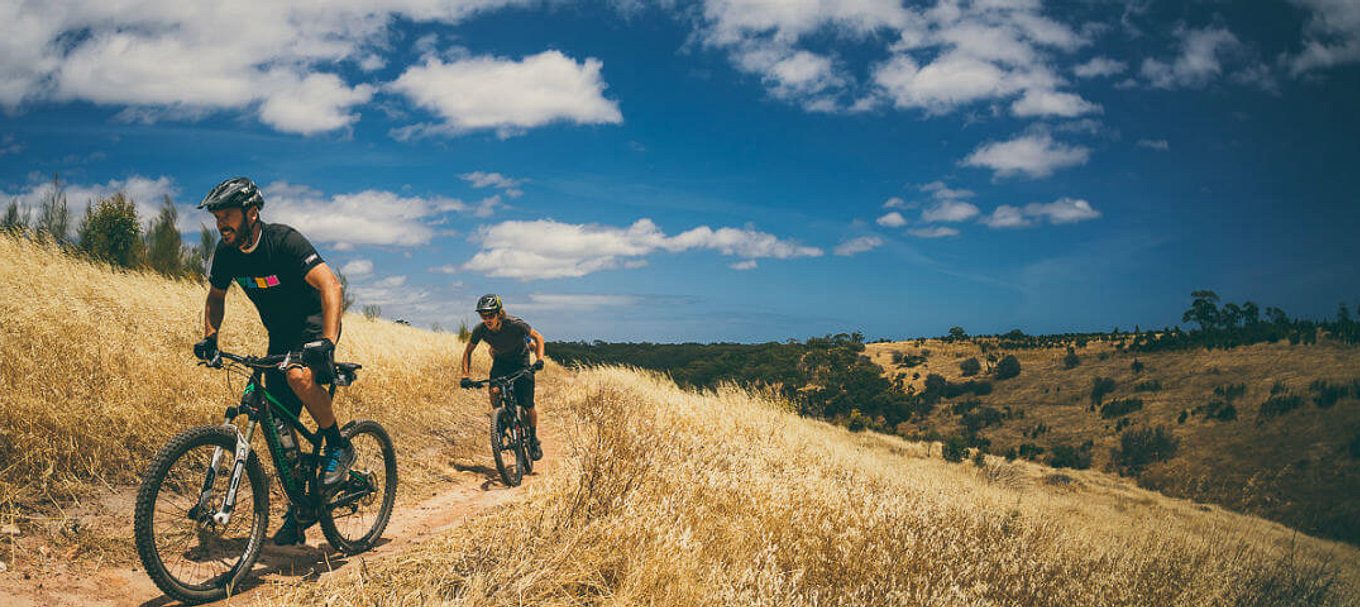 6 parks for mountain biking in and around Adelaide
Love cycling? Here's some options around Adelaide where you can get your wheels dusty in a national park.
Are you inspired to be a bit more adventurous with your riding and go somewhere you wouldn't normally?
In South Australia's national parks, there's high-quality trails within 30 minutes of the CBD so there's no need to restrict yourself to riding on roads and paved paths.
Get your wheels dusty and experience the natural beauty of our bushland with a hit of mountain biking.
Here's 6 parks to get you started – all just a short distance from central Adelaide:
1. Sturt Gorge
With more than 40 km of single track, mountain-biking through Sturt Gorge Recreation Park, located 13 km south of Adelaide, is a great way to explore Adelaide's natural heritage and high value ecosystem.
Enjoy the race-ready trails in the Craigburn Farm area, or take a longer ride all the way around the gorge.
Rider's tip:Start with the 'Surf and Turf' trail in the Craigburn Farm area to find your feet, then make your way to Gunners Run via Little River, a fun flow trail for more experienced riders. Continue down to Horner's Corner if you're game to attempt the full 25 km loop. The cool shady areas of the Wattle Trail and the fun flow of the Lomandra and de Rose Trails will make it worth your while.
2. Shepherds Hill
Despite being a small park, Shepherds Hill Recreation Park (located 11 km south of Adelaide) contains 16 km of mountain bike trails. Trails include family friendly green circle loops, short but tough cross-country loops, and fun intermediate downhill runs.
Rider's tip: Start and finish with a few laps of the Pump Track and Kids' Zone obstacles at the Ayliffes Road entrance.
3. Belair
Belair National Park, located 13 km south-east of Adelaide, has a great range of trails for everyone, from beginners to more experienced riders. The park is easily accessible directly from public transport – from North Terrace in Adelaide you and your bike can ride the train all the way there. From the Belair Railway Station you can go for a challenging spin around the park on the 12 km Adventure Loop.
Rider's tip: For something a bit less strenuous, take the family and trundle around the fire trails from Playford Lake to the adventure playground.
4. Cleland
Located only 22 km from Adelaide, Cleland National Park has an extensive mountain biking track network.
If you haven't been mountain biking at Cleland before, then check out what's in store at this park with our mountain biking guide to Cleland.
Rider's tip: Climb the Chambers Gully and Bartril Spur Track to Cleland Wildlife Park. From there, continue up to Mount Lofty Summit to enjoy the views of the Adelaide plains below, before winding back down via the Wine Shanty Trail.
5. Cobbler Creek
Cobbler Creek Recreation Park, located 19 km north of Adelaide, is perfect for introducing kids to mountain biking.
Try the Beginners' Circuit or 'Easy Does It' mountain biking trails at Cobbler Creek, or join the big kids on the new Jump Tracks in Pedler's Paddock.
Rider's tip: The new slope-style jump tracks are hugely popular since opening in October 2016. With 3 different difficulty levels, you can work your way up to the big stuff.
6. Glenthorne National Park-Ityamaiitpinna Yarta (former O'Halloran Hill Recreation Park)
Check out the 8 km of trails in the former O'Halloran Hill Recreation Park section of Glenthorne National Park-Ityamaiitpinna Yarta, located 16 km south of Adelaide.
The trails use the steeper parts of the park to provide some great downhill options, with trails ranging from easy through to intermediate and advanced.
Don't forget to visit National Parks and Wildlife Service's website to check for any alerts or closures before you hit the trails.
Rider's tip: These gravity trails are fun! With dedicated climbs to bring you right back to the top of the trails, you'll be able to try them all. Check out the Glenthorne National Park-Ityamaiitpinna Yarta trails map for more information.
Can't get enough of mountain biking? Check out our blogs on mountain biking at Anstey Hill and biking spots along the River Murray.
Just remember, bike riding in parks is permitted on designated tracks and trails. Where these are shared-use tracks, watch out for and be courteous to other riders, horses, and walkers. For more information about mountain biking in parks, check out National Parks and Wildlife Service's website.
This story was originally posted in January 2017.
Main image:Sturt Gorge Recreation Park(image courtesy of Flow Mountain Bike)