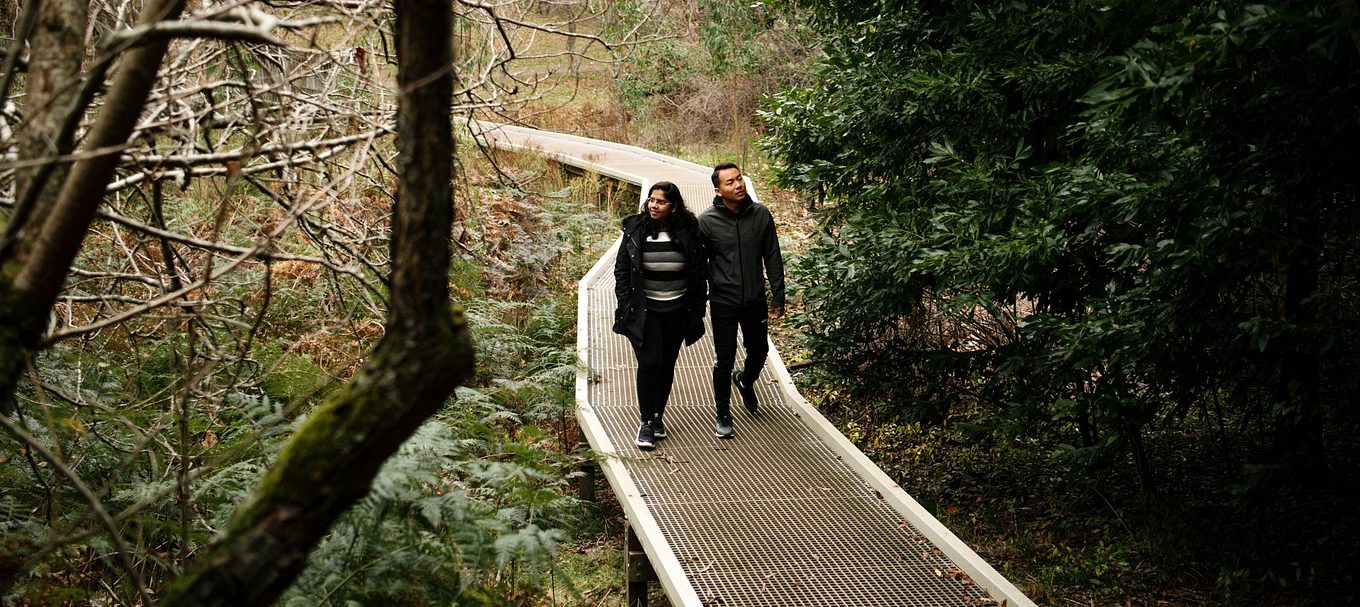 5 things to do in nature to improve your wellbeing
Spending time in nature does wonders for your mental health. Here are some easy ideas that have big benefits.
We all know that the past few years have significantly changed the way we live our lives on a daily basis. And for many people, that means a whole lot of change, uncertainty, and unfortunately, extra stress.

But it's in life's most stressful moments that taking time out to look after your mental health and wellbeing is most important.
Getting a dose of nature could be just what you need. Evidence shows that spending time in the great outdoors can help reduce your stress levels, improve your concentration and generally helps you to feel happier.
But before you think it's one more thing you don't have time for, hear us out. All you need to do is step outside and incorporate any of these simple 5 actions into your day:
1. Connect
Connecting with other people can be a great way to boost your mood and de-stress. But in recent times connecting in person has become more challenging.
So it's time to be innovative. We are blessed with some great technology so take advantage of applications like FaceTime and Facebook Messenger and create opportunities to connect with the people that matter to you.
Find a sunny spot in your backyard and soak up some Vitamin D and listen to the sounds of nature while you connect with family and friends to share how you're feeling, see how they're doing and ask if they need a hand with anything.
2. Be active
Why not take a break and get active outdoors – it'll get your endorphins flowing, which will leave you feeling a little more on top of the world.
Pick somewhere picturesque for a walk, such as your local national park or simply the streets around your house.
If you'd rather stick to activities at home, try something else like gardening or yoga, or simply kicking a footy in the backyard.

3. Keep learning
Learning new things is a good way to keep your mind active and give you a sense of achievement, which is great for your wellbeing.
Take your learning online or outdoors and try something like growing your own vegetables, creating a wildlife-friendly garden or nature photography.
4. Take notice
Truly immerse yourself in nature by taking notice of your surrounds. Losing yourself in the moment can help you feel calm and relaxed, and help you appreciate the simple things we sometimes take for granted.
Find a peaceful spot and let your senses take the lead – listen out for birds and insects, smell the salty sea air, or feel the sand beneath your feet.
If you need a helping hand, you might like to try forest bathing in your local park.
5. Give
You can't put a price on the joy you get from giving. Whether it's sharing your home-grown veggies with your next-door neighbour, or giving back to Mother Nature by weeding the nature strip on your street, doing something for someone else or for your community will leave you with the warm and fuzzies.
Making small changes like these can be just what you need to lift your mood, recharge your batteries, and boost your wellbeing.
Looking for more ways to immerse yourself in nature? Read our blog 4 ways to relax in national parks.

This story was originally posted in 2017 and has been updated with current information.