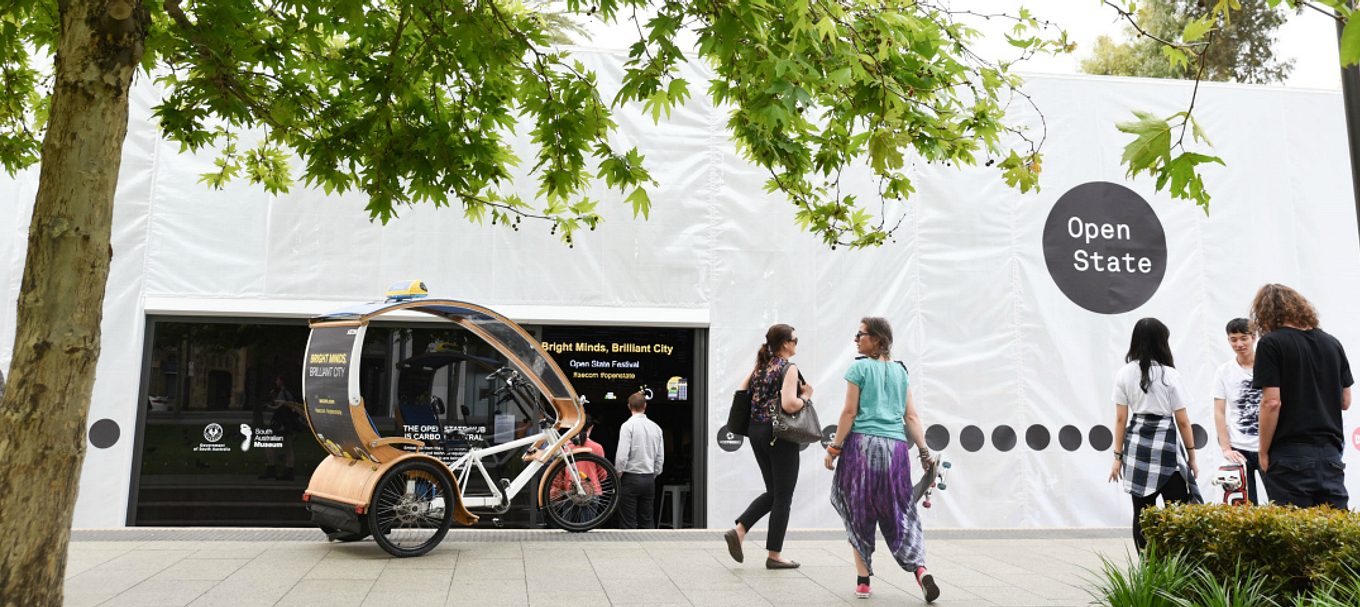 5 sessions to challenge and inspire lovers of the earth
Expert thinkers about future sustainability will be in Adelaide for Open State. Here's our top picks of who to see.
If you're passionate about rethinking our future, look no further than Open State South Australia.
It's a festival of events held across Adelaide, featuring national and international experts and thinkers, who will encourage us to join together to tackle some of the challenges we face as a state, and as global citizens.
The festival covers six themes: Future Food, Future Human, Future Enterprise, Future Planet, Future Cities and Future Democracy.
There's a lot to choose from, so we've done some of the hard work for you and picked our top five events to go to if you're a lover of nature and our planet.
Friday 29 September, 12 pm–2 pm, free entry.
In this free collaboration session, Ryan Hubbard from The Centre for Social Innovation, known as TACSI, will challenge your idea of nature. Is it really just a vision of the countryside? How can nature become part of our everyday life? How can we remind others how meaningful nature can be?
Nature of SA also has a free pop-up exhibition, ViewsOnNature, where you can explore how nature fits into our everyday lives and how important it is to South Australians.
Thursday 28 September, 2.30 pm–4.30 pm, free entry.
Drivers of change Dr Tia Kansara, Adam Beck and Natalie Isaacs discuss how we can work together to re-think the way we work, live, play and move in Adelaide to create a carbon-neutral city.
Dr Kansara is behind the replenish movement, which challenges us to not just sustain the earth but to give back more than we have taken. Sustainable urban planning expert Adam Beck will challenge the audience to re-imagine how we plan, create and live in cities, while One Million Women founder Natalie Isaacs will discuss how she built a grass-roots movement of women who act on climate change through changing their purchasing choices and the way they live.
Thursday 28 September, 12 pm–2 pm, free entry.
Do you want to learn more about how climate change isn't just a complex challenge, but also a vast opportunity? Or how can we transform our economy and transition into a prosperous resilient, low carbon future?
Climate-KIC Australia is a knowledge innovation community (KIC) that links research, business, entrepreneurs, investors and government to spark innovation and capture opportunities from climate change. At this session, Climate-KIC Australia co-founder Dr Jemma Green and Climate-KIC Europe Chief Executive Officer Dr Kirsten Dunlop will inspire you to look to the future with hope.
Wednesday 4 October, 5.30 pm–7.30pm, free entry.
Hear from EcoCaddy founder Daniels Langeberg, who was a runner up in last year's Adelaide to Zero Low Carbon Entrepreneur's Prize at Open State. Daniels received $50,000 to develop his idea for EcoCart, a parcel delivery service for city-based businesses that uses real-time tracking and sustainable transport, to ease congestion in the city and reduce emissions.
Find out why he embarked on this start-up journey and what drives his SA company to be a catalyst that moves cities towards a more sustainable and liveable future.
Thursday 5 October, 5.30 pm–7.30 pm, cost $10.
Adelaide has been ranked as the world's fifth most liveable city, and this session looks at what makes a city liveable.
Experts from the fields of environmental action, education and child development, architecture and innovation join together for a group debate, while an artist brings these ideas to life and a slam poet summarises the discussion.
Need more ideas? You might be interested in:
Open State SAruns from Thursday 28 September until Sunday 8 October. It's a great way to get involved, be inspired and help solve some of our environmental challenges together. For all the details, including registration and any ticket costs, visit thewebsite.