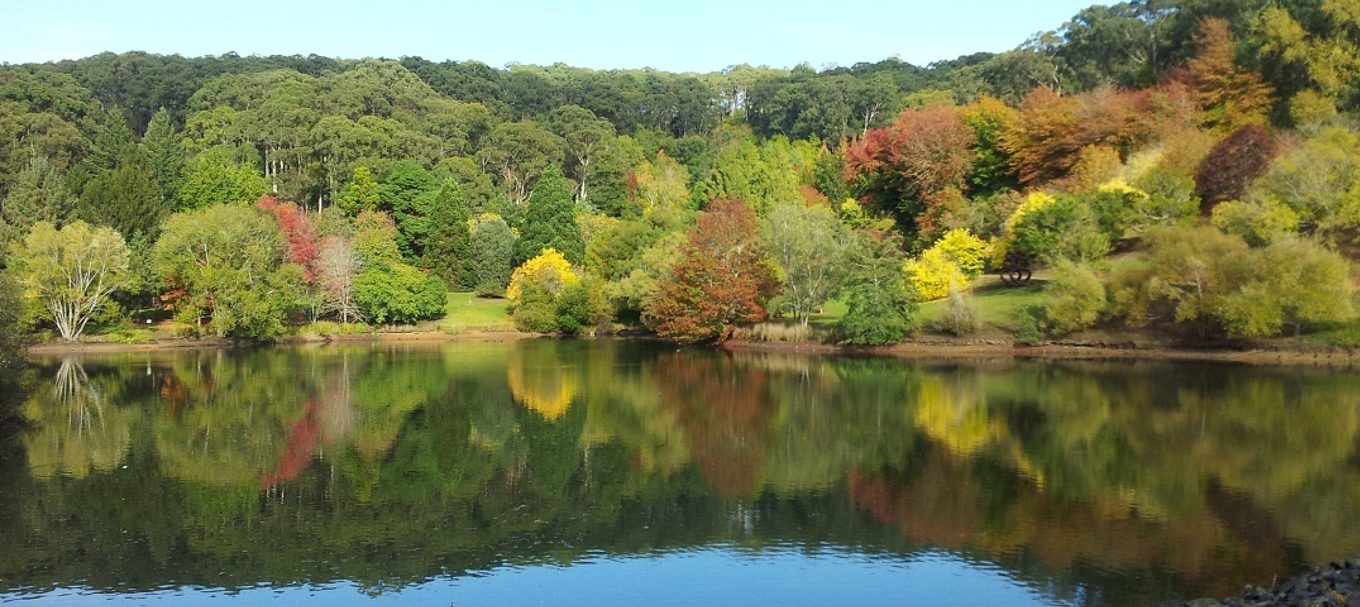 How to make the most of the autumn colours of Mount Lofty Botanic Garden
Connect with nature and enjoy the beauty of Adelaide's Mount Lofty Botanic Garden this autumn. Here's what's on.
Autumn at Mount Lofty Botanic Garden is one of the real joys of the Adelaide Hills.
It's a time when the cool-climate trees transform into a panorama of scarlets, yellows and bronzes.
Located just a 25-minute drive from the Adelaide CBD, Mount Lofty Botanic Garden is the perfect place to relax and unwind, and there's no better time to do it than in autumn.
It's now that the maples, ash and oaks are wearing their autumn coats and are beginning the countdown to winter, but the liquidambar trees are just starting to change from green to red.
Mount Lofty Botanic Garden is one of the best places in Adelaide to enjoy the rich colours of autumn leaves, as night-time temperatures are cooler than in many parts of the metropolitan area, giving exotic trees the cue they need to change colour.
Here's what you can expect to see (note – video taken a few autumn's ago!):
If you'd like to pull up a pew and take it all in, the areas around the Main Lake and the Duck Pond are the best places to enjoy the leaves. Access is easiest from the Lower Entrance on Lampett Road, Crafers, or if you feel like a longer walk, come in from the Upper Entrance near Mount Lofty House.
Or, you can soak it all in at one of the special events being held at the garden this season.
Autumn special events
From this weekend through to the beginning of June various activities will be on offer at Mount Lofty Botanic Garden.
You can enjoy:
Live music – come along to hear the Band of SA Police on Sunday 14 April from 2 pm to 4 pm in the Arboretum, near the Lower Car Park (enter off Lampert Road).
Pop-up coffee van – find the van in the Lower Carpark on weekends selling coffee, cakes, water and soft drinks.
Guidedwalks – these are available every Thursday departing at 10.30 am and on Sunday 14 April at 1 pm and 3 pm, all leaving from the Lower Carpark.
Plant sale – have a browse on Sunday 28 April and 26 May from 10.30 am to 2.30 pm in the Lower Carpark.
Children's autumn colours photography– while exploring the beautiful garden, learn mobile photography skills and how to edit your photos using mobile apps. Suitable for 9-12 year olds, the sessions cost $25 per child and run on 16 and 17 April at 10.30 am. Bookings are essential.
Plant Hunters Walk – learn about the secrets entwined in the plant collections. Save the date – Sunday 5 May at 10.30 am. It's $34 per person and you need to book.
Garden masterclasses and workshops– Learn from our expert horticulturalists on caring for bonsai plants, maximising your fruit tree yields, topiary and much more. There's lots of sessions and dates to suit you needs.
There's something on offer for everyone, so be sure to check out the Botanic Garden website for more details.
Mount Lofty Botanic Garden is open from 10 am to 5 pm on weekends, and 8.30 am to 4 pm on weekdays. Additional parking will be made available on the weekends in April and May, available from the lower entrance of the garden.
Has this inspired you to take action in your own garden? Check out our blogs on Autumn gardening and how to make a raingarden.
Please note, drones are not permitted in the garden withoutprior permissionfrom the Botanic Gardens of South Australia.
This story was originally posted in May 2017 and has been updated with current details.