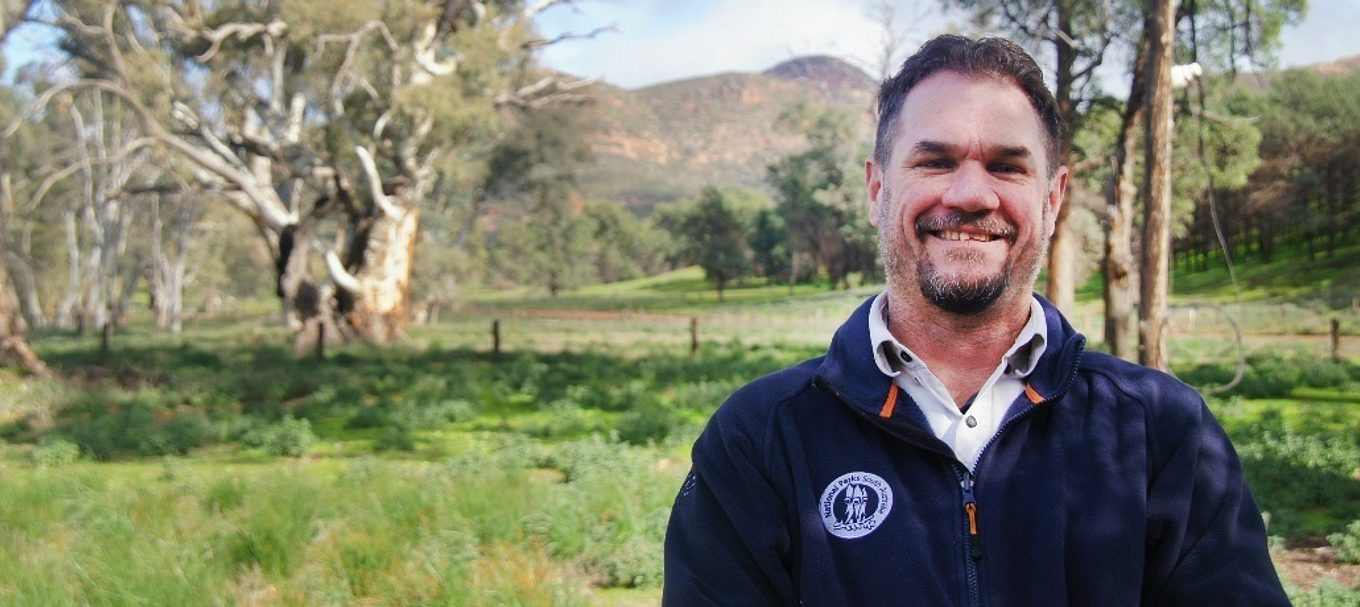 Insider Guide: Ikara-Flinders Ranges National Park
Go behind the scenes to discover the unique jobs and passionate people that care for South Australia's environment.
Alan Harbour – Ranger-in-Charge – Northern Flinders
How would you describe your job to someone at a BBQ?
I am the Ranger-in-Charge of several reserves in the Northern Flinders District, including the iconic Ikara-Flinders Ranges National Park. The job is challenging. I've been in the role for nearly a year now and my head is still spinning with the amount of info I need to stuff into my head.
How did you get into this line of work?
I started my career in protected area management as a seasonal fire fighter, exiting from helicopters into fire-fighting situations. I was based in the Grampians in Victoria, before scoring an ongoing position in Kosciuszko National Park with New South Wales National Park and Wildlife Service. Since then, I've been fortunate enough to work in other parks such as Paroo-Darling National Park in NSW, World Heritage Listed Kakadu National Park and Uluru-Kata Tjuta National Park with Parks Australia, and Watarrka National Park with Northern Territory Parks and Wildlife.
What do you encounter in a 'normal' day on the job?
A normal day on the job entails too much desk time for my liking, but it comes with the territory. I am in a privileged position to work with Traditional Custodians on a daily basis, as well as other stakeholders and my district staff. I think all these people make for an enjoyable, rewarding day for me. Then there is the scenery of the parks – Ikara-Flinders Ranges National Park, Vulkathunha-Gammon Ranges National Park, Ediacara Conservation Park, and the two salt lakes Frome and Torrens – how lucky am I??
The reintroduction of two of the ranges' original mammal species, the Idnya – Western quoll, and the Virlda – brushtail possum – is a fantastic project for the department to be driving as part of our Bounceback Program, and I am fortunate enough to be a part of that.
When I get out into the parks, I could be driving through the gorges, monitoring some of our Adnyamathanha rock art sites, overlooking the salt lakes and red dunes from a vantage point, or marvelling at the Ediacaran fossils found in the district.
What's the most amazing thing you've seen in your district?
You cannot go past the landscapes. The geology of the ranges, the fossils, red sand and contrasting white of the salt lakes. It's all brilliant.
What are your insider tips for visiting the Northern Flinders?
Research the area thoroughly before coming. There is so much to see and do in the district. Read 5 treasures in Ikara-Flinders Ranges for good info if that's where you plan to visit.
While holidaying in any of the parks, take the time to sit quietly, look at, listen to, and feel the Country. It talks to you. It tells you stories through the landscape, whether they be Adnyamathanha stories, the geological story, or how the country is presently.
Make sure you allow yourself plenty of time to explore. There is plenty to see and do. There's the Arkaroola protected area adjacent to Vulkathunha-Gammon Ranges National Park, Warraweena Conservation Park, and station stays. You could easily spend a few weeks in the district.
Don't forget to make sure your vehicle is well maintained and well equipped – the roads can be hard on poorly maintained vehicles.
Also, drive carefully during the day – kangaroos are everywhere – I'd also avoid driving at night.
If you're staying around Wilpena, look and listen out for the Idnya and Virlda. People often see them at night with torch light.
Bring a good camera and plenty of storage cards for the huge number of photo opportunities on offer in the District.
Throughout the month of June, Ikara-Flinders Ranges National Park is being celebrated as the Park of Month – an initiative between Nature Play SA and DEW.