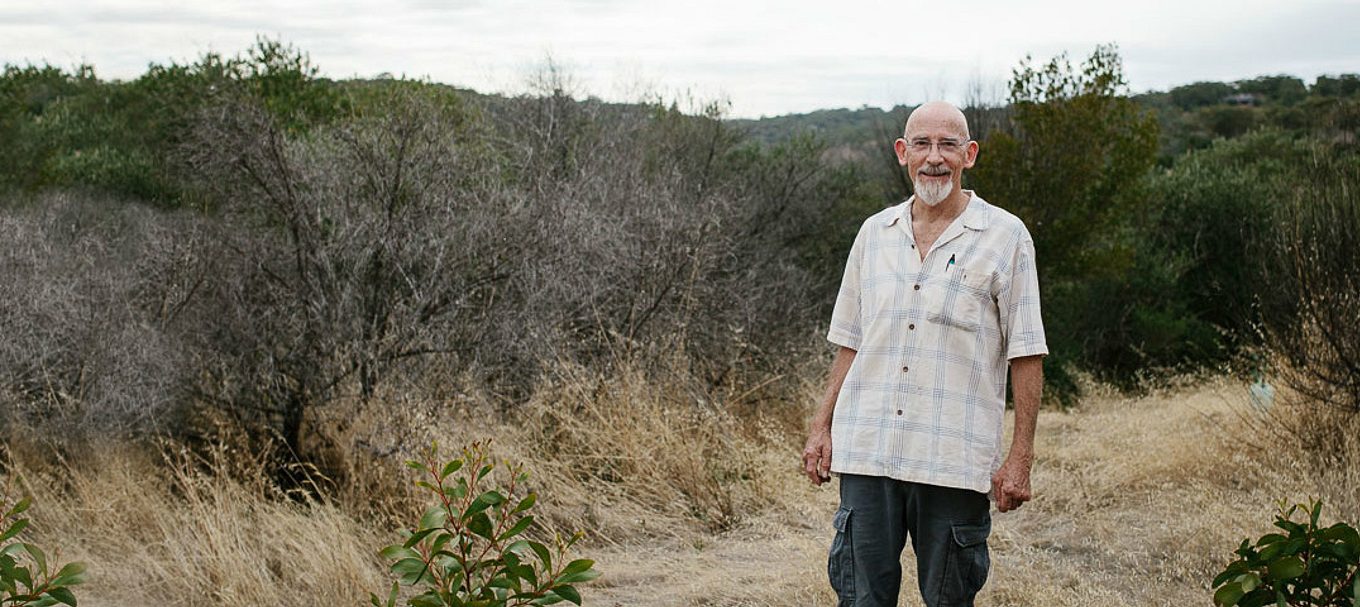 Insider Guide: Shepherds Hill volunteer
Go behind the scenes to discover the unique jobs and passionate people that care for South Australia's environment.
Bernie Millburn – Friends ofShepherds Hill Recreation Parkvolunteer
How would you describe your role as a volunteer to someone at a BBQ?
As a member of Friends of Shepherds Hill, I am part of a team that focuses on improving the biodiversity of the Park. The native vegetation has been regenerating slowly, so we assist by preventing it being overcrowded by weeds. This means lots of weeding, cutting back and poisoning of pest plants. When you look after the native plants in the park, you increase the number and variety of insects, birds, and wildlife.
How did you get into volunteering at Shepherds Hill Recreation Park?
For me, Shepherds Hill Recreation Park is my backyard, and most members of the Friends of Shepherds Hill volunteer group live close by too.
I was always walking through the park doing little bits and pieces to help look after it, like pulling out weeds. In about 1998 I saw a meeting planned for volunteering at the park, so I went along. I've been part of the group ever since.
What do you encounter in a 'normal' day volunteering at Shepherds Hill?
The Friends group meets on the first Saturday of the month, and in the cooler months we also work on the third Saturday. We have about 30 members, and we get an average of about 15 turning up at a working bee.
We have a trailer with all the tools, poison and equipment, and besides the pleasure of working in a great environment, there is a friendly social atmosphere.
A lot of the work involves poisoning olive trees, but it really depends on the time of year. At the moment we are busy pulling out, cutting back or poisoning topped lavender in certain areas of the park.
What's the most amazing thing you've seen at Shepherds Hill Recreation Park?
I always have trouble working out the most amazing thing, because there are so many. However, everyone gets a kick out of seeing our emblem – the Tawny Frogmouth – particularly a pair with young chicks.
I've seen things change over the years – from grazing land to what you find today. It's amazing to see the regeneration and find new plants that have re-emerged.
We have got some rare and endangered plants in the park. They're often only small, but by coming here regularly and working you get to know where to find them and look after them. It's a bit like having your own garden, except it's a public place.
What are your insider tips about Shepherd's Hill Recreation Park?
Keep an eye out for the wildlife and the flowers. At different ages you are out looking for different things. When I was in my 20s the last thing I would be out looking for were flowers, I was more interested in riding bikes!
It's important to keep to the tracks. When you get lots of people walking through the park, things get trampled which means plants don't grow. Enjoy it without disturbing things. It's getting that balance right so that everyone can enjoy the park.
It's National Volunteers Week this week (9 to 15 May) – the perfect time for us to say a huge thank you to people just like Bernie who give their time to look after the environment and our special places in South Australia. Find out abouthow you can volunteertoo.
To find out more about Shepherds Hill Recreation Park, read our posts aboutSenior Ranger Eric de Smitand5 treasures of the park.
Main image courtesy of Jason Tyndall,Nature Play SA.