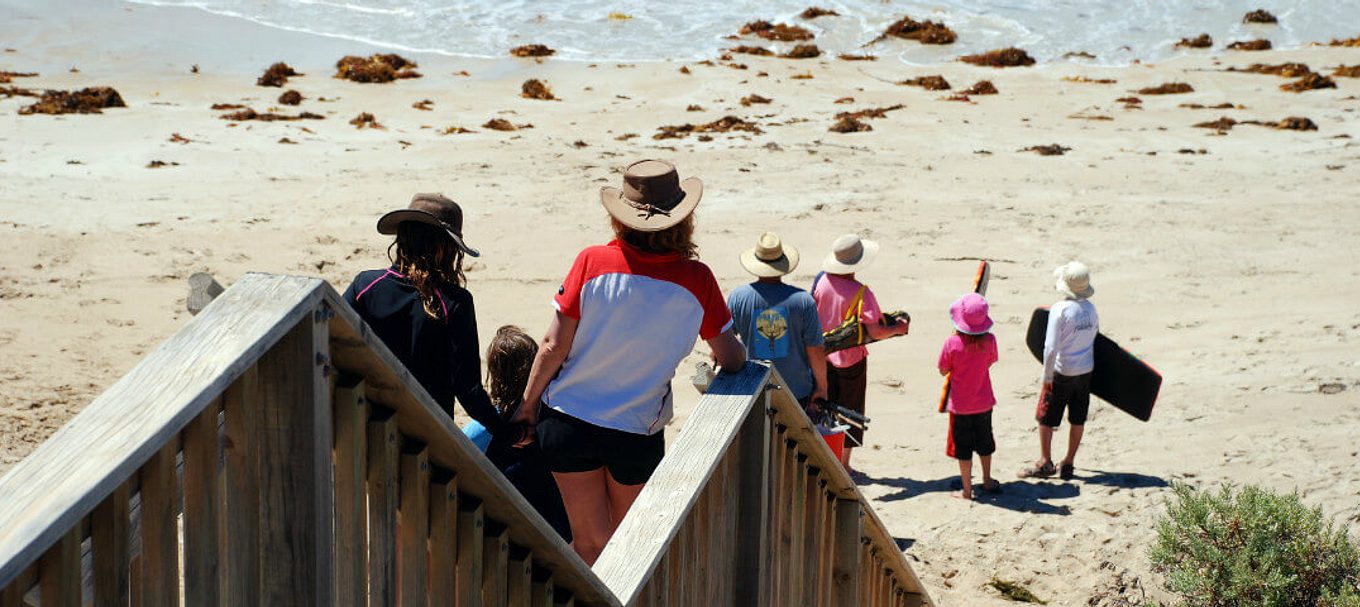 Cool activities for a hot summer
There's plenty of ways to embrace the warm weather in South Australia's national parks.
Summer is all about getting out and enjoying the glorious weather synonymous with South Australia – and the state's national parks are an absolute mecca for beachy fun. Here's some ideas to get you started:
Swimming
Novice or seasoned professional, if you enjoy a good old-fashioned swim there's options for everyone. Five Mile Drift at Beachport Conservation Park is a sheltered beach with shallow waters – ideal for family visits – and the stunning bays along the northern coast of Lincoln National Park are always a popular destination.
Boating and canoeing
If you like to spend your time on the water rather than in it, head to Coorong National Park and explore 150 kilometres of coastline and lagoon by boat or canoe.
For a scenic option take a leisurely trip through the gorge at Onkaparinga River National Park and Recreation Park flanked by spectacular 50-foot cliffs.
Surfing
Surfers can find great waves at Little Dip Conservation Park on the Limestone Coast. If you're after a real challenge, check out Dhilba Guuranda-Innes National Park on the Yorke Peninsula, or Waitpinga and Parsons Beaches at Newland Head Conservation Park on the southern coast of the Fleurieu Peninsula.
Bushwalking
Prefer to admire the water from a distance? Try a scenic walk or hike. Cape Gantheaume Conservation Park provides trails at Murray Lagoon, plus the unmarked Coastal Trek for experienced hikers.
For utterly spectacular scenery, head to Flinders Chase National Park on Kangaroo Island to check out Admirals Arch and Remarkable Rocks, or consider signing up for the new Kangaroo Island Wilderness Trail.
There are a multitude of other beachside activities to enjoy such as bird watching, fishing, snorkelling and beachcombing. What are your favourites? Share your tips in the comments below.
Please note beaches in national parks are not patrolled. Beware of rips and take appropriate precautions when swimming or surfing.