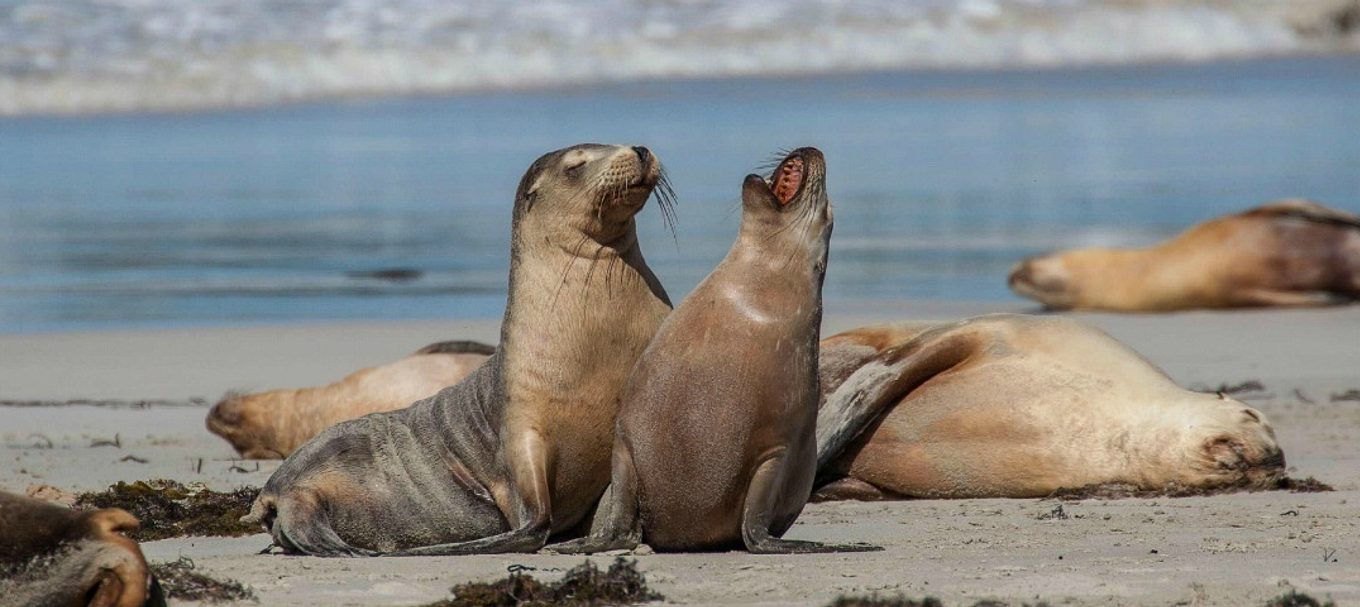 Here are the results of our Kangaroo Island lighthouse competition.
Like these Australian sea lions on the beach at KI, we think the winners will be impressed. About 600 entries were received for the 'Win a trip to Kangaroo Island' competition announced last month. It was obviously something that captured readers' imaginations.
Explorer, author and Nature Play patron Tim Jarvis, media personality, charity champion and Nature Play board member Amanda Blair, and Department of Environment, Water and Natural Resources chief executive Sandy Pitcher were the judges given the weighty task of deciding a winner.
'We were overwhelmed by the thought that went into this competition,' Sandy Pitcher said. 'It just goes to show how much people value our environment and understand how our decisions affect our sense of Good Living.'
'The Good Living blog aims to connect South Australians with our natural wonders, highlight fun and family activities and unlock some of the state's environmental and heritage treasures. And I think already we can say that people in SA "get it".
'The responses showed that we really do see that connectedness of the environment to our health and our ability to enjoy life to the full.'
To celebrate the launch of Good Living we offered one lucky reader the chance to stay in a former lighthouse keepers' cottage on Kangaroo Island including return car ferry transfers for one car and a pass to visit major KI attractions including Seal Bay, Kelly Hill Caves and Flinders Chase National Park.
We were looking for entries of 25 words or less that answered the question: 'How does the South Australian environment contribute to good living for you and your family?'
Here is our winner of the trip to KI:
"Lured from screens
By beaches pristine,
Family talks on
Sunday bush walks.
Getting outside, not forgetting to play,
Living the Good Life here in SA!" – Jayne
'They had me at "lured from screens" and I also liked "family talks on Sunday bushwalks",' said Amanda Blair of the winning entry.
Tim Jarvis was also impressed. 'Great to capture the feel of the state via a rhyme,' he commented.
But there's more...
We were so impressed with the number and quality of entries from so many readers we are giving free Parks Passes to the other seven short-listed entries.
Here are the runners-up who will receive Parks Passes:
"Active: endless fun climbing trees, bike-riding, hiking, beachcombing and more.
Creative: sticks, leaves, nuts, rocks, shells, mud, bugs spark our imagination.
Together: happiness, slow-down, freedom!" – Miriam
"Each autumn school holidays
We pack the trailer
To camp on coast
Cactus, Innes, antechamber, d'estrees...
Barefoot kids, salt-encrusted
Oystercatchers overhead
Freedom, joy
Family, love." – Rebecca
"Wild places feed the soul, grounding and connect us to the here and now and evoke a sense of wonder and curiosity that brings joy." – Elizabeth
"Noise of waves crashing
Away from the hustle
Touching sand with your toes
Understated beauty
Real connections
Exciting every sense
Nature the SA way" – Katrina
"Freedom and affordability in an uncongested community; great climate with vast spaces offering flexibility for family living, relaxation and physical activity. We SAvour it!" – Heather

"There is ALWAYS something to see and do, even when there is 'nothing' to see as far as the eye can see." – Donna
"From the southern tip to the far north, our family love the purity and diversity of South Australia's natural places. Good Living – bring it on!" – David
Congratulations all for a fine effort.
We will be in contact with the winners shortly.
Stay tuned for our next competition – details to be announced in next month's e-news (if you are not a subscriber to our e-news make sure you subscribe so you don't miss out).
The Good Living Team
More about the Judging Panel:
Tim Jarvis AM
Tim Jarvis is a renowned explorer, 2013 Adventurer of the Year and member of the Order of Australia 2010 for his service to the Australian community. Tim is also an environmental scientist, author, public speaker, sustainability advocate and a Dad. This makes him a perfect role model to encourage children to explore, to learn by doing and to appreciate nature in his role as Patron of Nature Play SA.
Amanda Blair
Amanda Blair is a multi-talented magazine columnist, TV and radio personality, passionate charity worker and supporter of various social services and organisations. She is a board member of The Independent Gambling Authority, the South Australian Housing Trust and Nature Play SA and is co-chair of the Premier's Council For Women. She is ambassador for the Hutt Street Centre, Time For Kids, the Bedford Group and Foundation Shine.
Sandy Pitcher
Sandy Pitcher is Chief Executive of the Department of Environment, Water and Natural Resources. With more than a decade of experience in the senior ranks of the public service, she has worked for government in South Australia, Canberra and the United Kingdom. As previous deputy chief executive of the Department of the Premier and Cabinet, she won 2012 Telstra Businesswoman of the Year in the community and government category.