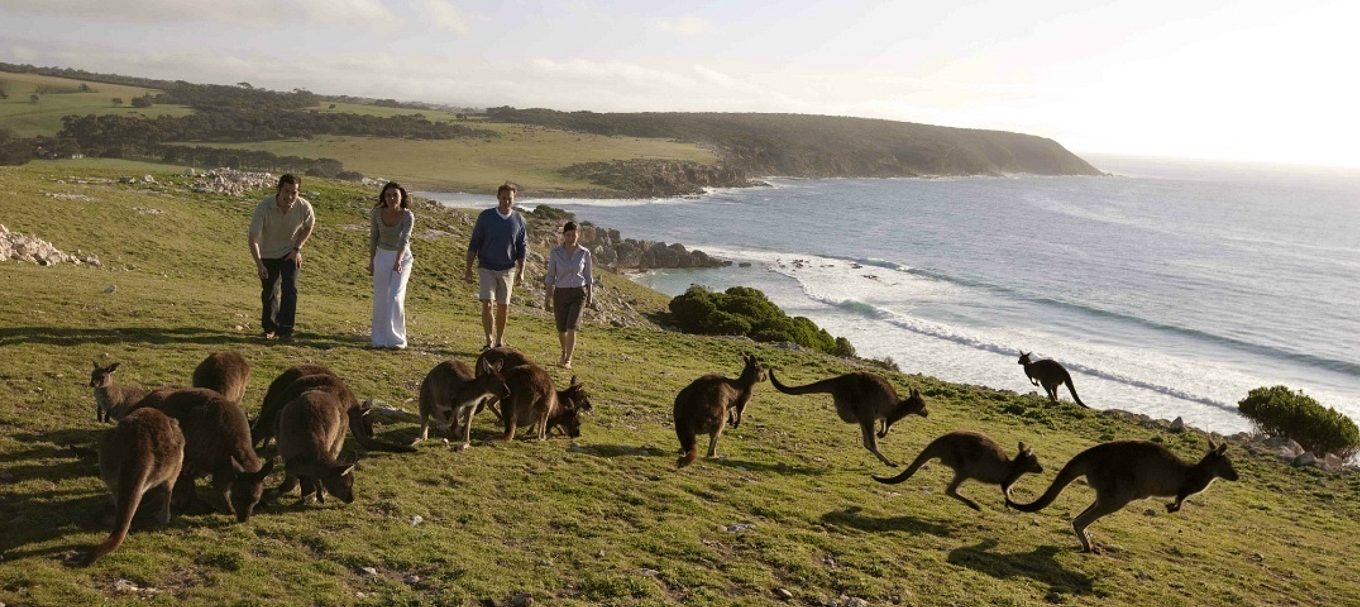 Spectacular landscapes, secluded beaches, abundant wildlife, underground caverns, and unique heritage places.
Kangaroo Island is an unmissable destination.
The exciting prize package for our Good Living competition includes a KI Tour Pass, which is the ticket to the island's top natural and heritage attractions. The competition closes on Friday 12 June 2015.
The Family Tour Pass provides access to Flinders Chase National Park, the Seal Bay boardwalk and look out, as well as admission to the Seal Bay guided tour, Kelly Hill Show Cave tour and tours of the Cape Borda and Cape Willoughby lighthouses.
Flinders Chase National Park
The vast wilderness of Flinders Chase National Park is home to two of KI's most iconic landmarks – Remarkable Rocks and Admirals Arch
Remarkable Rocks' surreal beauty has been sculpted by the elements over 500 million years and captured in thousands of photographs. Just 10 minutes' drive from the Rocks, Admirals Arch frames fur seals basking on a rocky shoreline. A boardwalk and viewing platform allows visitors to watch the fierce ocean swells of the Western Kangaroo Island Marine Park. Flinders Chase offers walking trails to suit different abilities and time limits.
Seal Bay
Home to the third-largest colony of Australian sea lions in the world, the recently upgraded
Seal Bay is KI's premier attraction. There are no enclosures or cages at Seal Bay and visitors can take a 45-minute beach tour into the heart of the wild colony. There is also a specially constructed 800-metre boardwalk to the Seal Bay lookout, which offers views of the sea lions as well as Cape Gantheaume and Southern Kangaroo Island Marine Park which protects their feeding grounds.
Kelly Hill Caves
Kelly Hill Caves is one of the few dry limestone caves in Australia. Visitors can walk amid stalagmites, stalactites, helictites and towering columns to discover how these natural wonders were formed. The more adventurous can suit up with a helmet and headlamp to delve deeper into the cave system on an adventure caving tour. Climb and scramble your way through an underground maze of smaller caverns to see highlights, including intriguing fauna fossils and bones.
Lighthouse Tours
Enjoy the 360-degree views from the top of Cape Willoughby Lighthouse Tower on a guided tour or visit the unusually shaped Cape Borda Lighthouse on the island's remote north-west corner. The winner of our Good Living competition will have the chance to stay in a former lighthouse keepers' cottage at either of these sites. Read more about the Cape Willoughby and Cape Borda Lighthouses and don't forget to enter the competition.
Photo courtesy of South Australian Tourism Commission