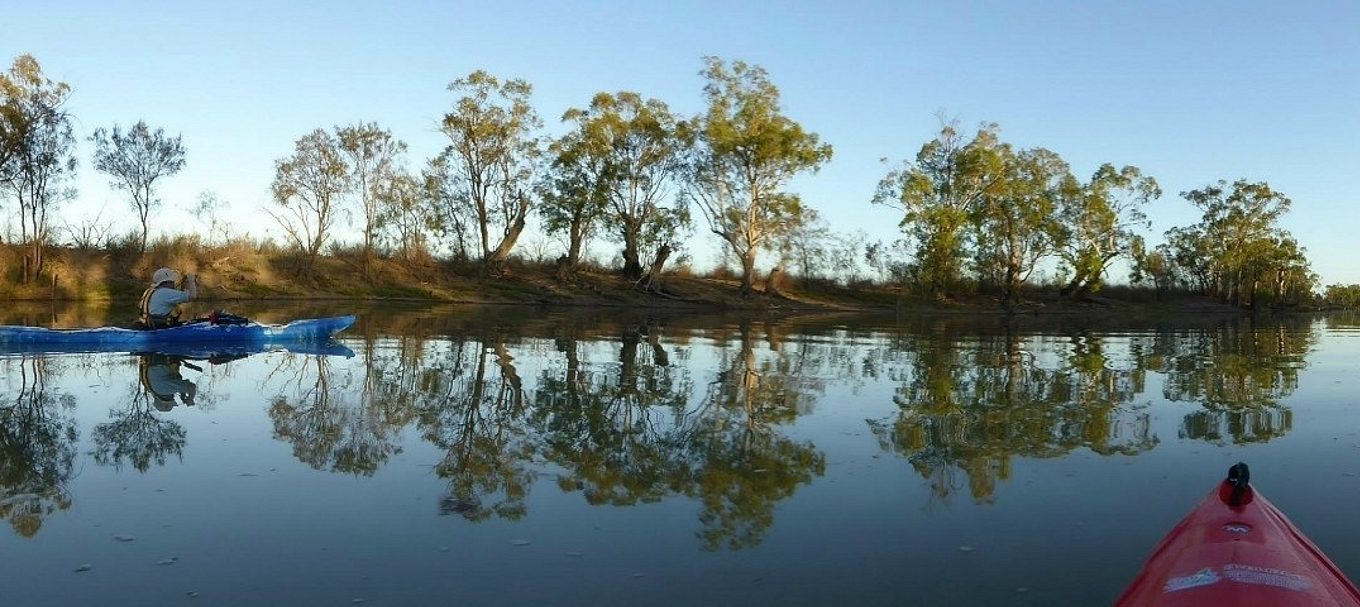 Kayaking the mystical Murray
Kayaking is a brilliant way to see the Murray River. Here's your guide on what to expect, and new places to explore, including some only accessible by kayak.
Kayaking at sunset or sunrise is when the beauty and serenity of the river come to the fore, with spectacular hues of orange, pink and scarlet lighting up the sky before you.
With only the slightest of breezes, the river is flat and glossy like a giant mirror, reflecting the sky above and turning it into a dazzling 360-degree light show.
All you can hear is the chirping of birds and the gentle splash as your paddle hits the tranquil water.
Inhale... Exhale... Relax. It's just you, a kayak and the wondrous Murray River.

An exciting, unexplored opportunity
New infrastructure installed at Paringa Paddock is providing kayakers with an exciting new opportunity to canoe directly from the River Murray, through a secluded creek inlet, and into a fabulous wetland environment.
Paringa Paddock is conveniently located between two prominent Riverland caravan parks, providing visitors with great access to explore this area

Paddling at Katarapko
With presently higher water flows, you can see even more of areas of Katarapko by exploring the floodplain and wetlands landscapes – so now is a great time to visit.
And just under 250 kilometres (that's about three hours' drive) from Adelaide, between Berri and Loxton, it's easy to get to.
Mostly contained within the Murray River National Parkthe Katarapko area is about 9,000 hectares of floodplains and wetlands encompassing 38 kilometres of waterways including The Splash, Sawmill and Piggy creeks, Katarapko Island Horseshoe lagoons, Katarapko Island swamps, and Ngak Indau and Eckert Creek wetlands. All that water makes it perfect for kayaking.

What to see
Dazzling sunsets and sunrises, incredible bird and aquatic life, tree lined banks straight from a Hans Heysen painting – stunning natural South Australian beauty.
Best time to visit
Kayaking is available all year round. As for the best time of day to go, sunset on the River Murray is simply magical.
Who can go
Kayaking is suitable for all ages and no prior experience is necessary. Plus all the waters around Katarapko are rated as 'flatwater', with little or no current and protection from the wind, meaning they're perfect for first timers of all fitness levels, including kids.
While you are there…
There are heaps of other activities you can do at the Murray River National Park:

explore the river and creeks by boat and visit Bulyong Island.
go fishing at Katarapko Creek where you can catch golden perch, red fin and yabbies.
learn about the park's wildlife and history along interpretative walking trails.
bring your binoculars and watch for rare birdlife, such as the threatened regent parrot.
view the stunning contrasting landscapes along the Murray Pine Drive.
go camping along the river in designated campgrounds at Katarapko and Lyrup Flats.
So, why not take the time to explore the beauty of our magical Murray? Just you, and a kayak.
Contact the local visitor information centre to find tour operators.
Photo credit: Canoe Adventures - Riverland