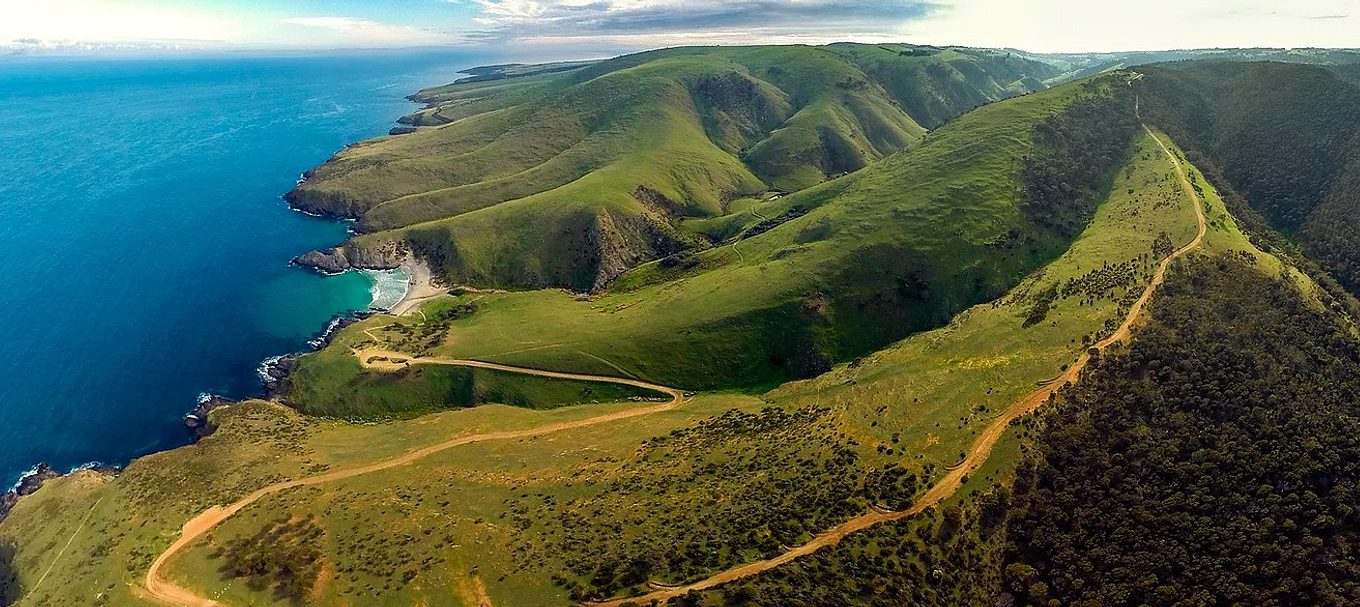 3 campgrounds in South Australia's national parks where you can treat yourself to a hot shower
You don't have to resort to a cold shower – or no shower – while camping. These national parks offer a hot one.
With campgrounds in more than 40 of South Australia's national parks and reserves that provide the opportunity to relax and enjoy some of the state's most iconic and beautiful places, it makes sense that camping is a favourite pastime for many South Australians.
But for some, the idea of being out and about all day and not being able to wash off before hopping into bed is, understandably, not the most appealing thought. And neither is the thought of an icy cold shower.
If having a cold shower or no shower at all isn't your idea of fun, don't fret – we've compiled this list of national parks with campgrounds where you can take a nice, hot shower:
1. Deep Creek National Park
Less than 100 km from Adelaide, Deep Creek National Park is the perfect park for a weekend getaway.
The park features a spectacular coastline, complete with rugged cliffs and sweeping views of the Southern Ocean and Kangaroo Island, and with plenty of activities on offer in the park, from bushwalking to fishing and four-wheel driving, there's something for everyone.
There are five campgrounds dotted around the park, but if it's a hot shower you're after, then Stringybark Campground is where it's at.
The campground is made up of 16 sites, which are suitable for tents, caravans, campervans and camper trailers, and is set amid a tall stringybark forest, giving it plenty of protection from the wind.
Not only does the campground have hot showers, where you can get refreshed after a big day of adventure, but there are also fire pits for roasting marshmallows (outside of fire ban season), as well as picnic tables and toilets.
You can explore this campground before you go with Google Street View, and when you're ready to make your dream trip a reality, you can book your campsite online.
2. Witjira National Park

Situated almost 900 km north-west of Port Augusta, on the western edge of the Simpson Desert, is Witjira National Park.
The park is home to more than 120 mound springs, including the National Heritage-listed Dalhousie Springs, used by Aboriginal people for thousands of years as a source of food, shelter and medicine.
Dalhousie Springs' Main Pool is open for swimming, and with a year-round temperature of about 37 degrees, it's the perfect spot to unwind.
If the warm waters of Dalhousie Spring aren't enough for you, you can also get refreshed in the hot showers at Purni Bore Campground before you set up camp for the night.
The campground is suitable for tents, and doesn't need to be booked in advance – as long as you have a Desert Park Pass.
If you're not desperate for a warm shower, and you're just after a spot to rinse off, then the Dalhousie Springs Campground is just the spot for you.
The campground offers cold showers and toilet facilities and has 20 campsites suitable for tents and camper trailers.
Top tip: access to this park and the trails within it is subject to weather and road conditions in the area. Check the latest Desert Parks Bulletin before visiting for the most up-to-date information on accessing the park.
3. Ikara-Flinders Ranges National Park
Ikara-Flinders Ranges National Park is located roughly 450 km north of Adelaide, in the central Flinders Ranges, and is full to the brim with rugged mountain landscapes, peaceful tree-lined gorges and wildlife.
There's a lot to do in in the park, so you might want to stay for a few days to do as much as you can and make the most of your visit.
If you want your stay to be in total comfort, then the Wilpena Pound Campground, operated by the Wilpena Pound Resort, is the perfect campground for you.
The campground is nestled among native pines in the heart of the park and is made up of 48 powered sites (including 4 bus bays) and 400 unpowered sites.
The campground is equipped with hot showers, as well as picnic tables and shelters, toilets, a fuel station, a visitor information centre, public phone, ATM, laundry facilities and a general store – talk about glamping!
If you want to stay in one of SA's national parks, but the promise of a hot shower still doesn't make camping sound like a fun option, then check out what other accommodation options are available in parks by using the Find a Park tool on the National Parks and Wildlife Service website.
Want to make your stay in one of SA's national parks even comfier? Check out our guide to packing for your next camping trip.
Main image: Deep Creek National Park