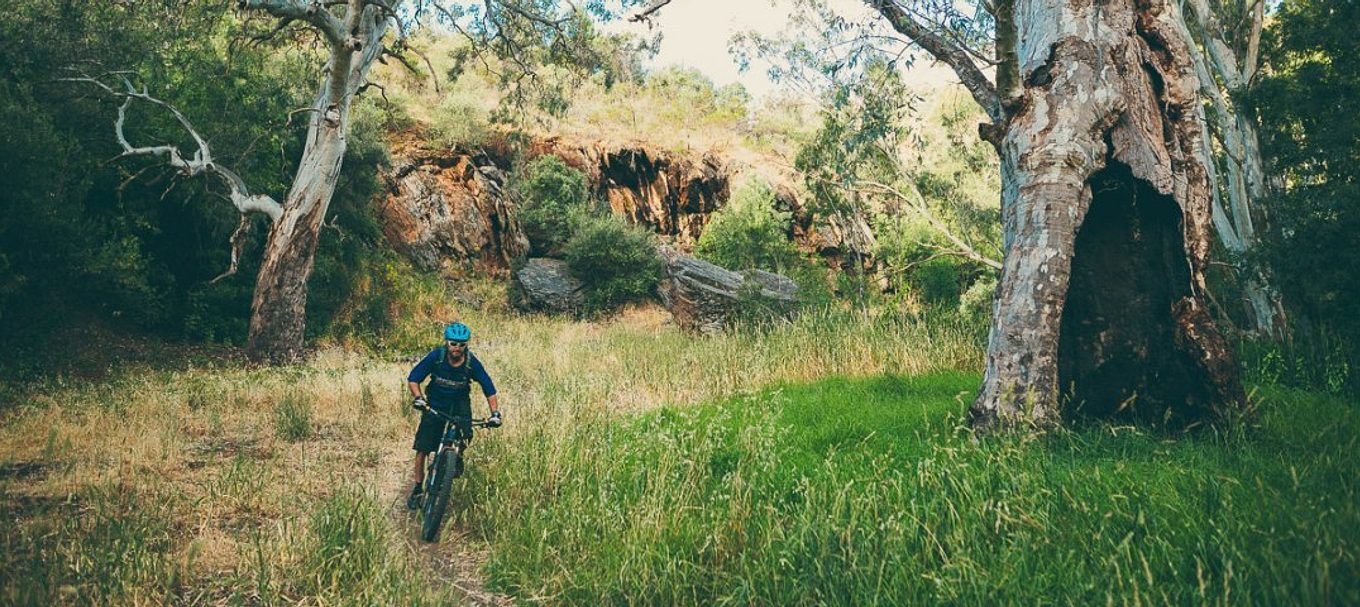 How to spend a day in Sturt Gorge Recreation Park
Want to make the most of your visit to this spectacular park? We've got you covered with this one-day itinerary.
Sturt Gorge Recreation Park is internationally recognised as an area of conservation and geological significance.
Just 13 kilometres south of Adelaide's CBD, the park boasts a large network of shared-use mountain bike and walking trails that can be enjoyed by the whole family.
Dogs are also allowed in the park, so bring along your furry friend to be part of the fun, but remember to keep them on a lead no more than 2 metres in length, and stick to the designated walking trails.
To help you plan your visit to Sturt Gorge Recreation Park, Graduate Ranger Beth Reid has put together this itinerary for a great day out:
Morning
Start your day with an easy walk along the Magpie Creek Trail. Take the trail to where it meets the River Trail and head down to the Sturt River Flood Control Dam wall for some spectacular views.
Alternatively, if you're up for a longer, more challenging hike, try out the River Trail. The River Trail takes in the rugged beauty of the park and passes through a variety of vegetation communities.
The trail is a one-way, 9.8 km track and is a Grade 4 Hard Hike with steep sections, so be sure to wear appropriate clothing and footwear and take plenty of water. The trail will take you 4 to 5 hours to complete, but if you're short on time, you can complete shorter sections of the hike instead.
Top tip: If you're walking with a friend, take two cars and leave one at each end of the trail to save the trek back to your car. If you're walking solo, there are also public transport options available.
Lunch
By now, you probably would have worked up an appetite for something tasty. Make your way over to Lakeview, which is a part of Craigburn Farm, for a scenic picnic lunch.
Lakeview is a great spot for birdwatching, so pack your binoculars to get a glimpse of some of the woodland birds that are native to the area.
If you're up for more walking, take a leisurely stroll along the 1.2km Lake View Trail and soak up the serenity of the lake.
Afternoon
After lunch, get your wheels a bit dusty along a mountain-biking trail.
If you're new to mountain-biking and still need to find your feet, try out the 1.2 km Surf and Turf Trail and the 3 km Gunners Run Trail.
If you've got a little more experience behind you, check out the de Rose Trail or the Lomandra Trail.
The de Rose Trail offers views of the coast and the city while the Lomandra Trail takes you through sheoak and grey box woodland.
Both of these trails are 4 km long and are shared-use, so if mountain biking isn't your thing, walking is also an option.
Interested in finding out more about this hidden gem of a park? Check out these tips from Park Ranger Kurtis Madigan.