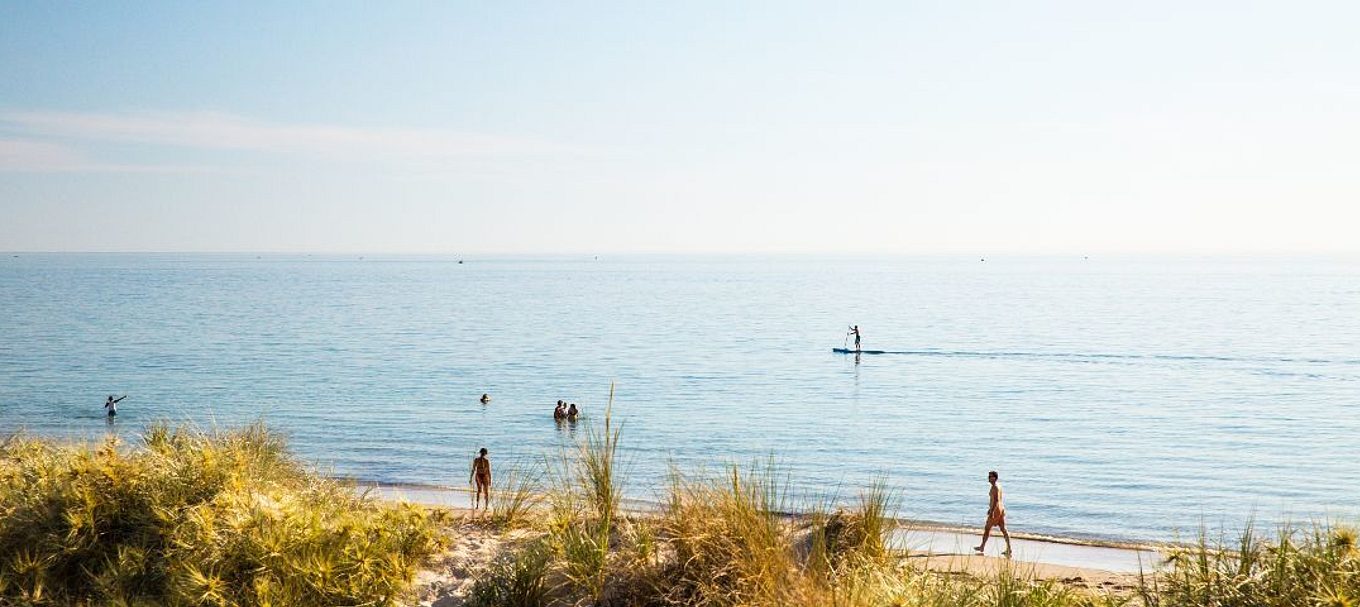 6 of South Australia's top metropolitan beaches
What makes a beach tops? We've done some research. Here's some of Adelaide's best beaches to visit during summer.
The most popular beaches to visit are usually ones that have soft, white sand, jetties, a sparkling ocean, scenic dunes, easy parking, and access to toilets and snacks to keep you going all day.
Adelaide's 30km-long metropolitan coastline is packed with fantastic spots to splash around, some with quiet and peaceful shorelines, and others bustling with things to do and people to see.
But there's more to it than that. Did you know that it takes effort to keep Adelaide metropolitan coastline sandy?
Adelaide's coastline from Seacliff to North Haven is one connected beach system, with sand naturally moving north due to the wind and waves.
This causes erosion on our central and southern beaches like West Beach and Henley Beach South, and causes sand to build up on Adelaide's northern beaches like Semaphore.
Keeping Adelaide's beaches sandy
So, to combat erosion, the equivalent of about 100 Olympic swimming pools of sand is moved around the coast each year to keep Adelaide's central and southern beaches sandy.
Here are some top Adelaide metropolitan beaches to visit (in no particular order) and how they stay in shape:
1. Seacliff beach
The beach is beautifully large, with a few cafés, playgrounds and toilets. It's a nice family-friendly spot to spend a warm afternoon.
The equivalent of about six Olympic swimming pools of sand is moved to Seacliff Beach each year from its northern beachside neighbours.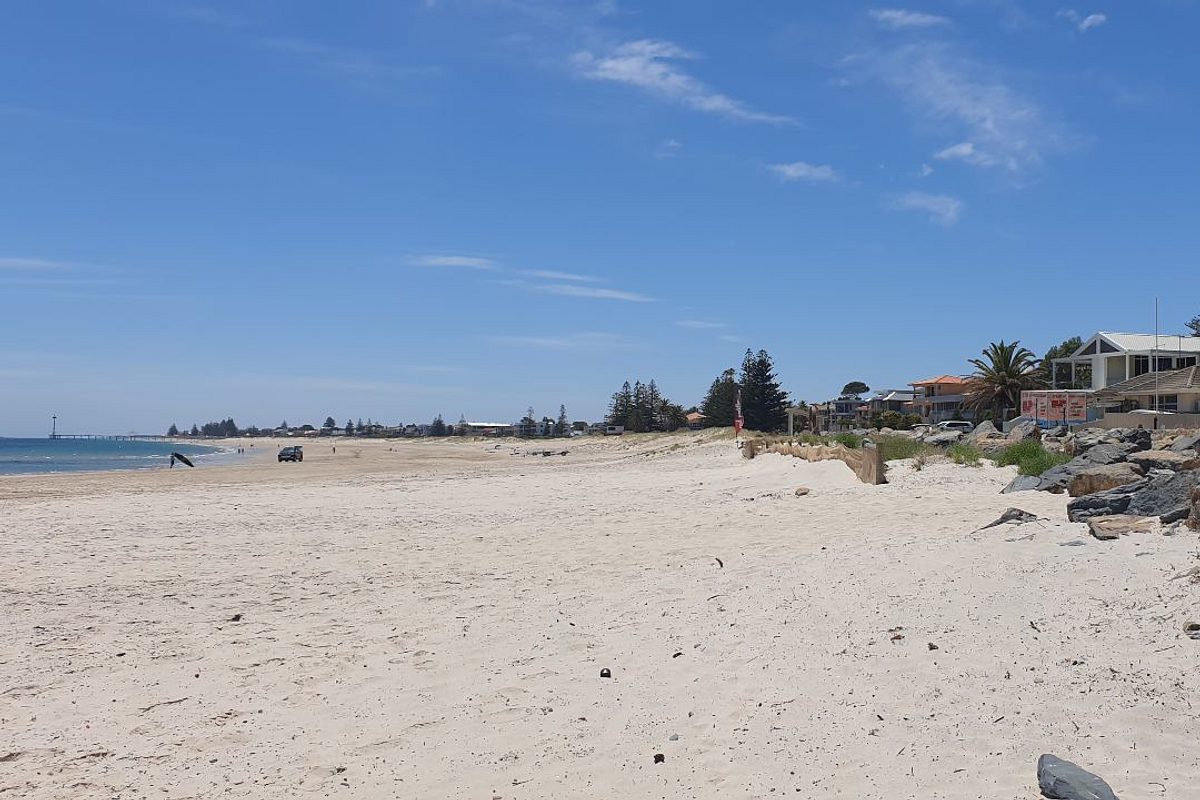 2. Brighton beach
You'll love Brighton beach's long jetty over its sandy beach, and you'll feel safe in the water as it's patrolled by the Brighton Surf Lifesaving Club.
Enjoy lunch or a coffee at one of the local cafes, or if you are feeling the active vibe, hire a stand-up paddle board or kayak and explore the sea.
About 15 Olympic swimming pools of sand is moved to Brighton beach each year.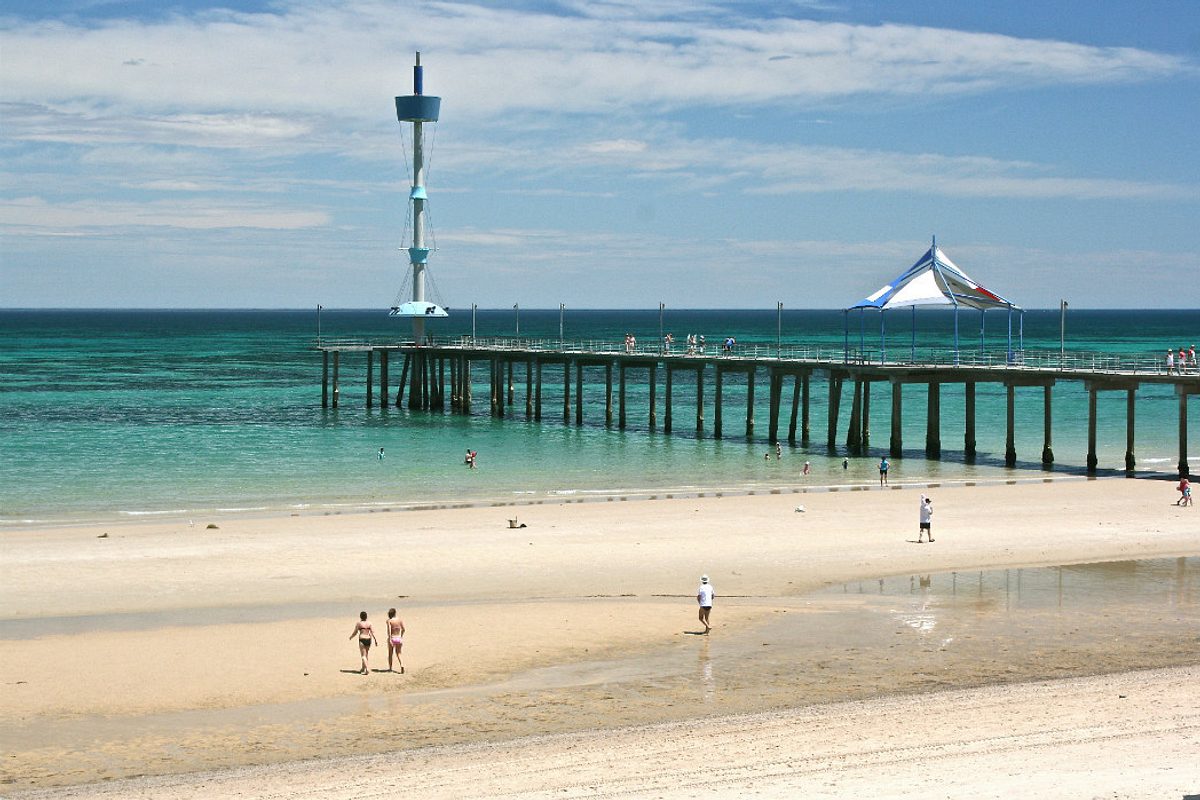 3. Glenelg beach
Glenelg is one of Adelaide's most popular tourist spots. This is thanks to its wide, sandy beach, grassed seaside picnic areas, charming hotels and heritage, bustling shops and cafes, plus entertainment like the water slides at The Beachhouse and during summer, the European style beach club near the Glenelg jetty.
Glenelg beach isn't just a tourist hotspot, it's a sand accumulation hotspot too.
Wind and wave activity causes sand to build up at Glenelg beach, which is then moved via an underground pipeline to replenish beaches like Brighton and Seacliff each year.
Top tip: Glenelg beach is easily accessible from the city by tram to Moseley Square.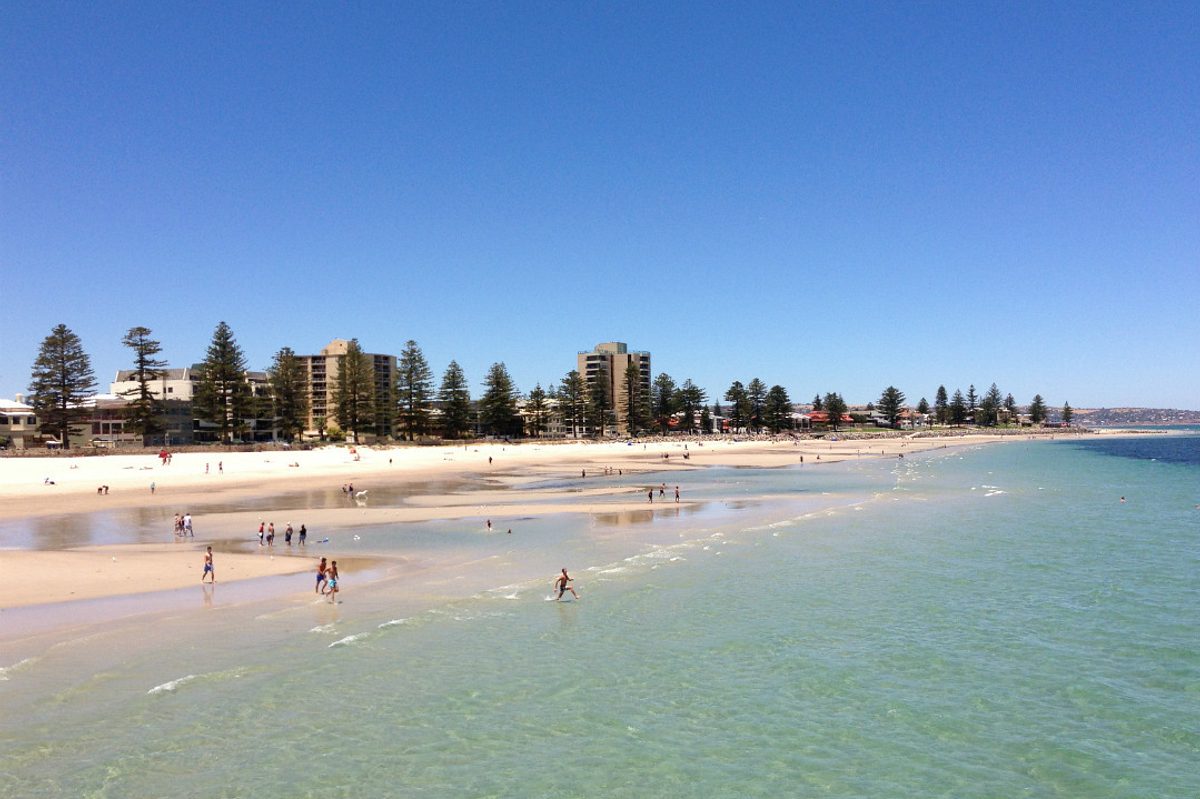 4. Grange beach
A 2km walk north from Henley Beach is Grange – a boutique and tranquil spot with palm trees to match.
Grange beach has a relaxing character, with cafes and toilets, as well as the historic Grange Hotel.
Grange is another spot that accumulates sand. This is thanks to the Adelaide coastline's northward drift, as well as external sand imported to Adelaide's beaches in the 1990s.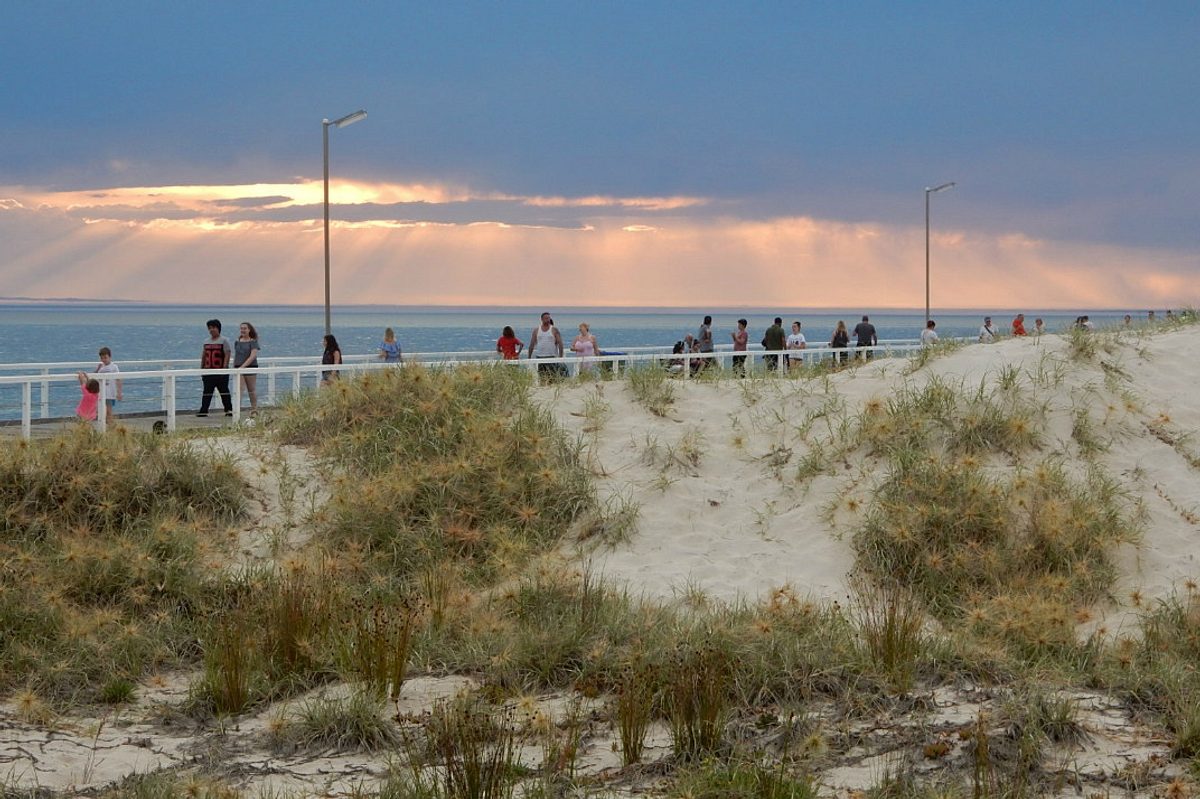 5. Tennyson beach
Think dunes. The beautiful Tennyson beach is wide and sandy, with a dune walking trail of its own, and stunning sunset views.
Tennyson beach is a perfect spot to walk your dog, lay on the beach to soak up the rays, (remember to bring some shade) or enjoy stunning sunset views.
Thanks to Adelaide's northward drift, a lot of sand naturally moves to Tennyson.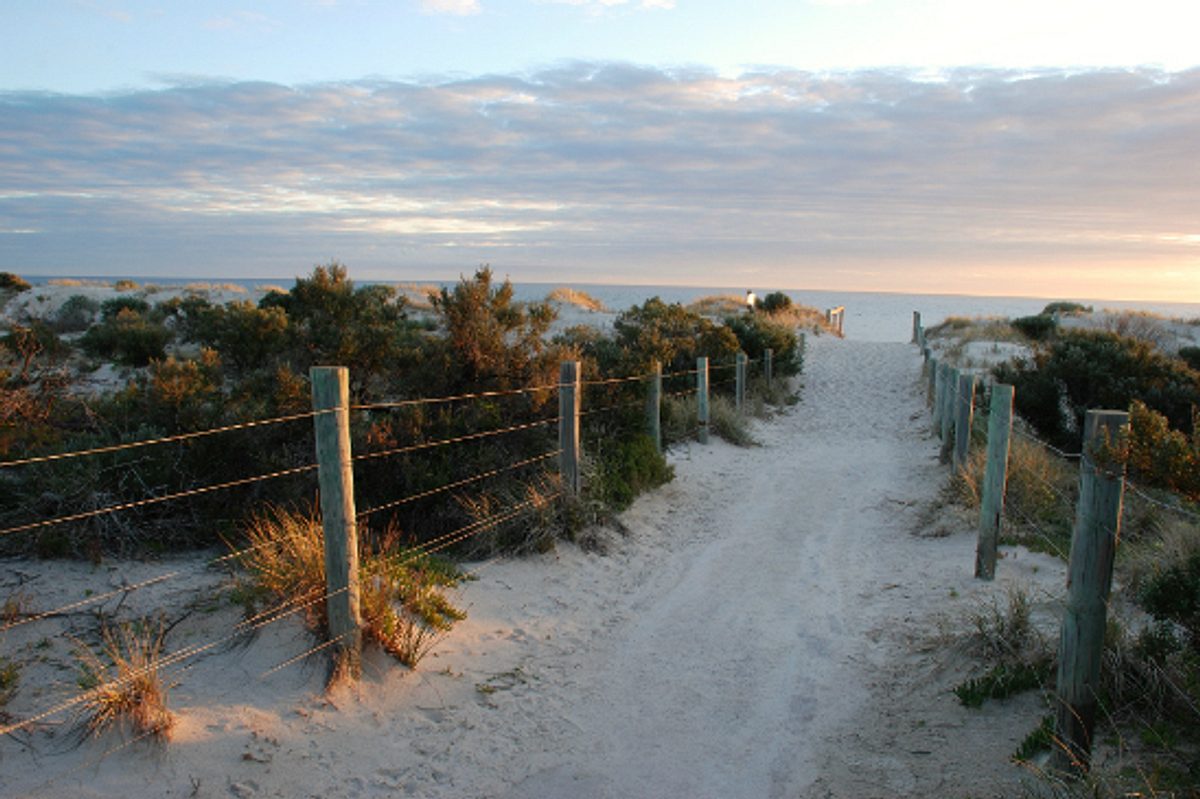 6. Semaphore beach
The carnival character of Semaphore beach during summer is a treat.
With a summer carnival, lots of cafés and pubs to check out near the beach, you'll be sure to find something quirky here.
Semaphore beach is deep and white with plenty of low dunes, as well as a green foreshore with a steam train that puffs along the shoreline on weekends.
Super sandy Semaphore is used to replenish the beaches further south each year, particularly with sand from the Semaphore South breakwater, which was built to collect sand that naturally drifts north.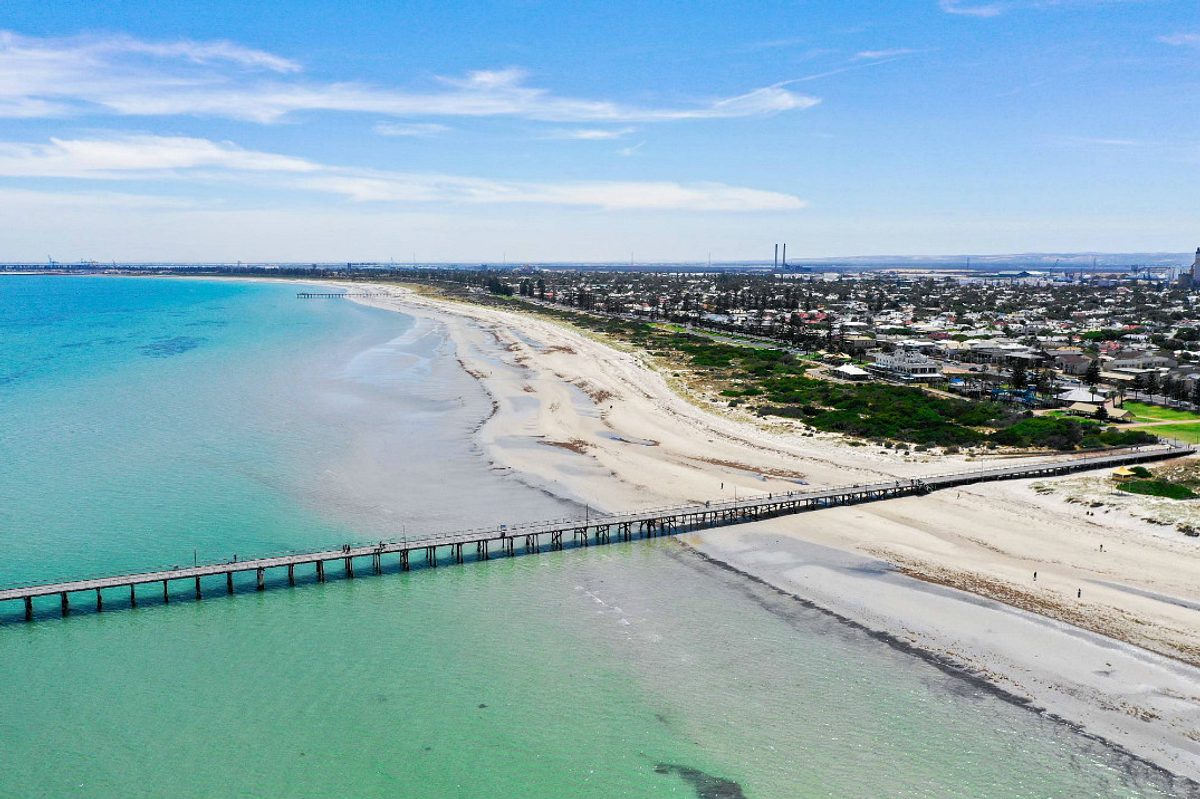 While you're out and about, why not check out West Beach too? The equivalent of 46 swimming pools of sand has been added to West Beach in 2021 from land-based quarries to address serious erosion problems.
This is part of the state government's Securing the future of our coastline project, which will also see the construction of a sand recycling pipeline from Semaphore to West Beach.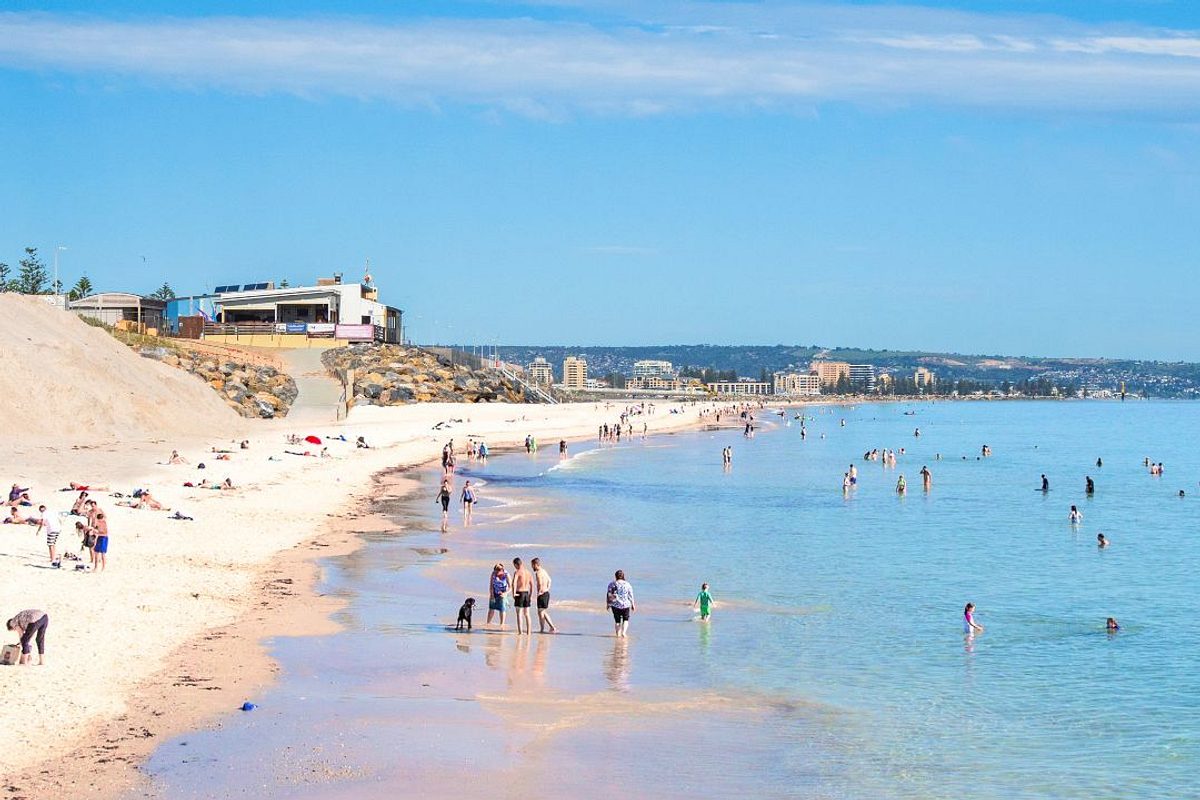 Artist impression of what West Beach will look like after the project is complete.
Staying safe at the beach
For your safety, surf lifesavers patrol many beaches throughout Adelaide and South Australia. Check out these safety tips to make your beach-day a pleasant one.
Want to get a feel of Adelaide's entire coastline? Try out theCoastal Walk. And for some fun ideas of how to spend your time at the beach, check outthis story.
(Main image courtesy of SA Tourism Commission)
This story was originally posted in December 2019 and has been updated with new information.
Like what you just read? There's plenty more where this came from. Make sure you don't miss a post by subscribing to Good Living's weekly e-news.