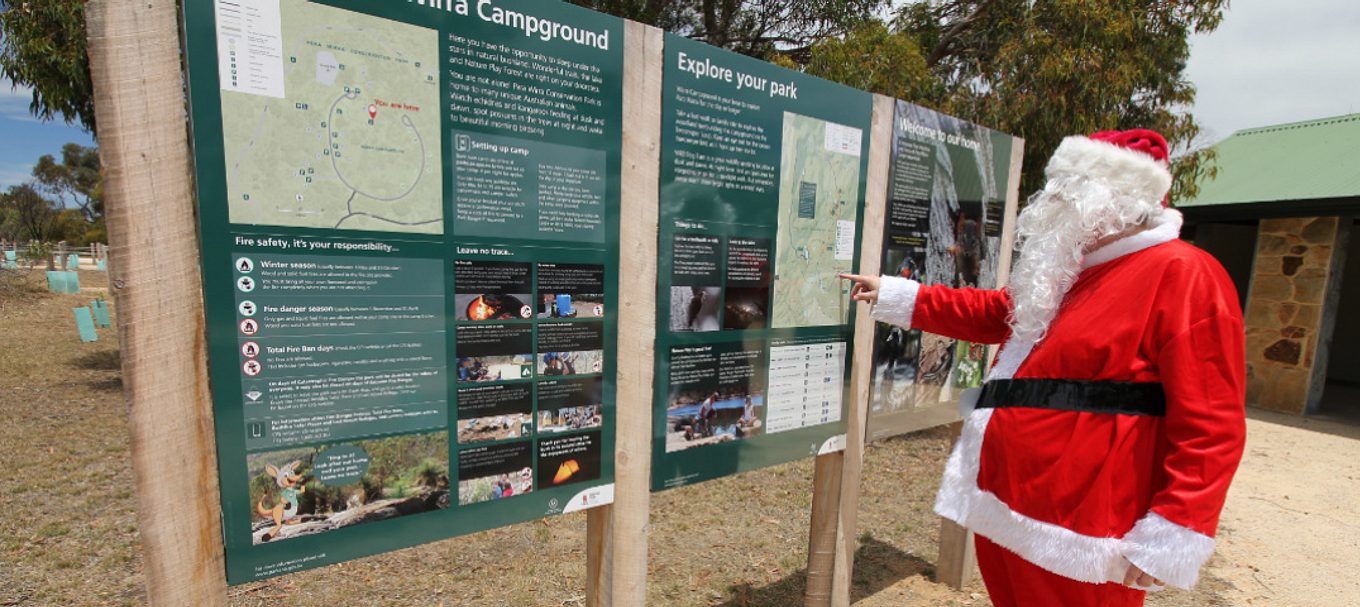 6 unique Christmas present ideas for nature-lovers
Want to buy something that doesn't cost the earth? Give the gift of nature with these Xmas gift ideas.
If you're trying to win Kris Kringle with the most unique gift, wracking your brain about what to get the auntie who has everything, or just really into experiences rather than things, we've made the perfect Christmas list for you.
Here are 6 top ideas for your nature-loving family and friends:
1. Buy grandma and grandad a year's worth of days in the park
What's better than a walk in the park? A walk where you get to feed potoroos!
Cleland Wildlife Park is one of South Australia's most iconic tourist attractions, renowned for its wide open spaces where you can get closer to animals including koalas, kangaroos, wallabies and potoroos.
A range of Cleland Wildlife gift vouchers are now available just in time for Christmas.
From one off day passes to yearly memberships, there is something for everyone. Love wombats? How about a close encounter with the world's friendliest wombat, Fred? Or your loved one can even have breakfast with the birds.
The best bit? Knowing that your membership contributes to the many programs and conservation efforts undertaken at the park.
2. Buy mum a beach
OK, so going full Richard Branson and buying your mum a beach isn't entirely realistic. But you can get her a multiple entry parks pass so that she can experience the best of South Australia's national parks year round, at sites like the white sand beaches of Lincoln National Park on the Eyre Peninsula.
An annual parks pass covers vehicle entry fees for parks where fees apply, such as Belair National Park, Coffin Bay National Park, Deep Creek National Park, Ikara-Flinders Ranges National Park, Dhilba Guuranda-Innes National Park, Lincoln National Park, Mount Remarkable National Park and Para Wirra Conservation Park.
A 12-month pass costs $99 ($79 concession) and can be bought online. And there's another feel-good alert – proceeds from the pass contribute to the maintenance of SA's huge national parks estate, which covers more than 21 per cent of the state.
3. Buy aunty a memory
There's always that one person on the Christmas list who has everything. But does Aunty Marge have a historical aerial photograph of her favourite part of South Australia?
Mapland has a comprehensive library of aerial photos dating back to 1949. Prints can be customised to your requirements, so you can get them printed in large format, laminated or block mounted.
Prices start at $102 for A3 size (29.7cm x 42.1cm) and up to $266 for A0 size (118.9cm x 84.1cm). Custom sizes are available, and priced on application. To purchase, call (08) 8463 3999 and check the price and payment details online.
4. Buy your bestie a good long walk
Is going for a walk ever really about the walking? Head out with your squad to feel the sun on your back and have a good long chat with the help of Mapland's detailed park maps for Cleland National Park, Deep Creek National Park or the Heysen or Yurebilla Trail.
Maps are sold at the Department for Environment and Water's customer service centre on the ground floor of 81-95 Waymouth St, Adelaide, which is open from Monday to Friday, 9am to 5pm.
They're also available at retailers including the Friends of the Heysen Trail shop on Pirie St in the city, at Paddy Pallin and the Scout Outdoor Centre on Rundle St, The Map Shop on Hindley Street, Carto Graphics on Unley Road at Unley, and at selected visitor information centres across the state.
Give them a call ahead of your visit to make sure that they have the map you're after in stock.
5. Buy your Kris Kringle something uniquely South Australian
The pressure is on for office Kris Kringle. You need to get something unique, something fun or something funny.
Gift shops in national parks including Mt Lofty Summit, Cleland Wildlife Park, Naracoorte Caves, Seal Bay and Flinders Chase National Park stock a huge range of products suitable for even the most hard-to-buy-for colleague.
There's everything from locally made honey to books about native wildlife, handmade creams and skincare products, tea and coffee accessories, maps and stuffed toys.
7. Buy your dad a Cooper's Classic
No, not that kind of Cooper's – the tree kind of Cooper's! Cooper's Classic is just one of more than 1000 plants that you can buy at State Flora's nurseries at Belair and Murray Bridge.
Thumb through the nursery catalogue to find the best plant for your dad's garden. The catalogue is easy to use and details general growing characteristics, soil preferences and flower colours.
It also lists the regions of SA to which species are indigenous, and the conservation status of each species. So, Ellendale Dragon, Copper Rocket, Burrendong Beauty or Eyre Princess – what will you choose?
With the shopping list sorted, maybe it's time to think about how you're going to decorate. Ditch the exotic plants this Christmas and deck the halls withthese native species instead.
This story was originally posted in November 2019