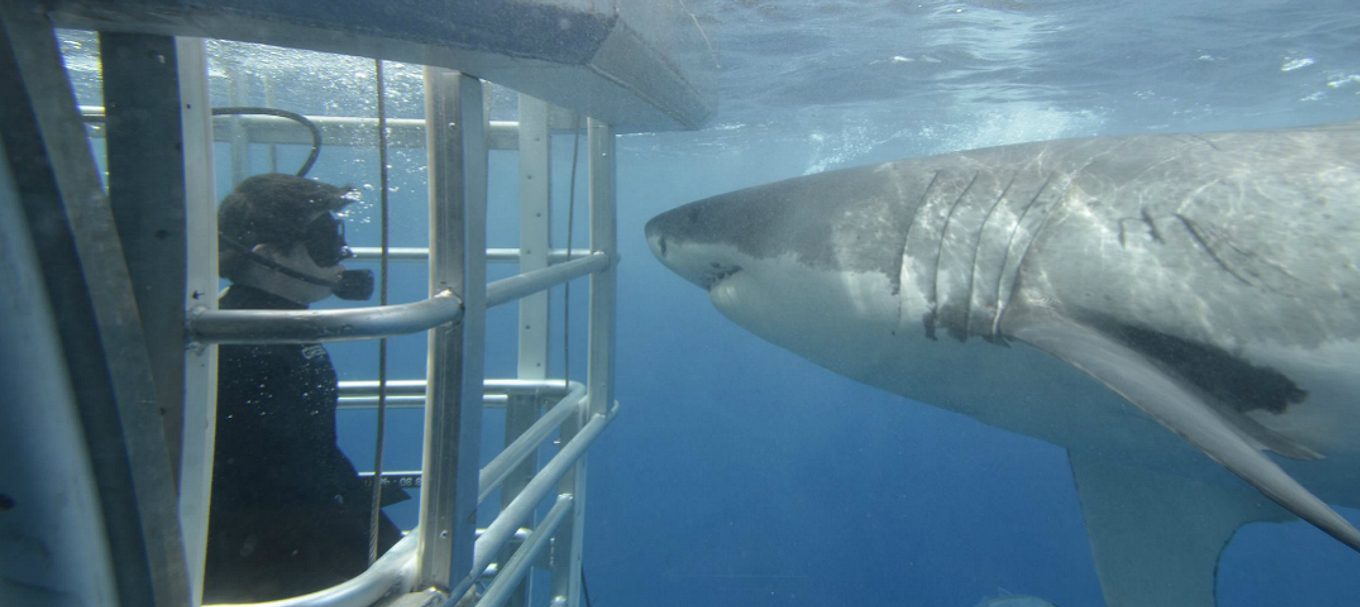 26 must-do adventures in South Australia's national parks
From soaking in ancient hot springs to kayaking among shipwrecks, SA's parks have it all. Give these ideas a go.
In South Australia's great outdoors there's plenty of amazing adventures that are just waiting for you to discover and explore.
And within our national parks are some of the best. It's here that you can dive with great white sharks, snorkel through underwater gardens, walk among sea lions, swim in crystal clear rock pools and even cuddle a koala.
Here's 26 of our favourite national park adventures for you to add to your 'must do' list:
Adelaide and surrounds
1. Get up-close with native animals
Cleland Wildlife Park is famous for its limited number of enclosures, which means many of the animals are roaming free.
This is your chance to see, pat, feed and photograph kangaroos, emus, potaroos and wallabies in their natural habitat.
The best way to get up-close to some of the most iconic native animals is to grab a bag of animal food and see who's hungry and wanting to say hi.
Grab a takeaway coffee from the café and wander down to the yellow-footed rock wallaby enclosure.
Here you can take in one of the most amazing views of Adelaide, all the way to the northern beaches and beyond.
It's the perfect place to sip on your morning coffee, while watching the early morning sun dance off the city landscape and the water in the distance.
2. Kayak through a ships' graveyard
Paddle through the remains of at least 40 abandoned vessels hidden within the Adelaide Dolphin Sanctuary, only 20 minutes' drive from the CBD.
The Garden Island Ships' Graveyard Maritime Trail is the largest and most diverse ship graveyard in Australia and includes a variety of sailing, steam and motor vessels, barges, pontoons and dredges.
If you're lucky you might even spot some of the resident bottlenose dolphins swimming by your kayak.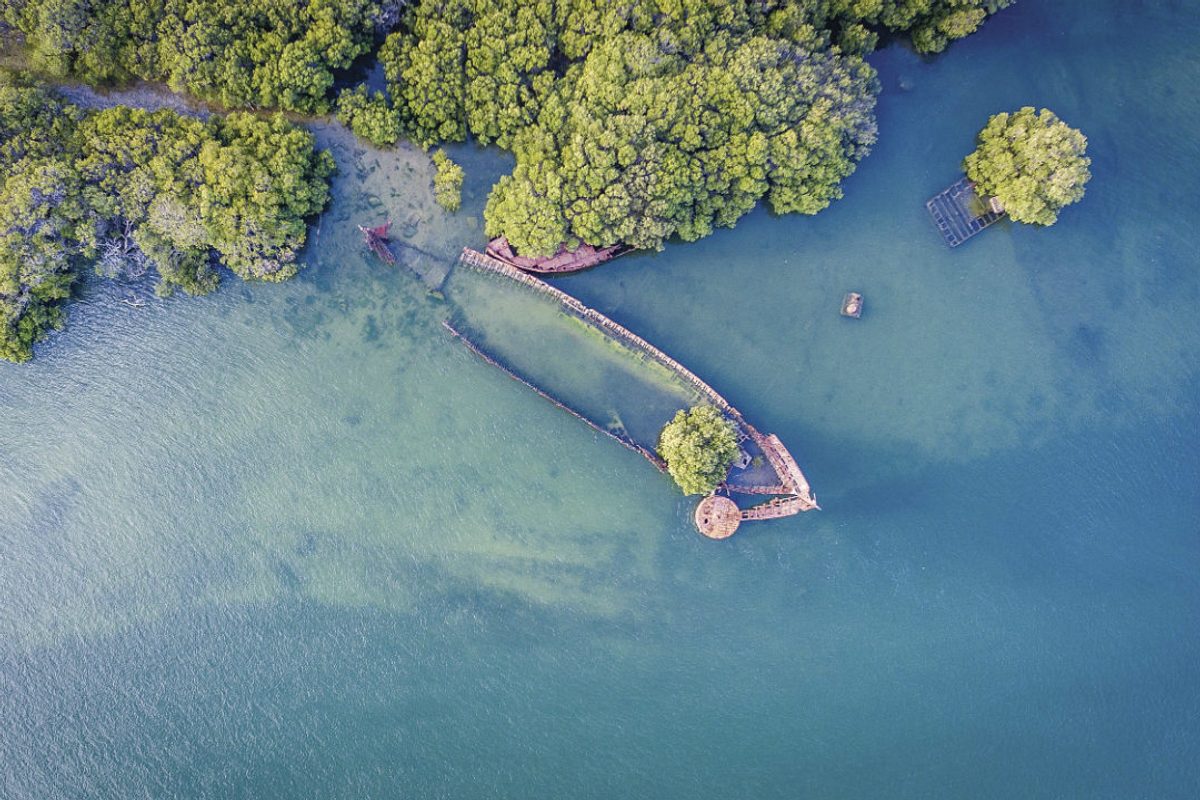 3. Go for a wheelie good ride
The Craigburn Farm section of the Sturt Gorge Recreation Park in southern Adelaide is fast becoming a destination for mountain biking.
With a network of more than 10 trails over a variety of terrains and surfaces, there's something for every skill level.
4. See a red knot in breeding plumage
Visit the Adelaide International Bird Sanctuary National Park – Winaityinaityi Pangkara in Adelaide's north-west, which is home to more than 50 species and more than 27,000 resident and migratory shorebirds, including red knots that fly from as far as Russia.
The plumage of male red knot birds changes from brownish-grey to chestnut-red when breeding.
The best time to witness them in their breeding plumage is in early autumn, just before they make their epic journey back to the northern hemisphere.
5. Wander through a landscape shaped by ice and glaciers
Hallett Cove Conservation Park in suburban Adelaide is home to one of Australia's most outstanding and internationally significant geological sites.
Follow the interpretive walking trail and explore an ancient landscape shaped by ice and glaciers.
The park is also a significant cultural heritage site where more than 1700 Aboriginal artefacts have been found.
6. Swim with the fish in a sanctuary zone
Explore the underwater world of the Port Noarlunga Reef within Encounter Marine Park.
This protected sanctuary zone, just 32 km south of Adelaide, is one of the most accessible places to go snorkelling for beginners and families.
The reef is home to more than 50 species of fish and more than 200 marine plants and animals.
Don't forget to keep your eyes peeled for the underwater information boards that will guide you along the underwater trail.
7. Hang out on the cliffs
Rock climb your way up the cliff face of the Onkaparinga Gorge in Onkaparinga River National Park in Adelaide's southern suburbs. The 30-metre high cliffs are popular with both beginner and experienced climbers and are located only a short walk from Pink Gum campground.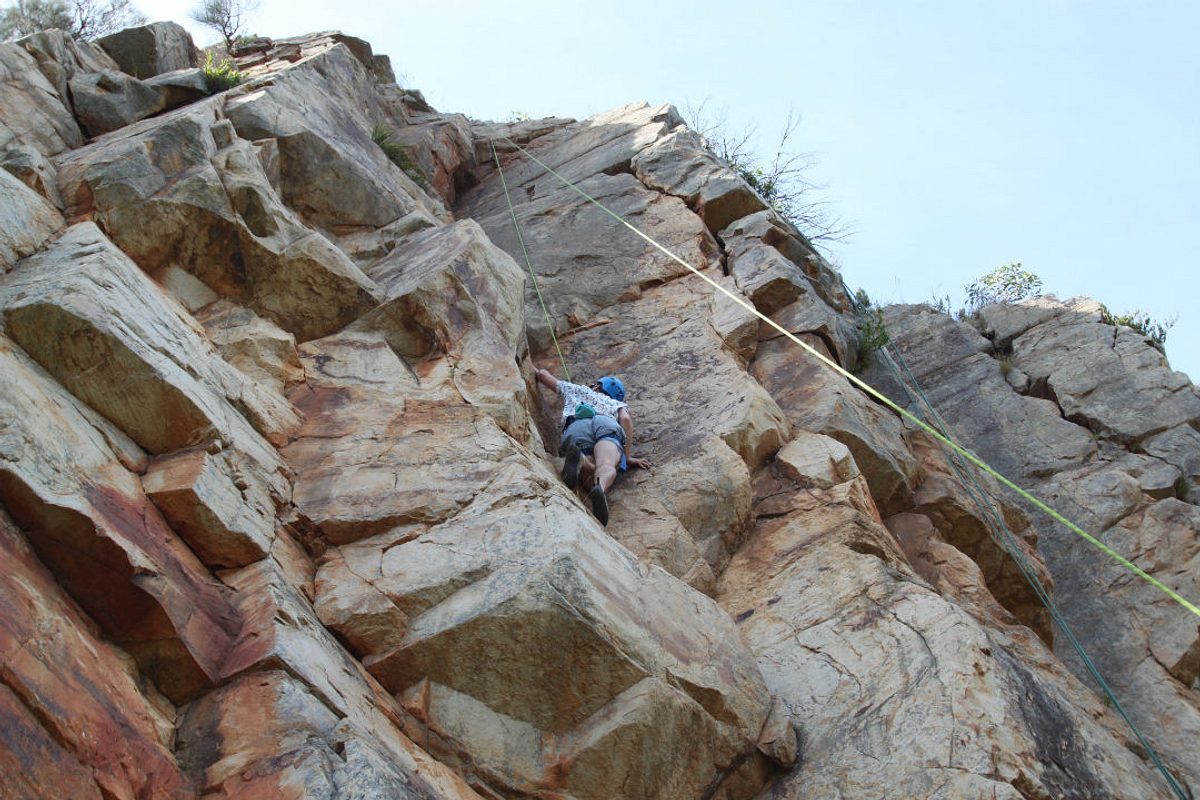 Fleurieu Peninsula
8. Walk part (or all if you dare!) of the Heysen Trail
The world-renowned Heysen Trail stretches 1200 km from Cape Jervis on the Fleurieu Peninsula to Parachilna Gorge in the Flinders Ranges.
While not everyone has the time to walk the entire trail, why not attempt a few hours or a few days? The trail starts in the Fleurieu Peninsula and the starting stretch of the trail from Cape Jervis to Victor Harbour has spectacular views over Backstairs Passage to Kangaroo Island.
The Heysen Trail passes through numerous national parks along the way and is in easy reach for most South Australians.
Learn more in our story about a trekker who completed the trail end-to-end: A trekker's perspective: national parks you'll visit along SA's iconic Heysen Trail.
9. Watch kangaroos graze at sunset
While you're admiring the stunning views of the Southern Ocean and Kangaroo Island from Deep Creek National Park on the tip of the Fleurieu Peninsula, don't be surprised if you're accompanied by the large population of kangaroos.
They are most active in the twilight hours, so find a place to sit and watch nature at its best!
Try Blow Hole Beach or Cobbler Hill Picnic Ground, as they are the best places to spot kangaroos in the park.
Yorke Peninsula
10. Take a dip in nature's swimming pool
The rugged coast of Dhilba Guuranda-Innes National Park on the Yorke Peninsula offers plenty of white sandy coves nestled among the cliffs.
Slip into the tranquil waters of The Blue Pool, a stunning natural rock pool near Shell Beach.
Also check out nearby Dolphin Beach, which is a favourite among visitors.
Plan your visit in spring or summer to get the most out of your beach experience.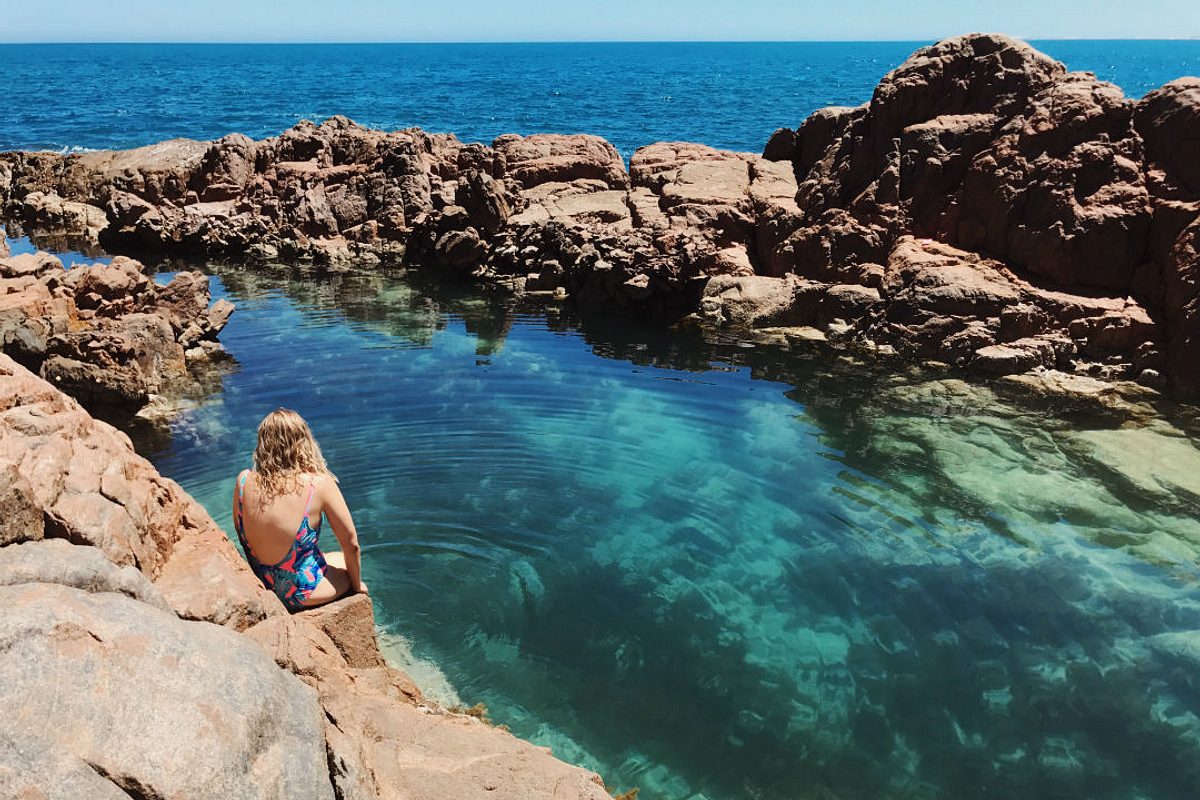 Kangaroo Island
11. Spend a night on the edge of the world
Perched high on the cliffs on the easternmost point of Kangaroo Island, Cape Willoughby Lighthouse stands guard watching over Backstairs Passage and the vast Southern Ocean.
For a truly unique experience, stay in one of the cottages that were once home to the lighthouse keepers that operated SA's oldest lighthouse.
The renovated cottages offer very comfortable accommodation, sleeping up to nine people.
You'll also get to enjoy the stunning views of Backstairs Passage and the Southern Ocean and in winter you might be lucky to see southern right whales as they pass by.
12. Walk among Australian sea lions
Step onto the beach at Kangaroo Island's Seal Bay and you'll be surrounded by Australia's third largest colony of Australian sea lions.
Book in a tour if you'd like to hear from an experienced guide during a 45-minute tour.
This is a truly exceptional wildlife experience that's not to be missed if you're visiting Kangaroo Island.
Murray, Lower Lakes and Coorong
13. Unwind and camp on the riverbanks of the mighty Murray
Nothing compares to sitting around a campfire on the banks of the Murray River National Park on a starry night.
Enjoy toasting marshmallows and sitting around a campfire – outside of the fire danger season of course! – and remember to book your campsite in advance.
14. Tackle the Border Track
Ngarkat Conservation Park in the state's upper south-east boasts more than 270,000 hectares of vegetated sand dunes and mallee bushland.
The legendary Border Track, which traverses the South Australian and Victorian border, also runs through the park.
The challenging track cuts its way through dense vegetation and sand dunes, offering a true wilderness four-wheel-drive adventure.
You will need to be well prepared for a trip like this, especially since a section of the Border Track is only open from April 1 to October 31.
15. Immerse yourself into Aboriginal Culture
Ngaut Ngaut Conservation Park on the River Murray is culturally and historically significant to its Traditional Owners, the Nganguraku people.
Discover unique insights with a guided tour from the Mannum Aboriginal Community Association.
Learn about their traditions and marvel at the rock art engraved into the limestone walls of the rock shelter.
16. See the stars shine bright
Swan Reach Conservation Park forms the core site of Australia's only International Dark Sky Reserve.
Light measurements in the park are some of the darkest in the world making it one of the best places anywhere in the world to see the stars and planets.
Limestone Coast
17. Go underground and explore World Heritage Listed Caves
Visit SA's only World Heritage site. The Naracoorte Caves in the state's south-east formerly acted as a pitfall, trapping and collecting animals for at least 500,000 years.
The caves preserve the most complete fossil record of this time period, including Australia's megafauna species.
In an exciting new development, the Victoria Fossil Cave Megafauna Experience was launched late last year providing a highly immersive, memorable and accessible learning experience.
18. Snorkel through an 'underwater garden'
Explore the spectacular underwater world of Piccaninnie Ponds Conservation Park in the state's south east, which is recognised as a wetland of international importance.
The crystal clear water is naturally filtered through the limestone, providing incredible clarity.
Snorkel through the underwater gardens of the First Pond before staring into the blue abyss of The Chasm, a sinkhole that is more than 100 metres deep.
Just make sure you bring a full length wetsuit as the water temperature is a constant and chilly 15 degrees. You'll also need tobook your snorkel permit.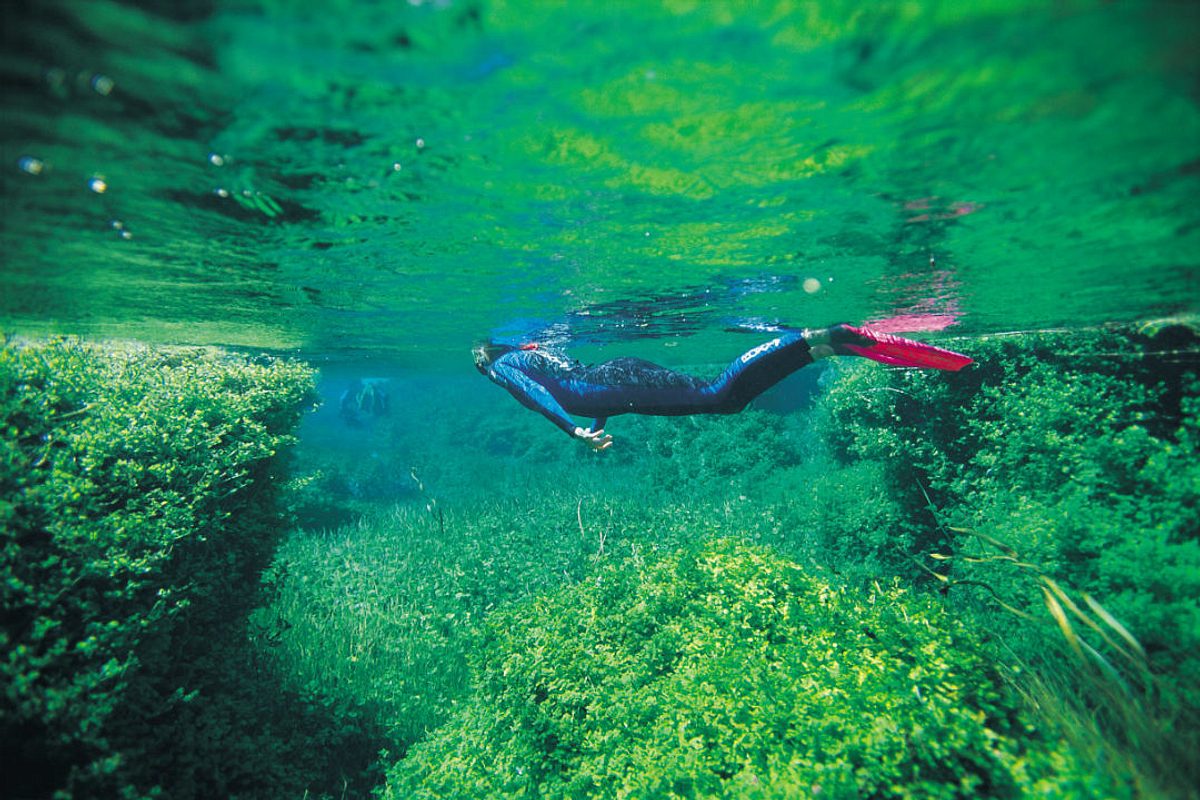 Eyre Peninsula
19. Grab your board and head for the dunes
Looking for an extreme speed experience? Areas within Coffin Bay National Park and Lincoln National Park are now open to sand boarders under strict regulations designed to protect the landscape from damage.
Sand boarding is a popular recreational activity on the Eyre Peninsula but until now there've been limited opportunities.
Specific areas have been identified within these parks where sand boarding can be undertaken with minimal environmental impact and where there is existing public access.
20. Dive with great white sharks
Get up-close and personal with an apex predator – the great white shark – from the safety of a protective cage in the Neptune Islands Conservation Park, off the coast of the Eyre Peninsula.
Watch them tranquilly glide past in what is a premier ethical wildlife experience.
Shark cage diving tours depart from Port Lincoln on Eyre Peninsula, which is about 30 minutes by air or seven hours by car from Adelaide.
21. Drop in on an underwater disco
Every winter in the waters north of Whyalla in the Upper Spencer Gulf Marine Park, thousands of giant Australian cuttlefish gather to mate.
Watch as male cuttlefish put on incredible colour shows, pulsating through all the colours of the rainbow at the blink of an eye.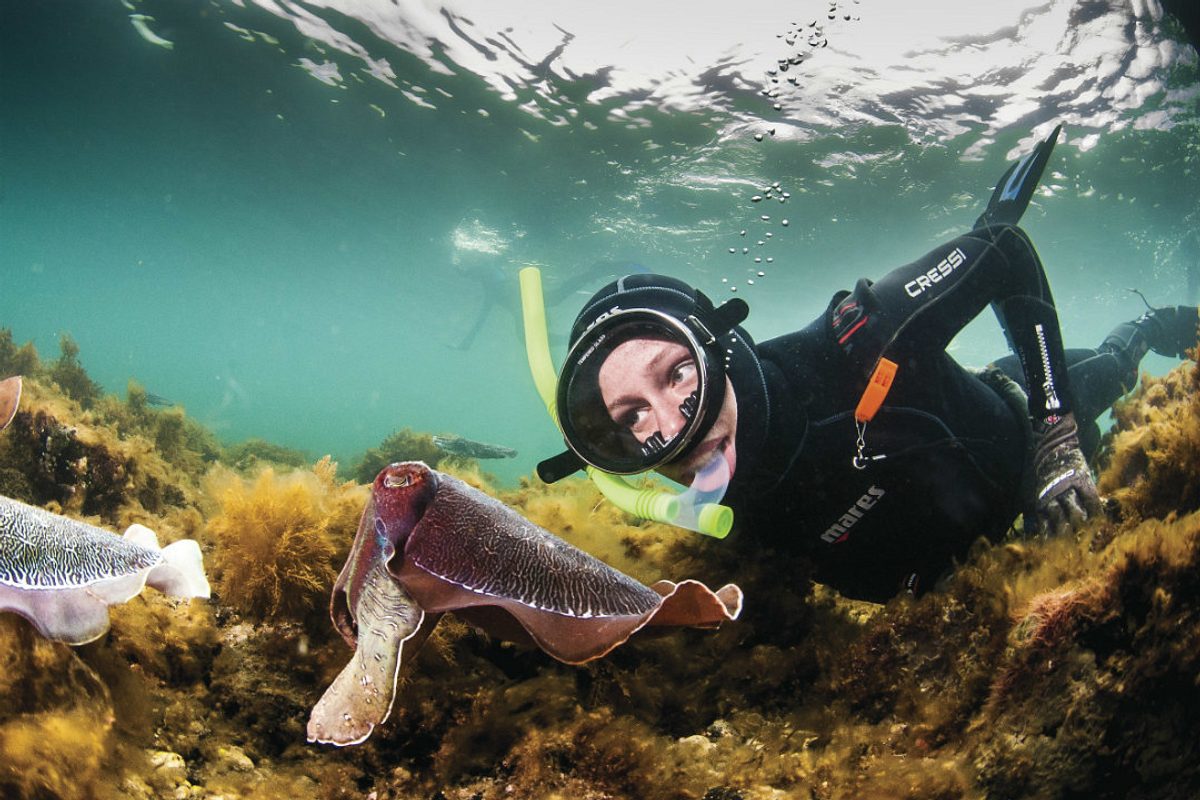 22. Explore Wilpena Pound
Wilpena Pound in the Ikara-Flinders Ranges National Park, about 500 km north of Adelaide, is one of South Australia's most iconic destinations.
This ancient and rugged landscape can be explored from the ground with numerous walking trails, but for a truly breathtaking experience, book a scenic flight and see it from the air.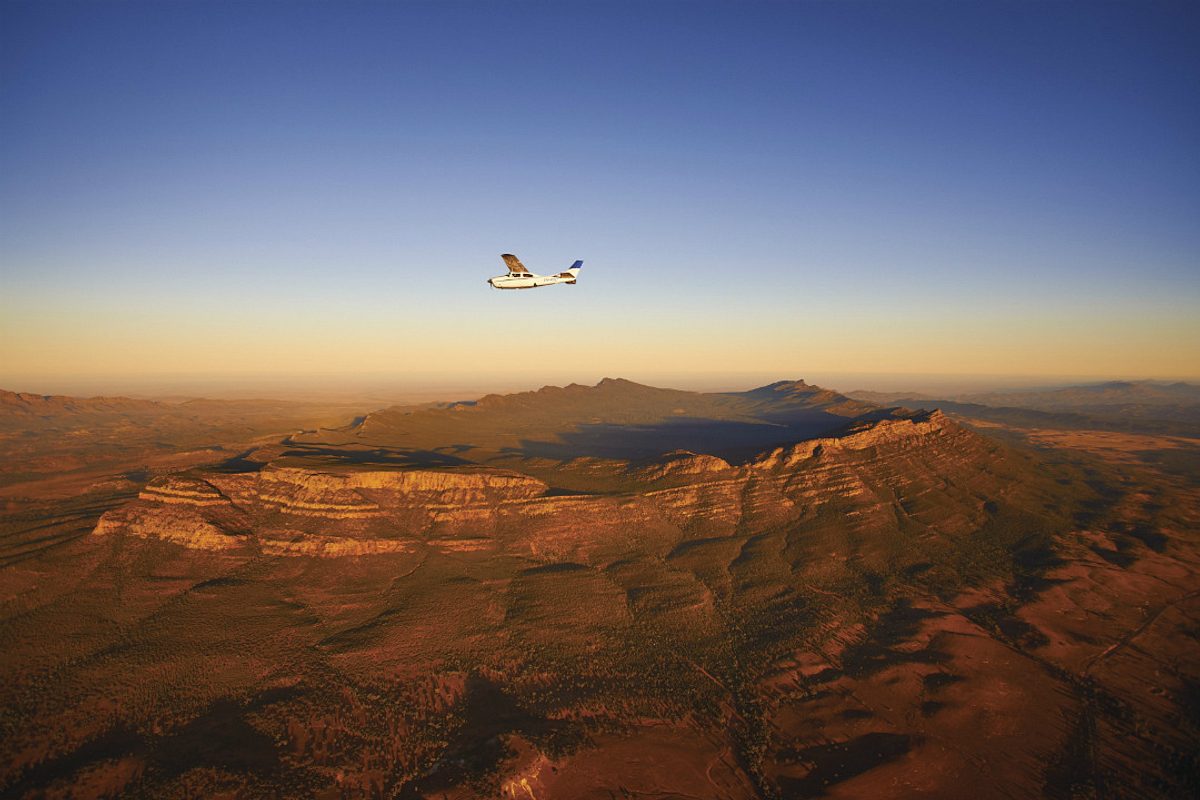 23. Go on the ultimate outback adventure
Test your four-wheel driving skills by 'Crossing the Simpson'.
The Simpson Desert extends across an area of up to 500 km in the state's far north and includes Munga-Thirri–Simpson Desert National Park and Witjira National Park.
The striking red dunes and blue desert skies make this a stunning landscape to explore.
The best time to visit is from May to August when the temperatures are milder.
24. See Lake Eyre in flood
When there's water in the lake, waterbirds descend in their thousands to Kati Thanda-Lake Eyre National Park, 850 km north of Adelaide, to feed and breed in this desert oasis.
If you plan to visit you will need to perfectly time it as the floodwaters only cover the lake once every eight years on average and the lake has only filled to capacity three times in the past 160 years!
25. Soak in the ancient hot springs
The water in the Dalhousie Main Spring in Witjira National Park in the state's far north is constantly between 38 and 40 degrees, making it perfect for a relaxing, warm soak.
The waters rise from deep below the surface through cracks and fissures after originally entering the Artesian Basin system millions of years ago.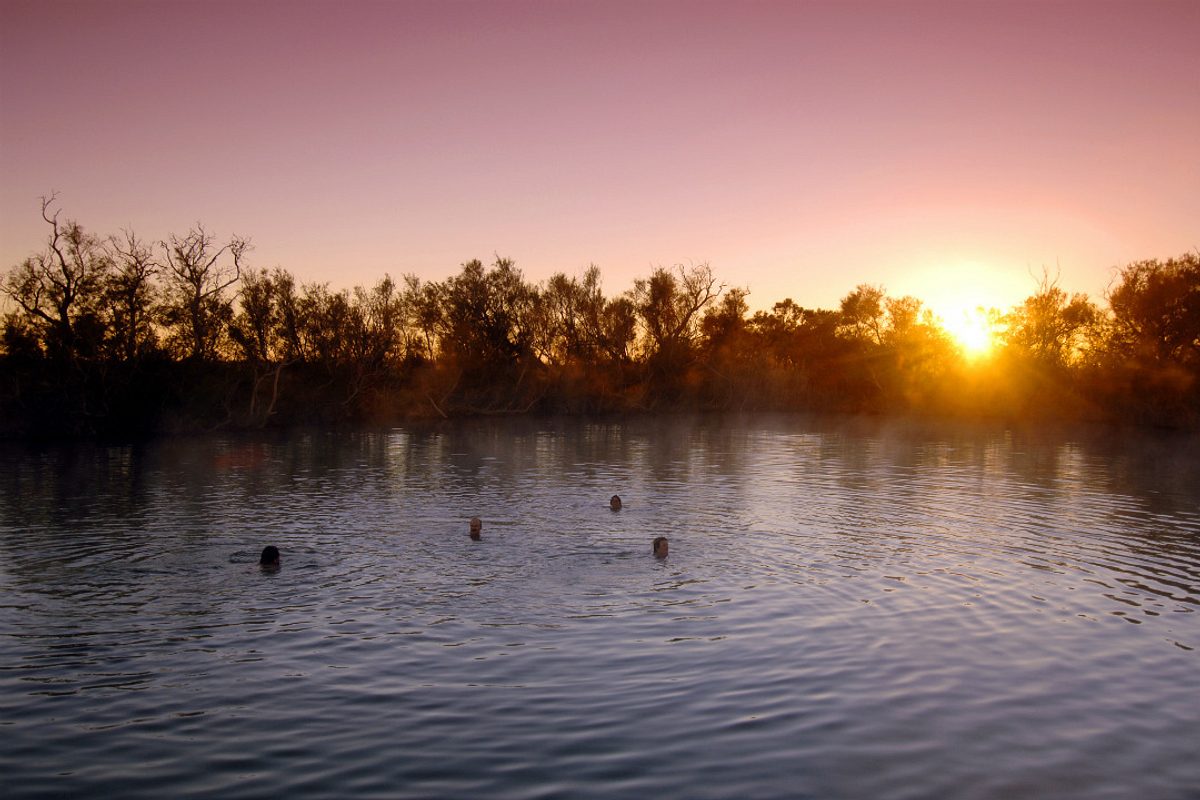 26. Get up early for a desert sunrise
There's nothing like a desert sunrise, and our favourite place to see one is in the Kanku-Breakaways Conservation Park.
The Breakaways are a collection of colourful hills and mounds that rise from the plains of the Great Victoria Desert, just north of Coober Pedy. They come to life during sunrise and sunset with rich reds, oranges and whites.
Inspired to visit? More details about all of these special places can be found on theNational Parks and Wildlife Service SA website. If you've already seen some of them for yourself, share your experience with us in the comments section below.
Main image: Dive with great white sharks (image courtesy of the South Australian Tourism Commission and Adventure Bay Charters)
This story was originally posted in February 2019 and has been updated with new and exciting experiences!