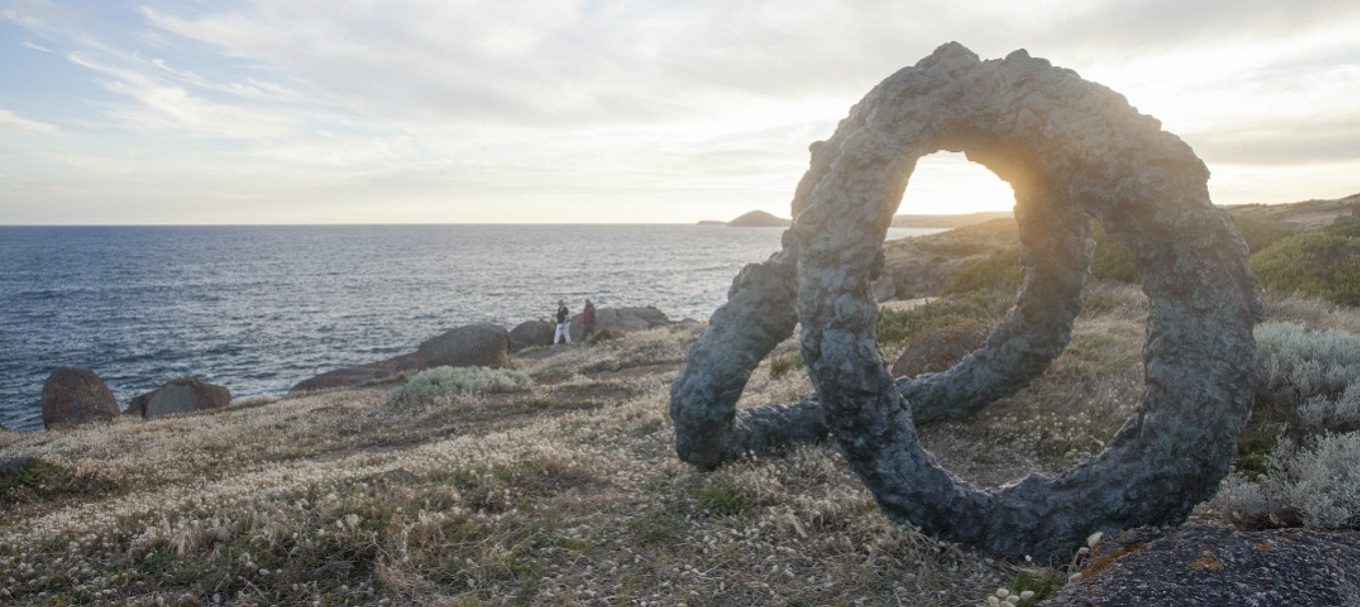 Your guide to Granite Island's new sculpture trail
Love parks and art? We have the perfect destination for you this summer – here's where.
Sculpture Encounters is a new art trail on the clifftop at Granite Island, 80 kilometres south of Adelaide.
You might have seen similar exhibitions at Bondi in New South Wales and Cottesloe beach in Western Australia, which attract thousands of visitors every year.
At the Granite Island exhibition, 10 sculptures have been placed around the perimeter of the island – which is actually part of South Australia's family of national parks. You can walk the 2.4-kilometre trail in about 45 minutes, but don't forget to leave time to stop and enjoy the artworks.
The ground is level enough to be accessible for prams and assisted wheelchairs, so everyone can enjoy the experience.
There are also toilets on the eastern end of the island, near the tram stop, and a kiosk selling coffee and snacks just off The Causeway.
While some of the sculptures may look sturdy, they are only designed to be looked at, so please don't let children climb on them.
The sculptures
Like all art, these works are all thought-provoking and beautiful in their own way. Here are just a few to look out for:
Horizon Figure by Greg Johns (SA) Look for the wide, smooth curve of oxidised steel on the western end of the island. It's 6 metres tall and 3.5m wide, so it's easy to spot.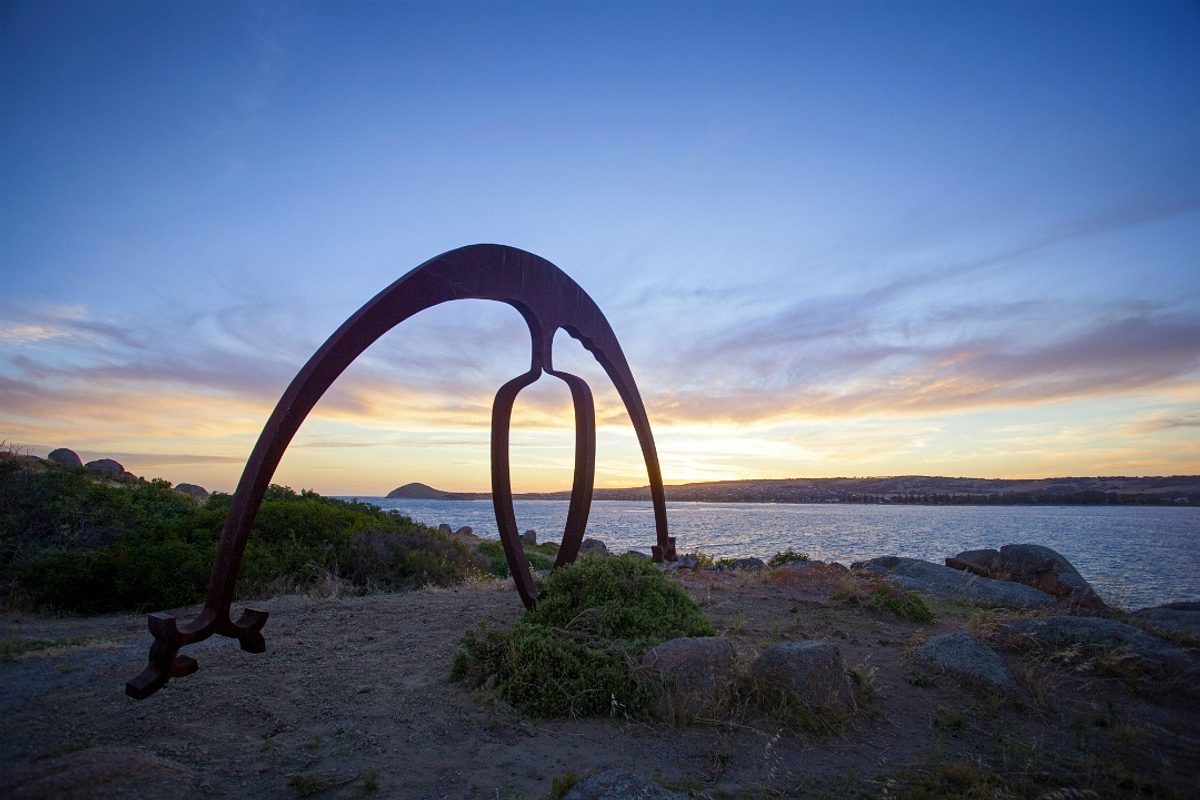 Adam and Eve by Peter Lundberg (United States): This pair of large-scale bronzes is on the north-east side of the island, close to the causeway.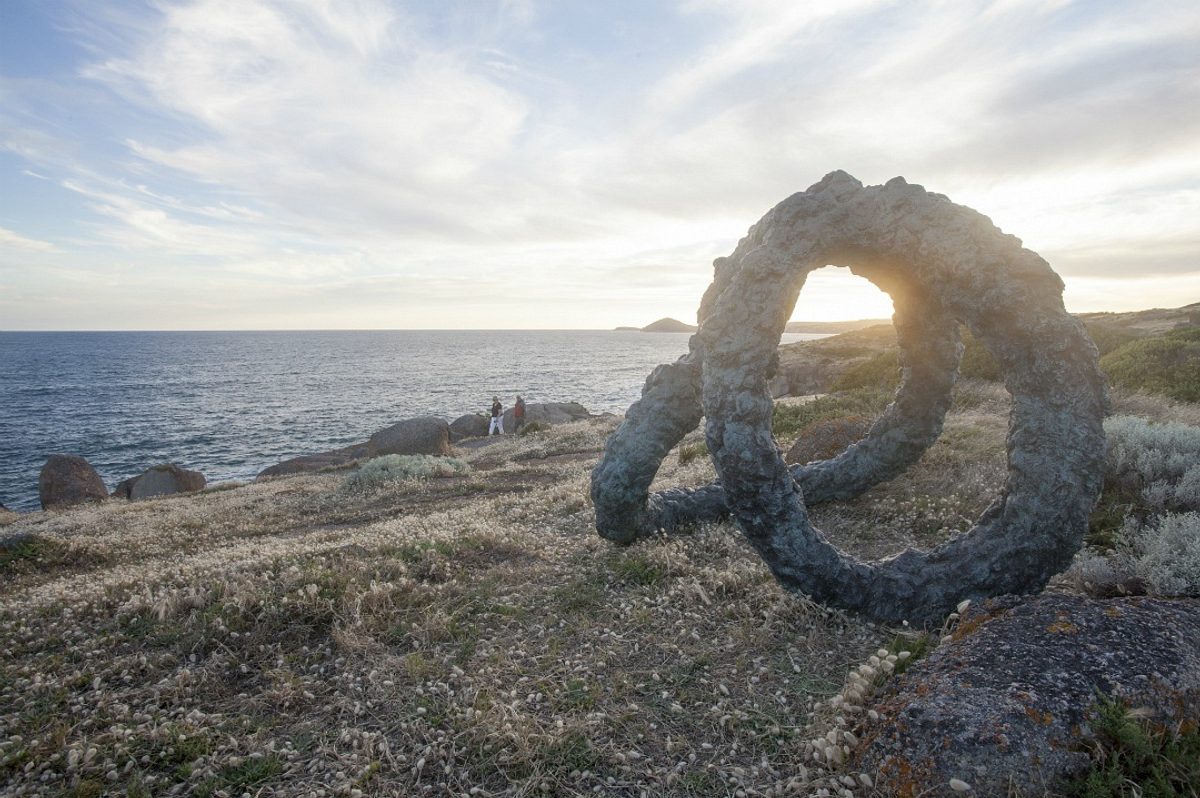 What a Tasty Looking Burger by James Dive (NSW): You can't miss the 1.3m hamburger… with a hook. Because what better bait for fish to use if they wanted to reel in a human or two? It's on the northern side of the island, on rocks that form a popular fishing spot.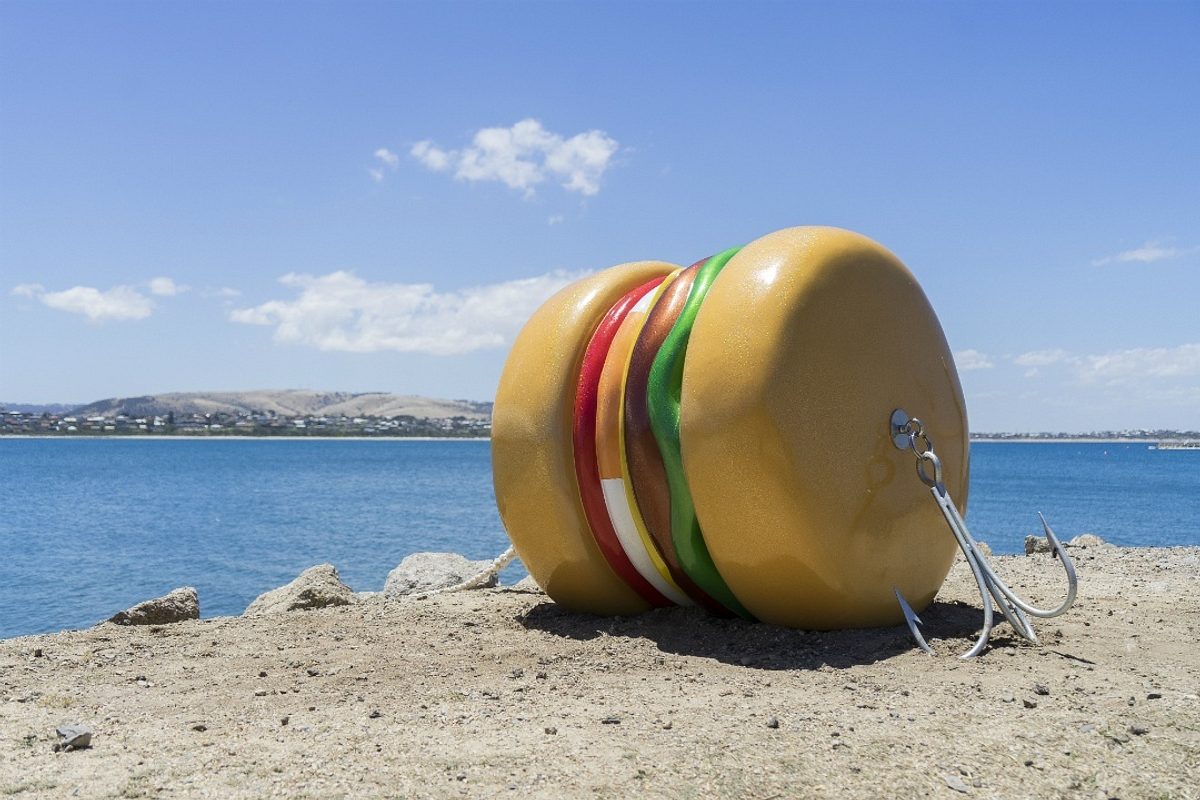 Ocean Lace by Britt Mikkelsen (WA): Inspired by beachcombing, this 2m disc reflects the delicate filigree of tiny objects cast up by the sea. Made from acrylic, resin and steel, you will find it on the southern side of the island, not far from the tram stop.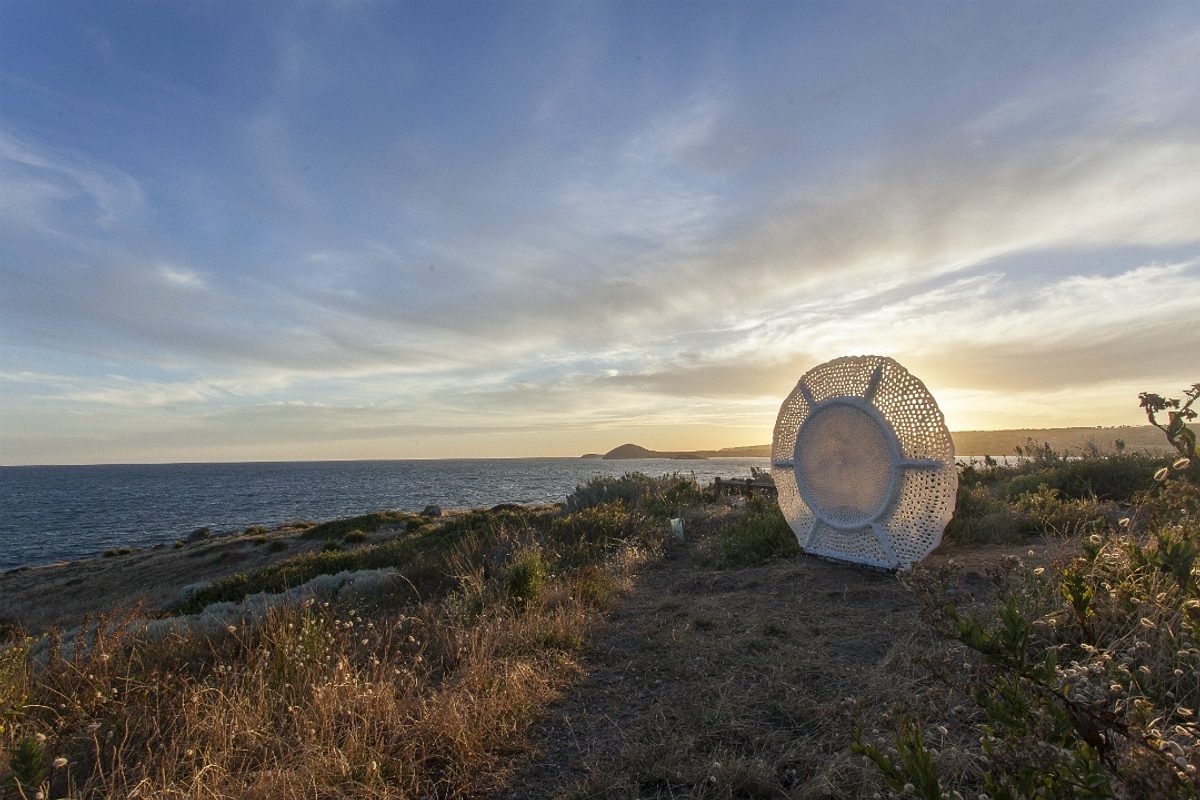 And another by Norton Flavel (WA): This giant 'drop in the ocean' is made from stainless steel and Swarovski crystal. Look for it hanging from a Norfolk Island pine on the north-west corner of the island.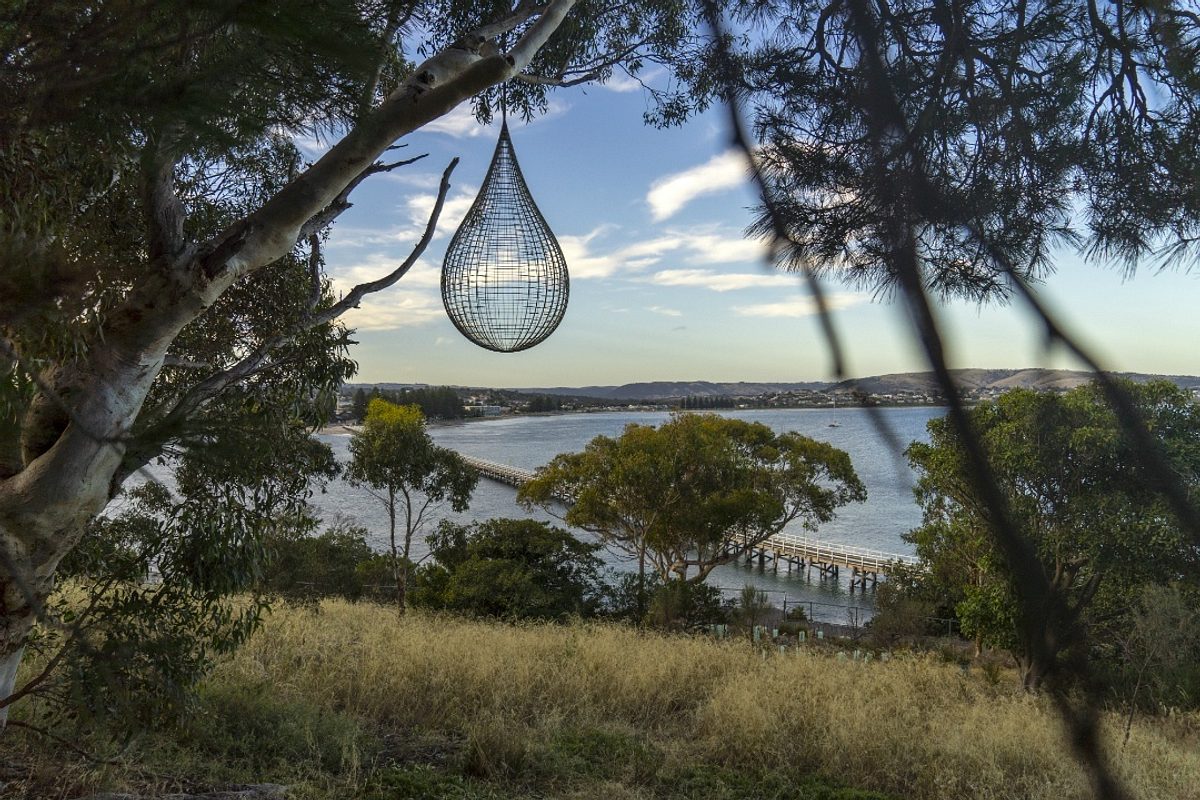 Sculpture Encounters is open year-round. More artworks are due to be added over the coming months, so come back regularly to make sure you don't anything.
About the exhibition
Sculpture Encounters Granite Island is a joint project between the Department of Environment, Water and Natural Resources and arts not-for-profit Sculpture by the Sea, the people behind the outdoor exhibitions at Bondi and Cottesloe beaches.
The Granite Island exhibition is a three-year pilot. It opened with 10 sculptures, with four to six new artworks to be added every year until 2020.
The sculptures are made up of permanent and temporary works by artists from South Australia, interstate and overseas.
If you're an art collector, the great news is that all the permanent sculptures are for sale. When a sculpture is sold, it will be replaced with a new one, so everyone wins.
Getting there
Granite Island Recreation Park is just off the coast at Victor Harbor, an hour and 20 minutes by car from the Adelaide CBD.
You can stroll to the island across The Causeway in 10 minutes, or jump on the historic horse-drawn tram to approach the island in style.
If you're planning a visit, just remember to leave your pooch at home. Dogs aren't allowed on Granite Island to protect the resident little penguin population.
Luckily, though, most dogs aren't known as art lovers, so we're sure they'll understand.
What else can you do on Granite Island?
Commercial tour operators on Granite Island have some great holiday options. Oceanic Victor offers an amazing swim-with-the-tuna experience at its in-sea aquarium, as well as guided twilight tours to see the little penguins return to their burrows at dusk, while The Big Duck runs fantastic boat tours to watch whales and seals in season.
Granite Island is a perfect place for a picnic, too, so why not pack a basket of goodies and relax in the fresh sea air with family and friends?
Visit theSculpture Encounterswebsite for more information about the exhibition, or to learn more about parks on the Fleurieu Peninsula, check outGranite Island Conservation ParkandEncounter Marine Parkon thenational parks website.