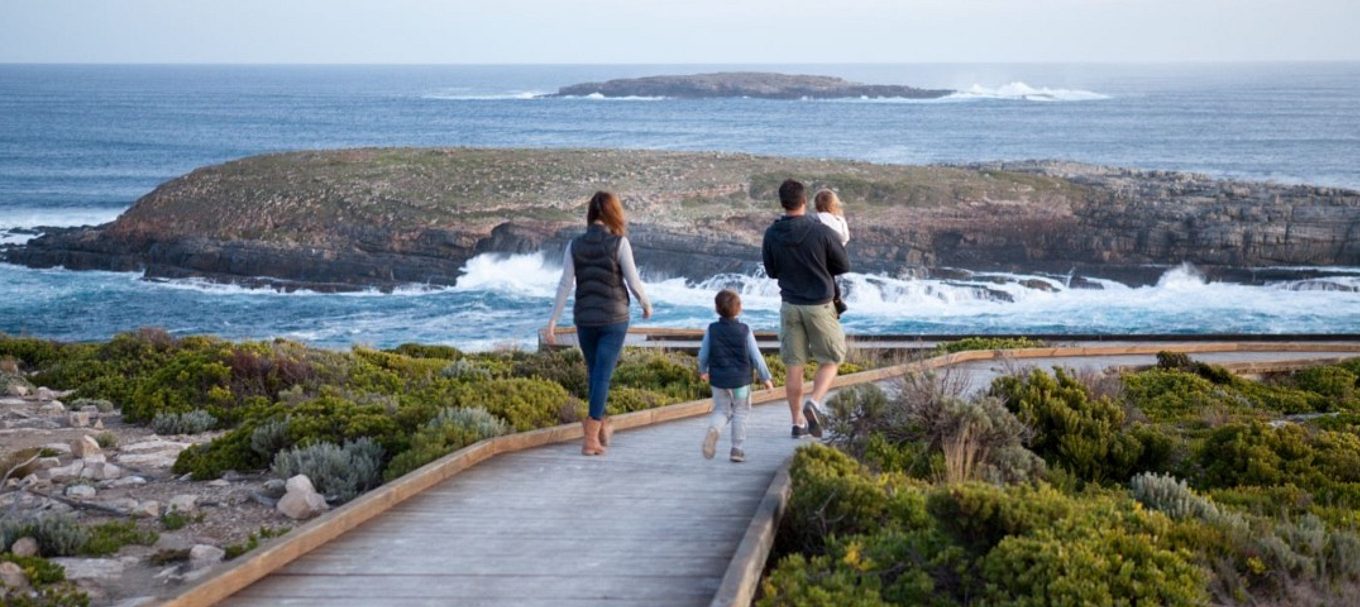 6 things to see and do at Flinders Chase National Park
No trip to Kangaroo Island is complete without a visit to this iconic park. Try these activities on your next trip.
From world-famous landmarks to one of Australia's great walks, Flinders Chase National Park really does have something for every visitor.
Located on the western end of the island, 110 kilometres from the main town of Kingscote, the rugged beauty of Flinders Chase will make you feel like you're a million miles away.
Must-see sights include the iconic Admirals Arch, a beautiful natural rock arch shaped by the powerful Southern Ocean – and a great place for spotting long-nosed fur seals – or the sculptured granite boulders known as Remarkable Rocks.
Stay in the rebuilt heritage accommodation (Postmans Cottage and May's Homestead) or pitch a tent at Harvey's Return campground.
Flinders Chase is great to visit all year round, but winter is when you'll see the whales arriving, echidnas mating and maybe even the small goslings of the noisy Cape Barren geese.
Fun fact: Did you know baby echidnas are called puggles and kangaroos, wallabies and possums are called joeys?
Here are 6 ways to explore Flinders Chase National Park, prepared for you by the park's passionate rangers and Nature Play SA:
Listen for the thundering sounds of the Southern Ocean and the haunting calls of the bush stone-curlew or southern boobook owl as you camp the night at the Rocky River Campground.

Look out over the cliffs at the historic Weirs Cove Ruins Lookout. Weirs Cove is where the lighthouse keepers would winch up supplies from ships to service the lighthouse. You can still see the remains of the original jetty and store rooms

On a stormy day watch the waves crash over the Casuarina Islets, the two small islets off Cape du Couedic in the Western Kangaroo Island Marine Park. Be sure to take extra care when it's windy.


In late winter, head along Snake Lagoon Hike where golden wattles have begun to bloom and you may spot a trail of male echidnas following a female, known as an 'echidna train'.

Put on your gumboots and explore the Heritage Walk just north-west of the visitor centre off Cape du Couedic Road Look up and you may even spot a koala in the trees.

Keep your gum boots on and wander around the Black Swamp area which is a great spot to see Cape Barren Geese – why not see how many you can count as they bicker over nesting space? The geese like to nest in the morning flag bush, keep an eye out, you may see one sitting on its nest.
Throughout December, Parks of Western Kangaroo Island are being celebrated as part of Park of the Month.
Rov­ing Seal Tours, Admi­rals Arch
Join one of our rov­ing rangers for a guid­ed tour on Sunday, 18 December 2022 between 10am and 3pm.
Guided Bird Walk, Rocky River
Join Ranger Sam for a morn­ing bird­watch­ing ses­sion on Sunday, 18 December 2022 at 9am. Bookings essential.

Check the National Parks of Kangaroo Island Visitor Guide: May 2022 for more information to plan your trip to the island.