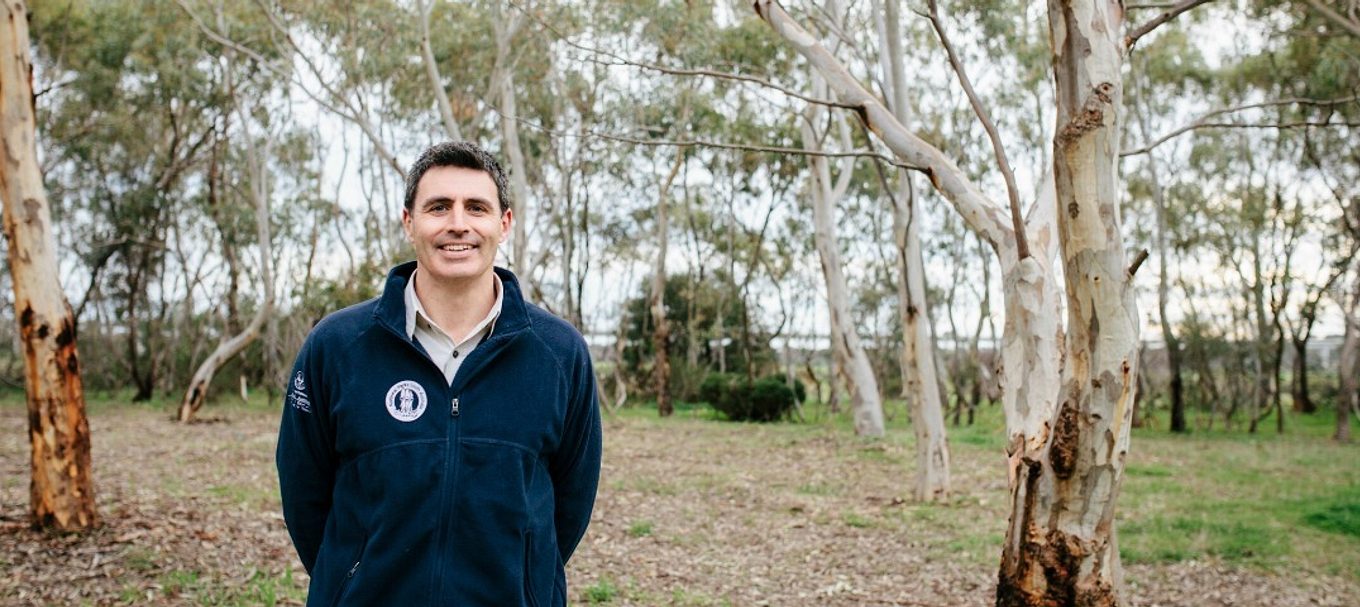 Insider Guide: Onkaparinga River parks
Go behind the scenes to discover the unique jobs and passionate people that care for South Australia's environment.
Steve Johnson – Senior Ranger in the Fleurieu and Willunga Basin district
How would you describe your job to someone at a BBQ?
I work in an awesome team to manage parks across the Fleurieu and Willunga Basin district for safety, visitor experience and conservation. This includes Onkaparinga River National Park and Recreation Park. My team works with the local community to deliver a broad range of conservation projects and provide enjoyable recreational opportunities for park visitors.
How did you get into this line of work?
My dream of being a rock star didn't work out. However, my love of nature and the outdoors and my passion to conserve and restore our natural places and threatened species is just as strong. I grew up camping in parks with my friends and family and always admired and respected rangers. When I decided I wanted a career in the environment, I studied conservation biology at Flinders Uni and then snagged a position in the Graduate Ranger Program. From there I moved into a permanent ranger position at DEW.
What do you encounter in a 'normal' day on the job?
Anything and everything – all things park management and beyond. A ranger's role is very diverse and that's why I love it. It can be working with the community, visitors, events, conservation, fire, park infrastructure, living with wildlife or all of the above. A ranger's day can also be very spontaneous – quite often you end up doing something completely unexpected. For example, what you thought was going to be a boring day in the office could turn into an exhilarating marine mammal rescue or a firefighting deployment in another region.
What's the most amazing thing you've seen at Onkaparinga River National Park and Recreation Park?
In Onkaparinga River National Park, the gorge itself is amazing. The views from the lookouts and ridgetops still blow me away. It was also amazing and a great honour to share the experience with award-winning scientist, environmentalist and broadcaster David Suzuki earlier in the year. David visited the park to see a large revegetation project named in his honour. While he was in the park I showed him the gorge, and he was greatly impressed with its vast size and beauty.
In the recreation park, the seasonal wetlands in the estuary have filled with water, which hasn't happened for more than two years. It's amazing to hear the frogs and see the diversity of waterbirds that have moved in, such as pelicans, stilts, spoonbills and ducks. It's gone from dry grassy sedge-land to something like Kakadu!
What are your insider tips about Onkaparinga River National Park and Recreation Park?
Explore the recreation park via the Wetlands Loop Trails to see large fresh water lagoons abundant with wildlife, or kayak from Old Noarlunga through the park to Port Noarlunga. Remember to check the tide times, as sections of the river become quite shallow at low tide.
Follow the hiking trails in the national park to enjoy the bushland and spot native wildlife. During late winter and spring, try the Nature, Echidna and Hardy's Scrub hikes for beautiful displays of wildflowers, and the Sundews River Hike from spring to autumn to explore the gorge.
Throughout the month of August, Onkaparinga National Park and Recreation Park are being celebrated asPark of Month– an initiative between Nature Play SA and DEW.
Why not enjoy a guided tour of Noarlunga Downs Wetland on 28 August with Ranger Steve. Click thePark of the Month eventstabfor all the details.In the meantime, check out5 treasures in Onkaparinga River parksfor more insider tips on what to do on your next visit.