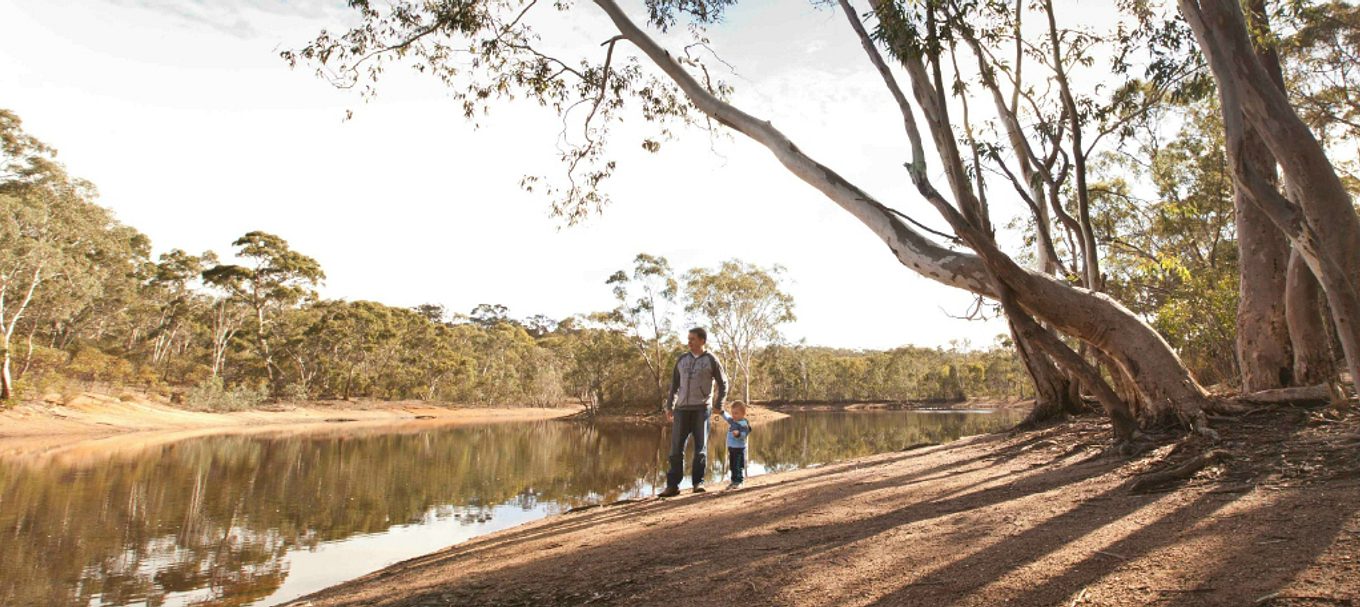 Counting down our top parks
Metropolitan Adelaide offers a surprising array of national parks each with its own special secrets and highlights.
A recent survey asked people to indicate the national parks in the greater Adelaide area that they had visited recently. Over two weeks we will count down their Top 10. Did your favourite park make the list?
10. Anstey Hill Recreation Park and Onkaparinga River National Park
It was a tie for the number 10 spot in the survey between two parks representing the north and south of the city respectively.
The first is Anstey Hill Recreation Park, located 16 kilometres north-east of the city. Anstey Hill's steep gullies, creek lines and city views provide a spectacular backdrop for visitors. The extensive network of walking trails showcase a variety of plant species including rare vegetation. Anstey Hill is home to echidnas, brush-tailed possums, western grey kangaroos, koalas, and an amazing 145 species of native birds. Visitors can also explore historic ruins that date back to early settlement.
In equal 10th position was the Onkaparinga National Park, situated 35km south of the city and incorporating the Onkaparinga River Recreation Park. Kayaking enthusiasts can paddle along Onkaparinga river, which enters the park in a steep-sided valley and flows into the magnificent gorge with cliffs up to 50 metres high and permanent rock pools. Onkaparinga Gorge is known for its rugged scenery and array of walking trails for all levels. There are also a number of trail options for cyclists.
9. Cobbler Creek Recreation Park
The ninth spot on the survey went to Cobbler Creek Recreation Park , located 19km north of Adelaide. Visitors to this park can discover the ruins of one of the area's first European farms. Cobbler Creek's woodlands and open grasslands can be explored by foot or bike via the network of shared-use trails. Birds of prey, such as the Australian kestrel, and other bird species such as red-rumped parrots, crested pigeons and lorikeets can be spotted there.
8. Black Hill Conservation Park
Making an appearance at number 8 on the list was Black Hill Conservation Park. This park is situated 10km north-east of Adelaide and has an extensive network of walking trails over its 684 hectares. The park gets its name from the low sheoaks, with foliage that matures to an almost black colour over summer. Black Hill also features a wide variety of flora and a landscaped wildflower garden that dates back to the 1940s.
7. Hallett Cove Conservation Park
Landing at Number 7 on the survey was Hallett Cove Conservation Park, home to one of Australia's most outstanding geological and archaeological sites. More than 1700 Aboriginal artefacts have been found on the site, situated 22km south of Adelaide. Visitors can follow the interpretive walking trail to see evidence of an Australian ice-age some 280 million years ago including glacial pavements that are of international significance.
6. Para Wirra Recreation Park
Coming in at Number 6 in the Top 10 was Para Wirra Recreation Park. This park, located 40km north-east of Adelaide in One Tree Hill, offers a beautiful bushland setting with many recreational facilities and wildlife spotting opportunities. Para Wirra Recreation Park has many bushwalking trails and western grey kangaroos and emus are frequent visitors. The park also features a sports oval, perfect for a game of cricket or footy.
Stay tuned for next week's post when we count down the top 5 and unveil the most visited national park in SA.
Heading photo: Parra Wirra Recreation Park. Photographer: Shane Reid.