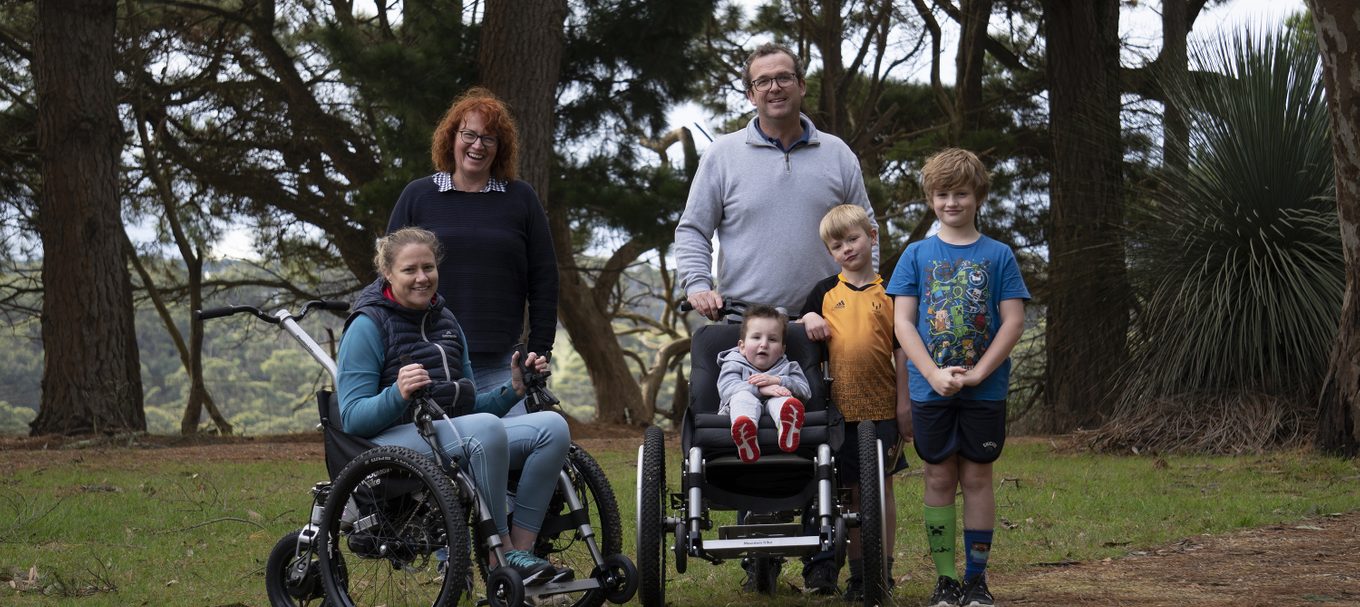 Opening the door to nature for people with disabilities
Find out how an exciting new program is providing more opportunities for people with disabilities to experience nature.
There can be lots of things to consider when planning a getaway in South Australia, and for some accessibility is one of them.
Thankfully, the National Parks and Wildlife Service is making it easier for people living with a disability, their families and carers to participate in nature-based recreation through an exciting new program – Opening the Door to Nature.
What's the project all about?
Opening the Door to Nature is about providing more and greater opportunities for people with disabilities to explore nature alongside their peers.
Through access to suitable equipment (all-terrain wheelchairs), people with disability can experience nature in the same way as everyone else, building individual capacity and enabling dignity of risk.
MT Push wheelchairs
The project offers free use of the MT Push all terrain attendant wheelchairs, which are suitable for riders who can't self-propel but still want to enjoy the outdoors with friends and family. This is a perfect partnership for both the rider and the person pushing – offering comfort, safety and ease of use.
The rider's buddy steers and stops the trike using the push handle behind the rider. Mountain bike style tyres and air suspension provides a comfy ride and hydraulic disc brakes give superb all-weather control.
The MT Push is buddy operated so the companion must not be taking any medication or suffer a medical condition that would affect their ability to push and control the wheelchair.
Due to the different types of terrain in the participating Councils, not all areas are wheelchair accessible so please make sure you plan ahead. More information about local trails and multi-use paths is available from the hire locations.

Where can I hire one?
MT Push hire locations include:
Fleurieu Coast Visitor Centre, 163 Main South Road. Ph: 8558 0240
Belair National Park, Queens Jubilee Drive. Ph: 8278 5477
Yorke, Mid North, Clare Valley, Southern Flinders. For locations and dates call: 0429 866 769.
eTrikes
Opening the Door to Nature also offers something more challenging to those who are a bit more independent.
The eTrike offers an exciting trails experience for people with good upper body strength and manual dexterity. These user-operated wheelchairs are lever-driven and perfect for those who would like some help to travel off-road or active users who want to go further, faster or tackle more challenging terrain.
The eTrike loves mud and is designed for exploring the great outdoors. They are rider-controlled, however, they do require a buddy to assist during induction or until the rider becomes confident and competent with the controls.

Where can I take part?
There are opportunities to be part of group excursions on the Fleurieu Coast, Belair National Park and in the Yorke and Mid-North of South Australia. The three eTrikes rotate across the partner locations.
Get involved
Because this is a pilot project, your feedback is appreciated through pre and post hire surveys. Your responses will help us understand how use of the Mountain Trike has impacted you and how we might improve the process and the equipment.
Opening the Door to Nature seeks to evaluate the impact of connection to nature on confidence, level of social engagement and physical and mental wellbeing.
From a host perspective, it aims to assess the suitability and willingness of various organisations to offer all-terrain wheelchairs for hire. We are partnering with local government across a range of council areas, not-for-profit groups and commercial enterprises to learn more.
For more information visit the project Facebook page. Alternatively, contact the project leads Yvie Eglinton from Department for Environment and Water or Lisa Pearson from Yankalilla council on 08 8558 0200 or 0419 704 912 lisapearson@yankalilla.sa.gov.au.
Want to know which parks are accessible closer to home? Check out our story on 9 national parks in Adelaide with accessible features.