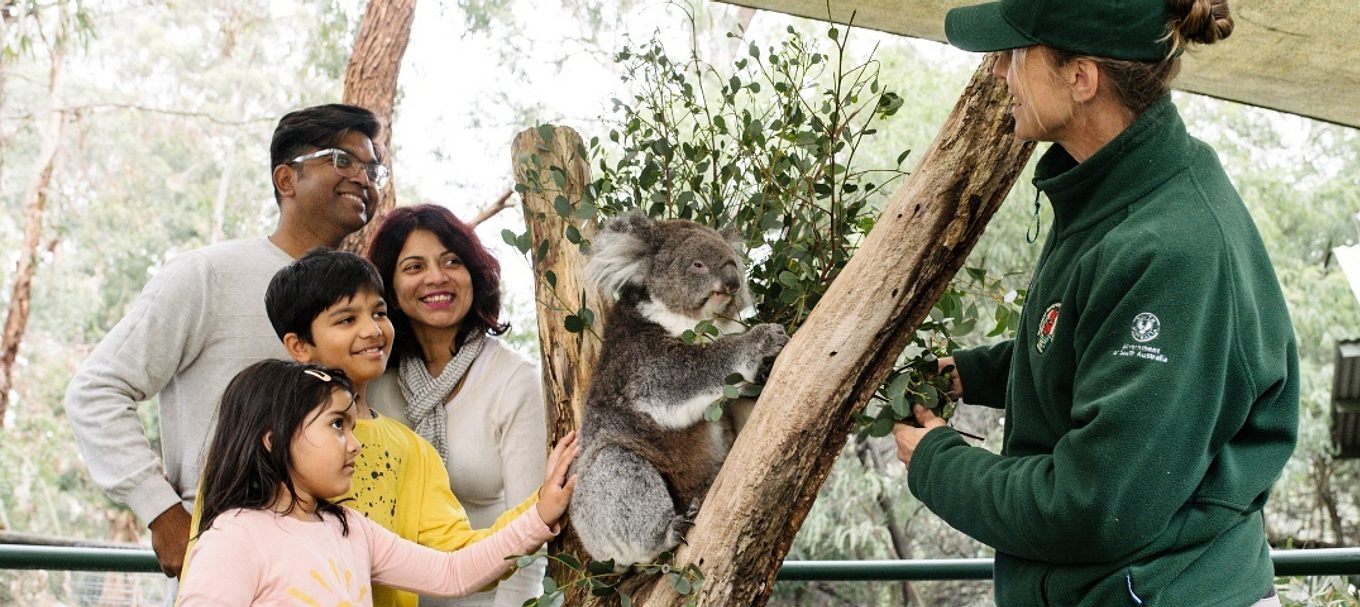 6 things to do at Cleland Wildlife Park these school holidays
Trade screen time for green time these school holidays with a trip to Cleland. Here's 6 things the kids will love.
Picture this: a misty, wintery morning in the Adelaide Hills, birds chirping, the kids happy and entertained, and a delicious hot coffee.
Now make it happen with a visit to Cleland Wildlife Park, 20 km up the freeway.
Strolling around the park you'll meet some of the most iconic native species, like koalas, kangaroos, wombats and dingoes – and they tend to be more active in winter.
There's plenty to keep you and the kids busy with a trip to Cleland this winter. Here are six of our top picks:
1. Self-guided trails
To celebrate the Tokyo Olympics, Cleland has created an exciting self-guided trail to discover some of the special features that help our amazing Aussie animals move around their habitats.
Get active and have a go yourself. Pick up a trail map from the visitor information counter.
2. Feed a koala
Cleland might be famous for koala hugs, but a koala feeding tour is also a very special experience.
This recently reintroduced tour offers a unique opportunity to go behind the scenes and spend time with the koalas and assist with their daily health checks. Book your tour before you go.
3. Pat a koala
Patting a koala is one of Cleland's most memorable experiences.
You can meet a koala every day of the week, and best of all, this experience is free with entry and bookings are not required.
4. Meet the cockatoos
Visit the cockatoo aviary and embark on a memorable experience with the resident cockatoos as they interact with you.
These birds have either been rescued or hand-raised and have an affinity towards humans.
The staff at Cleland love to share their stories with visitors, and they love offering you the chance to get up-close with the birds to get to know them better. Book this experience before you go.
5. Join the Junior Conservation Club
Cleland's brand-new Junior Conservation Club is a great way for older kids to get a deeper understanding of the issues currently facing our environment.
Whether you become a member of the club or simply attend one of the monthly sessions, there is a wide variety of experiences and topics on offer to lure your tweens away from their screens.
6. Meet the keepers
There are a number of public feeding sessions during the day that are included in your ticket price, where keepers talk through what the animals have been up to for the day.
Sound like fun? Rug up, head to the hills and explore Cleland Wildlife Park this winter – and then warm up in front of the wood fire with lunch or a hot chocolate in the café.
Looking for other ways to keep the kids entertained these school holidays. Adelaide's national parks have it all – check out our story for inspiration:5 things to do in Adelaide's national parks these school holidays.