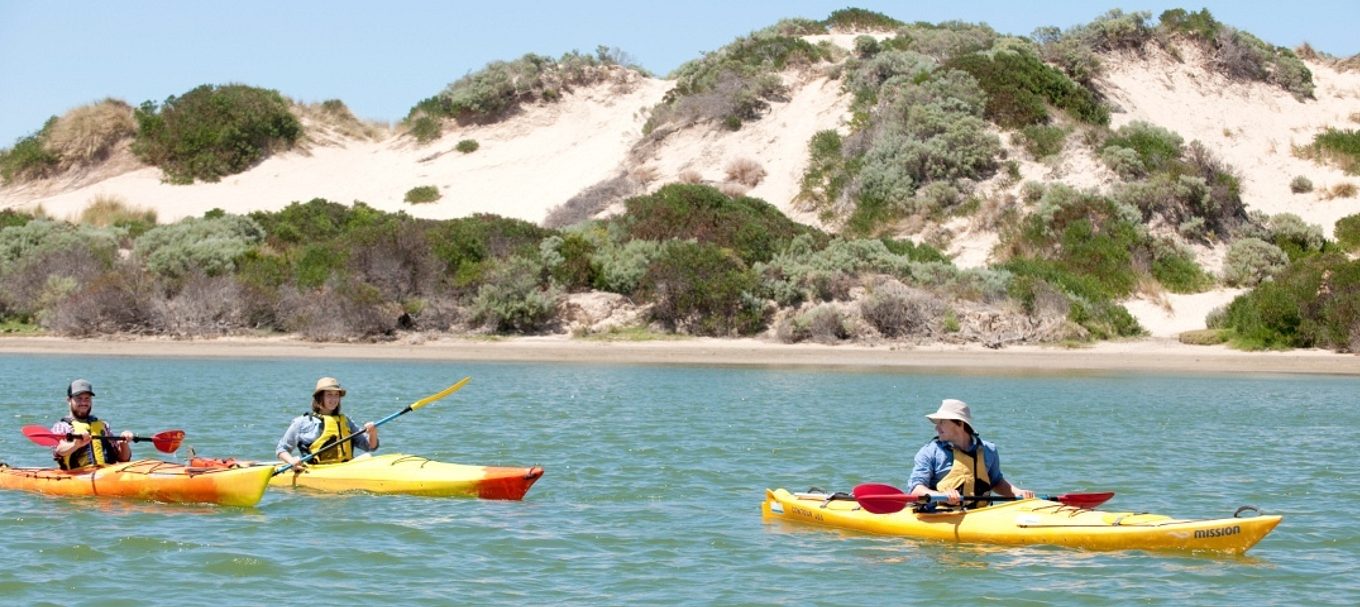 Everything you need to know about canoeing in South Australia's Coorong
Coorong National Park is a great spot for canoeing. Here's Senior Ranger Merv Smith's top tips.
With the warmer weather around the corner, canoeing is a great way to immerse yourself in the great outdoors.
Coorong National Park, located 200 km south-east of Adelaide, caters to paddlers of all levels.
Explore the sheltered bays of the Coorong lagoon, take a paddle across to Younghusband Peninsula or for the more adventurous, tackle a multiday or overnight expedition camping on the remote shores of the lagoon.
With all of these options, you'll get to explore the internationally significant Coorong from a new perspective – on the water.
Coorong National Park Senior Ranger Merv Smith takes us through everything you need to know when you go for a paddle in Coorong National Park. Here's what he had to say:
What you will see
The Coorong is beaming with an incredibly diverse range of birdlife and wildlife. Expect to see pelicans soaring, birds of prey searching and if you're lucky, an emu taking a dip in the lagoon.
Long-nosed fur seals are often found in the North Lagoon of the Coorong, basking on the shore or swimming in the lagoon. If you spot them, be sure to keep your distance.
Top camping spots
Looking for a private camp spot? Set out on your kayak/canoe with your camping gear and head to one of our 'boat only' campsites at Barker Knoll or Godfreys Landing.
The Barker Knoll campsite has a walking trail to the beach and a nice flat camping area, while the Godfreys Landing campsite has a picnic shelter and an interpretive walking trail to the ocean beach.
For the more adventurous, you can also camp on the shore of the Younghusband Peninsula. Make sure to let someone know where you intend to stay and leave no trace in the park.
Top tips: Campsites at Barker Knoll or Godfreys Landing can be booked online. While canoe camping can be booked under non-vehicle based camping.
Great trails
There are several wonderful loop trails found on the Paddling Trails South Australia website, with details maps, suggestions and itineraries.
Top tip: Don't have a canoe or don't feel confident heading out on the water? Contact Canoe the Coorong for canoe hire and tours.
Canoe safety
Make sure you let someone know before you go, and don't forget to take enough water and food.
The wind can get quite strong, so check the wind forecast before heading out.
Phone signal can be patchy in areas in the park, so you might want to consider hiring a satellite phone or locator for safety.
Areas to avoid
Ensure you visit the national parks website for park maps before you head off on your adventure, and remember don't camp on private land, such as Mundoo Island opposite Godfrey Landing.
Be cautious when navigating the lagoon – sections can become very shallow with rocky reefs and currents, so take care when traversing through these areas.
Sturdy shoes are recommended as you may need to get out and walk in some areas.
Prefer to explore at your own pace? Check out Your guide to visiting Coorong National Park or 6 things you might not know about the Coorongto plan your next visit.
Main image: Coorong National Park (image courtesy of SATC)
This story was originally posted in November 2020.