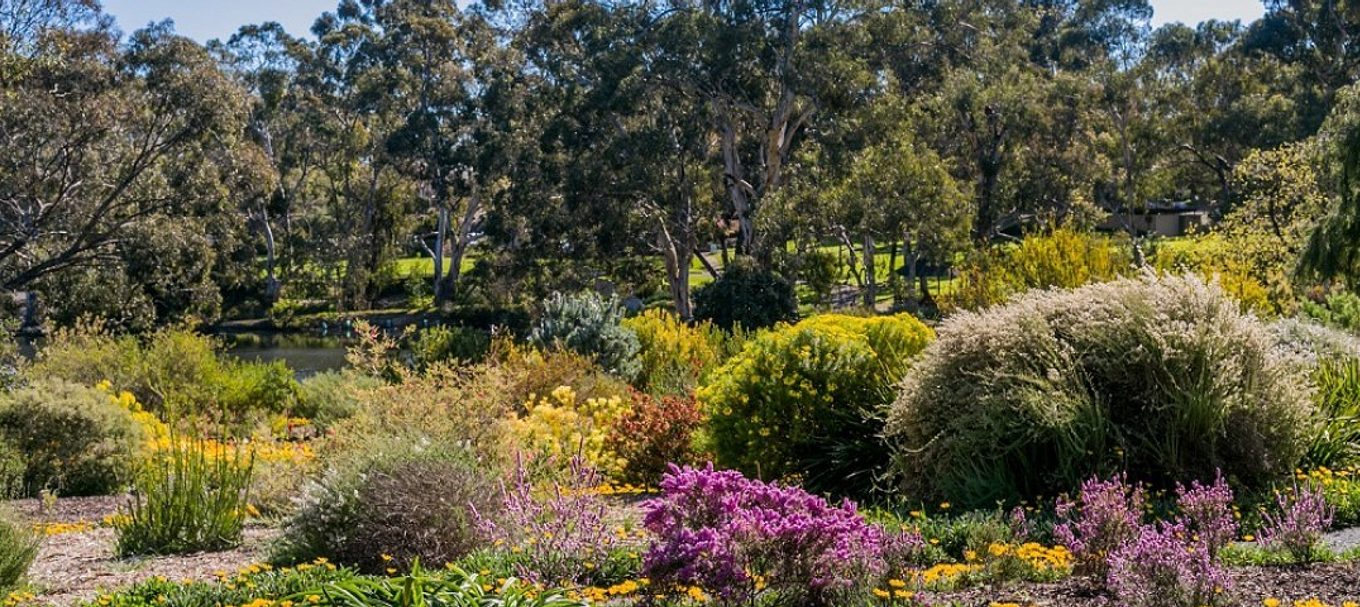 5 ways to make the most of spring in Adelaide's 3 botanic gardens
Get out in the sunshine and enjoy a fun-filled family outing at a botanic garden this spring. Here are 5 ideas.
Spring has finally sprung, and with it comes the opportunity for a well-earned nature boost.
This season brings an abundance of blooms in all shapes, sizes and colours to all three Botanic Gardens of South Australia.
So after a cold and dreary winter, it's time to get out and about in the great outdoors. Here are 5 family-friendly activities that you can enjoy at three of SA's botanic gardens:
1. Enjoy the colours of spring at Adelaide Botanic Garden
A fascinating range of stunning plants can be seen at Adelaide Botanic Garden, in the heart of the CBD.
The sapphire towers (Puya alpestris) make a unique botanical display in spring and are very popular with rainbow lorikeets – see the spikes of these electric blue plants outside the Amazon Waterlily Pavilion in November.
The Wisteria Arbour is a beautiful place to visit on a warm spring day, as these gorgeous purple flowers put on a spectacular show until early October. If you're a fan of arches, be sure to check out the star jasmine arch opposite the Palm House in November too.
A visit to the Sunken Garden is also a must for a colourful floral display, and is a secluded spot for a peaceful picnic.
If you're looking for a unique night out, you might like to book in for an outdoor performance of the popular comedy, Twelfth Night, performed by Shakespeare SA at the Adelaide Botanic Garden. It's part of the garden's Botanica Lumina program.
Download the Adelaide Botanic Garden map and brochure to explore the garden at your own pace.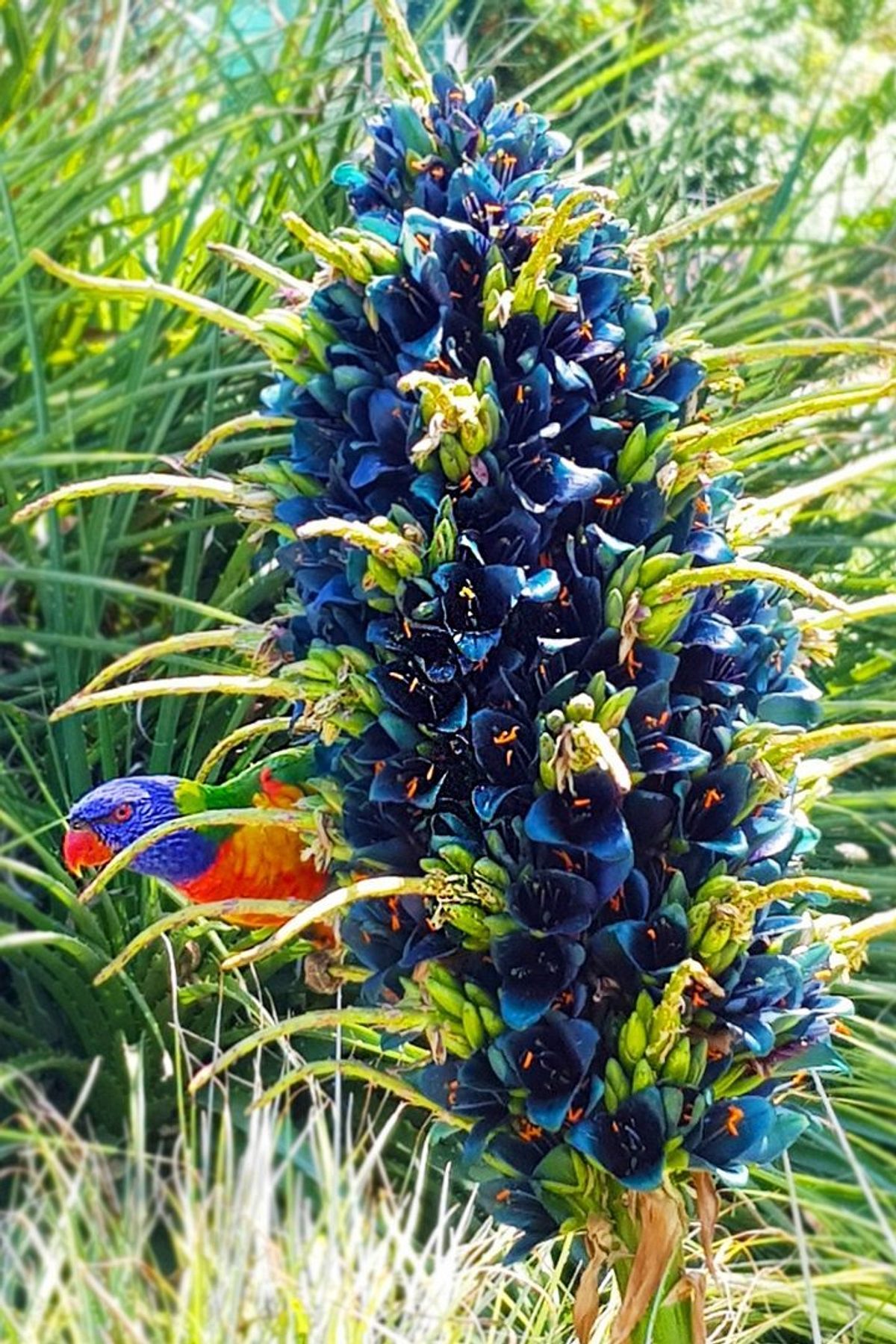 2. Explore the vibrant spring flowering plants at Mount Lofty Botanic Garden
Visitors to Mount Lofty Botanic Garden love Rhododendron Gully in spring as it bursts into colour.
Just 25 minutes up the freeway in the Adelaide Hills, the garden boasts a fantastic orchid collection that comes alive during spring. See if you can spot native species of donkey, spider and sun orchids throughout the garden.
Flowering cherries and other rosaceae trees, such as pears and crab apples (pyrus and malus), are a sight to behold.
You can also immerse yourself in the vibrant, world-class collection of azaleas, and check out the warratahs (Telopea) that are stunning this time of the year, as is the array of cheery daffodils and bluebells.
If you're a fan of ferns like us, you can't go past the fantastic new fern growth of Osmunda, Athyrium and Diplazium at the garden.
Download the Mount Lofty Botanic Garden map and brochure to explore the garden at your own pace or follow the trails and tours we recommend.
3. Immerse yourself in the riot of colours at Wittunga Botanic Garden
This Adelaide Hills garden, nestled in Blackwood comes into its own in spring, with a riot of colours in the terrace beds.
The fynbos – the South African name for 'fine bush', referring to the diverse heathlands in that country – is a sea of colour at this time of year. Here you'll find the stunning euryops, selago and various erica species.
Flowering annuals and herbaceous perennials are also up and about in the fynbos and terraces, including pelargoniums, scabiosa and native eucalyptus beauties.
And you can't go past the large variety of South African proteas!
Keep a keen eye out for the fiery colours of the rocket pincushion (Leucospermum reflexum).
Download the Wittunga Botanic Garden map to explore the garden at your own pace.
4. Let your child indulge in nature this spring at the botanic gardens
Enrol your child in the botanic gardens' marvellous school holiday program, which is suitable for children between the ages of five and 17.
Kids and teens' activities at the botanic gardens have been designed to promote fun, hands-on learning about plants, people and the environment.
There are plenty of exciting events where the kids can keep entertained – everything from Kaurna ochre painting and basket weaving, to fun in the Little Sprouts Kitchen Garden, botanical photography and much more.
If you prefer to go at your own pace, you might like the self-guided school-holiday Botanical Treasure Hunt Kit that the whole family can enjoy at Adelaide Botanic Garden. Simply buy the self-guided kit online, collect it from the Goodman Building by the Hackney Road entrance to the garden during office hours and then embark on an exciting treasure hunt.
5. Enrol in a workshop to get your garden ready for spring and summer planting
Workshops at the botanic gardens are open to everyone and offer special courses designed to extend your expertise on gardening, plants and all things horticulture.
The engaging sessions put you face-to-face with industry experts from the Botanic Gardens and State Herbarium, who will share their immense horticultural knowledge and skills. Here are a few of our favourite workshops:
Kitchen Garden Workshop series at Adelaide Botanic Garden
This workshop series offers practical advice on a range of good gardening practices, including a workshop on tackling pests and disease, and another workshop on building and maintaining a bee hive.
Drawing From Nature workshop at Adelaide Botanic Garden
Immerse yourself in nature and practice your skills of observation in this therapeutic and creative two-day drawing workshop.
Rooftop Gardens and Green Walls at Adelaide Botanic Garden
Learn how rooftops, walls and other small spaces can be transformed into beautiful, functional gardens.
To explore more workshops, find out what's on at the Botanic Gardens of South Australia.
If you'd like to have the latest news from the Botanic Gardens of SA delivered to your inbox, you might like to subscribe to their monthly e-newsletter.
This story was originally posted in September 2020.