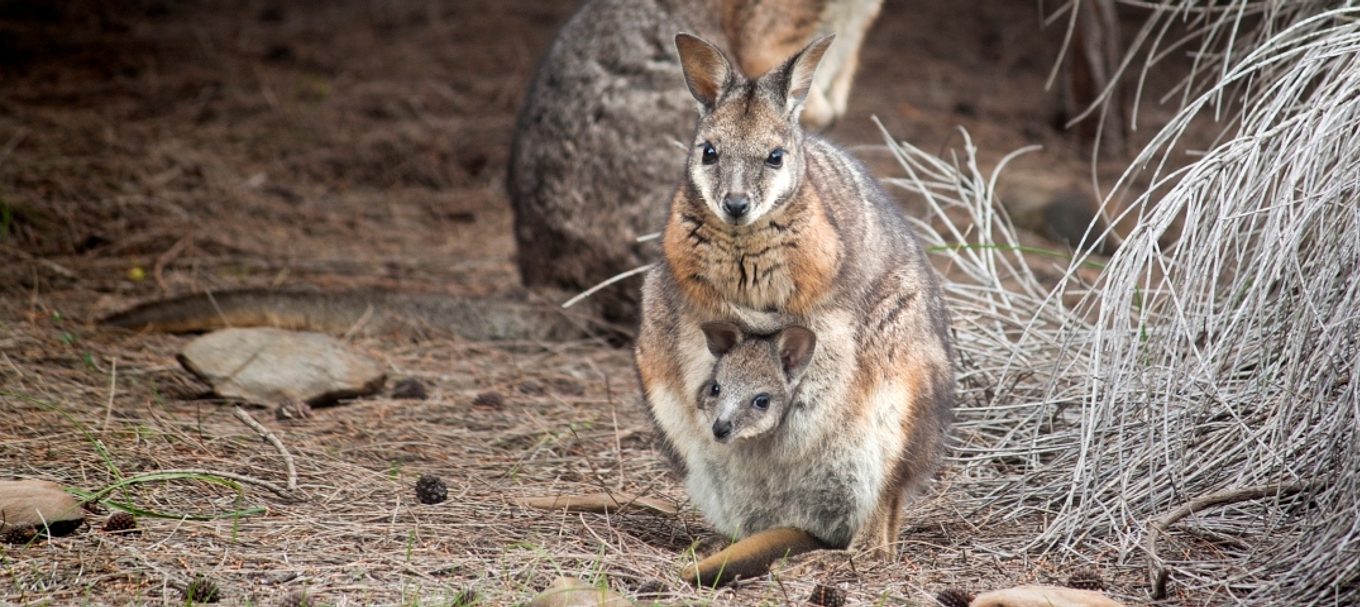 6 months on: How South Australia's bushfire-affected wildlife is recovering
Find out what action has been taken to help wildlife since the Kangaroo Island and Adelaide Hills bushfires.
South Australia's 2019-20 summer bushfires burnt nearly 300,000 hectares of land across the state, affecting thousands of native plants and animals.
Kangaroo Island and the Adelaide Hills were among the worst hit areas of the state, with nearly half the island (about 200,000 hectares) and 23,000 hectares of the hills burnt.
It's now been 6 months since SA was declared bushfire-safe by the Country Fire Service, and work is still underway to rebuild habitat and help wildlife affected by the fires.
Here's how the recovery efforts are progressing on Kangaroo Island and in the Adelaide Hills.
Where actions have been taken to help in the recovery?
The recovery of the environment on Kangaroo Island and the Adelaide Hills will take time and plenty of hard work, but it's been a collaborative endeavour, with all levels of government as well as local experts, non-government organisations, landholders and the community delivering help in a coordinated way.
National Parks and Wildlife Service South Australia (NPWSSA), the Kangaroo Island Landscape Board and the Hills and Fleurieu Landscape Board have taken a number of actions to support native wildlife recovery in partnership with wildlife groups, conservation organisations, landholders and communities.
These actions include:
on-ground assessments and population counts
a digital citizen scientist program
giving nature time and space
feral animal control
translocation of koalas to Cleland Wildlife Park
plantings in bushfire zones
establishing a Wildlife Recovery Fund
creating a Wildlife and Habitat Bushfire Recovery Taskforce
developing a statewide Wildlife and Habitat Bushfire Recovery Plan.
How have these actions helped species and habitats recover?
Most recovery actions, including wildlife monitoring and feral animal and weed control, will continue until bushland regenerates and can provide natural shelter and food for native animals.
Focused effort has, and will continue to, support the recovery of many key native vertebrate and invertebrate animals, and plant species.
A number of native animals have shown positive signs of recovery in the six months, including:
1. Dunnart sightings raise hopes for species
Despite nearly 90 per cent of its island habitat being burnt, the endangered Kangaroo Island dunnart has had numerous recorded sightings on motion-sensing cameras installed on park by the NPWSSA and Kangaroo Island Landscapes Board staff, complemented by the work of Kangaroo Island Land for Wildlife on private land.
This is particularly heartening after fears habitat destruction would decimate the threatened nocturnal marsupials, which before the bushfires only had a population numbering between 300 and 500.
2. Glossy blacks rise from the ashes
Endangered glossy black-cockatoos have been spotted nesting in burnt-out bushland on Kangaroo Island by Kangaroo Island Landscapes Board staff. Their surveys and monitoring have recorded more than 35 chicks hatching since the bushfires.
While the pre-bushfire population of glossy black-cockatoos on the island was estimated at about 370, the current population is unknown. A population count is planned for spring this year.
Because the bushfires burnt 75 per cent of their habitat on the island, recovery actions have included planting she-oak trees and installing nest boxes and tree guards. These measures will help the cockatoos during breeding season and stop species, such as possums, competing for nests.
3. Koala populations climb back to recovery
Bushfires burnt much of the koala habitat on Kangaroo Island and some in the Adelaide Hills. Pre-bushfire populations in the Adelaide Hills and Kangaroo Island were estimated to be about 165,000, including about 50,000 on the island.
To try and establish remaining numbers, population counts have been conducted by NPWSSA and more than 40 koalas have been relocated to Cleland Wildlife Park for rehabilitation.
It's estimated this number is now about 125,000, with an estimated 5000-10,000 left on Kangaroo Island. Both the Kangaroo Island and Adelaide Hills populations will recover as their habitat recovers.
4. Kangaroos bounce back
Bushfires burnt much of the kangaroo habitat on Kangaroo Island and some in the Adelaide Hills, as well as the upper southeast of the state.
A population count is currently underway by NPWSSA across the state, with the population expected to recover as the habitat recovers. Prior to the bushfires there were an estimated 3.6 million kangaroos across SA, which includes all roo species. Post-bushfire populations are stable, however drought across the north of the state has likely affected the population.
What about other species?
Other species sighted within bushfire-affected areas include the southern brown bandicoot, green carpenter bee, western whipbird and southern emu-wren.
Details about some of these animals will be featured in upcoming stories – keep an eye out for them.
How is the Wildlife Recovery Fund helping?
The Wildlife Recovery Fund has raised more than $450,000, which will be used to support re-establishing habitat for wildlife in the state's bushfire-ravaged regions. It will provide landholders and community groups with grants to deliver on-ground recovery action such as native plant regeneration, and feral animal and weed control.
Read our story to find outhow Flinders Chase National Park's heritage accommodation is being rebuilt after the bushfires.