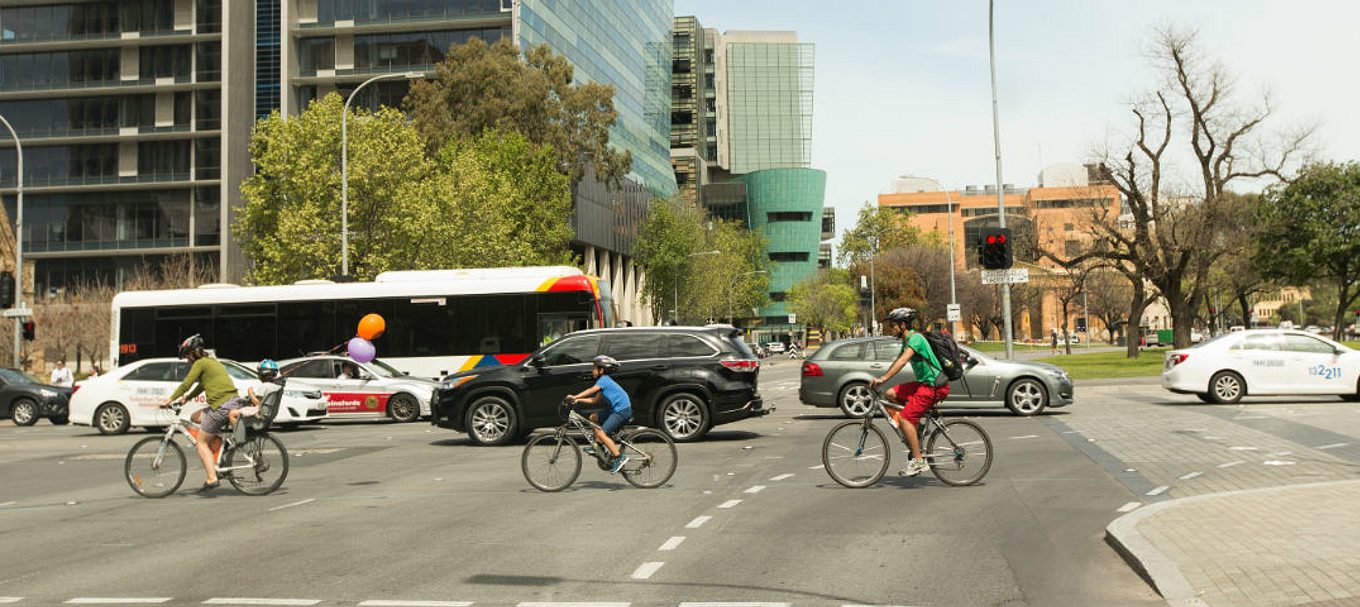 6 tips for beginner bike riders
Want to start riding to work but don't know where to start? Here are six tips to get your wheels in motion.
Has the Tour Down Under inspired you to try cycling to work? Or perhaps you've made a new year's resolution to get fit and cut your carbon emissions?
Here's six tips to help make your first ride smoother.
1. Get the right equipment
There's some basic things you need when starting to ride, not least a bike (with lock), a helmet, the right clothes, and lights on your bike if you're riding early in the morning or in the evenings. If you're ready to purchase a bike, Choice Magazine have some great tips, or visit a reputable bike shop.
If you just want to test the bitumen before you buy, consider hiring a freebie from Adelaide Free Bikes.
2. Don the right attire
Now for the fun bit – wardrobe. It doesn't have to be lycra ('thank God!' we hear you cry) but wearing light and bright colours during the day will help you be seen by other road users.
At night, reflective clothing or a vest, and good quality head and tail-lights are essential. You can get lights from as little as $10 each. Your local bike shop should be able to help you with all this and a helmet – wearing one is mandatory in South Australia.
3. Safety first
Safety can be one of the key worries for a first-time cyclist. The State Government's cycling page gives you info on road rules for cyclists and other safety tips, like making sure you can be seen.
One of the best things to remember is that cyclists of all ages are allowed to ride on footpaths – just be mindful that you're sharing the path with pedestrians.
If your workplace has a lot of cyclists, BikeSA can run free safety sessions on how to avoid common cycling crashes. Everyone that comes along scores a free safety pack worth more than $70. SA Police and other groups also run courses for schools and businesses.
4. Choose the best route
Choosing the right route is another great way to ensure you stay safe. There's a lot of bike-only paths to and from the city. You don't have to use the same route you would take in a car – look to DPTI's Cycle Instead Journey Planner for an alternative route.
If you have a long distance to travel, why not take up BikeSA's first mile and last mile approach – riding to the nearest public transport interchange and catching a bus, train, or tram, for the remainder of the journey.
5. Consider parking and maintenance
If you want to start riding but don't know where to park your bike, you can park undercover for free in all the city UParks.
Got a flat tyre or need some maintenance? There's bike pumps located at 25 Pirie Street, right next door to the Town Hall. There's also a bike maintenance station at the beginning of the Frome Bikeway at 59 Regent Street South, near the Box Factory. The station includes a pump, Allen keys, screwdrivers, a chain breaker, wrench and shifter spanner.
6. Technical help and finding a buddy to ride with
Every Wednesday from 5pm to 8pm the Adelaide Bike Kitchen connects like-minded bike enthusiasts who want to learn, share tips – like how to service your bike yourself, and discuss things every cyclist should know.
This fantastic group also runs useful specific sessions on topics like 'how to winter-proof your bike' with tips like how to choose tyres with more grip. Riders are also welcome to use their facilities during opening hours. You'll find a willing group of friendly riders here to buddy up with.
Have you got any great tips for riding to work? Share them with us in the comments section below.
This story was originally posted in October 2017.