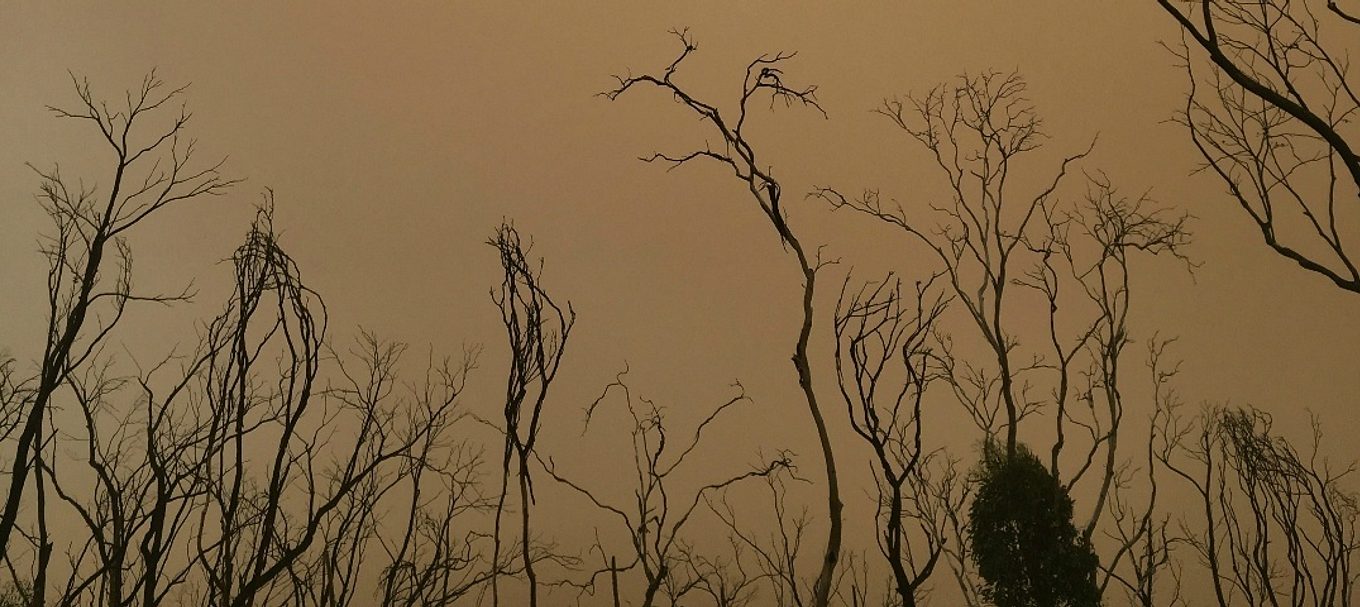 The Whiteway family share the challenges and positive moments of their bushfire recovery.
In 2014 Ben, Vicky, Ella and Sam Whiteway moved to their property near Kersbrook in the Adelaide Hills and immediately got to work making the most of the small areas of productive land. Clearings with orchard and grazing potential were set among larger areas of remnant mixed eucalypt woodland that sheltered a diverse understory of wattles, tea-tree, Xanthorrhoea and numerous native shrubs, grasses, herbs and orchids. The bird life was magnificent and native animals including kangaroos, echidnas and possums were spotted frequently.
The block, including the house, was not well prepared for fire so the Whiteways spent much of spring raking, clearing and cleaning, and agreed to leave should a fire occur. On 2 January 2015 this plan was put into action. Already on alert due to the catastrophic fire danger rating, the Whiteways packed their vehicles and left well ahead of the fire front. At Kersbrook, Ben joined the CFS to help while Vicky, Ella and Sam headed to safety in Adelaide.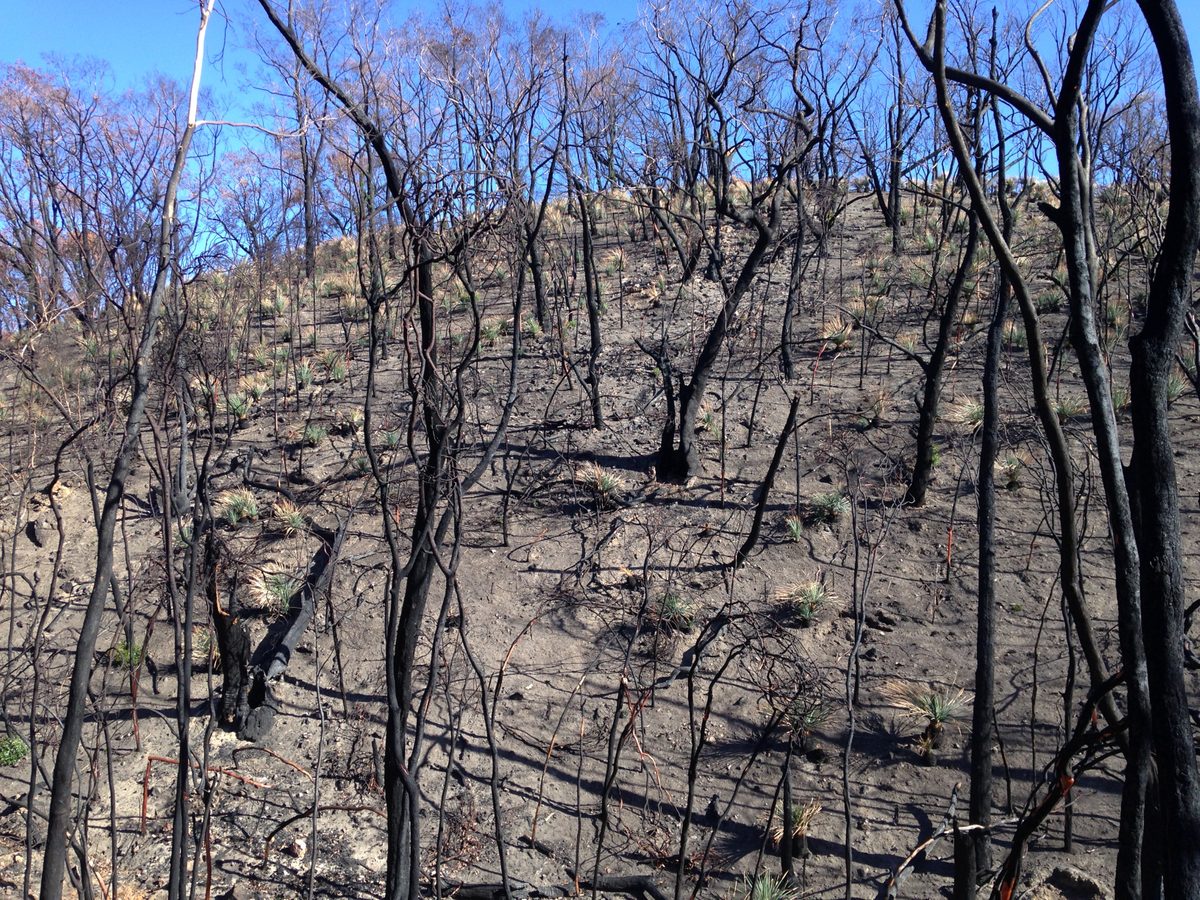 Caption: The Whiteway's property near Kersbrook soon after the fire.
Having lost almost everything the family returned home to start to rebuild and recover. They share their observations from the past year:
Post fire changes in the landscape
Bushland weeds like blackberries and gorse have made a strong comeback in areas where they existed prior to the fire, and gorse has popped up in new locations. Weed control has been a painstaking process as there's a lot of natives coming up in the same areas.
We haven't seen any echidnas since the fire and far fewer possums, although we've spotted kangaroos and feral deer in reasonable numbers. Numerous small birds are starting to return and feral bird species, including sparrows and pigeons, have been spotted on the property for the first time. Presumably due to the bare ground and open canopy.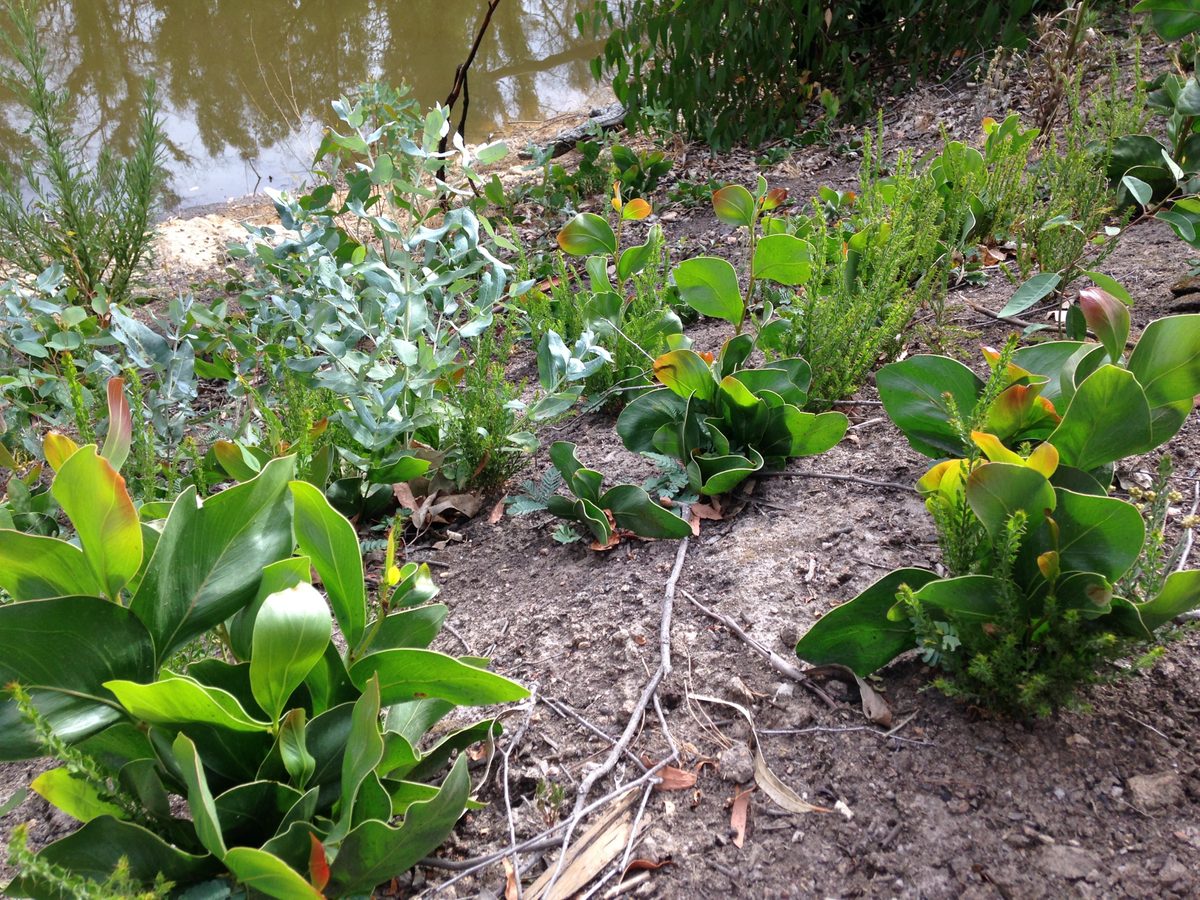 Caption: Regeneration of the landscape eleven months on.
Positive moments
The spectacular regeneration and flowering of Xanthorrhoeas was heartening through spring and saw the return of lots of insects and small birds. There was also abundant germination of native orchids that created small, vibrant patches of colour among the forest. Recently, the Christmas bush (Bursaria spinosa) provided stunning white displays among the blackened tree trunks.
Revegetation is a challenge, the soils in some areas post fire appear to repel water and with limited water supply not everything planted has survived. However, we've had some great successes which are supporting the return of birds, butterflies and native bees.
We bought a trampoline for Ella and Sam which has provided them with a much-loved and used escape.
One of the most positive outcomes for us is that we now feel part of a tight-knit community despite being new to the area.
Challenges
Making decisions. There's so much you have to decide in such a short time frame, it can be overwhelming.
The work involved in setting up temporary accommodation, planning and building a new house, re-fencing and re-establishing livestock, gardens, orchards and water infrastructure is massive.
A challenge we're facing at the moment is a shortage of water. We were unable to collect water over winter due to burned pipes and tanks and reduced roof space.
Dust has been a constant presence since the fire which has been testing. The dust clouds and dark skies following the Pinery fire triggered memories of Sampson Flat and had many people worried.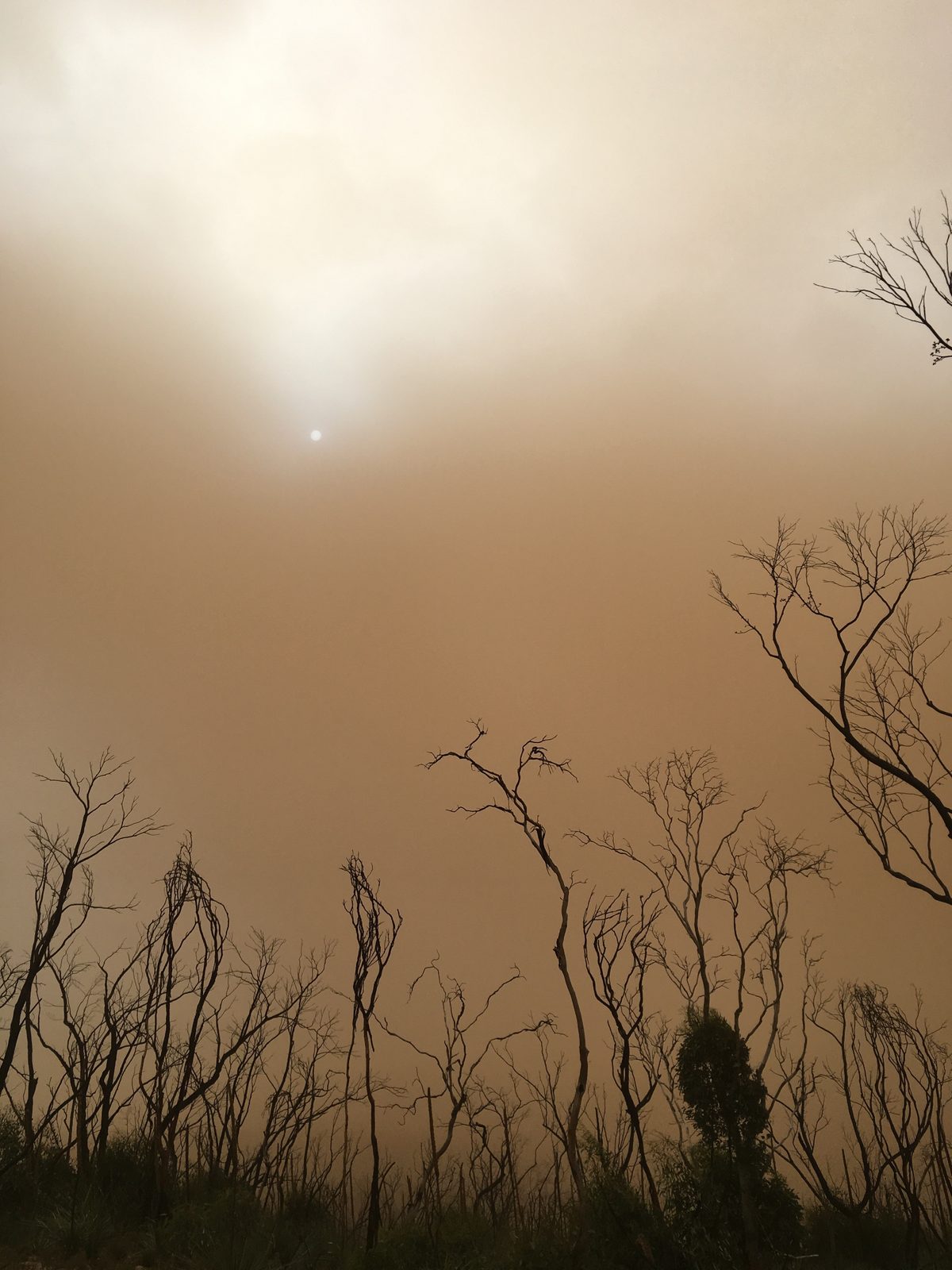 Caption: Ella Whiteway snapped this shot of dust on the property on Christmas day 2015.
Helpful tips
Keep a record of what you've done when rebuilding, even a basic diary. Sometimes it's hard to see progress and it feels like you're not getting anywhere. If you can look back at a list of all you've achieved it provides a much-needed sense of satisfaction.
We tried to maintain a positive outlook and use the fire as an opportunity to step back and plan the property from a blank slate. The process was difficult, and still remains a challenge on some days, but ultimately is very rewarding. At the end of this process we will have a beautiful new house on the site we love.
We decided to stay on site for the rebuild and recovery, setting up a temporary shipping container for accommodation. It was difficult to live in and each season has brought new challenges. However, being on site everyday has facilitated rapid progress and meant that we've been able to observe all stages of recovery on the property. Seeing changes day today gave us a real sense of hope throughout the journey and we're now just months away from having our new house complete.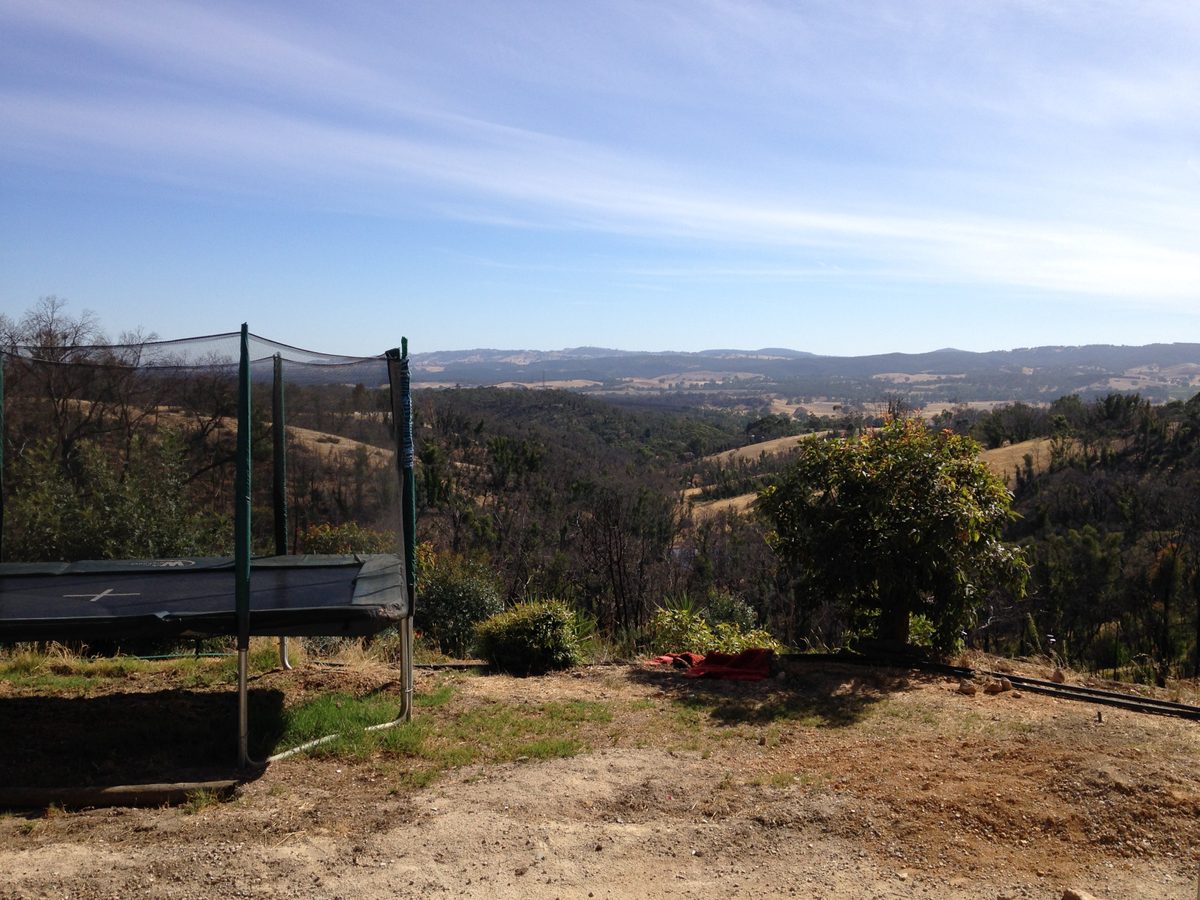 Caption: The view from the Whiteway's new home, and the much-loved trampoline.
Support
We received wonderful support from many friends, local groups, businesses and charities. The first being the Toyota Landcruiser Club, which came and helped us demolish the house and clear the site. Food for us and the animals, and water regularly appeared. At times it was overwhelming as people would either arrive on site to help or send gifts of clothing, vouchers, household goods or even cash. At the time we didn't always know where the gifts had come from and there wasn't always a chance to say thank you, but we are incredibly grateful for all of the support we received.
We have also been assisted by Natural Resources Adelaide and Mount Lofty Ranges (AMLR) in a number of ways including attending workshops and creating an ongoing property plan to help with weed control and fencing. We've really appreciated the property visits by a Natural Resources AMLR staff member and being able to build rapport with that one person.
We're doing what we can to help those affected by the Pinery fire. Ben, Ella and Sam are joining the Toyota Landcruiser Club to assist with the demolition of someone else's lost home.
Natural Resources AMLR has a number of resources available for those recovering from the Sampson Flat and Pinery bushfires.