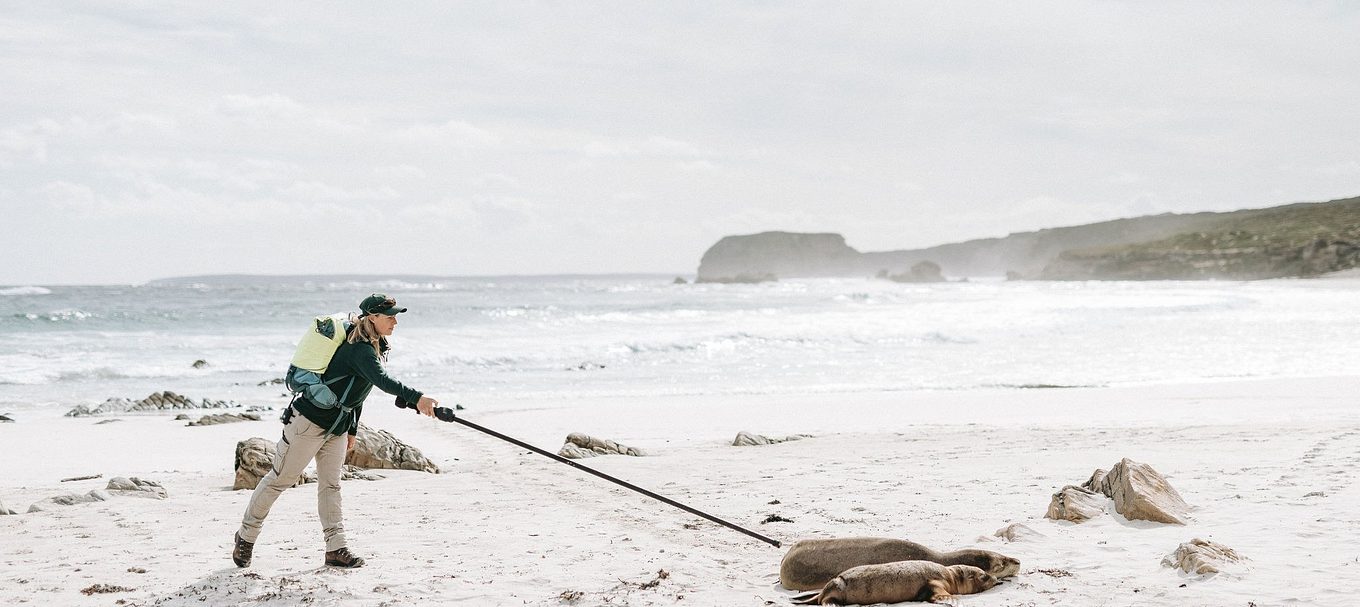 She's an Australian sea lion guru, with what she calls the best job in the world – let's meet her.

For Mel Stonnill, Seal Bay Conservation Park on Kangaroo Island is more than one of the world's premier eco-tourism destinations.
It's also the place where the park's research and operations coordinator feels most at home.
"Seal Bay is home to the third largest colony of Australian sea lions in the world. They are literally wild and we're standing in their bedroom," she says.
"It's actually more like a seaside sanctuary.
"The Australian sea lion population is in decline and Seal Bay is the only ongoing research facility for the species, which makes my job all the more special."
In fact, a key part of Mel's role is to maintain and continually develop the long-term monitoring program of the seal colony at Seal Bay, which is delivered by the South Australian Research and Development Institute (SARDI) and the Department for Environment and Water (DEW). The nature conservation program has provided data on microchipped and scanned animals for over 20 years.

Mel ventures into the colony regularly during breeding season to scan the microchips of various animals and collect the vital data studied by SARDI.
"I really do feel like I have the best job in the world," says Mel.
"It sounds ridiculous but I always talk to them! They've all got different personalities – some of them are more aggressive and some are really playful.
"But you always know when you have to leave quickly!"
Visitors can learn about the conservation efforts of this endangered species on a special research tour at Seal Bay.
And there's no better time to visit than now.
For Mel, winter is amazing on Kangaroo Island – full of breathtaking scenery along coastal landscapes and incredible Australian wildlife encounters.
"You've got to be ok with getting the wind in your face and exploring to really appreciate this island," she says
"Get dirty, switch your phone off and go down west where you can't check your emails and actually just experience the moment.
"You can just reconnect with what is actually important to you in life."

A visit to Seal Bay is a unique opportunity to see sea lions and their pups up close. You can take a stroll along the boardwalk with a self-guided tour, or for something extra special book in for a guided tour.
With this option, experienced guides take you into the core of the colony, sharing stories about how these creatures spend their days hunting, surfing and resting. You'll also learn about the species' endangered status and the conservation efforts underway to protect them.
Plan your visit now!
Video courtesy of Kangaroo Island Tourism Alliance.
Header image courtesy of Kangaroo Island Tourism Alliance and Fuller Brand Communication.
Photographer: Christopher Morrison