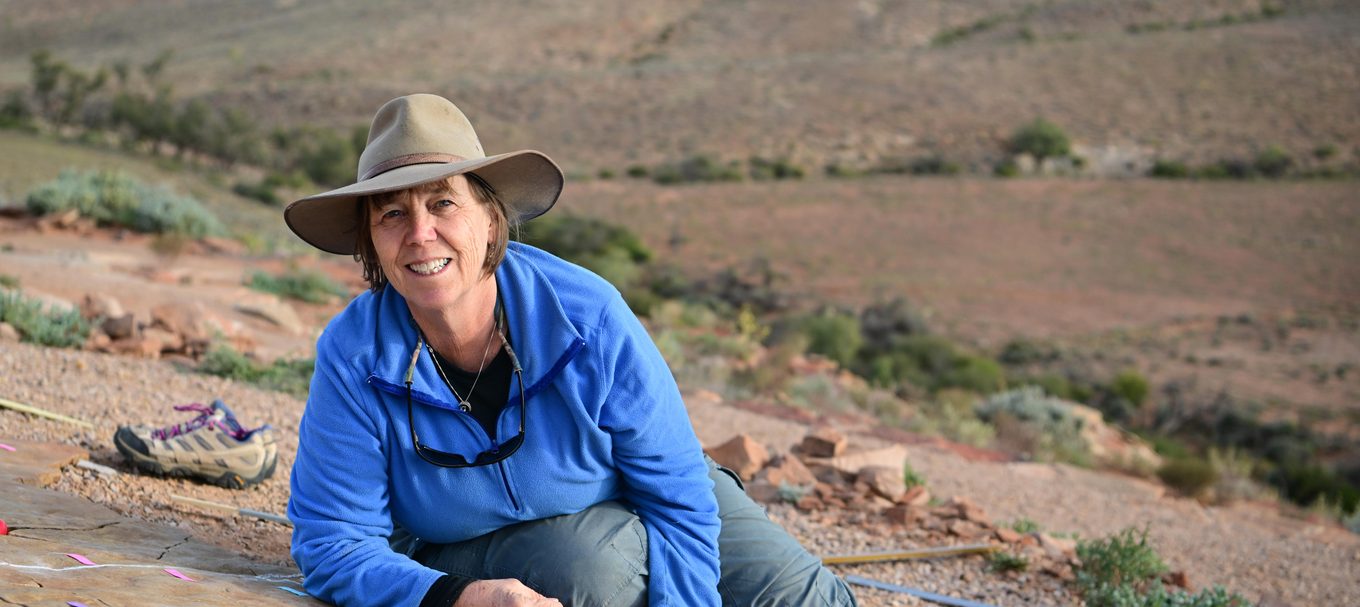 Discovering the dawn of animal life
Unravelling the secrets of an outback sea and a near-alien world has been a lifetime's work for international paleontologist, Mary Droser. Let's meet her.
For 25 years, Nilpena has been the summer home for world-leading Ediacara authority Dr Mary Droser whose research continues to uncover the secrets of life on Earth.
Crouched over golden fossil beds under the Flinders Ranges sun, Dr Droser and her team, along with colleagues and volunteers from the South Australia Museum, carefully and meticulously uncover the fossils of the first forms of animal life – captured in time between ripple rocks and sediment – three-dimensional snapshots caught in a type of ancient camera.
Not just individual images, but near-epic geological movie reels providing the most amazing insight into the origins of animal life in an area that was once an expansive shallow sea with gently rocking waves – the oldest fossilised animal ecosystem on Earth.
These are creatures that moved, that fed, that reproduced, and creatures that lived in harmony.
There's Funisia dorothea which she, and colleague Jim Gehling, named after her mum Dorothy; Obamus named after the 44th President of the US; there's Attenborites janeae named after world acclaimed conservationist and friend Sir David Attenborough and our State fossil emblem, Spriggina – named after legendary Reg Spriggs who discovered Ediacara on the northern part of Nilpena in the 1940s.

As Distinguished Professor of Geology, Earth and Planetary Sciences at the University of California, Riverside, Dr Droser's work in the field of Ediacara has taken her to Namibia and Newfoundland.
Twenty-five years ago, travelling to Nilpena over the Outback corrugations she was greeted by an amazing landscape of incredible geological formations, a land of majestic gums, of kangaroos and emus, the noisy chatter of budgerigars breaking the silence.
Today, nearly 40 fossiliferous beds have been revealed at Nilpena, all by Dr Droser and her team getting on their hands and knees and looking at different pieces of the fossil beds.
Dr Droser's amazing work has benefited from 20 years of funding through a variety of NASA grants. The latest grant of more than US$300,000 was awarded to the team led by Dr Droser and Associate Professor Diego C. García-Bellido from the University of Adelaide's Environment Institute, and the South Australian Museum.
The three-year project, funded by the Exobiology Program at NASA, began in January last year.
Dr Droser hopes the proclamation of the Nilpena Ediacara Nation Park will lead to a wider understanding of ancient life forms and the how the Flinders Ranges featured so prominently.
It is this type of world-class experience she hopes will serve to connecting, engage and inspire not only visitors, but future generations of palaeontologists, archaeologists and geologists.
Want to see it for yourself?
Ediacaran fossils are a key attraction within South Australia's newly opened Nilpena Ediacara National Park, located in the Northern Flinders Rangers.
To ensure the preservation of this scientific and culturally significant area, entry to Nilpena Ediacara National Park is by guided tour only. Bookings cannot be made at the entrance and must be organised online prior to arrival.
For further details or to book visit: Nilpena Ediacara National Park