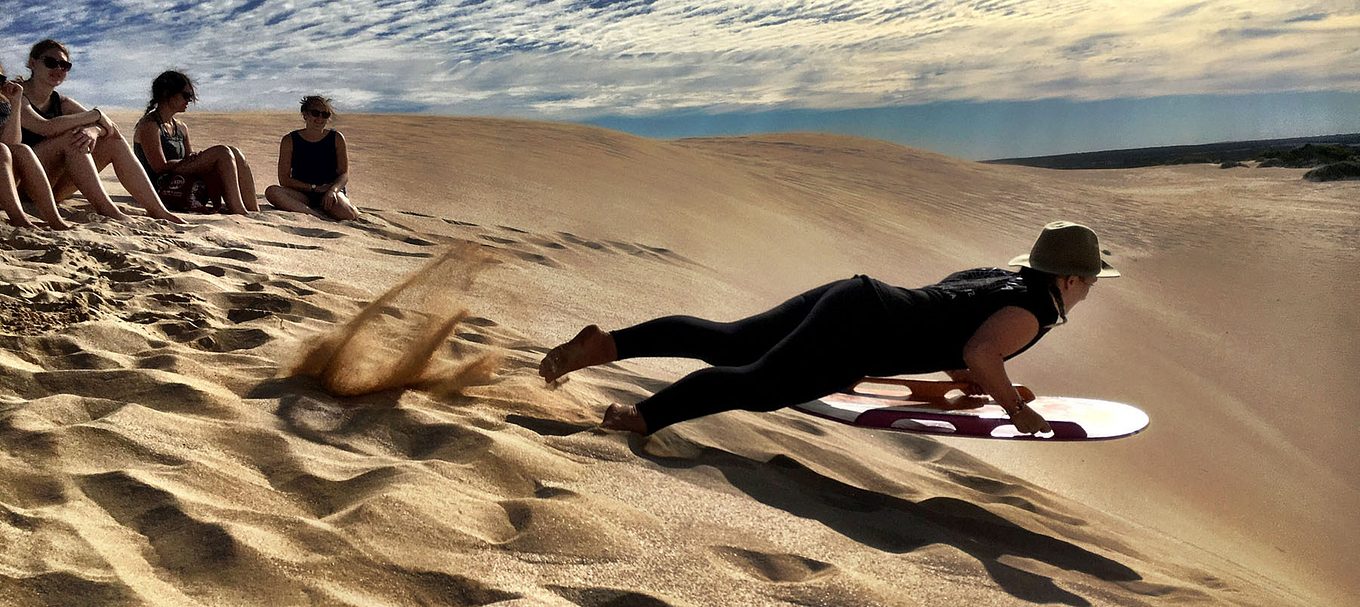 Two epic sand boarding spots on South Australia's Eyre Peninsula
Slide into these new sand boarding locations at Lincoln National Park and Coffin Bay National Park.
Looking for a new experience on the Eyre Peninsula? Sand boarding has long been a popular recreational activity in the area and in 2022 two new locations opened for enthusiasts to enjoy without disturbing the natural dune environment.
Sand boarding is a boardsport similar to snowboarding that uses a hard board to glide over sand. To get stuck into it you'll need a board, some sun smart clothing and a vehicle entry pass for your chosen park.
Sand boarding at Lincoln National Park
With spectacular ocean views and rugged offshore islands, Lincoln National Park is a true beauty. Visitors to this seaside paradise can get stuck into camping, boating, fish­ing, beach­comb­ing, swim­ming, bird watch­ing, whale watch­ing, nature walks – and now sand boarding.
The park is on the south-eastern tip of the Eyre Peninsula and is an 8-hour, 680-kilometre drive from Adelaide. It overlooks the scenic Boston Bay, the largest natural harbour in Australia, and is home to the massive, wind-sculpted sand dunes of the Sleaford-Wanna dune system and the pounding surf of the Southern Ocean.
Sandboarding is strictly regulated in this special natural area in clearly signposted locations that are easily accessible and within walking distance from existing 4WD vehicle tracks. The sandboarding areas are located in mobile dunes that are not generally vegetated so that environmental impact is minimised.
Sand boarding at Coffin Bay National Park
Coffin Bay National Park is a nature-lover's paradise that's home to rugged limestone cliffs, large coastal sand dunes, abundant wildlife, pristine sandy beaches and the sheltered tranquil waters of Coffin Bay. There are so many coastal activities to do at this park, from boating to fishing, scuba diving, canoeing, walking, 4WDing and windsurfing.
Sandboarding has now been added to the list – and just like in Lincoln National Park, so that the landscape is protected, this activity can be undertaken only in clearly signposted areas that are easily accessible and within walking distance from existing 4WD vehicle tracks.
What you need to know before sand boarding on Eyre Peninsula
Vehicle entry fees must be paid for Lincoln National Park and Coffin Bay National Park before you go.
Like many adventure activities, sandboarding can be dangerous. Please use appropriate equipment, follow the instructions on any signage, take direction from park rangers, carry plenty of water and take care of yourself and the surrounding landscape.
Protect yourself from sunburn by wearing clothing that covers as much skin as possible, sunscreen, a hat, sunglasses and enclosed shoes (save yourself the hot sand dance!).
Off-road driving is not permitted in this park, 4WDers must stick to existing tracks to minimise environmental damage and for sand boarder safety.
These parks are special natural areas. There are no rubbish bins in parks, please leave no trace and take rubbish with you when you go.
Main image courtesy of Untamed Escapes.