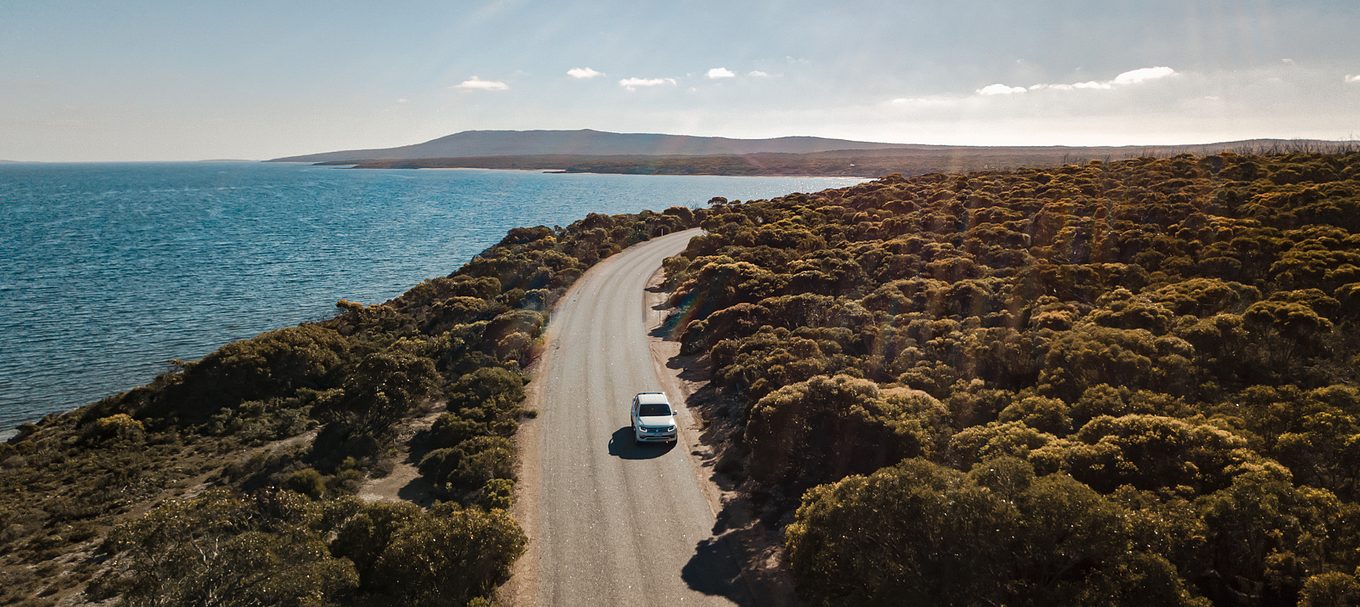 The best beachside campsites for your next 4WD adventure
Whether you love swimming, walking, fishing, snorkelling, diving, paddling, surfing or just a campsite with sea views, there's a national park for your next 4WD camping adventure.
Coffin Bay National Park
Known for its remote coastal scenery, the bays and coastline around Coffin Bay National Park are ideal for boating, fishing, sailing, scuba diving and windsurfing. You can explore the park's coastal landscapes of high windswept cliffs and massive dunes, pounding surf beaches and sheltered sandy bays.
Take your pick between the Black Springs campground, located beside a remote sandy beach and surrounded by mallee and paper bark trees, or Morgan's Landing campground, which boasts a secluded campground nestled among a grove of shady paperbark trees behind a low coastal fore dune. Small boats can also be launched from this beach.
The pristine northern beaches of Coffin Bay National Park are only accessible by high-clearance 4WD. A favourite destination for anglers, birdwatchers and surfers, this remote and beautiful area offers several secluded camping areas with easy beach access.
Chadinga Conservation Park
Chadinga Beach Campground is as close to nature as you can get. Once you arrive at your bush campsite you'll discover the beach provides excellent surf fishing opportunities for Australian salmon and mulloway. Four-wheel driving, nature study, bird watching and swimming are also popular activities.
This park contains a relatively undisturbed coastal dune system with an associated samphire community and mallee woodland. It provides important habitat for the spinifex hopping mouse, short-beaked echidna and numerous bird species.
Nuyts Archipelago Marine Park borders Chadinga Conservation Park.
Please consider your safety when camping in remote locations - campers need to bring their own supplies and equipment. We recommend that a minimum of 10 litres (per person) of fresh drinking water should be carried during the summer months.
Campfires are permitted outside of the fire danger season. Ensure you are familiar with the fire restrictions for this park.

Book before you go
Lincoln National Park
Lincoln National Park overlooks Boston Bay, the largest natural harbour in Australia, with granite headlands, sheltered bays and scenic off­shore islands. On the southern side of the park are the massive, wind-sculpted sand dunes of the Sleaford-Wanna dune system and the pounding surf of the Southern Ocean.
Take your pick from a number of popular activities in this park - boating, fishing, beachcombing, swimming, bird watching, whale watching or nature walks. A variety of designated campgrounds in the park offer easy access to the beaches, bays and walking trails.
The campgrounds in Lincoln National Park have easy access to beaches, bays and walking trails, making them an ideal base to explore the parks' natural features.
These campsites are accessible by 4WD:
• Carcase Rock Campground
• Engine Point Campground
• Horse Rock East Campground
• Lincoln Track Campground
• MacLaren Point North Campground
• Richardsons Shack Campground
• Spalding Cove Campground
• Wisemans Shack Campground
• Woodcutters Beach Campground

Book before you go
Memory Cove Wilderness Protection Area
Memory Cove Wilderness Protection Area, located within Lincoln National Park, is a magnificent and secluded bay with a pure white sandy beach, cradled between densely vegetated headlands. Memory Cove provides a very special camping or day-visit wilderness experience. Book your stay ahead of time and then collect your access key upon arrival.

Thorny Passage Marine Park borders Lincoln National Park and Memory Cove Wilderness Protection Area.
Point Bell Conservation Park
Located approximately 60 km west of Ceduna, it's worth making the effort to visit Point Bell Conservation Park. With long, sandy beaches and sand dunes that have 4WD access, the park provides excellent fishing, but be advised strong currents and rips can make swimming dangerous in this area. Book one of the eight unallocated camp sites that are scattered throughout the park and are suitable for tents and off-road camper trailers and caravans.
Please be aware driving along the beaches can be treacherous, and should only be attempted by experienced 4WD operators.
Book before you go

For all the details about SA's stunning national parks visit National Parks and Wildlife Service's website. Looking for more coastal inspiration? Read 7 unique places to swim in South Australia's national parks or 8 activities to try in SA's national parks.
Main image courtesy of City of Port Lincoln.