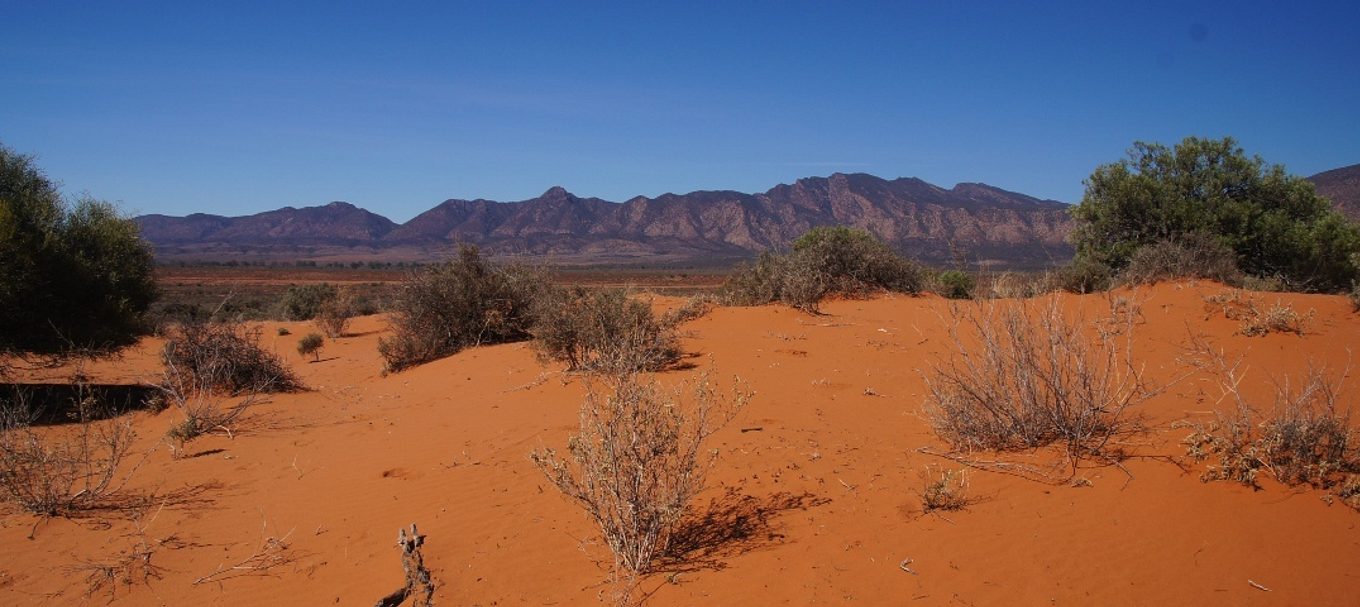 Discover Ikara-Flinders Ranges National Park from a new perspective
Learn about the cultural history of this iconic site from Adnyamathanha man Alan Harbour. Here are his insights.
Ikara-Flinders Ranges National Park in South Australia's north might be known as an amazing place for breathtaking bushwalks.
But according to traditional custodians – the Adnyamathanha people (meaning hills or rock people) – it's best known to them as an important meeting place for ceremony and sharing stories.
Read on as the park's Ranger-In-Charge, Alan Harbour, shares his cultural knowledge of Ikara (Wilpena Pound) as a proud Adnyamathanha man.
What do the sacred sites of Ikara-Flinders Ranges National Park mean to Adnyamathanha people?
They are really important. They are places of our history, and they are part of the bigger picture story of us and our Country.
The sites that most people think of as special or sacred are the tangible sites such as art sites, and so on.
These are important to protect, but there are also the intangible sites linked to important stories that are just as important, if not more so.
If one of these sites is damaged, then that link in our story lines can be broken. Even the art sites.
While it is important to protect what has been left behind, the meaning behind the art must be kept as well.
The art was done to tell a story, or to assist in telling that story. That story is the really important part.
What is one thing that most visitors wouldn't know about Ikara-Flinders Ranges National Park?
Everyone knows about the stunning, rugged scenery that the park is famous for. Not everyone is familiar with the Adnyamathanha stories of Creation that tell us about how the landscape came to be what it is today.
Visitors to the park can learn about these stories if they spend time with Adnyamathanha tour guides, our Adnyamathanha Rangers.
You can learn about the similarities between some of our stories and western science.
One example is that geology shows the area was once covered in water. The bible talks about a big flood, and we also have a story about a flood, which tells of the Artunyi (Paleides or Seven Sisters) being swallowed by Arkurra.
According to Adnyamathanha people, what is Ikara-Flinders Ranges National Park most known for?
Ikara (Wilpena Pound) is known worldwide as an amazing natural landmark. But for Adnyamathanha people, it is also a key landmark that forms our stories and is an important meeting place for ceremony.
Ikara is just one landmark described in stories about the Country, but it is also linked through stories to other landmarks that are just as well-known and important to Adnyamathanha people.
The Dreaming journey of Yurlu the old kingfisher man to Ikara (Wilpena Pound) is an extremely important part of Adnyamathanha culture.
How would you describe your cultural connection to this Country? How important is it for Adnyamathanha people to keep this connection alive?
My family have lived around here for many generations. This place is important to me through my family connections here.
I have a really strong connection to the western side around Nilpena, Ediacara, Beltana, and North Moolooloo areas as Kuyani Country.
My family have lived and also worked on the stations mentioned above, as well as at Blinman and Wilpena for generations.
What can visitors do to help protect the cultural heritage of Ikara-Flinders Ranges National Park?
Come to the park and immerse yourself in the stories that Adnyamathanha guided tours offer.
Take in as much cultural information as possible from people, interpretive signs, art sites, and respect it.
Also ensure you keep vehicles on designated roads and tracks so as to not damage artefacts or chop up the Country and cause erosion issues.
Adnyamathanha-led tours are available to visitors from the Wilpena Pound Resort and provide the opportunity to learn about the landscape and bio-diversity from the perspective of the Adnyamathanha people.
If you're interested in learning more about the cultural significance of South Australia's national parks, you might also like to read our stories:10 South Australian national parks with names derived from Aboriginal languagesand5 national parks in South Australia that are rich in Aboriginal cultural heritage.