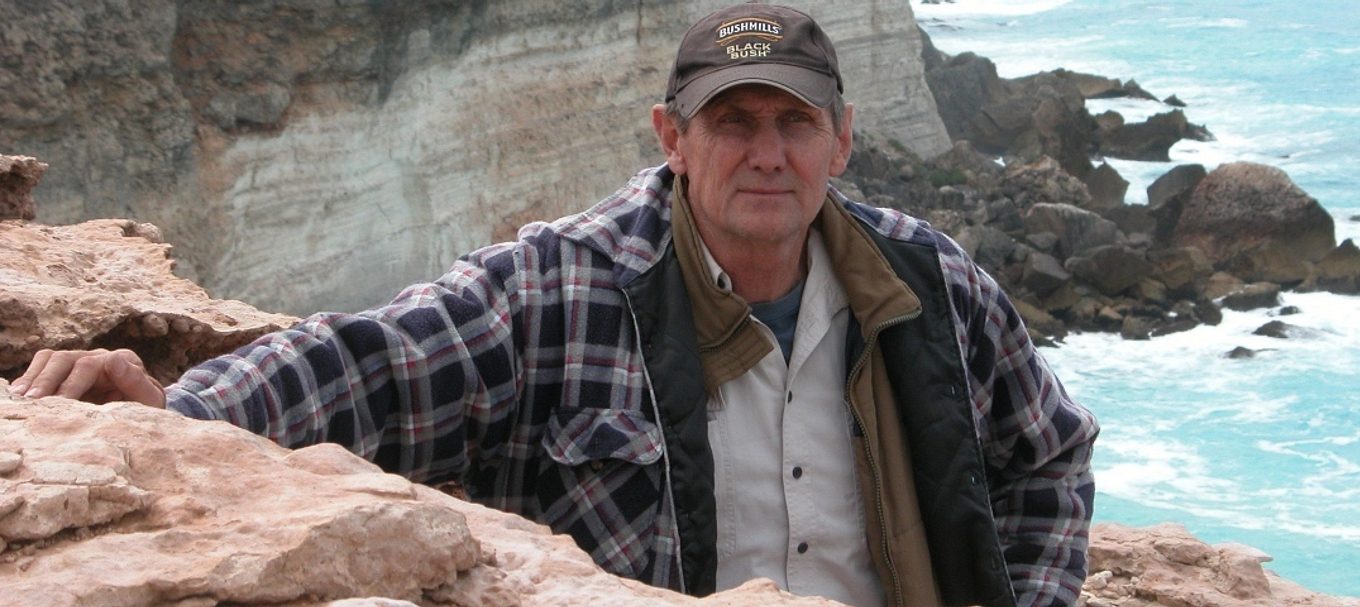 Your guide to South Australia's 1638 beaches: told by a coastal expert who's visited them all
GUEST BLOG: Learn about SA's beaches from Professor Andy Short, who spent 14 years visiting EVERY Australian beach.
A visit to the beach is as much a part of Australian culture as vegemite. But, for Professor Andy Short, it's so much more than that.
As a marine scientist specialising in coastal processes and beach dynamics, Andy spent 14 years exploring Australia's thousands of kilometres of coastline and visiting every single one of the 11,761 beaches on mainland Australia and Tasmania. But that's just the tip, he has also worked on the coasts of North and South America, including north Alaska and Hawaii, Europe, New Zealand, Korea.
A 'beach' is defined as a 'dynamic sandy environment located where land, sea, and air meet'.
Beaches occupy 49 per cent of the Australian coast and vary in their nature, size and access. They are dynamic, ever-changing and exposed to not only daily waves and tides, but storm events and rising sea level.
In Andy's travels, he found that South Australia has 1253 mainland beaches spread along 3273 km of coast, with another 302 beaches around Kangaroo Island and 83 on five larger islands (Thistle, East, Flinders, Eyre and St Peter) – plus many more on the other 101 islands dotting the SA coast.
So it's fair to say Andy's got the knowledge of what makes a good beach.
Read on to hear Professor Andy Short's commentary about some of South Australia's most interesting and unique beaches.
1. Nora Creina, Limestone Coast
Nora Creina beach is located along the Robe Range, which runs from Beachport to Robe in SA's south-east.
What makes it interesting is that it lies in a gap of the Range where waves have formed a beautiful curving beach, sheltered from high seas by the ragged, partly submerged remnants of the Range.
The Robe Range is a sand dune system deposited about 70,000 years ago when sea level was lower than present. The last time there was a rise in sea level (18,000 to 7,000 years ago) it partly drowned the dunes forming the rugged Robe Range coast with its many reefs, cliffs and generally small beaches, such as Nora Creina.
The beach is named after the brigantine sailing ship Nora Creina that struck a reef off the bay in 1858.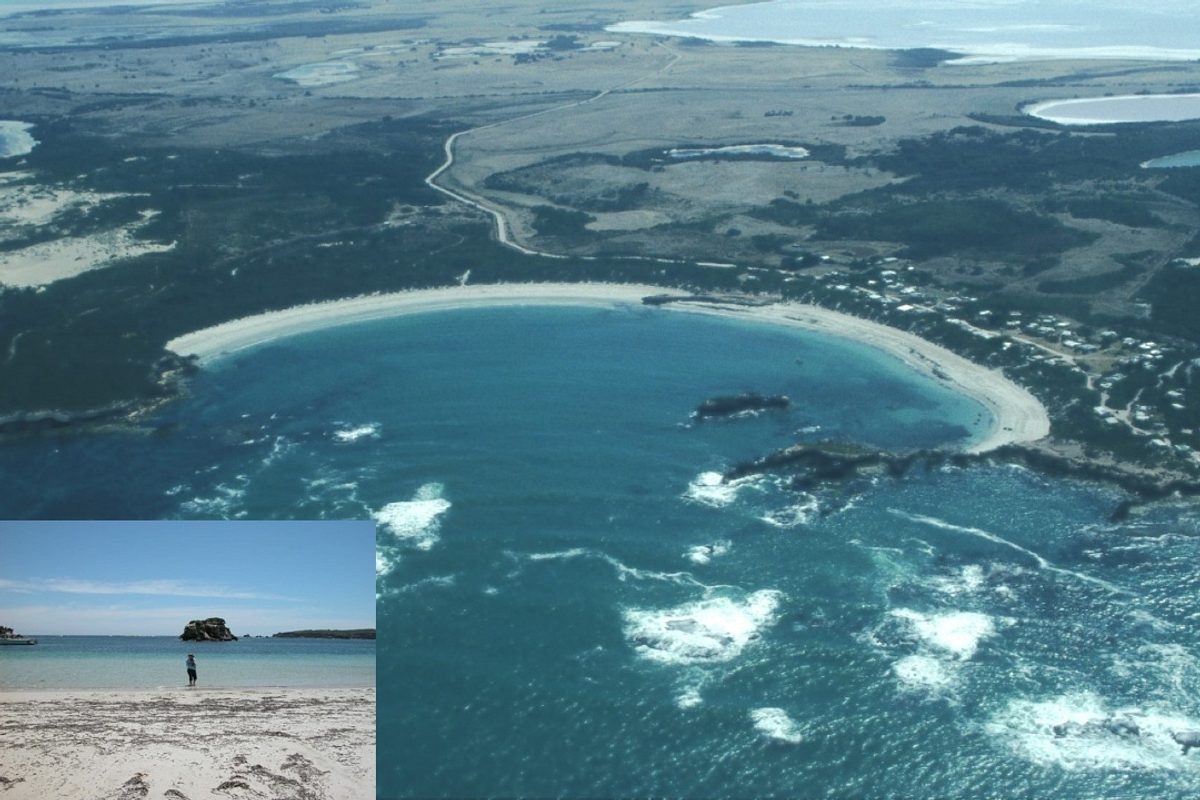 2. Long Beach, Robe
Long Beach in Robe is probably the most popular beach in the southeast. It is immediately adjacent to the Robe township and readily accessible on foot or vehicle. Like a few other popular beaches is has speed signs!
The beach curves for a few kilometres to the west and as it does so, the waves gradually pick up in height. This provides a usually sheltered eastern end, while those after surf simply have to head west until the waves are big enough.
This is a beach that offers something for everyone.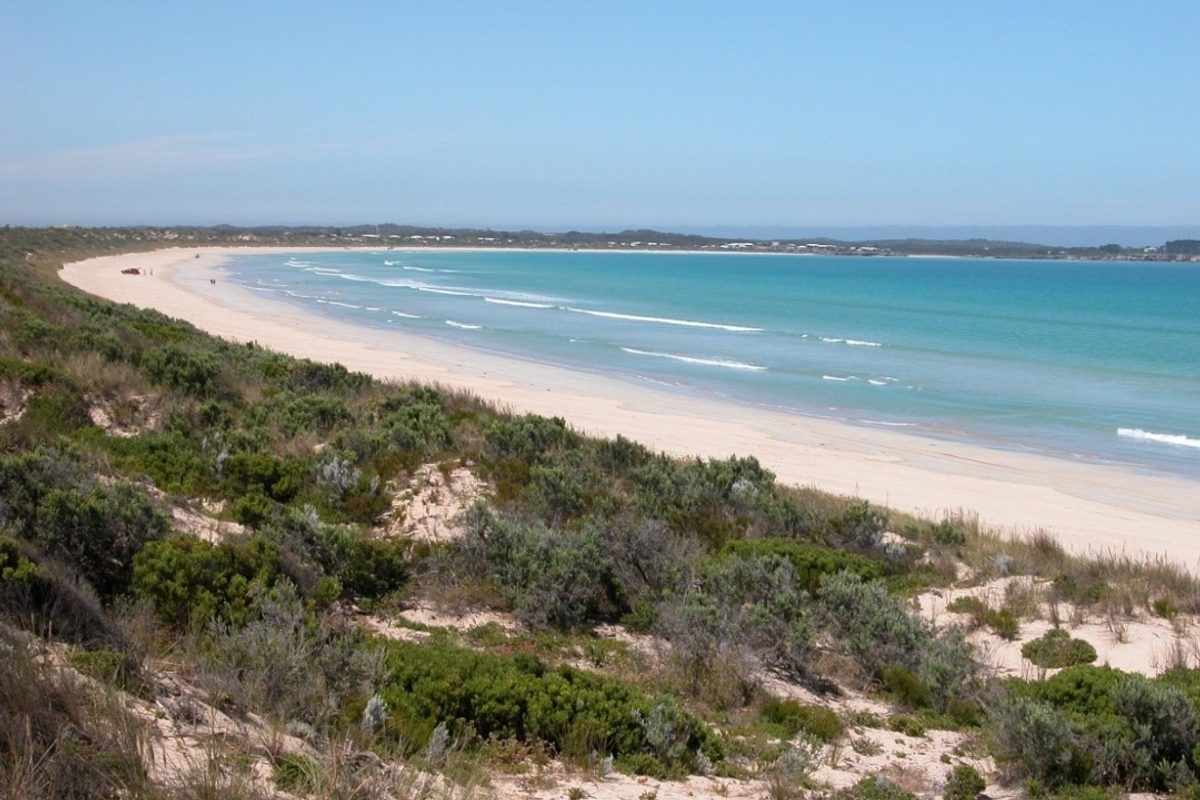 3. The Coorong – Australia's longest beach
The Coorong, located from Cape Jaffa to the Murray Mouth, is the longest continuous beach in Australia at 194 km.
From a seagrass-fringed calm beach along Lacapede Bay, it transforms into one of Australia's highest energy beaches, with large waves breaking across a 500 m wide surf zone for the last 100 km up to Murray Mouth.
The Coorong barrier (Younghusband Peninsula) is the farthest of a series of old beach-dune ridges (The Ranges) that have filled the Murray Basin over the past few million years and extend for up to 400 km inland into southwestern NSW. Some of SA's popular wine districts such as Coonawarra and Pathaway are located on the red soils that formed along the crests of these former sand dunes.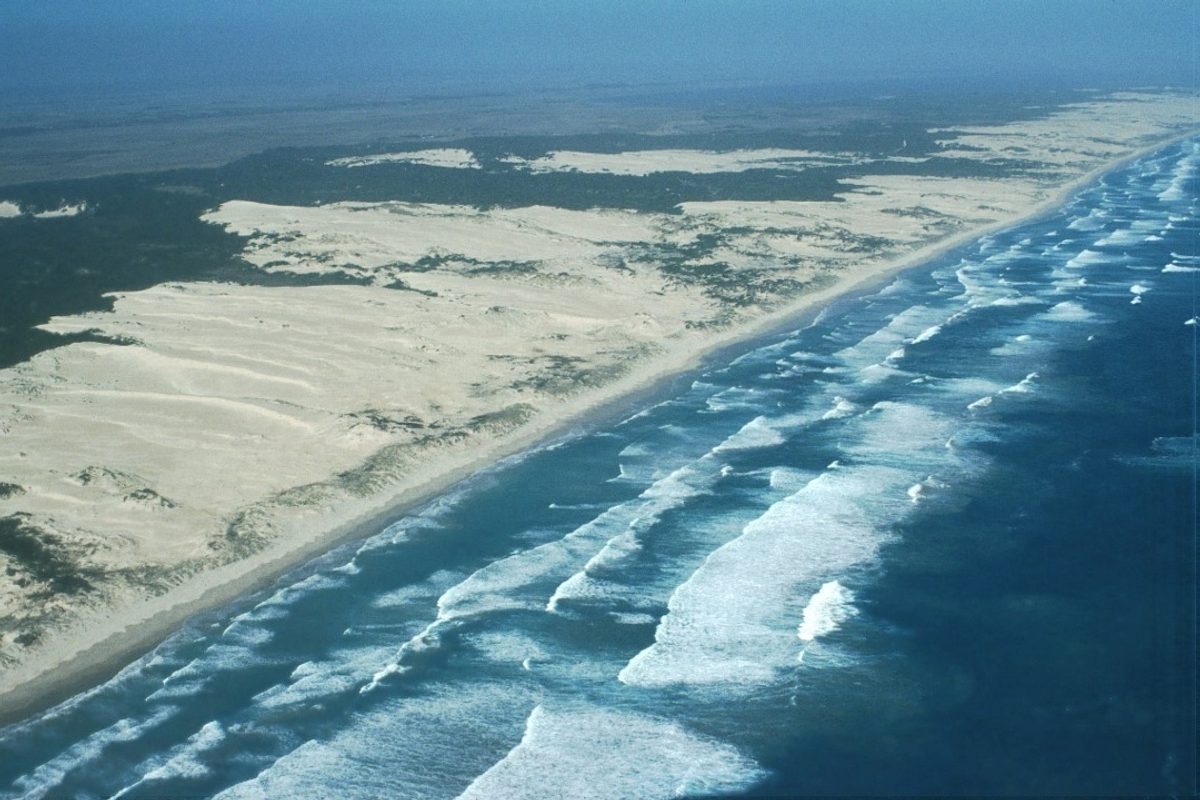 4. Western River Cove, Kangaroo Island
Kangaroo Island is a true gem off the tip of the Fleurieu Peninsula. It is ringed by both towering cliffs and many small beaches.
The pick of the beaches is the north coast's Western River Cove, which is both readily accessible and offers basic camping facilities, with panoramic views of the beach and its dunes on the drive in.
The 150 m long white sand beach sits at the mouth of the Valley River, with the valley walls rising steeply on either side and forming prominent headlands and rock platforms at either end of the beach. If you walk around the eastern platform you will find a small boulder beach tucked in the adjoining valley.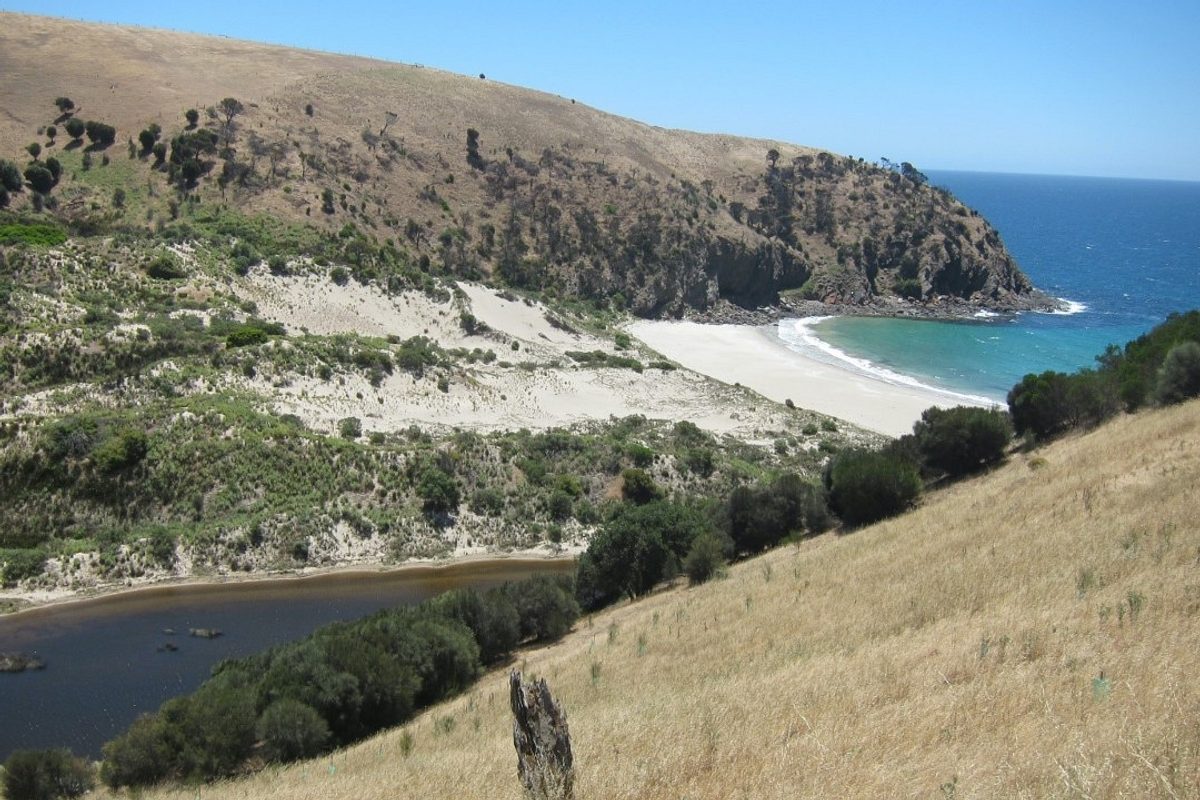 5. Gallipoli Beach, Eyre Peninsula
Gallopoli Beach on the western Eyre Peninsula was named after the film of the same name which was made there in 1981. The beach was used to recreate the landing and troops scaling the steep slopes behind the beach.
Today, the usually quiet beach is accessible by a dirt road from Farm Beach near Coffin Bay.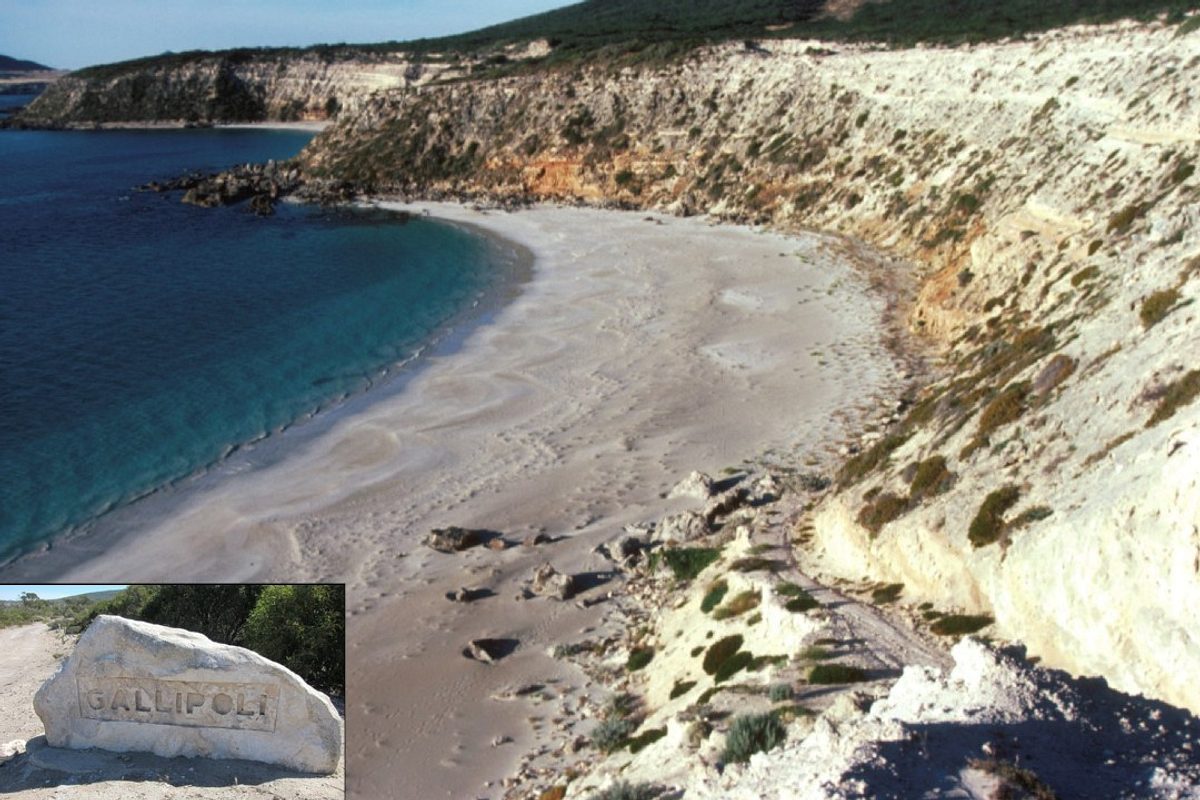 6. Talia Cave beach, Eyre Peninsula
Talia Cave on the western Eyre Peninsula is South Australia's smallest and most unusual beach - a beach that never sees sunlight!
It is located deep inside the sea cave and is composed of rounded cobbles that are only active during high seas.
The cave consists of a roof of lithified or cemented sand dunes (also commonly called dunerock), that were deposited over 100,000 years ago, overlying a colourful and far more ancient reddish sandstone. The beach is made up of both rounded sandstone and dunerock cobbles.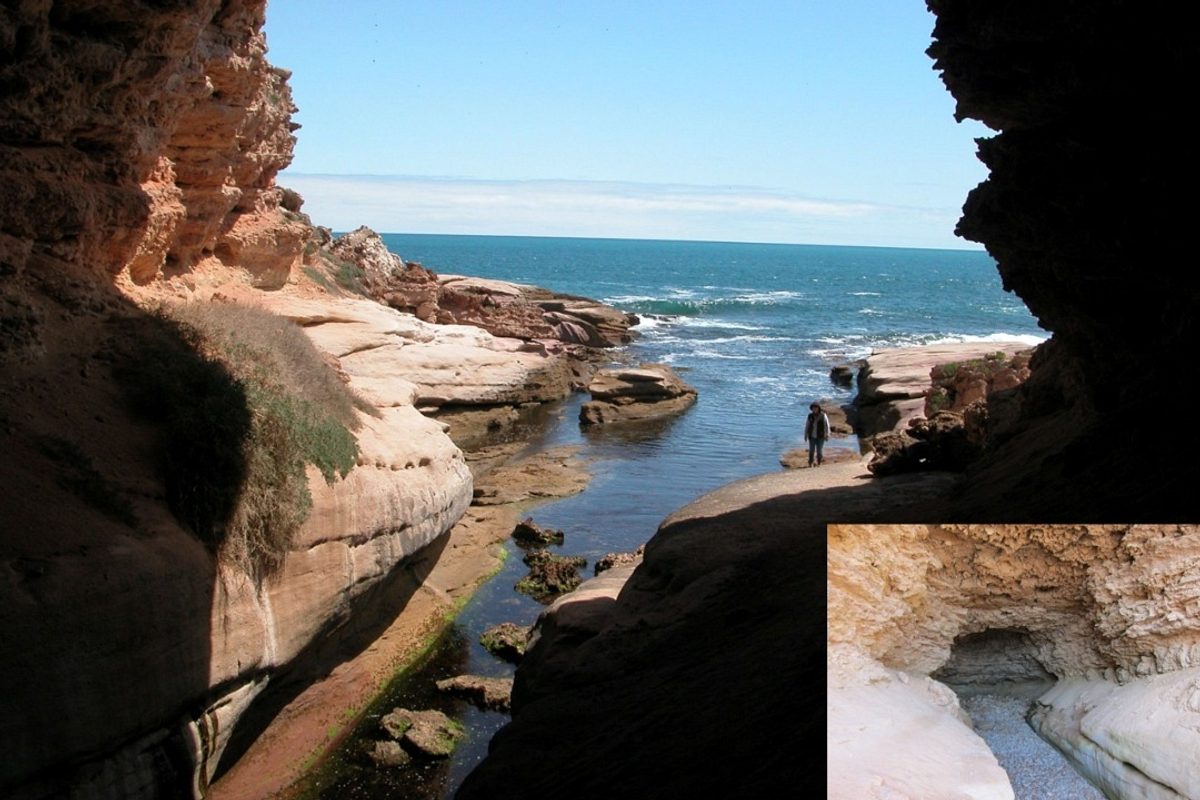 7. The Nullarbor cliffs – the world's longest cliffline
The Nullarbor Plain is bordered along its southern boundary by the world's longest cliff line.
It starts in South Australia near Head of Bight as the Nullarbor (Bunda) cliffs (210 km long), and extends into Western Australia as the Hampston Bluffs (300 km long), then Baxter Cliffs (160 km long) and finally the Wyllie Escarpment (160 km long), with the cliffline a total of 830 km long.
The most accessible are the Bunda cliffs, which run parallel to the Eyre Highway, and have a number of spectacular clifftop viewing points.
The cliffs are retreating at a rapid rate, resulting in a vertical face with rockfalls depositing debris at their base. The cliffs range in height from 40 to 100 m.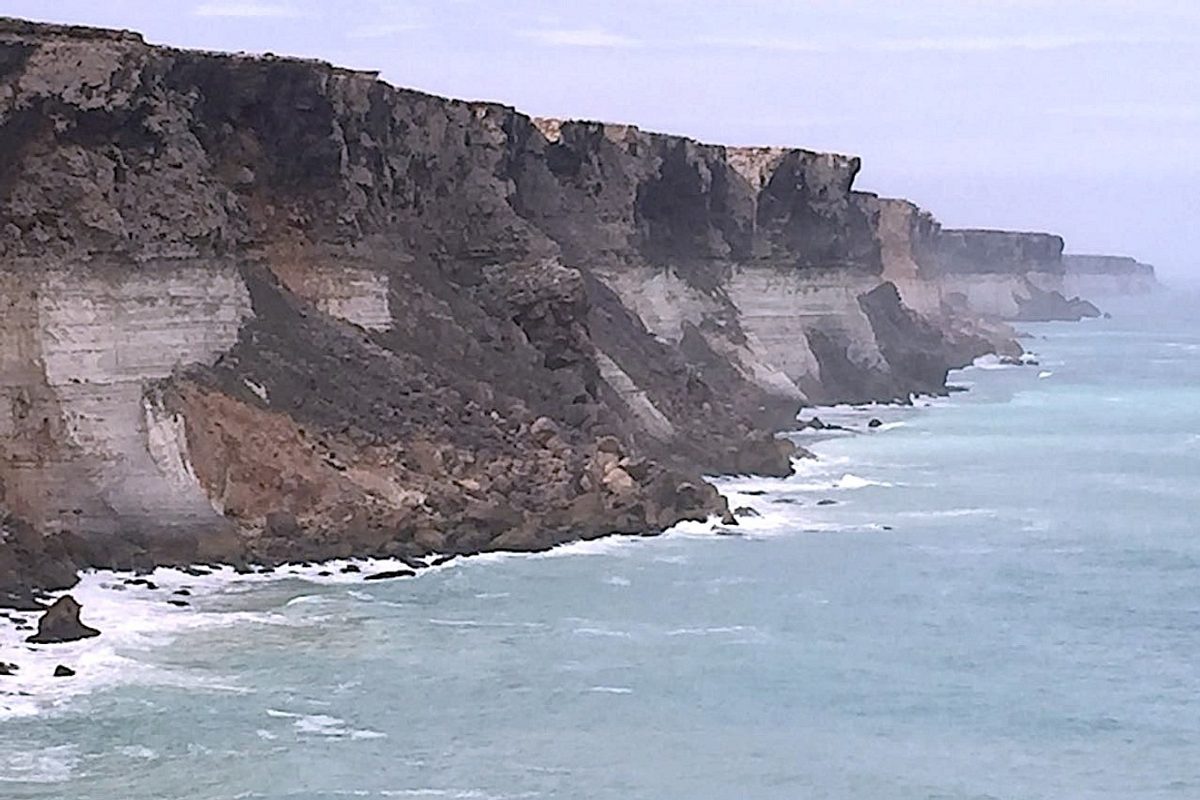 About Professor Andy Short
Professor Andrew Short OAM is a marine scientist specialising in coastal processes and beach dynamics. He has worked on the coasts of North and South America, including north Alaska and Hawaii, Europe, New Zealand, Korea and the entire Australian coast. He is an author of 16 books and over 200 scientific publications, Andy's extensive contribution to both coastal science and beach safety was recognised in 2010 with an Order of Australia Medal (OAM).
You can learn more from Andy at a webinar about the History of Adelaide's beaches on Tuesday 4 August. Register for your chance to win one of Andy's books, 'The Coast of Australia' featuring more than 200 stunning photographs.
To find out about how we're securing the future of our coastline, visit theDepartment for Environment and Water website.
Main image of Andy Short at Bunda (Nullarbor) Cliffs.