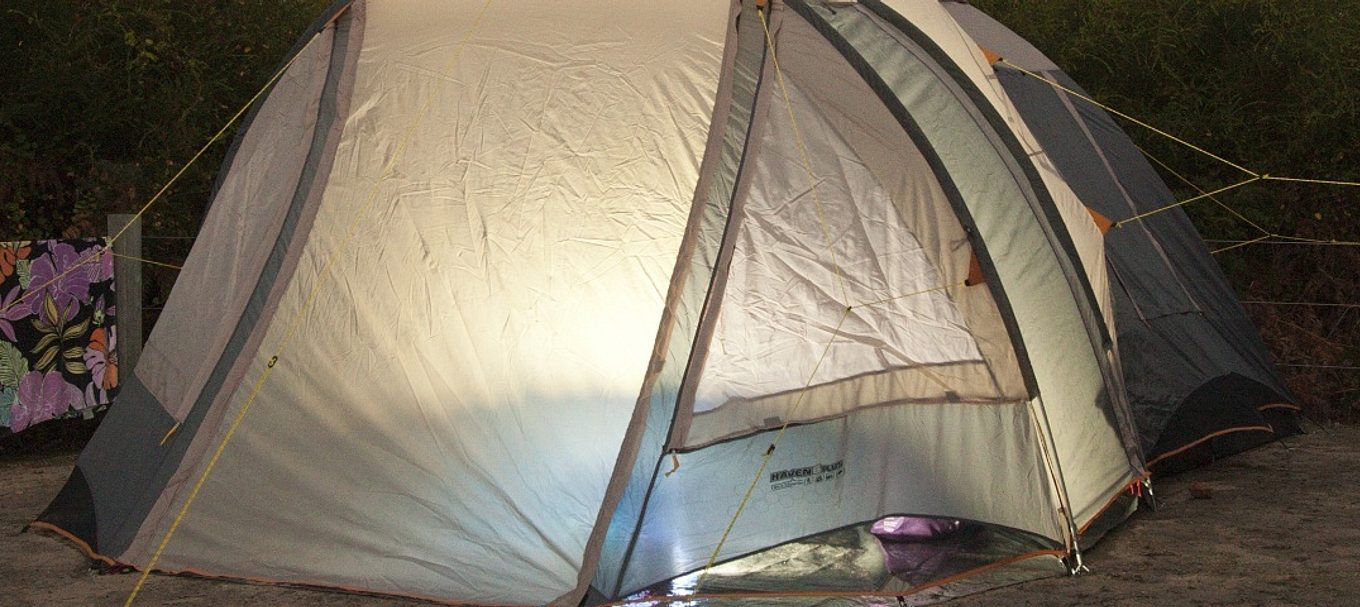 How to have an epic camping trip in your own backyard
Too late to book a getaway? There's an adventure waiting for you in your own backyard. Here's how to camp at home.
Has the long weekend crept up on you and you haven't had time to book a mini getaway?
It's time to get creative.
If you're still keen to go camping and want to give your kids the thrill and experience of sleeping in a tent, now is a great time to test out your equipment and polish up on your outdoor skills at home.
We've put together some handy tips for you to have a perfect staycation in your own backyard.
1. Pick and prepare your ideal campsite
With the excitement of setting up for your backyard adventure, it's easy to skip past the planning stage and before you know it you're hammering in tent pegs.
But before you do, it's a good idea to take some time to check:
How is the weather forecast looking?
Does the lawn need mowing first?
Can you find a nice flat space with little or no slope?
Are there any obstacles in the way, such as sticks or rocks where you want to place your tent, or do you need to move or lower your clothesline?
Is the irrigation timer off?
Do you know where your lawn irrigation pipes are so that you don't bung a peg tent through one?
Are there any overhanging tree branches?
Are you in a good spot in case it rains? You don't want to camp in a puddle or watercourse.
Are you prepared for wildlife? You might not have kangaroos and emus trying to break into your tent, but your pets might. Also having some insect repellent is always a good idea.
2. Think outside the square when you set up your accommodation
One advantage of camping at home is that it doesn't matter if you forget to bring something with you as you can pop inside to fetch it, and all of your creature comforts like a hot shower and flushing toilet are just inside the house. It's also no extra cost to have a powered site.
If you're not keen on pumping up, and sleeping on, an air mattress and sleeping in a bag, you can simply take the mattress and doona off your bed and take it outside.
Consider adding some mood lighting by using some fairy lights. This is also a great way to identify where guy-ropes are located at night to avoid tripping over them.
3. Settle in for a home campfire
A campfire at home is great if the weather gets a bit cool at night-time. But there are some important rules to follow.
If your home is within the Adelaide metropolitan area or within a township, you can have a fire in a brazier, chiminea or fire pit, but only if you use charcoal as the fuel. If you live outside of the metropolitan area or a township, you can use dry wood for your fire.
It's also a good idea to check the Fire Danger Rating on the CFS website as fires are not allowed on Total Fire Ban days.
If you decide to have a fire, make sure you select a location that has a minimum of 4 m clearance above and around the fire, and make sure a responsible person is in attendance at all times with water and/or an appropriate extinguisher, just in case.
For further information about having a comfort fire at home, see our blog about campfire safety and visit the CFS website or EPA website.
4. Be creative with your food and snacks
There's nothing quite like the taste of a cuppa out of a tin cup or a baked potato cooked on the coals. Don't forget to grab a bag of marshmallows to roast if you have a fire.
Camping at home is a great chance to test out your camping recipes for you next trip. If the recipe doesn't quite work out, you can always get a pizza delivered.
If you're still looking for inspiration, why not try the Campfire Nachos recipe that Ranger Steve from Onkaparinga River National Park swears by.
You'll need:
1 bag of corn chips
1 x 400 g can refried beans
1 jar black olives
225 g cheddar cheese, grated
2 tomatoes
1/2 onion, diced
1 x 225 g jar salsa
1 x 400 g can sweet corn
1 x 100 g jar jalapenos (if you like it spicy!)
Method:
1. Place a layer of chips in the bottom of a cast iron pan, and top them with half of the beans, olives, cheese, tomatoes, onion, salsa, corn, and jalapenos.
2. Place a second layer of chips on top of the other ingredients, and then top these chips with the remaining ingredients, finishing with the cheese on top.
3. Cover the top of the pan with a sheet of foil, and place the pan over some hot coals.
4. Let the nachos cook, maintaining the hot coals for 10-15 minutes or until the cheese is melted. Move the pan and allow nachos to cool for a few minutes. Enjoy!
5. Think 'outdoors' with your entertainment
Just because you're in your backyard, and you're still in range of your Wi-Fi and electricity, it doesn't mean it should stop you from having a nature experience at home.
Streaming apps like Spotify have playlists of Australian nature sounds. Make a game out of it with your kids and get them to try to guess which animal is making the noise
You can also keep a diary of the wildlife see in your backyard. You might be surprised how much wildlife calls your backyard home. Species like lorikeets, cockatoos, rosellas, kookaburras, reptiles, koalas and possums are regularly spotted right throughout suburban Adelaide.
At night, don't forget to look up if it's a clear night. The stars can offer plenty of entertainment and interactive smartphone apps like Pocket Universe (iOS) or Sky Map (Android) allow you to explore night sky and identify the locations and names of the planets and stars above.