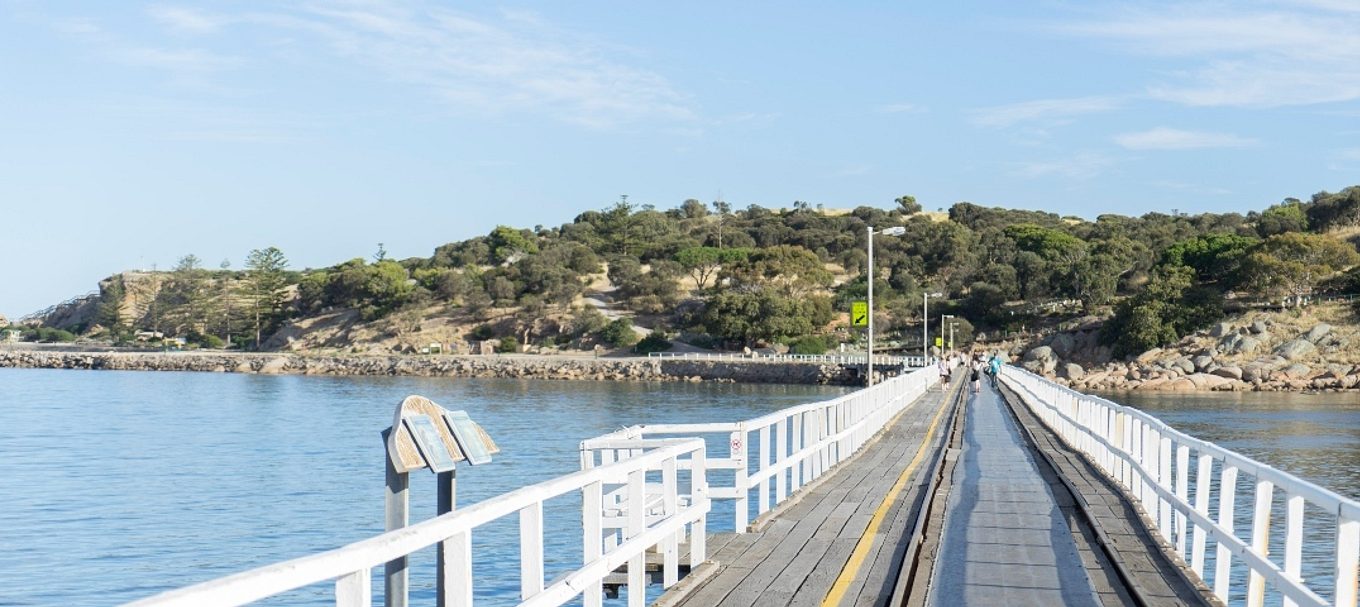 5 things to do on South Australia's Granite Island
If you're looking for a fun, family day out close to Adelaide, why not visit Granite Island. Here's what's new.
Granite Island has long been a popular day-trip destination because of its close proximity to Adelaide – just an 85 km drive.
But what may have changed since you last visited is the number of activities the island has to offer.
Here are five things that will keep you busy:
1. Riding the horse-drawn tram
Good news – you can once again ride the iconic Victor Harbor Horse-drawn Tram from the mainland to Granite Island Recreation Park.
The tram's been out of action for nearly six months while structural repairs were carried out to the 150-year-old State-Heritage listed causeway, (although this didn't stop people walking across).
The tramway is one of the few remaining horse-drawn tram routes still operating around the world. So why not climb up and relax on board one of the double-decker tramcars, while a team of magnificent Clydesdale horses haul you across the 630-metre causeway.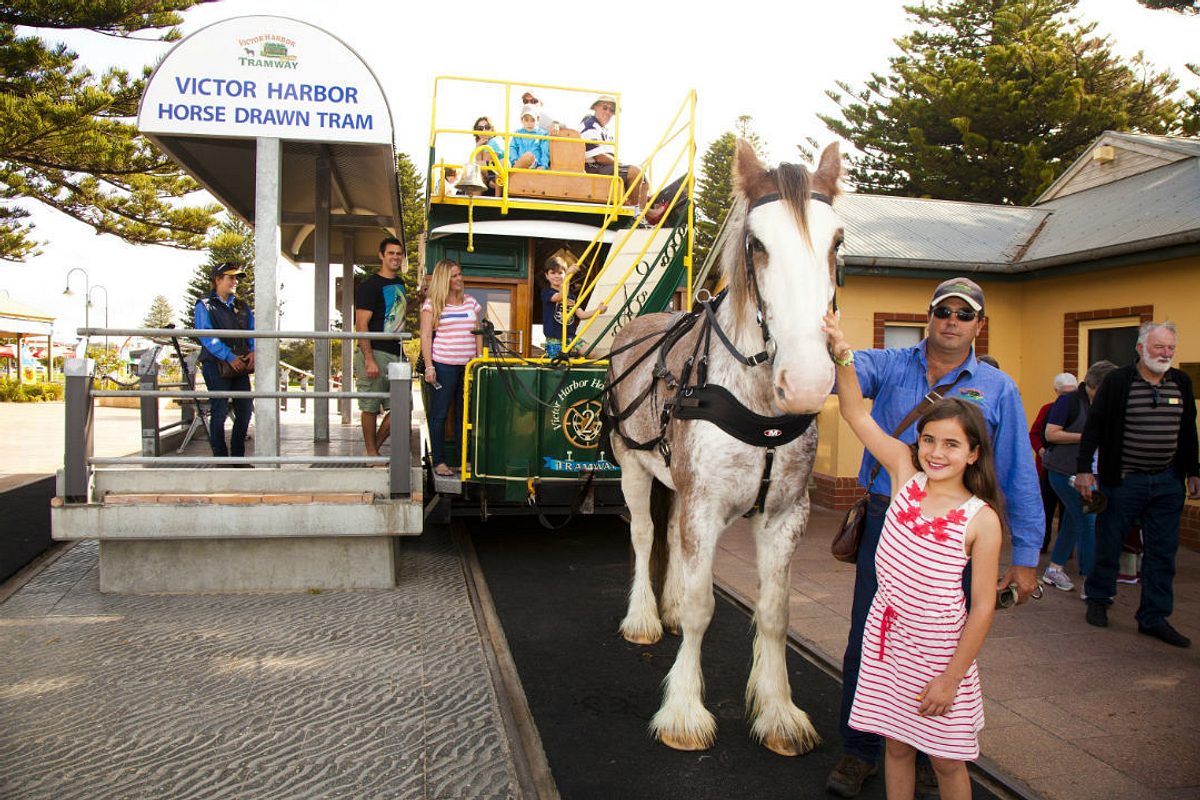 Did you know? The Granite Island causeway will remain a premier tourism attraction well into the future, with $20 million promised to find a more permanent solution to connect the island and Victor Harbor.
2. Whale and penguin watching
Whale-watching season runs from May 1 to October 31, which is when whales migrate to South Australia's warmer waters to give birth and nurse their young.
Now is a perfect time to look out for southern right whales and other whale species raising their young along the Fleurieu coastline, as the whole region becomes a whale nursery at this time of year.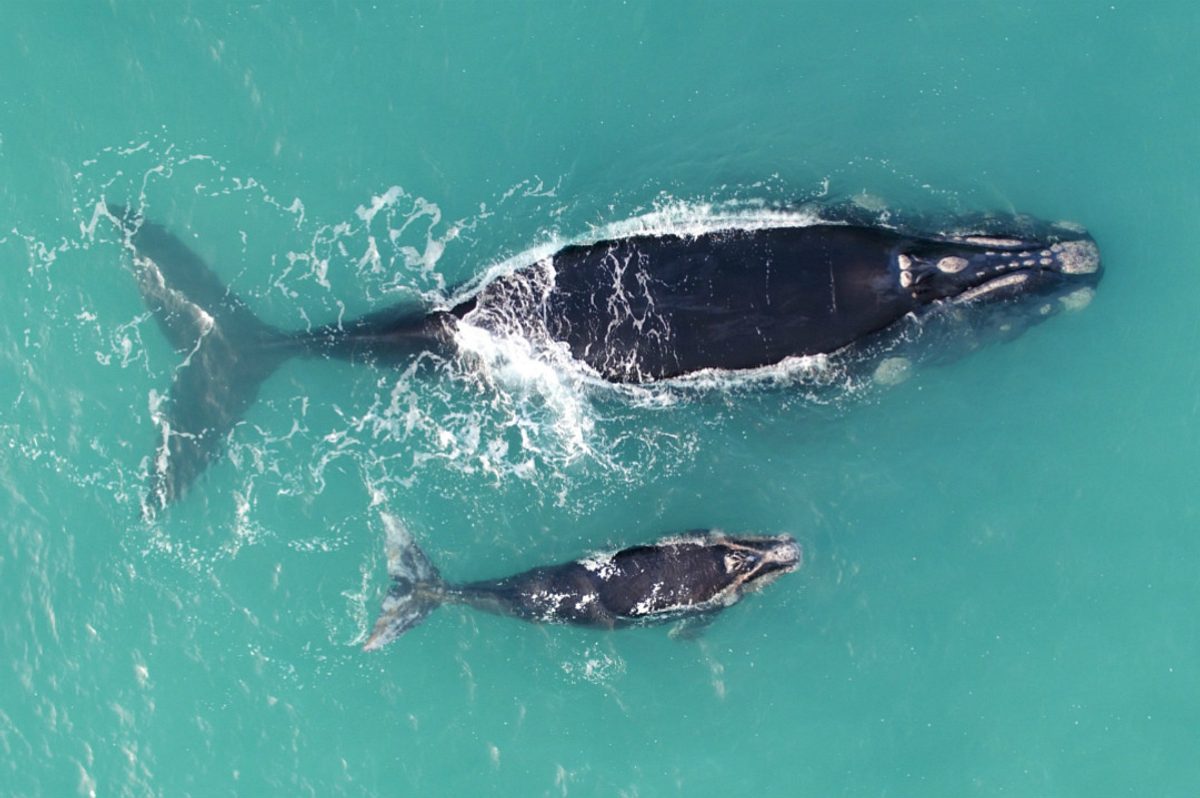 The Encounter Marine Park in Victor Harbor is one of the more popular places in the state for whale-watching. Check out our whale-watching story for more details about other spots in SA to see them.
For up-to-date information on whale sightings in the Fleurieu region, make sure you call into the SA Whale Centre at Victor Harbor where you can immerse yourself in an underwater world and learn all about the history of whaling in the region.
The centre also has a Junior Whale Spotter Program to teach kids how to observe and identify different whale species that visit our coastline.
Then, after a day of watching for giants of the deep, you may like to see if you can spot one of the smallest penguins in the world.
The little penguins that live on Granite Island weigh in at around 1 kg and measure about 33 cm in height.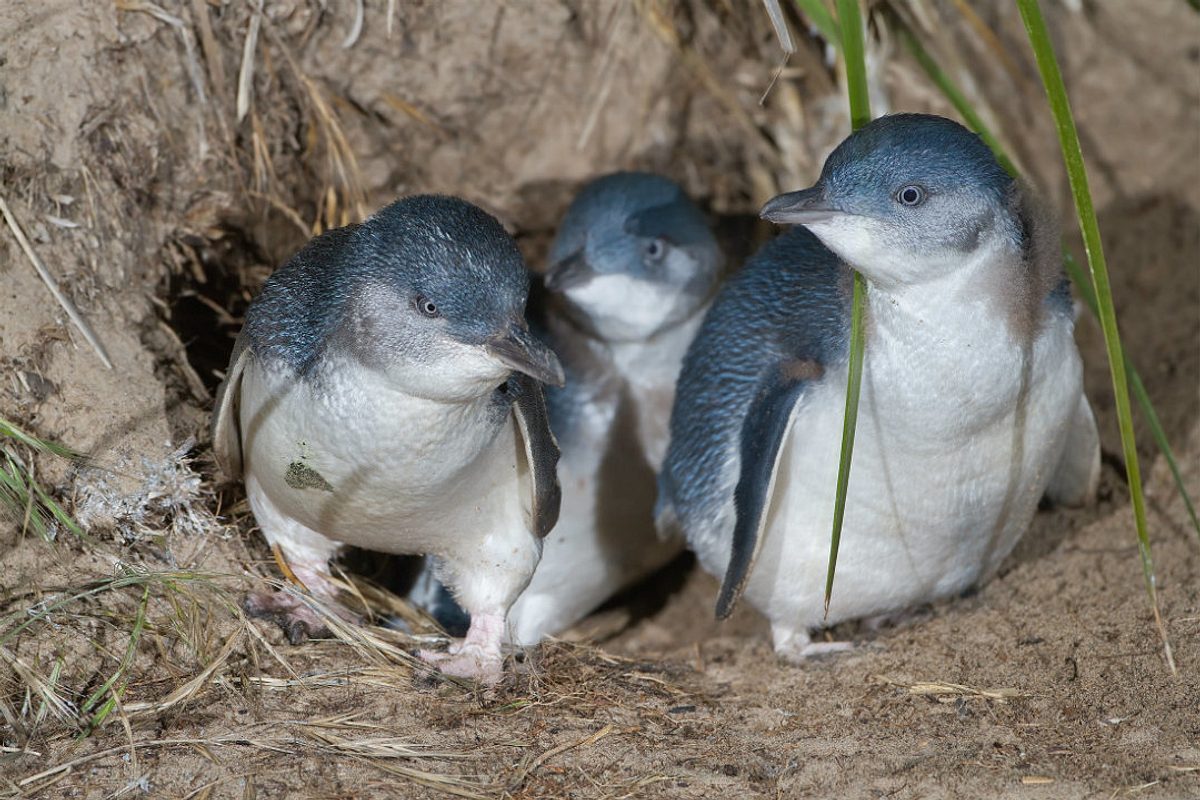 Their numbers are slowly increasing following a concerted effort to rid of the island of predators and a renewed focus on improving their habitat.
Dusk is the best time of day to spot the little penguins as they return from a day of foraging at sea and head to their burrows for a kip.
Access to the island is restricted in the evenings to protect the small penguin colony, so if you're keen to see them return home from their daily fishing expedition, you must book a guided tour.
It's vital that you keep a generous distance from the penguins and their burrows and never shine a light into their burrows, or directly into their eyes. Little penguins are very sensitive birds, and if disturbed they can abandon their burrows and their babies.
If you want to learn more about little penguins before you visit, check out our story for some interesting facts.
3. Hiking around the island and viewing the sculptures
The 2.9 km Kaiki Walking Trail leads you on a journey around Granite Island Recreation Park where you'll see unusual granite formations, crashing waves, and stunning panoramic views from elevated platforms.
The walk features a spectacular 2.4 km cliff-top sculpture trail which features the work of local, national and international artists. Sculpture Encounters – Granite Island is constantly evolving as new works are added every six months and installed works are sold.
The sculptures include everything from 'What a Tasty Looking Burger' by James Dive (yes, it's a giant hamburger) to Persian carpets woven into public seats titled 'Conversation', by South Australian artist Hossein Valamanesh, so you won't be short of something to talk about.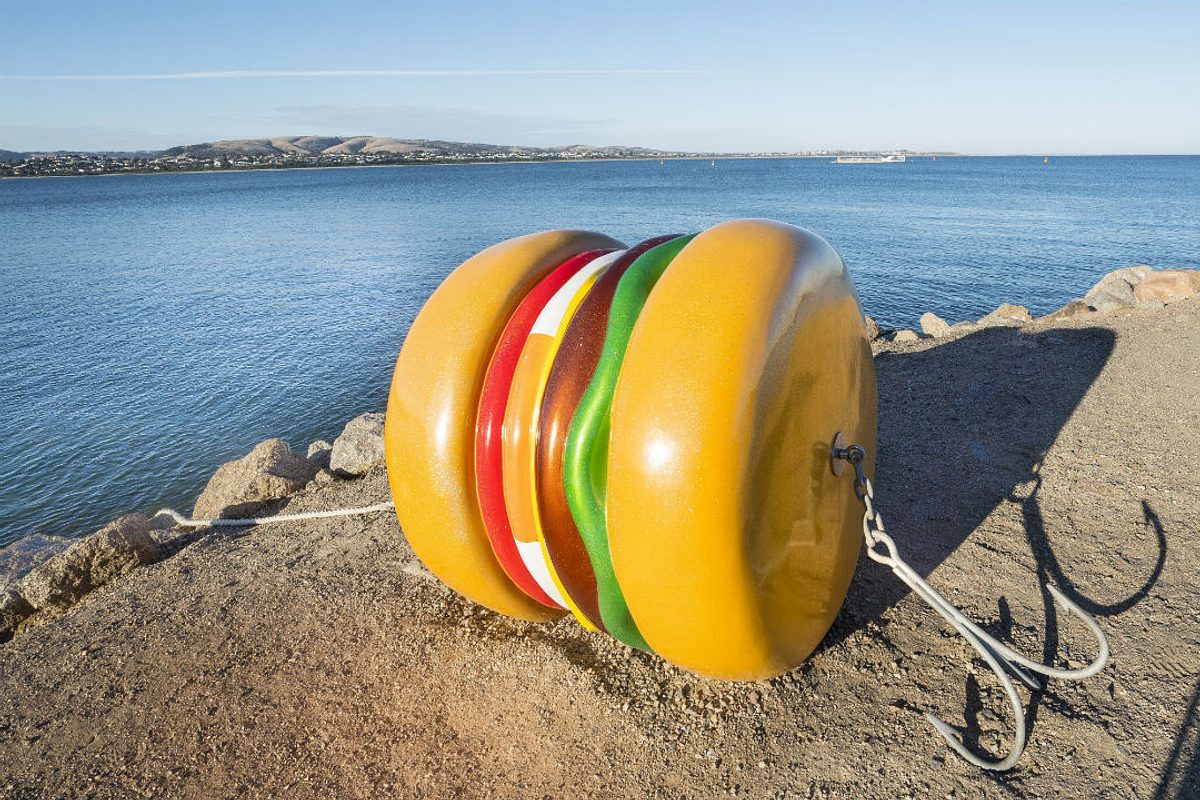 4. Oceanic Victor's experiences
Oceanic Victor is a new nature-based tourism attraction based on Granite Island where visitors can experience life under the sea, swimming alongside southern bluefin tuna and other local marine species.
Visitors are taken on a quick catamaran trip to an in-sea aquarium anchored just off Granite Island. Once there, you'll be kitted up in a warm wetsuit with mask, booties and gloves, and then it's into the water where tuna, dubbed the 'Ferraris of the ocean' will zip around you.
Those who don't fancy getting wet can still feed tuna from the surface or view the aquarium inhabitants from a glass-sided underwater viewing area. There's also a winter platform experience that includes a cuddle with a Port Jackson shark.
Oceanic Victor offers a range of experiences as well as educational programs for school students designed to inspire the next generation to respect and care for our fragile marine ecosystem.
And if you're really looking to treat yourself, why not book the VIP 'Island Discovery Package', which includes an aquarium swim, seafood tasting platter (which includes blowtorched seafood), and a local beverage.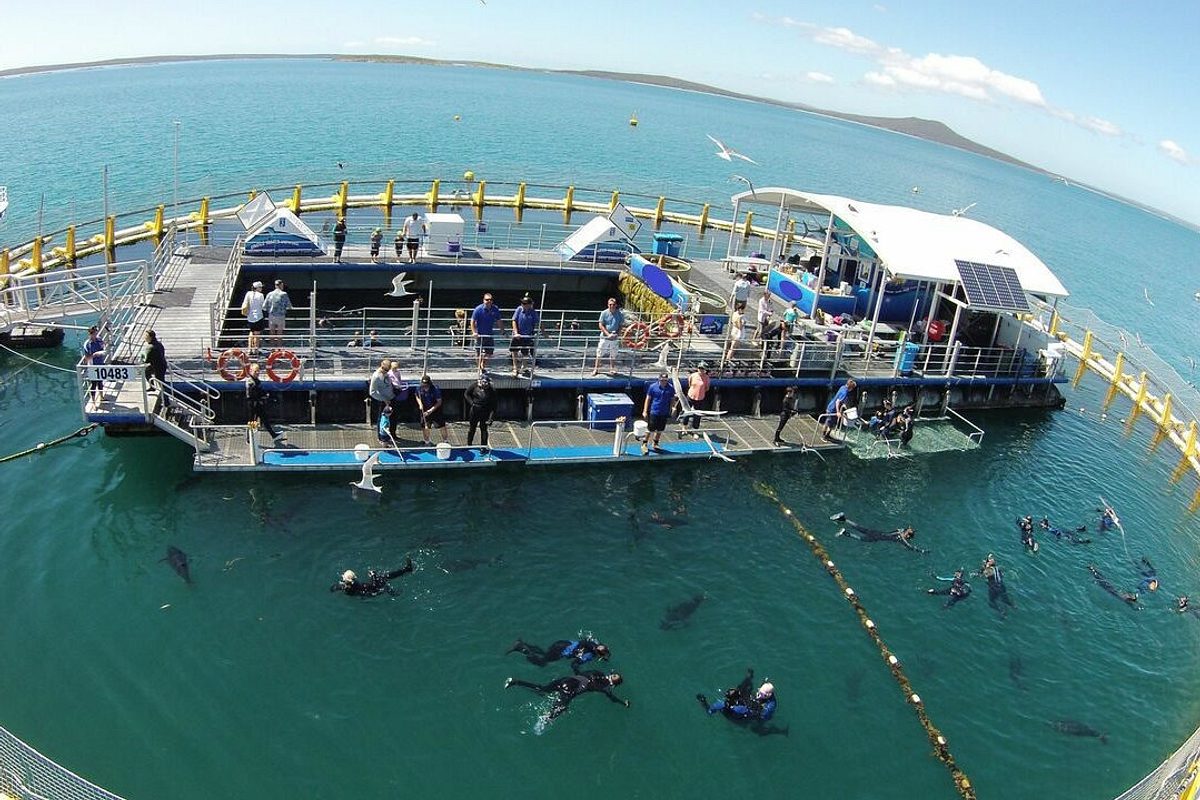 5. The Island Café
Locals and visitors alike will be delighted to discover that they can once again enjoy a coffee or a light meal on the island, at the newly renovated and re-opened Island Café.
The café is right on the water's edge and the menu includes local seafood, native botanicals and fresh seasonal produce.
There is also a big focus on coffee and cocktails. What a delightful way to end a long day, after riding the horse-drawn tram, hiking, viewing sculptures, spotting whales and penguins, and swimming with tuna.
So why not sit back and relax on the café deck overlooking the sparkling waters of Encounter Bay and enjoy some well-earned refreshments.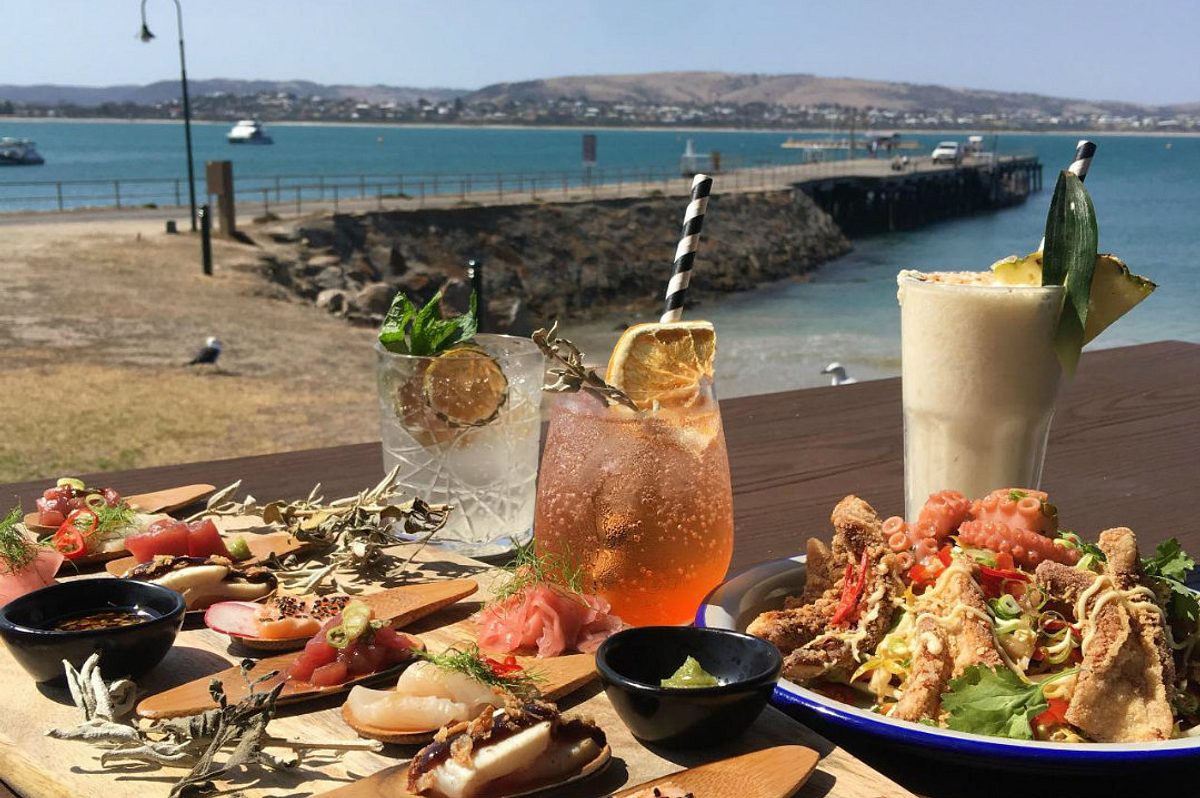 Here's a snapshot of what's in store on Granite Island:
Spend a day on Granite Island this Winter