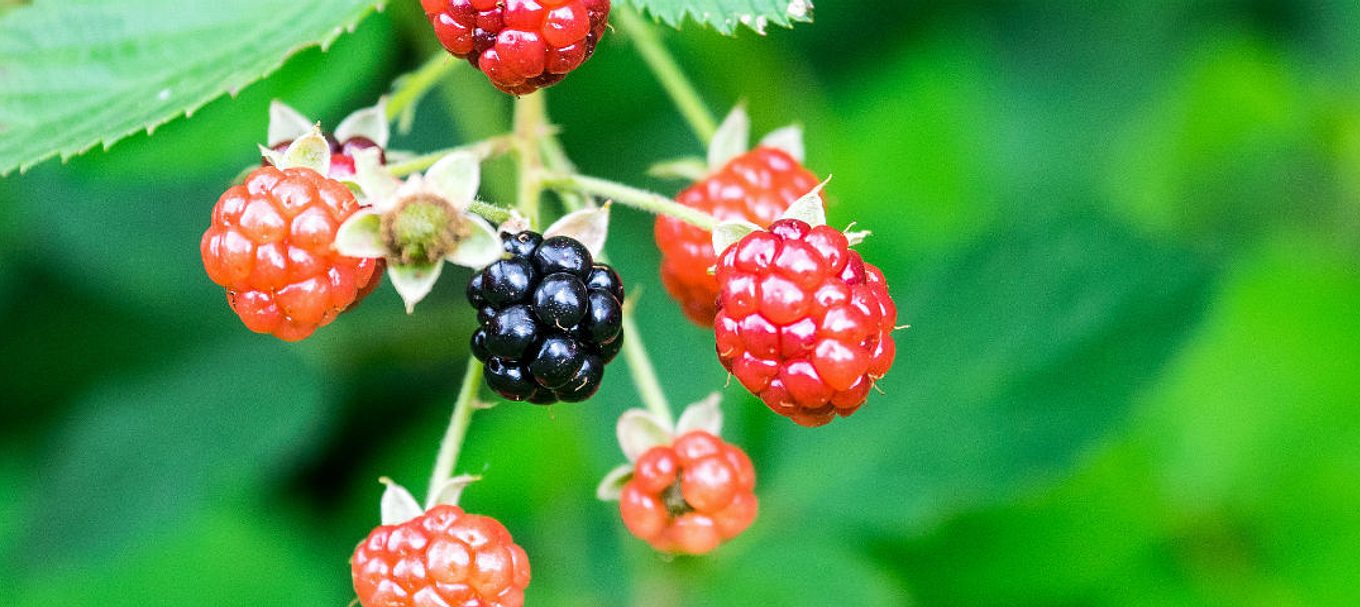 Everything you need to know about blackberries in national parks
Tempted to eat wild blackberries on your next bushwalk? Hold up before you pick any – here's what you need to know.
The end of summer and start of autumn rings in blackberry fruiting season. As berries ripen they change colour from green, to red, to black.
You can spot blackberry shrubs while enjoying South Australia's Mount Lofty Ranges in Belair National Park or Cleland National Park along the popular Waterfall Gully to Mount Lofty summit hike.
But this sweet tasting blackberry is actually a thorny weed for South Australia. So be careful – don't pop that delicious looking wild berry in your mouth, it may have been sprayed with chemicals.
Pesky weed of a berry
The popular blackberry variety found throughout SA is the European blackberry.
As its name suggests, this prickly fruit-bearing shrub is from Europe and arrived in Australia during the 1800s to enjoy in teas, for medicine, and in fruity pies and jams.
Over time the exotic shrub became an annoyance to the nation. The European blackberry invasively crowds out native vegetation, pinches the water supply, promotes soil erosion, and provides food and shelter for pest animals like foxes and blackbirds.
There are 15 species of the weedy blackberry from Europe seen across SA.
Today the European blackberry is regarded as one of the worst weeds in Australia.
Sprawling berry control
To control the sprawling European blackberry shrub regular chemical spraying is carried out in our parks and reserves, and by councils across the state.
The potentially poisonous chemical spray is absorbed into the plant through the leaves and, or, its roots. Doesn't sound so appealing now does it?
Foraging in SA
In SA, under the National Parks and Wildlife Act 1972, native and exotic plants cannot be removed from our parks and reserves without permission.
So for those with the wild foraging urge, there are many spots outside of the state's protected parks and reserves to go blackberry picking.
These include wetter areas on the Eyre Peninsula, scattered locations along the Adelaide and Mount Lofty Ranges, as well as forests in the South East – with some isolated infestations in the Riverland, Kangaroo Island, the Mid North and Yorke Peninsula. But check first whether the wild weedy shrub has been sprayed!
Blackberry shrubs as a habitat
Even though it's a declared weed, blackberry shrubs do provide a home for native animals, such as endangered southern brown bandicoots.
When bandicoots and blackberry shrubs are both present, it's important to make sure that blackberry removal is staged, so that there is always suitable habitat available.
If you suspect you might have bandicoots on your property – or if you know you do – contact your local Landscape South Australia office for help managing the weed.
And if you'd like to learn more about the re-emergence of these endangered bandicoots in Kuitpo Forest, check out our blog.
This story was originally posted in March 2017.