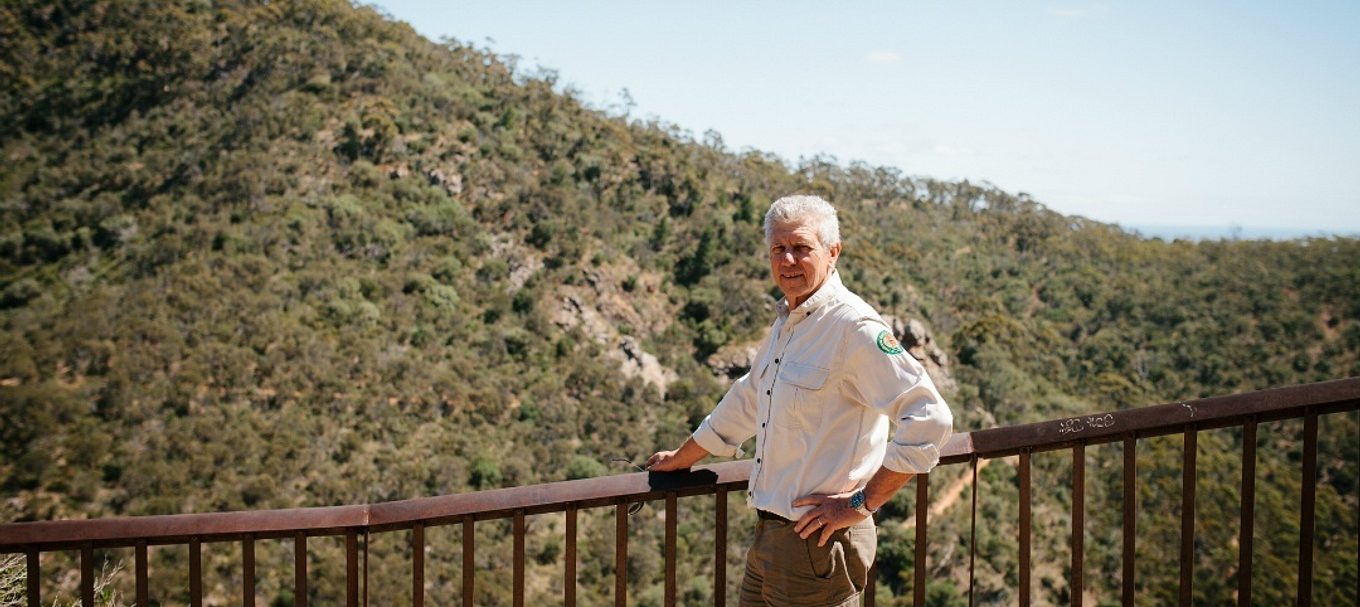 Insider Guide: Morialta Conservation Park
Go behind the scenes to discover the unique jobs and passionate people that care for South Australia's environment.
Dave Heard – Senior Ranger at Morialta Conservation Park
How would you describe your job to someone at a BBQ?
I believe I have one of the most rewarding jobs, helping people appreciate our national park and gaining an understanding of the wildlife. One key aspect is about visitors, making sure the park is a safe place for them to come. And another is balancing and conserving wildlife. Feral animals and weeds can reduce the value of the bush so I spend a deal of time working with volunteers and contractors to reduce their impacts.
How did you get into this line of work?
I have a compassion for the natural environmental, which tends to come naturally to all rangers. As a kid I kept lizards and snakes in my bedroom, much to my mother's disgust, and on weekends I would go out in the bush. As we lived on the outskirts of Melbourne and had bushland across the road, weekend exploring was commonplace. Initially I wanted to be a vet, but I got into a science degree at uni and thought I would transfer into vet studies later, but I couldn't help but stay on and become a ranger. I met a person who had been a ranger for a few years and I was inspired to do something about conservation and something for the future.
What do you encounter in a 'normal' day on the job?
There's no such thing as a 'normal' day in this job, but in a 'normal' week I might spend one day promoting Morialta and engaging with visitors, a day forward planning about some of the processes that need to take place, like planning new visitor facilities, or meeting with volunteers about their work plan. Prescribed burning takes a bit of time in spring and fire response over the summer months, I might spend another day looking into pest management and then there are always the emails to catch up on in the office.
This week for example I spent a day working on pest control. Goats have been trashing an area of the park that's home to some critically endangered species, so we had to weigh up the needs of the park and the damage that these pest goats were doing. The rest of the week I have been in the park meeting visitors and looking at walking trails.
What's the most amazing thing you've seen at Morialta?
It's pretty hard to pick just one thing. Baby Tawny frogmouths are always something special, as are kookaburras and rosellas in the picnic area. If you walk up onto the ridges, Yellow-tailed black cockatoos will be seen flying over, also keep an eye out for lorikeets looking for another feed. When the waterfall and creek are flowing, that attracts a lot of animals. The most exciting thing for me was finding the endangered Cunningham's skink in a remote area of the park.
Also, what I really like is that at any time of the year when you're walking through the park you can find orchids on either side of the trail. This park is pretty special as we have a view of the city from here, as well as views of the waterfalls. It's so close to the city that people can come and relieve their tensions and find their mental strength, but it's a big enough place that you can walk for an hour or so and not see anyone else.
What are your insider tips about Morialta?
My insider tip is definitely don't be afraid to explore. Enjoy some time in the new nature play space – the children will love it – and just quietly I think the adults will too. Don't be afraid to take a walk. You will be rewarded with stunning vistas, the sounds of birds and animals, and feel better for leaving the world behind. There's a whole network of trails that all lead back to the car park. Explore the Falls, all three, and be rewarded. There's so much to see so be prepared to explore. Just remember dogs can only be walked up to First Fall car park. This is for the safety of your dog and the wildlife in the park.
This story was originally posted in November 2015.
(Main image courtesy of Jason Tyndall, Nature Play South Australia)