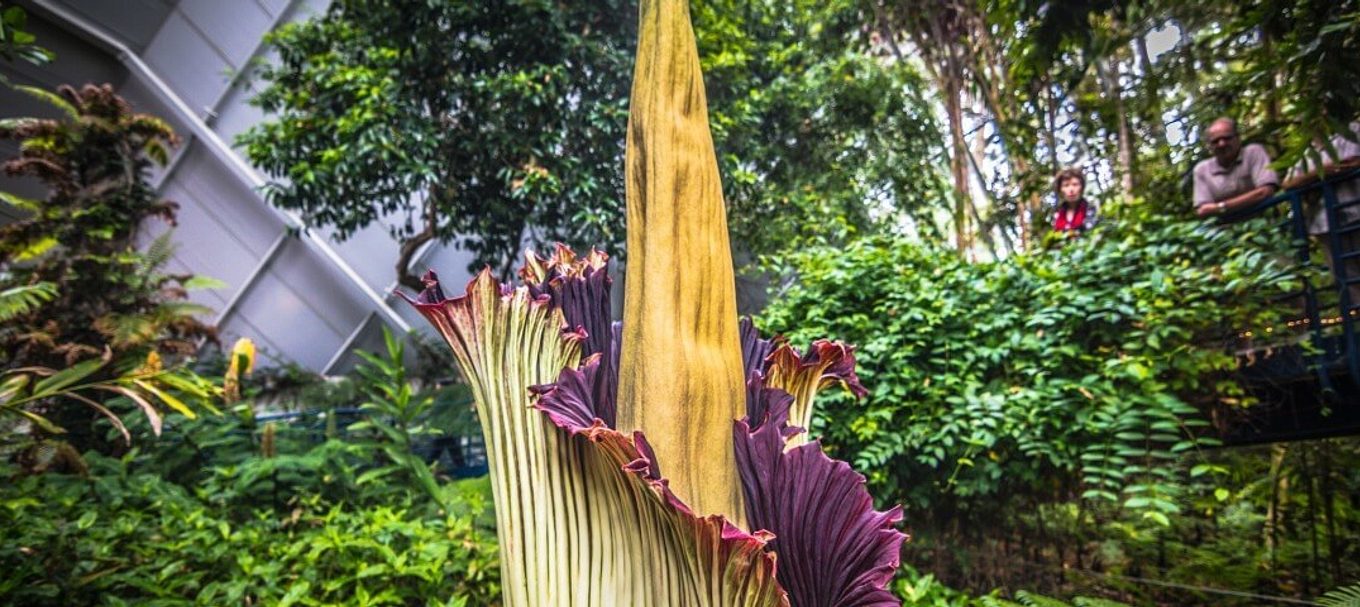 9 things you might not know about South Australia's corpse flower
Adelaide Botanic Garden's smelliest flower is about to bloom. Here's what you need to know before you visit.
Get your nose pegs ready, the titan arum (Amorphophallus titanum) commonly known as the corpse flower, is set to bloom in the Bicentennial Conservatory at Adelaide Botanic Garden very soon.
This year's corpse flower is the fourth titan arum to bloom at the Botanic Gardens. If you're keen to catch a whiff of the plant's stench – which can be likened to the smell of rotting flesh – keep an eye on the Adelaide Botanic Garden's Facebook page for updates as the plant will only flower for 48 hours.
Here are 9 facts about this this fascinating flower provided by Horticultural Curator of Plant Propagation,Matt Coulter, who reflects on the blooming of the first corpse flower at the Mount Lofty Botanic Garden back in 2016.
1. Flower
It's extremely hard to tell if a titan arum is going to flower as the inflorescence (a group of flowers) and leaf bud have very similar characteristics. It was just two weeks before full flowering that we knew we had South Australia's first corpse flower on the way. This exciting event allowed us to make important observations about what to look for next time.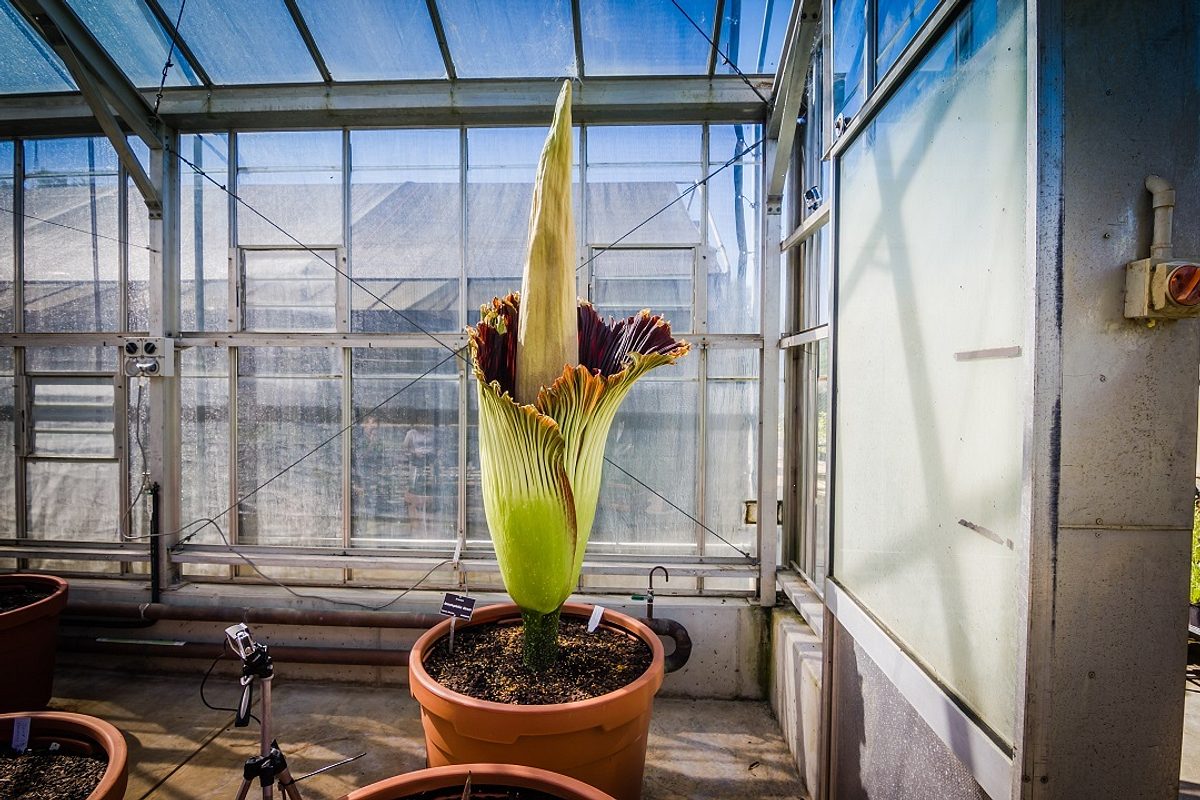 Although the titan arum looks like one huge flower, it is actually an inflorescence or cluster of flowers. These smaller flowers are located inside the base of the spathe (burgundy upturned skirt).
2. Growth
At its fastest, the titan arum grows between 15 and 18 centimetres a day for a period of around a week. When it stops growing the spathe starts to open. The plant has very particular growth patterns and our titan arum followed these exactly as the literature described.
3. Speed
The spathe stays firmly shut until the spadix (giant yellow spike) stops growing. Once the spathe starts to open it does so rapidly over a four hour period. It's incredible how quickly this happens, you can see it opening in front of your eyes.
Timelapse flowering of the Titan arum at Mount Lofty Botanic Garden
For us, it was exactly eight weeks between the first sign of the bud becoming active and full flowering of the inflorescence.
4. Size
Our first corpse flower was 1.96 metres tall. If you classify the whole structure as a flower, the titan arum has the largest flower of any plant in the world. This year's flower will likely be bigger than previous years and we're anticipating its corm - underground plant stem – will weigh approximately 70 kilograms.
5. Smell
The plant starts to smell when liquid oozes from its spathe. This is also a sign that the spathe is about to open. The foul odour is produced overnight, particularly on the first night, and ceases during the day. When we opened the glasshouse the first morning after flowering the smell was extremely intense.
The titan arum manufactures its aroma, often likened to the smell of rotting flesh, to attract insects carrying pollen. These insects are active at night which is why it stops producing its smell during the day. The smell is present but less intense on the second night, when the plant is no longer active and starts releasing pollen rather than trying to attract insect pollinators.
6. Corm
The roots of the corm are also very interesting. They have an annual cycle, like the plant, and are so strong that they've distorted or split pots on a number of occasions. It's also interesting to note that 90% of the roots protrude from the top of the corm where the plant bud grows.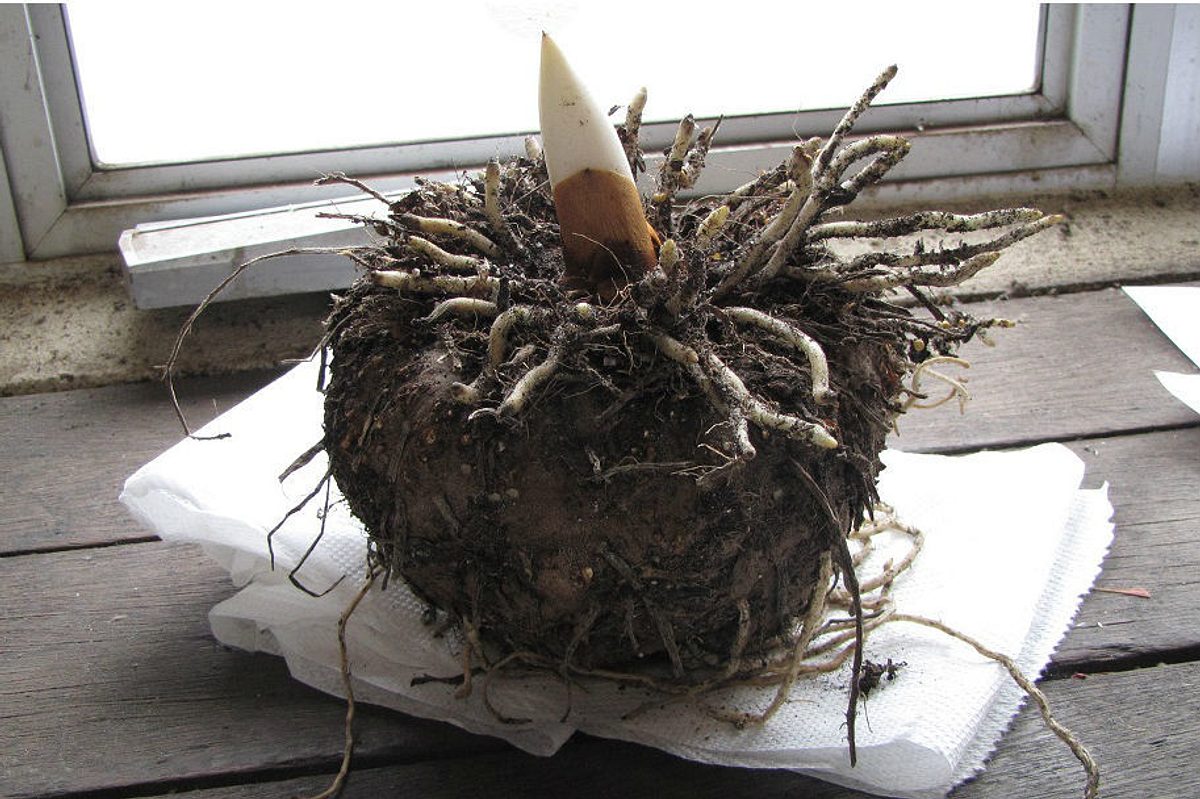 7. Popularity
More than 5,000 people flocked to Mount Lofty Botanic Garden in 2016, with visitors from as far afield as Queensland, New Zealand and Taiwan. While the titan arum is a flagship species for botanic gardens worldwide, we were amazed by the public and media interest it received from South Australia, Australia and around the globe.
8. Name
South Australia's first corpse flower was named Indah which means beautiful in Indonesian. It's really the perfect name as the titan arum is only found in Sumatra.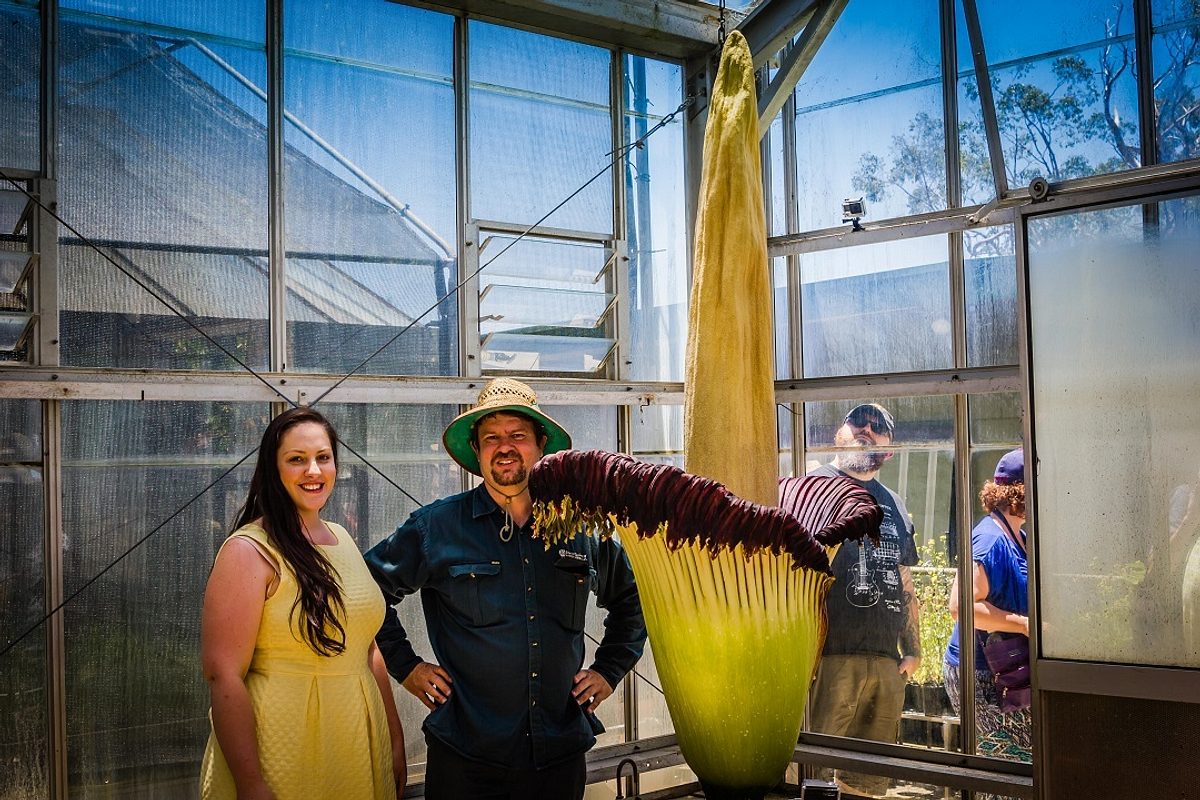 9. Propagation
The corpse flower is a notoriously difficult plant to propagate, but thanks to our horticultural staff's dedication to developing successful growing techniques – and donations from the public – the conservation of this rare and important species is possible. Corpse flower plants are propagated from leaf cuttings of our original specimens. Our aim is to have at least one plant flower annually so we can display it to the public. This is something very few botanic gardens worldwide have been able to achieve.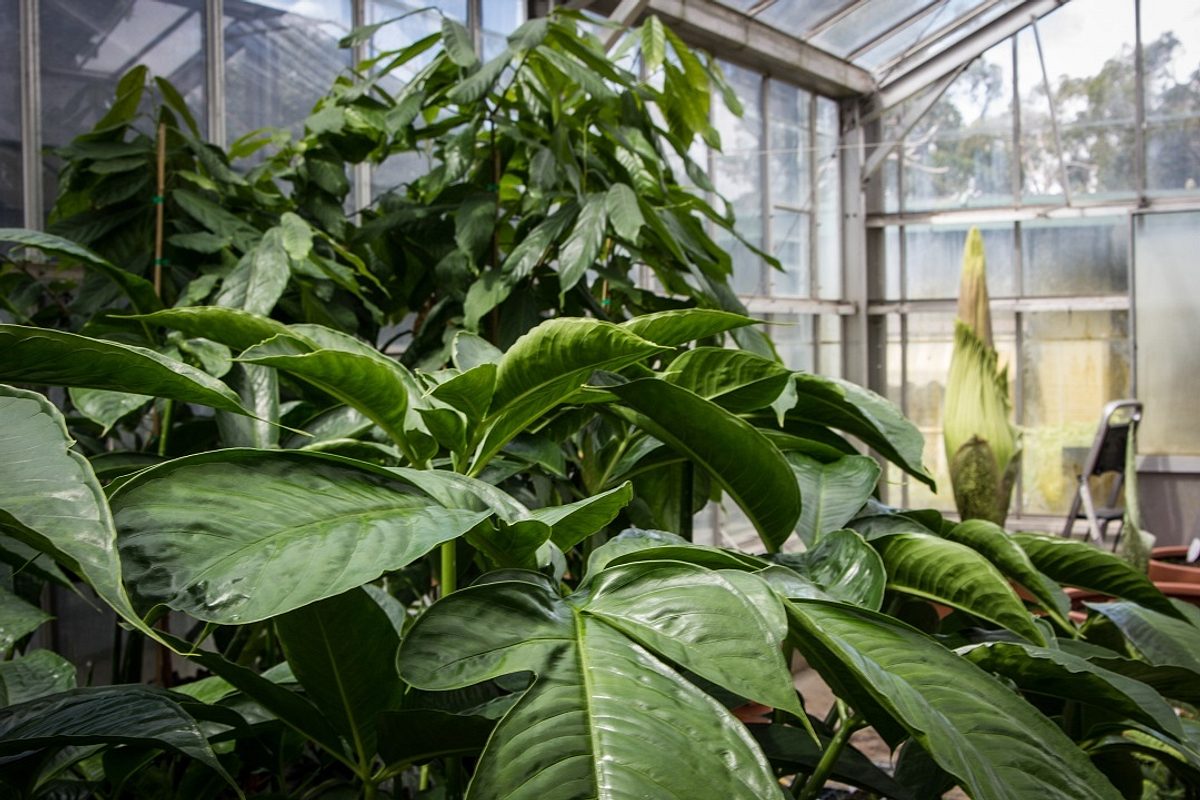 The Botanic Gardens of South Australia comprises three beautiful public gardens - Adelaide Botanic Garden in the city, Mount Lofty Botanic Garden in the Adelaide Hills and Wittunga Botanic Garden in suburban Blackwood. These gardens provide visitors with a range of cultural, recreational, educational and scientific facilities.
Are you planning to catch a whiff of the corpse flower in Adelaide Botanic Garden? Let us know about your experience below.
This story was originally posted in January 2016 and has been updated with fresh information.