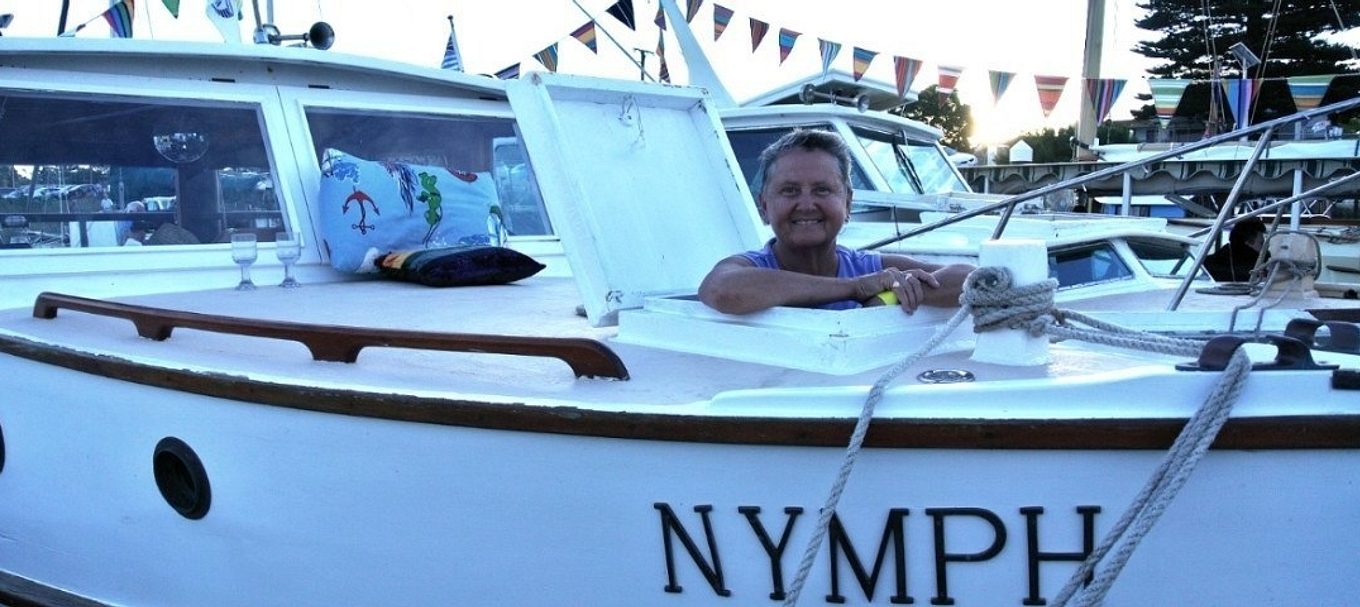 After a forty degree day at Goolwa Jenn Cole emerges from the hatch of her wooden river cruiser called Nymph.
This is the annual Goolwa Wooden Boat Festival and the tenth in a row she has attended since the South Australian built classic timber cruiser became part of her life.
A turning point for Jenn was the death of a friend from breast cancer. It's not unusual for events such as this to galvanize the spirit and for people to make decisions about their own futures. But what lead to buying a boat?
'Why was I attracted to a wooden boat – what is it I still love about them?' Jenn reminisces. 'You don't just get on the boat and jam a key in, rip the motor into gear and off you go. With 'Nymph' there is a time line. You need to get on board, roll up the sides, prepare the boat, put the flag up, prime the motor, get everyone on board, get the ropes up and so on. It probably takes three-quarters of an hour, but that's the fun of it.'
Nymph is a classic river cruiser 24ft long with a 7ft beam and a hull made from Jarrah. The previous owner found her in a paddock in Murray Bridge and restored her in 1997.
Nymph is powered by an Ailsa Craig 800 cc, two cylinder, petrol engine manufactured in Chiswick, London in 1929. But before petrol and diesel engines, heavy river transport was often by steamboat.
Steam power is almost like a living thing. The fiery rituals, the sounds of puffing steam and smells of machinery and smoke hark back to an age where deckhands all looked like members of the Kelly Gang. Two thousand bales of hay could be transported in a single steam-powered delivery along the Murray, a task that would take 20 semi-trailers today.
One hundred years ago, in 1915, the River Murray Waters Agreement was signed. With the motto Tri Juncta in Uno (three joined as one) the Commonwealth secured the agreement of New South Wales, Victoria and South Australia to build an ambitious series of 35 weirs and locks along the river. The main aim was to ensure good water levels along the length of the river so that steamboat transport and river commerce would flourish.
Over the decades, river trade gave way to road and rail transport. By then, however, the regulation of the river had become an important part of farm irrigation and town water supply. Travel on the river became more closely linked with recreation.
Larger cruising craft and houseboats became a tourism business for some and part of an enviable lifestyle of living on the river to others. A lifestyle that includes water skiing, kayaking and camping.
More than a century of European settlement has shown the importance of being able to maintain this spectacular waterway as a healthy working river.
Flying home to Adelaide by air, on a clear day, you can see the patchwork of fields – some green, most brown – divided by the snaking path of the mighty Murray.
Being on the river, sometimes it can feel timeless. Like all that history surrounds you in the same still moment. 'Cruising up the river in a wooden boat is another era. There is that old worldliness of just taking your time,' says Jenn Cole.
We hope to present many future posts about aspects of the river story; it's history, cultural meaning, how the health of the river affects us all and how important it is in so many ways to so many people.
Send us your river stories and we will try to feature them in future posts.