DRAFT Parks of Kangaroo Island Fire Management Plan
A new park fire management plan for Kangaroo Island is being drafted, which amalgamates 4 fire management plans (Cape Forbin, Cape Gantheaume, Dudley Peninsula, and Flinders Chase) into one for the whole island.

Fire management plans help guide activities in national parks, setting priorities about where, how, and why we need to act to reduce the risk of bushfire and to manage the environment and cultural heritage of the state.
This draft plan uses the latest fire science, knowledge and computer-based tools to make it more effective and in line with national best practice. It was triggered by the 2019-20 bushfires and is being informed by the Royal Commission into National Natural Disaster Arrangements and the Independent Review into South Australia's 2019-20 Bushfire Season.
The 2019-20 bushfire season
Bushfire conditions are becoming more dangerous than in the past. The risks to people and property have increased and fire seasons have lengthened. It's becoming more dangerous to fight fires in Australia.
The independent review described how numerous fires, ignited by a band of lightning tracking across the island, particularly across the north coast, saw the Kangaroo Island 2019-20 bushfire season become the worst on record, with unprecedented fire weather around the clock. The Ravine fire, influenced by dangerous winds and pyro-convective fire behaviour, burnt out nearly half of the island in a single day. These bushfires burnt under conditions that exceeded the limits of firefighting capacity.
A fire management plan can't prevent such extreme events, but it will focus NPWS' bushfire management actions on strategies that reduce bushfire impacts and improve firefighter response.
Have your say
NPWS is in discussions with locals (including CFS Group Officers, KI Landscape Board and its staff, park rangers, community environment groups, farmers, AgKI, researchers) and other key stakeholders (Bureau of Meteorology, CFS, Department for Environment and Water science and information staff, First Nations and SA Water) to exchange knowledge so it can operate with the best available local, state and national data.
Once this information has been reviewed you can provide feedback on the strategies in the draft plan, identified to address bushfire risk to life, property and the environment and improve ecological outcomes. Consultation is likely to occur in the first half of 2023.
Sign up to our FireSide e-news so we can let you know when the draft plan is ready for your feedback.
If this information is causing distress, or triggering events from the past, please seek help early and contact your local GP or hospital. If you would like immediate help, please phone 000 or contact Lifeline on 13 11 14 or Beyond Blue on 1300 22 4636.
Read on to find out more about this draft plan or head to our frequently asked questions.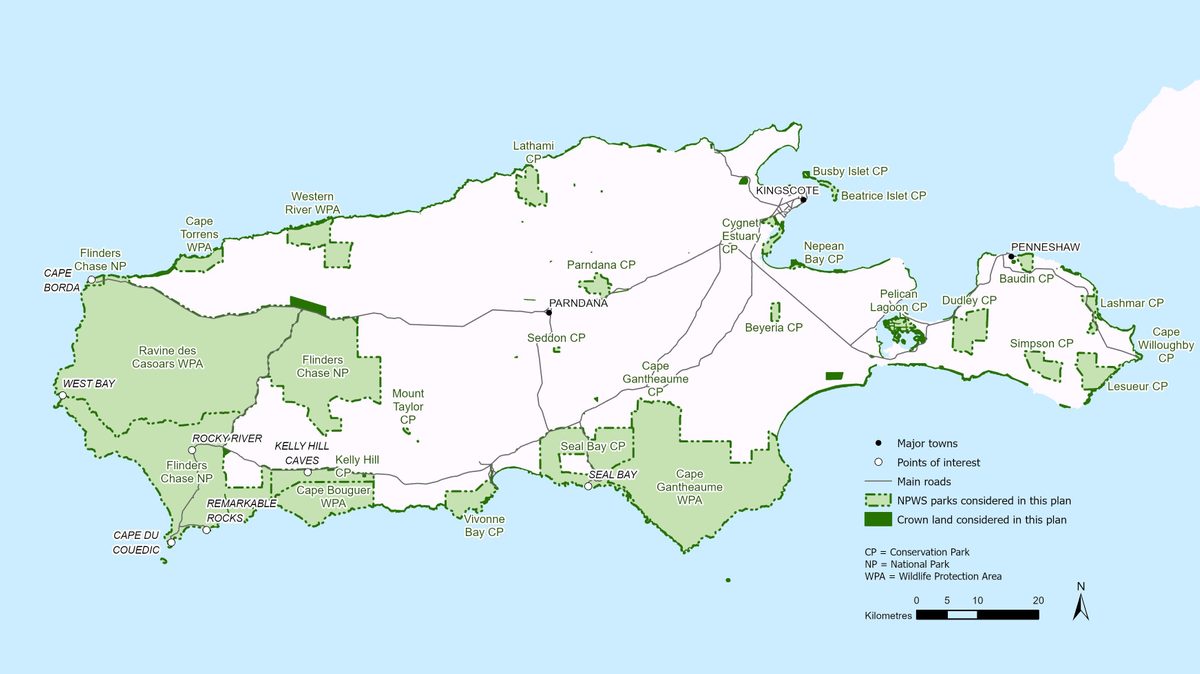 Why an island-wide plan?
Having an island-wide perspective of all Kangaroo Island parks and Crown land managed by the Department for Environment and Water, provides greater strategic direction to focus on fire management at a scale which aligns with the Kangaroo Island SBCC Bushfire Management Area Plan, Kangaroo Island Council and Kangaroo Island Landscape Board. It will also help streamline our work with partners and stakeholders, improve prioritisation and bushfire response, and better respond to changes in fire risk.
The latest science with local knowledge
The draft plan relies on local knowledge and lived experiences to help make it robust along with new learnings and knowledge from local, regional, state and national experts.
We use a number of risk assessments in our planning, which is informed by computer-based tools and consultation with experts. The tools include modelling:
from the CFS which displays built and environmental assets at risk from bushfire
which runs 1000s of bushfire scenarios, to work out the highest risk locations across the planning area
environmentally appropriate fire regimes to help produce ecological burning strategies.
This information, along with input from subject matter experts, helps reconcile the competing objectives of fire management (reduce bushfire fuel, manage native vegetation and protect biodiversity) across a range of values and assets (life, property, social, economic and environmental).
Historical aerial and satellite imagery indicates that on Kangaroo Island, there has been a major bushfire roughly every 10 years since 1931. The ecological impacts of continuing to lose large landscapes to high intensity fires approximately every 10-15 years in western KI reserves is significant, and can have far-reaching and devastating effects on ecosystems and wildlife. It is crucial to prioritise fire prevention strategies to mitigate these impacts, and protect the island's biodiversity and ecological health.

Using all the information described above helps us to plan activities to reduce the risk of bushfires impacting on life, property and other assets the community values, along with improving ecological outcomes.
Prescribed burning is not the only tool
Prescribed burns won't stop all bushfires, but they may limit their spread and impact, and make them easier and safer to suppress. Reducing fuel can help reduce the risk of bushfire, however, under catastrophic fire danger conditions bushfires can still burn across any landscape with very low fuel loads.
Prescribed burns are not the only tool we use to reduce bushfire risk. They're designed to enhance and support other measures with a suite of tools, including fire access tracks, to get the best outcomes.
Fire access tracks for quicker bushfire response
Fire access tracks are a critical part of preventing, preparing for, and responding to bushfires. Improving the existing track network will provide firefighters with a quicker response time to remote areas of a reserve, taking into account a changing climate is predicted to lead to more severe bushfire conditions and increasingly longer fire danger seasons.
First Nations input
Kangaroo Island is an important part of Creation Stories for the Ngarrindjeri, Kaurna and Narungga People and we continue to explore opportunities to engage with these groups. Their input into the draft plan is important to ensure Aboriginal Cultural assets within Kangaroo Island parks, are identified with fire management strategies reflecting First Nations aspirations.
Shared responsibility
Reducing bushfire risk is an ongoing and shared responsibility and everyone has a role.
Contact us
Please get in touch with us if you'd like more information.

Find the answers to frequently asked questions about KI's draft fire management plan below.
FREQUENTLY ASKED QUESTIONS
Why is DEW moving to a larger area fire management plan?
The NPWS Fire Management Program is dynamic, evolving and adjusts over time to provide improved strategies. Determining the highest risk is always a key priority and having a fire management plan at the landscape scale helps focus our work. Here's why:
Improves prioritisation and response
The fire history of KI shows us that future large-scale bushfires are expected due to an increase in the frequency of elevated fire weather, difficult-to-access large remote areas, connected vegetation (one of the most difficult types to suppress), and high rainfall leading to high fuel loads. Knowing this helps us address the risk at a more appropriate scale.
Bushfires don't respect boundaries
By mirroring the local bushfire management committee, council, and landscape board boundaries, this plan will be at a more relatable scale for our partners and stakeholders. It also elevates stakeholder conversations and risk management strategies across the whole island, and not a single area, which can streamline resources and approvals.
Simpler and quicker to change based on new risks
Risk profiles, produced with a new bushfire modelling system, are run with 100s of simulated fires across the planning area. If a new risk is identified after a fire management plan has been adopted, it's simpler and quicker to amend strategies as the plan is now flexible enough to incorporate this change.
Provide a holistic view of the planning area
A new in-house tool integrates bushfire and species-habitat modellings with CFS site-based risk assessments linking different strategies and displaying them across the new planning area.
Adjust actions quickly to altered risks
Fire management needs to consider new contexts and adjust quickly to any altered risk profiles. For example, the value and vulnerability of unburnt areas since the 2019-20 bushfires has increased in the parks of Dudley Peninsula, Seal Bay and Cape Gantheaume. The consequence of this area burning is greater now because it represents a larger proportion of intact habitat than before, so by having a plan for the whole island, the value and potential risk of these parks is better reflected against all others on the island.
Why does fire management need to happen?
Fire management is everybody's business, and everyone has a role to plan and be prepared for a bushfire.
Managing fine fuel is a key part of being bushfire ready. If we manage this fuel we improve the chances of reducing the intensity and spread of a bushfire. Although protecting life is a priority, protecting bushland is important, although it presents challenges as we balance reducing the likelihood and impact of bushfire with conserving and enhancing biodiversity.
The NPWS Fire Management Program is also driven by a range of State and Commonwealth Acts, regulations and policies.
Wilderness Protection Areas
Is fire management needed in Wilderness Protection Areas (WPAs)?
Wilderness Protection Areas are home to significant natural and cultural values that support a functioning ecosystem. Fire has played an integral part in shaping the ecosystems of Kangaroo Island's WPAs. Applying fire management activities in these areas is necessary to protect the quality of the wilderness and the life and property of local communities. And activities such as prescribed burning in a WPA also helps conserve environmental values, endangered species or ecological communities.
Is it legal to do fire management work in WPAs?

There are a range of views on how to manage wilderness, however fire management in Wilderness Protection Areas is legal. The Wilderness Protection Act 1992 (WP Act) directs the Department for Environment and Water (DEW) to prepare a Wilderness Code of Management in Wilderness Protection Areas and Zones. Our legal obligations make sure that all NPWS fire management works in WPAs are done according to procedures in the code, our own internal fire management procedures, and the relevant fire management plan.
Fire management activities in a WPA can help limit the spread and impact of bushfires. As the state's bushfire control agency, CFS takes the lead in responding to bushfires and directing resources and suppression effort, including by other agencies such as DEW. The protection of human life is the primary focus, however, when the opportunity arises, a Natural Values Officer works closely with the Incident Management Team managing the bushfire response, to provide ecological information for the team to consider when developing their suppression strategies.
Can we leave bushfires to burn in WPAs and replace the need for prescribed burns?
Under the state's emergency management arrangements, CFS is the Hazard Risk Reduction Leader and Control Agency for bushfires, so it determines the level of response to any bushfire. Under the Fire and Emergency Services Act 2005, NPWS has a legislative responsibility to reduce the likelihood of fire igniting and spreading through land it manages.
Prescribed burns in WPAs are used to: protect assets by reducing the fuel load of treatable vegetation; assist firefighters with safer suppression of bushfires leading to less impact on reserves, habitat and private land; and to maintain and improve the ecology of the area as healthy ecosystems depend on vegetation communities being burnt at a certain fire frequency and intensity.
Is there a risk of fires escaping a WPA?
NPWS fire management plans seek to mitigate the risk of bushfires on parks, whether they've established and spread out of a park onto private land, or ignited on private land and likely to impact on parks. They use a mix of strategies and tools including fuel breaks and a mix of low fuel areas such as different age mosaics of vegetation/fuel loads (fire history) inside the park. Infrastructure such as fire access tracks and water points help with quicker access and ability to fight the fire, increasing the chance of success.
A range of strategies will be considered for the KI Fire Management Plan when it is released for consultation.
Bushfires
Does NPWS respond to bushfires?
The NPWS Brigade forms the largest CFS brigade (firefighters and appliances). Under the direction of CFS the NPWS Brigade is deployed and contributes to bushfire response as any other CFS brigade member.
Is public land the main problem with bushfire risk on Kangaroo Island?
Bushfires don't respect boundaries, that's why NPWS works with CFS through bushfire management committees, other organisation (SA Water, ForestrySA, councils, SAPOL) and the public, to minimise this risk. It uses a holistic and integrated landscape-scale approach across these emergency management actions: Prepare: maintain and improve fuel breaks and access tracks; maintain firefighting appliances; train highly skilled firefighters. Prevent: manage and reduce fuel with prescribed burning, and mechanical or chemical treatment. Respond: patrol on Total Fire Ban days; rapid response to ignitions; first attack, early warning, and upscaling as necessary. Recover: support neighbours and affected communities; make effort to re-establish vegetation; reopen public assets.
When does parks use backburning?
Backburning only occurs during a bushfire and is used to decrease fuel in the bushfire's path. Any backburn requires incident controller permission, who operates under the control of CFS during a bushfire. Backburning requires significant planning and resources to implement to ensure that it remains in the area that it was intended and keeps firefighters safe. Placing more fire into the landscape on days of heightened fire danger is a risky and complex operation and not undertaken lightly.
Has increased funding helped reduce bushfires?
Additional funds, in response to the Keelty review into the 2019-20 bushfires, are for increased burning on public and private land on Kangaroo Island and in the Mt Lofty Ranges, and to improve fire access track networks, help reduce bushfire hazards, and provide safer access for firefighters and egress for park visitors.
All these tactics help reduce the impact of bushfires and increase the ability of firefighters to suppress it.
Fire access tracks and fuel breaks
Do fuel breaks and / or fire access tracks work?
Fuel breaks (also known as fire breaks) and fire access tracks can reduce the intensity and rate of spread of bushfires, and under heightened fire behaviour, they provide much needed space for firefighters to expand their bushfire response. They're a strategy NPWS uses to plan for the emergency management stages of 'Preparedness' and 'Response' and to enhance other fire management strategies and tactics.
Examples include: Rapid access with shorter response time to a fire to start suppressing it in its early stages. Backburning from an existing and safe operating area, without the need for heavy machinery to implement a control line during a bushfire. Strategic advantage for aircraft to use if a break/track exists as the vegetation is already modified. This reduces fire intensity under most conditions and so it's safer for aircraft to use. Increased safety for firefighters through easier access and egress on a fire ground compromised by reduced visibility at night or in heavy smoke; increased view of the fire ground through good design to enhance situational awareness with views to the horizon and upcoming terrain; and the ability to rapidly depart a fire ground in changing conditions. Poorly designed tracks can be dangerous. Safer for other 'Preparedness' strategies such as modifying fuel loads with prescribed burns and/or mechanical and chemical treatment; and easier to actively patrol areas on days of heightened fire danger.
Do we need more fuel breaks/tracks?
If more fuel breaks/tracks are required, then where possible, they'll align with control lines created during the 2019-20 bushfires (see photo below), along with older disused control lines or access tracks, to have the least long-term impact on the environment. The total length for the 4 proposed fire access tracks in Ravine des Casoars Wilderness Protection Area is approximately 35km, using approximately 31.5km of existing bulldozed control lines and historical tracks. New track clearance would consist of 2.45 hectares in a reserve that has a total area of 41,360 hectares, or just 0.006%.
Fire access tracks will be also gated to prevent public access, helping to minimise weed incursions and the spread of pathogens. All tracks follow State Bushfire Coordination Committee guidelines such as width and including erosion control measures in the design. In addition, an environmental assessment is part of fire management treatment activity process, in which an ecologist will determine the activities effect on the environment and develop strategies to reduce the impact.
In general however, any fuel break or track comes with some environmental impacts such as loss of vegetation; ability to increase soil compaction and erosion; and increased potential for weeds, predators and pathogens.
That's why the potential impact on native animals and plants is assessed and work on fire access tracks will use sensitive and sustainable design, which considers these issues.
These impacts are weighed up against the wider benefit that tracks can provide in reducing bushfire spread and its impact on the environment.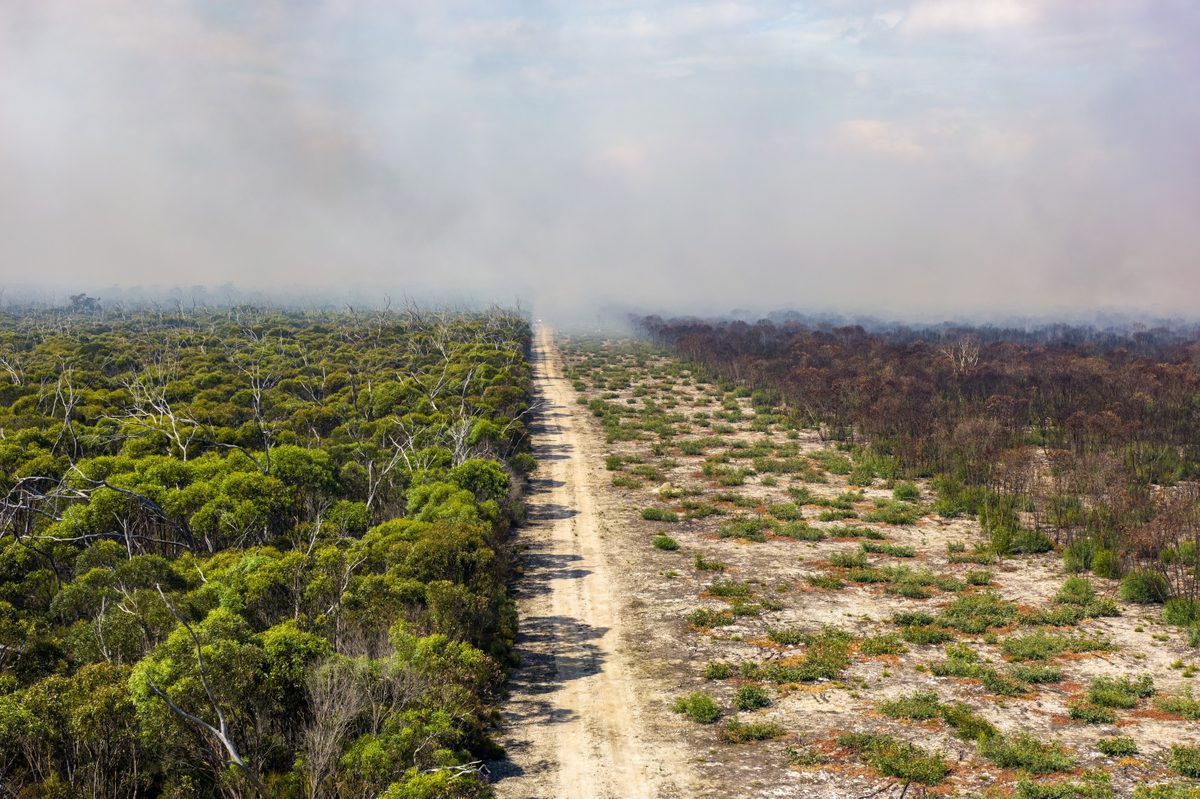 Prescribed burning
How effective is prescribed burning?
Prescribed burns won't stop all bushfires, but they may limit their spread and impact, and make them easier and safer to suppress. Each prescribed burn has a fixed period of effectiveness and is site specific.
There's debate amongst fire management authorities, fire scientists, ecologists, and the community around how effective prescribed burning is in reducing fuel hazards. A background paper by the Royal Commission into National Natural Disaster Arrangements, representing findings from a selection of scientific papers, reported that reducing fuels can slow the initial rate of fire spread and intensity, provide opportunities to suppress fires and reduce the risk of them escalating into extreme events.
However, under extreme and catastrophic weather conditions, fuel loads may have less impact on fire behaviour. But as the commission reported, these elevated conditions don't persist, and opportunities to suppress the fire in areas previously managed with prescribed burns can then occur as the weather moderates.
While there's a range of views on prescribed burning, NPWS is committed to the nationally-agreed position.
Does prescribed burning do more harm than good?
Where high bushfire risk is identified, fuel is reduced with prescribed burns or other tools, to reduce a bushfire's speed, intensity, flame size, and ember and spotting potential. This makes bushfires less damaging and easier to put out. With this reduced risk, prescribed burns also help protect biodiversity as they are less harmful to our native plants and animals than the intense bushfires they can prevent.
Where will you burn, when, and how?
To work out where to burn, life, property, and environmental assets at risk from bushfire are identified. Areas with higher risk are prioritised to keep communities safe and ensure we meet CFS and other legislative requirements. You can subscribe to find out when they'll occur.

How we burn includes annual on-ground work alongside a 3-year rolling program. This gives flexibility to bring forward or postpone works, depending on forecast weather, bushfires, or other factors which influence risk. Ecological fire management guidelines ensure biodiversity values aren't compromised and environmental assessments identify threats such as Phytophthora (a root rot disease) and describe preventative measures to reduce its spread (e.g. avoidance or hygiene). Environmental assessments also ensure enough unburnt habitat is in the landscape for native animals to use while burnt habitat regenerates.

Every prescribed burn gives us the opportunity to learn more about fire ecology and fire behaviour, and monitoring builds on knowledge learnt from previous burns. This helps us adapt our fire management program to any changing conditions. This work is integral to our planning and in the way we conduct prescribed burns. Any habitats or species of concern from fire are identified in fire management plans, and strategies are built in to conserve them.

Do we need to do more prescribed burning?
New bushfire modelling determines areas at highest risk which helps us target where risk reduction is needed most and how often. Areas with higher risk are prioritised, to keep communities safe and ensure we meet CFS and other legislative requirements.
Do prescribed burns escape?
Even with the most meticulous planning, prescribed burning has inherent risks. Less than 3% of NPWS prescribed burns over the past 10 years escaped their planned burn areas and in all these cases contingencies were put in place to manage the risk and impacts of these fires. This is due to our highly qualified and experienced personnel and the significant planning that goes into every burn. Staff understand fire behaviour and how it can be manipulated. They won't schedule a burn, or they'll cancel one, if the conditions aren't right e.g. test burns show if the fire won't behave as planned, and the burn may be cancelled. Once the main burn is lit, if the fire doesn't behave as planned (e.g. it's faster, more intense, is spotting etc.) the burn size can be reduced, or put out and rescheduled.
The days following a prescribed burn are critical and heavily resourced until the burn is declared safe, with crews mopping up, paying particular attention to large trees, stumps, logs, and boundary areas.
Does NPWS use aircraft for firefighting?
The CFS is the Rural Fire Hazard and Control Leader, so it's responsible for procuring aircraft and managing their use during bushfires across the state. NPWS use aircraft to assist when they undertake prescribed burning.
Can Aboriginal Cultural Burning help with fire management?
First Nations' People and Groups of South Australia have an ongoing cultural relationship and responsibility to care for Country. It's the right of every First Nation Group to self-determine their aspirations regarding cultural activities, including fire management. Aboriginal fire management in South Australia's national parks continues in some areas while the impact of colonisation has seen a decline or discontinuation in others. NPWS is committed to working with, and learning from, First Nations People to understand Cultural fire in the landscape.
Prescribed burning and Aboriginal fire management are both driven by the protection of assets or values and managing landscape or Country to maintain or enhance the attributes we value the most. Only First Nation Groups can undertake this burning, and only where appropriate are non-Aboriginal organisations such as NPWS able to support the activities.
What happens to the wildlife?
Prescribed burns give wildlife the best possible chance of finding shelter or escaping from fire, with planning including protecting hollows and large logs that might be used as habitat, leaving unburnt patches to provide areas of refuge during and after a fire, and excluding areas known to be critical breeding or feeding habitat for threatened species.