Osprey nest flies to safer position on Tumby Island
Work has been underway this week to help conserve and protect the nest of an endangered pair of eastern osprey at Tumby Island Conservation Park on the Eyre Peninsula.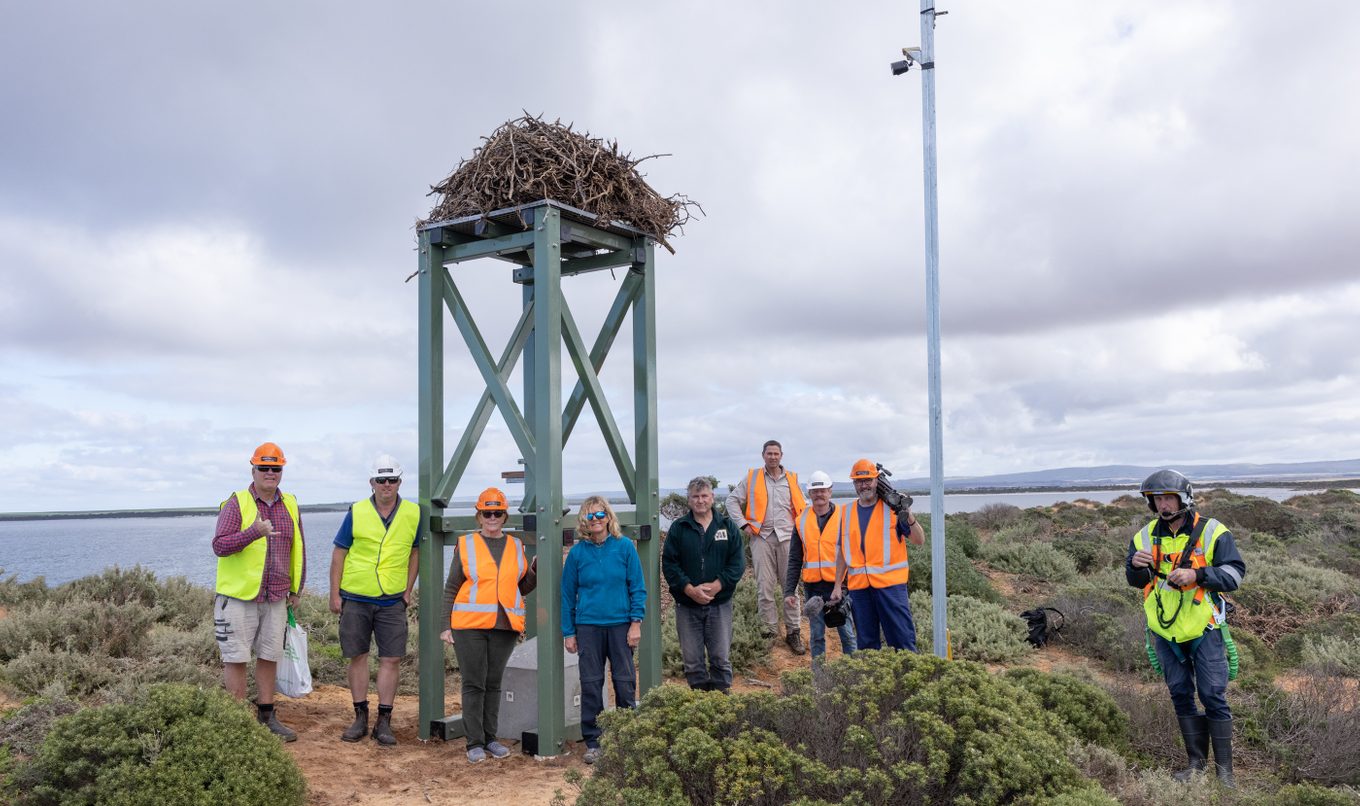 Fondly known as Marum and Partney, after two of the islands in the nearby Sir Joseph Banks Group, the pair of osprey now have a 360 degree view of the ocean, with a 3 metre high nesting platform being installed on the island this week to protect the birds and any chicks from fox predation.
Their current nest is made of sticks stacked about 1.5 metres in height, built on the ground next to a cliff edge, about 12 metres above sea level.
The installation comes after the Department for Environment and Water's National Parks and Wildlife Service (NPWS) received a report of a fox predating on the eggs of the Tumby Island osprey. It was recorded on a remotely operated video camera.
NPWS District Ranger Peter Wilkins said the osprey had already been spotted in the nest numerous times since the platform was installed earlier this week.
"They spent most of yesterday in the new nest and have been spotted back in there this morning. They have also been spotted flying in new nest material," he said.
"It already looks to have been a success, which is fantastic."
Peter says it is unknown how long foxes have been accessing the island, however it is thought they are able to gain access to the island via a sand bar between the island and mainland during low tides in summer.
The department implemented a 1080 baiting program to remove foxes, and by the end of October 2021 no traces of fox were observed on the island.
"In April NPWS rangers detected more fox tracks on the island and resumed the baiting program, several days later a fox was captured on a remote camera," Peter said.
"No further trace of the fox has been detected since early May but to remove the ongoing risk of fox predation on the Tumby Island osprey the South Australian Friends of Osprey group have been working with NPWS rangers to install an artificial nest platform.
"We're very thankful to have had the support of the Ardrossan Community Men's Shed and Progress Association, as well as the Friends of Osprey in South Australia group and their many supporters in this project. The men's shed and supporters have been working long hours to complete construction to be able to quickly and expertly fabricate a composite fibre tower platform.
"Tumby Island Conservation Park provides an important refuge for a variety of ground nesting sea birds and coastal raptors including the eastern osprey.
"Eastern osprey are considered endangered in South Australia due to the low and declining number of breeding pairs across the state.
"Surveys conducted between 2008-2010 recorded 58 occupied territories were repeated between 2015-2017 when only 43 occupied territories were recorded, an overall 26% decline.
"Some of the steepest declines (33%) were recorded to the west of the state."
Peter said eastern osprey are particularly susceptible to human disturbance and are known to abandon their nests.
"Now that the platform has been installed, it will be very important for visitors to avoid accessing Tumby Island, to encourage the osprey to accept the new nest platform and for the prospective success of this coming breeding season.
"The successful acceptance of the nest platform will completely remove further predation of eggs or chicks by foxes, hopefully for many years to come."
After the osprey breeding season is completed NPWS rangers will continue to monitor the island for fox incursions to reduce their impacts on other ground nesting bird species.
Tumby Island is a small 30 hectare island situated about 600 metres off-shore, close to the Tumby Bay township on Eyre Peninsula.