Construction complete on new Glenelg shellfish reef
Construction was completed this week on a new native shellfish reef one kilometre off Glenelg Beach with the site expected to help boost fish stocks and improve water quality in the area.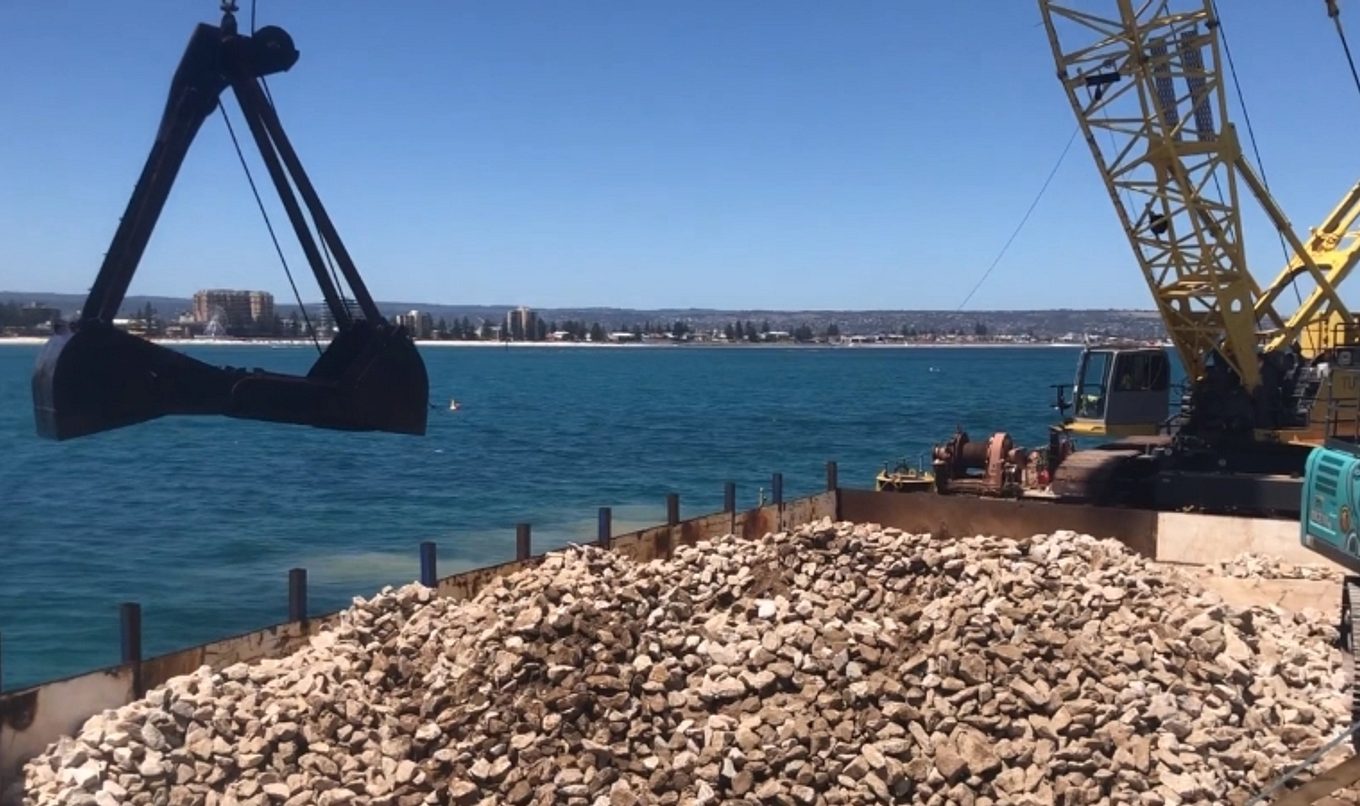 The new reef, an initiative of the State Government, The Nature Conservancy and the City of Holdfast Bay was constructed using an estimated two million juvenile native flat oysters (Ostrea angasi), pre-seeded onto recycled oyster shells which have been placed across a limestone reef.
DEW Shellfish Reef Program Coordinator, Alison Wright said evidence shows that shellfish reefs were once common in the sheltered nearshore areas of South Australia however overfishing, dredging, water pollution and disease have almost wiped them out.
"Shellfish reef habitats are important to the marine environment, fish breeding, and quality, but they can also provide new recreational and economic opportunities to the state," she said.
South Australian company, Maritime Constructions, started building the reef earlier this month, laying limestone boulders the size of footballs onto the seafloor using a 2000 tonne barge and an excavator.
Scuba divers then spread over two million Australian flat oysters spat (baby oysters), which have been raised in the South Australian Research and Development Institute hatchery at West Beach.
The new low-profile oyster reef consists of 14 reef patches over an area the size of the Adelaide Oval, about one kilometre offshore from Glenelg.
Alison said the recreated reef at Glenelg is expected to attract marine life almost immediately and will take seven to 10 years to reach maturity.
To allow the reef and marine life to develop, fishing will be temporarily prohibited around the site for a 12-month period, with a likely extension of another 12 months.
The Department of Primary Industries and Regions (PIRSA) has implemented the temporary management arrangements under Section 79 of the Fisheries Management Act 2007.
Alison said similar management arrangements were put in place for the Windara Reef off Yorke Peninsula.
"It's essential the new reef is protected to allow the oysters to settle on the limestone reef and for the marine life that will utilise the reef to establish, to maximise the ecological value of the reef," she said.
In the longer term it is proposed for the metropolitan shellfish reef will be managed in one kilometre square Habitat Protection Zone as part of marine park zoning amendments currently being considered in Parliament.
The coordinates of the proposed closure area of the five hectare Glenelg Shellfish Reef site are:
34°58.314 S, 138°29.787 E
34°58.314 S, 138°29.955 E
34°58.422 S, 138°29.787 E
34°58.422 S, 138°29.955 E
For further information on the 'closure' download the Department for Primary Industries and Regions SA Fishing App or visit www.pir.sa.gov/Fishing