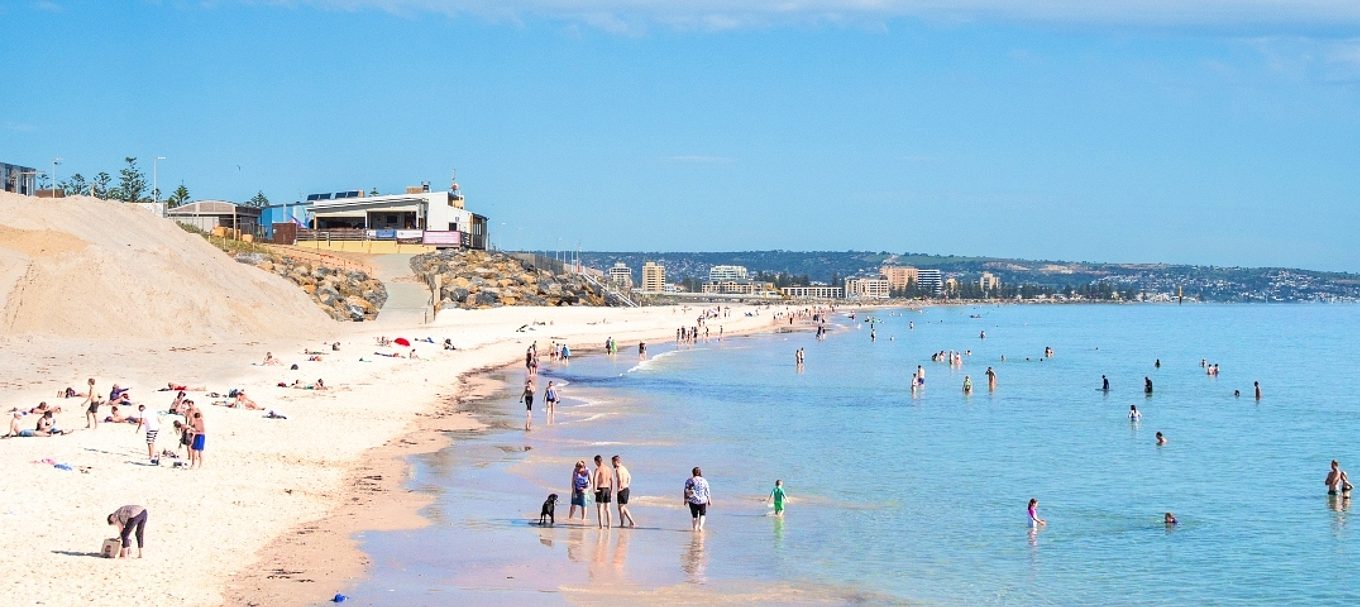 Everything you need to know about sand pumping on Adelaide's beaches
A new sand pumping system is being built between Semaphore and West Beach. Learn why we do it and how it'll help.
Every year on Adelaide's beaches, sand is pumped or trucked from beaches where it builds up to beaches where sand erodes.
This is needed because the sand along Adelaide's coast naturally moves northward, by the wind and waves. Without moving sand, some of our favourite beaches would erode to rock and clay.
The sand pumping or trucking approach to replenish these beaches is based on decades of research, monitoring and international best-practice.
Already in Adelaide there's a successful pipeline operating between Glenelg and Kingston Park, and a new sand pumping system will soon be built from Semaphore to West Beach.
The new pipeline will provide a more efficient way to recycle sand between these two beaches, where sand is currently trucked.
Not only will this be better for the environment and safer for the community, it'll also reduce noise, congestion and the impact of trucks on roads.
It's part of a long term solution to keep sand on our most exposed and vulnerable metropolitan beaches.
Keeping Adelaide's beaches sandy
Want more details about how it all works? Here's what you need to know:
How dosand pumping systemswork?
Sand pumping uses an underground pipeline with pump booster stations to transfer a mixture of sand and seawater from beaches where sand is building up to eroding beaches further south.
Why is sand pumping the best solution?
Pipelines provide flexibility in managing our beaches as they are designed with multiple intake and discharge locations, which means sand is picked up where it accumulates and delivered to locations most at need.
Pipelines also reduce the use of trucks for sand recycling, which means less emissions, less noise, less congestion and trucks on roads.
How do you know thenew systemwill work?
There's an existing underground sand pumping pipeline between Glenelg and Kingston Park that has been successful in keeping our southern metropolitan beaches sandy and the dunes maintained for years.
Pipelines are also used successfully in many places around the world to keep beaches replenished, including on the Gold Coast in Queensland.
Where will the new pipeline go?
The new Semaphore to West Beach pipeline will be buried underground. It will be constructed from the Semaphore South breakwater to connect into an existing pipeline at West Beach.
Some infrastructure will be located above ground including at the sand intake locations, pump booster stations and sand discharge locations.
How is the environment being taken into account in constructing the pipeline?
Environmental assessments are being done prior to constructing the pipeline. These include flora and fauna assessments, cultural heritage surveys, noise assessments and other environmental analyses.
An independent impact assessment of the new sand recycling pipeline has also been undertaken. Future climate change and sea level rise has also been considered in the design.
When will thepipelinebe built?
Construction of the pipeline is planned to commence in 2022 after the design and approval phase, and is expected to be operational by mid-2023.
How can members of the community find out more?
Visit the DEW website to find out about the project, upcoming events and subscribe for updates.
The Semaphore to West Beach sand recycling pipeline requires development approval and assessment by the State Commission Assessment Panel. The development application can be viewed on the Plan SA Portal, with submissions closing on 6 December 2021.
Want to help SA's coastline? Check out thesevolunteering opportunitiesto learn more.
Main image: Artist's impression of West Beach after the pipeline construction is complete