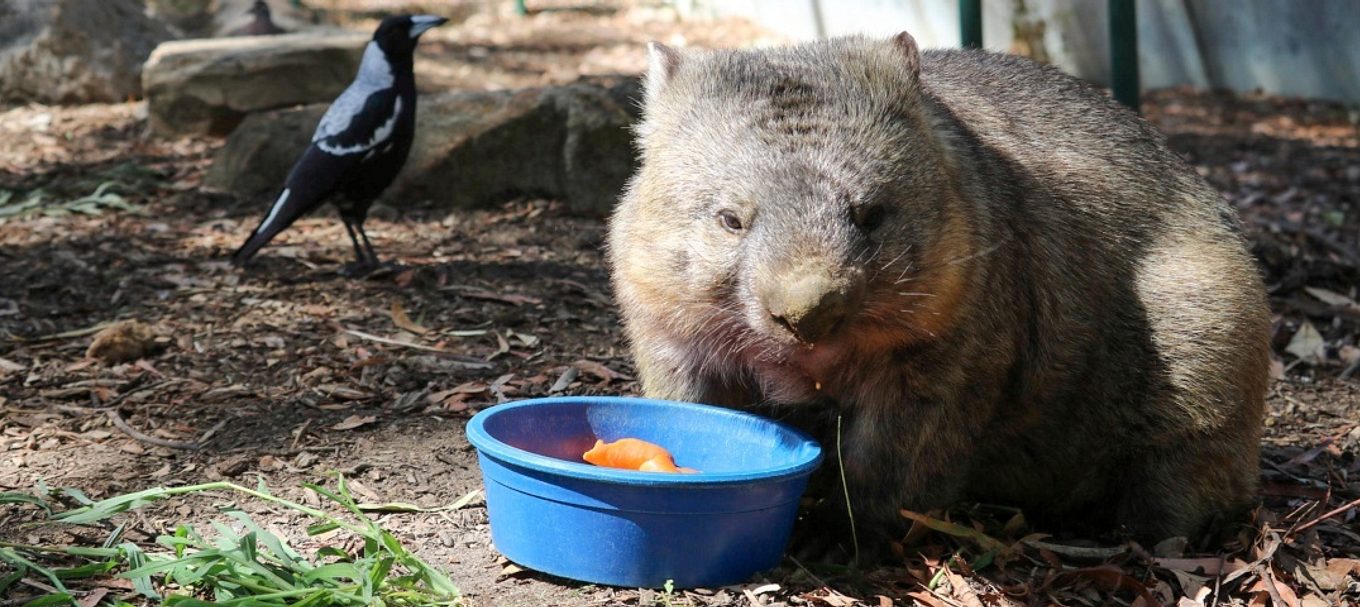 Get to know 'Fred' the Cleland wombat
Fred is one of the resident animals you can get up close to at Cleland Wildlife Park. Find out more about him.
When it comes to iconic Australian animals, unlike koalas and kangaroos, wombats aren't the easiest to see in the wild.
That's what makes Cleland Wildlife Park so special. You can get up close and personal with resident wombat Fred as part of the park's new Wombat Experience.
Less than 20 kilometres from the centre of Adelaide, Cleland Wildlife Park is known for its immersive nature experience – and an encounter with Fred is just that.
The Wombat Experience can be purchased on top of the park's usual entry fee, and includes entry into Fred's enclosure, plus the opportunity to pat, feed and take photos with Fred while Cleland's knowledgeable keepers give a unique insight into this intriguing species.
Good Living recently caught up with Fred to get to know him a little better. Here's what he had to say:
Good Living: Fred, where were you were born and how did you come to live at Cleland Wildlife Park?

Fred: I was born in Victoria and had a bit of a hard start to life. Luckily, I was rescued by some lovely people and looked after by Ballarat Wildlife Park.
After realising that South Australians are much better at football, and with a few of my new friends, I made the journey across the border to my new home at Cleland Wildlife Park in 2002.
Now I'm a fully-fledged South Australian, I can say that I love my home in the Adelaide Hills.
Good Living:There are lots of different animals at Cleland, who are your best friends?
Fred: Believe it or not, my closest relatives are koalas so I have many family and friends in the park. My best friend is a wild wattle bird called Brian who shares corn with me every day at lunch.
I do like meeting new friends and have been enjoying meeting the lucky human guests that come along to meet me every Tuesday, Friday, Saturday and Sunday.
For a small fee they get to come and take photos with me, learn about my dashing personality and interesting facts about my species.
I'm becoming very popular now and have heard along the grapevine that it's best to book this experience with me well in advance.
Good Living: If you have friends or relatives visiting from interstate or overseas and you want to give them a memorable Adelaide Hills experience, what would you recommend?
Fred: I'm more into the 'underground' scene, but for my above-ground friends I would recommend a drive in the Adelaide Hills region.
Cleland Wildlife Park, Mount Lofty Summit and the Mount Lofty Botanic Garden are easily accessible, only a 20-minute drive from the city centre and they're also open seven days a week. They are all great places to have a picnic. The staff are so friendly and they are great places to enjoy Australian flora and fauna.
Good Living: What might surprise us about you? We're particularly interested in your diet.
Fred: I really dig renovating my extensive burrow system and creating extra holes for my keepers to plummet into (sorry guys!).
My favourite food is definitely grass but I also love my sweet corn and carrots.
My clever stomach is one of my main claims to fame. I can pass cube-shaped poos that stay exactly where I put them. Round poos are so last year.
Good Living: How do you cope with your newfound fame, and do you think you're more popular than the koalas at Cleland?
Fred: I'm not going to lie, I do love all the attention I'm getting and I'm quite partial to a selfie or ten. My social media following is growing and you can join my legion of followers by tagging any pictures you take of me, or with me, with the hashtag #FredtheWombat.
I don't think I will ever eclipse the popularity of my koala relatives, but my popularity is growing every day. Come and meet me sometime. My warren is always open.
Good Living: Thanks Fred for letting us get to know you better. And thanks to Site Coordinator Shelley at Cleland who assisted in deciphering Fred's grunts and body language.
Discover surprising facts about wombats by reading our blog on 10 things you might not know about wombats. Book your Wombat Experience by calling Cleland Wildlife Park on 8339 2444. It costs $25 in addition to the park's usual entry fee.